First a garbage bag and now… what looks to be a used potato chip bag? Yup- Balenciaga's done it again. Ever the house to keep us talking, Demna and the gang have bestowed upon us… how do we put this lightly… rubbish? Yes, rubbish- but make it #fashion. And no, once again, we're not exaggerating. Much like what we had to do when discussing the infamous garbage bag, Balenciaga's latest required a bit of creative thinking when it came to how to bring it into our spotlight. So… let's go.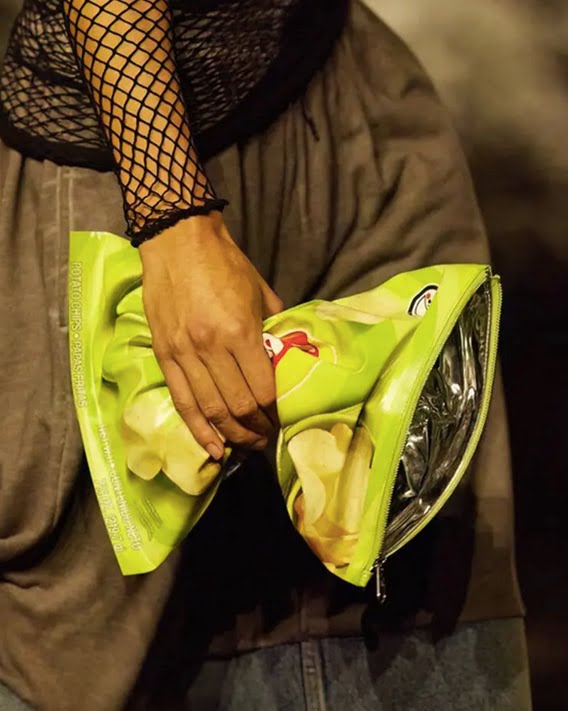 Image Credit: Lays
Balenciaga's potato chip clutch bag is actually a collaboration between the house and none other than Lay's chip company. At first glance, the statement clutch looks no different than the typical chip bag you'd find in a vending machine or complimentary with your pizza combo. We are, however, happy (happy?) to report that it is, indeed, made completely out of leather. You have to admit, it's quite impressive that the house was able to fashion a clutch of cowhide that looks no different than crunchy, metallic plastic/foil.
Prominently featured in the fashion house's 2023 SS2023 runway show, the piece is set to fetch around $1,800 when it's released in stores. Regardless of what you might think of it, whether a silly novelty or collector's item, the chip bag is said to already have many interested buyers. But would you pay almost $2,000 for… trash? That's for you to decide but one thing's for sure, Demna Gvasalia's plan is certainly working.
Demna is Balenciaga's provocatively evocative creative director and has openly admitted to wanting to get people talking about the brand in whichever way possible. You'll recall not too long ago, Demna was the brains behind the house's trash pouch. A style that set the internet ablaze, whether you liked it or not. But it's exactly what Demna wanted to achieve for the fashion house that's now topping lists of the world's most searched for brands.
So is it really true then? Is all publicity good publicity? For Demna and Balenciaga, it sure is. In his words: "I couldn't miss an opportunity to make the most expensive trash bag in the world because who doesn't love a fashion scandal?" Add to that a crumpled up chip bag and you'll set the world ablaze it seems. Top them both off with pricetags in the thousands and you've got yourself a scandal dahling'.
The chipbag, as was the case with the trash pouch, will both be available for purchase at Balenciaga boutiques and worldwide online. Will you be queuing up for one? Or do you already have enough rubbish lying around at home?… literally And figuratively.
Let us know.
Read Related Articles:
https://www.pursebop.com/boptalk/topic/a-literal-trash-bag-balenciagas-newest-bag-garners-heavy-criticism-online
https://www.pursebop.com/boptalk/topic/has-fashion-finally-turned-to-trash
https://www.pursebop.com/boptalk/topic/that-balenciaga-tote