Paris Fashion Week. Arguably one of the most important dates in the calendar year (à la Miranda Priestly herself). An invitation to attend a show from designers like Louis Vuitton, Chanel or Dior is comparable to winning the lottery. Unfortunately, not all of us are lucky enough to receive such a request. However, have no fear, for we have a delightfully delectable directive on how to attend Paris Fashion Week without an invitation- simply crash it.
Now, we can't say we fully endorse the above strategy, nor do we totally recommend it, but a recent event at Louis Vuitton's runway show has got everyone talking. "Hello, my name is Marie Cohuet," a young French activist begins, "I'm 26 years old, and I infiltrated the Louis Vuitton fashion show." Wait, WHAT?!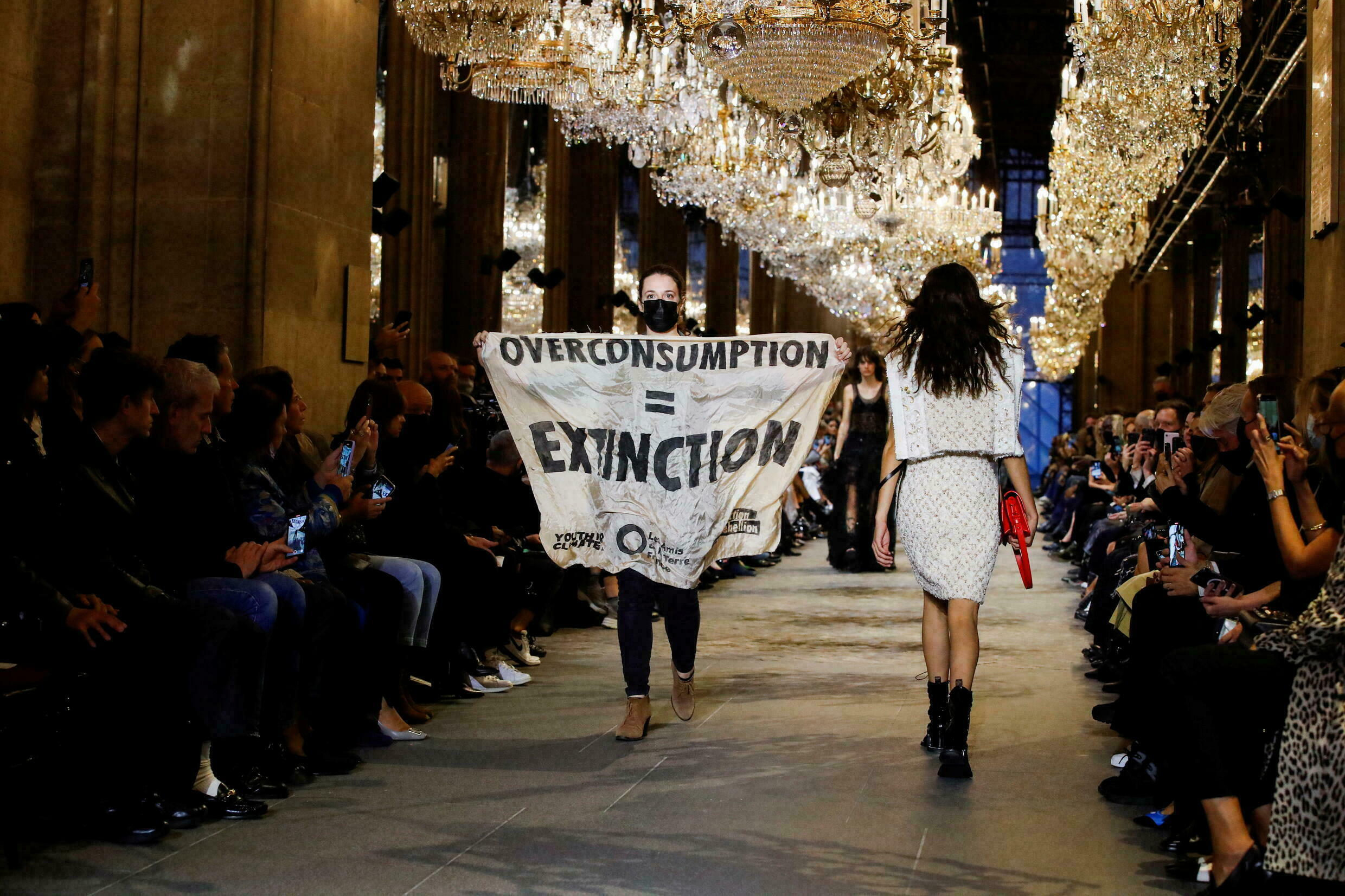 Yes, that's right, Ms. Cohuet successfully managed to make her way on stage among a string of models during Vuitton's show to stage a protest seen the world over. Now, she's offering her TIPS AND TRICKS on how to crash fashion week! Her 4-step plan (yes, four simple steps) allowed for herself and several others to truly make a splash at this year's festivities.
So, what exactly are the four steps to waltzing into an ultra-VIP event like this?
1. Hide in a bathroom for over two hours (OMG!)
2. As the event nears, edge towards the runway
3. Speak animatedly on the phone to pass as an event organizer (like something out of a movie)
4. Join the procession of models
Too good to be true? Too simple to be successful? Apparently not as Cohuet was able to walk the stage protesting LVMH's environmental strategy and sustainability goals. Seen by celebrities and the fashion world's elite, one could say that her plan was a resounding success? The cherry on top that made her entrance that much easier?
"I was very lucky because (French actress) Catherine Deneuve arrived just as I was trying to get in, and so everyone was looking at her… I took advantage of that by taking my phone out and shouting into it as if I was angry, and stormed straight in without looking at anyone… avoiding any eye contact as if my presence there were legitimate, as if I worked there," says Cohuet.
Well, there you have it folks, the definitive guide on how to crash fashion week. Does it all boil down to confidence? Seemingly so. Just act like you're meant to be there, with a dash of a clever hiding spot and a speck of infuriated conversation.
Image Credit: Gonzalo Fuentes, Reuters