Drake. He's the gift that just keeps on giving- literally. It seems the rapper has a particular affinity towards luxury handbags, at least when it comes to gifting them. Ever the generous host, Drake was first reported to have handed out Chanel bags like Halloween candy at his 32nd birthday this year. Earlier in the week, he was back at it again. This time, at a strip club in Miami.
Drake was giving out Chanel bags at his birthday party. pic.twitter.com/hrKKOytMXP

— Drizzy Source (@DrizzySource) October 24, 2018
One birthday party attendee documented her experience and shared what she scored at Champagne Papi's birthday on TikTok.
Having just released another full length studio album, the Canadian rapper gifted several of the exotic dancers with their very own Chanel bag. Complete with shopping bag, packaging, Camelia and all, it's not yet known which styles exactly were gifted- though we're sure any would be quite the surprise regardless.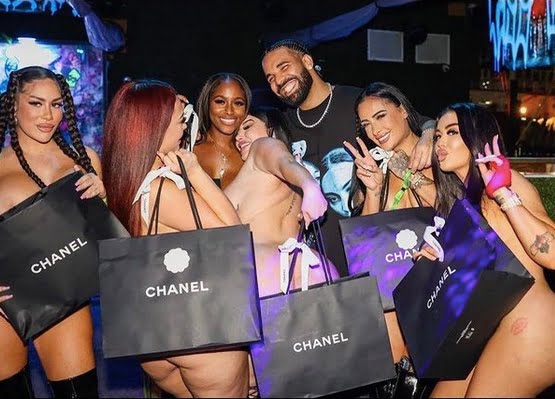 Image Credit: @nojumper
It seems the Canuck loves lux just like the rest of us! So much so that he even shared his extensive (and oh-so drool worthy) Birkin collection that he plans on giving to his future wife – still to be identified by him – in a piece for Architectural Digest. He's been collecting the coveted Hermès handbags for years, and even owns the Ultimate and super-rare Himalayan Birkin.
Check it out here. 

Drake's Closet in his Toronto home, Image Credit: Architectural Digest
For more on Drake's Miami Chanel giveaway bonanza, read here. 
Read Related Articles:
Drake Reveals his Birkin Collection for the Future Mrs. Drake
Rapper Drake is A Good Friend to Have
Drake: A Secret Birkin Collector?
Please login first to submit.
Where can I sign up to be Drake's friend? Lol😆! Can you imagine receiving a Chanel bag as a gift for working in party? 😱
😘😘😘
You must login to post comments