Another episode in the series:
THE WORST THING THAT HAS HAPPENED TO YOUR BAG
The story of my first, and maybe last (if my husband has his way), exotic Hermès bag. A tale of staining my ostrich Kelly TWICE within the first month!
My husband joined my Hermès journey soon after our marriage, but he had never, ever thought to shop there without me, or dare to try to shop for me. He knew that I am somewhat difficult to shop for. After being married several years, and with lots of hinting from me, he decided he would like to attempt to get me a dream bag. He had heard a lot of the Hermès stories from friends and clients, and I think he honestly thought he would waltz right into Hermès in whatever city he was in (he travels for work) and come home with a bag. Easy peazy, right? His first attempt at this didn't work out, although, he said the Sales Associate was very nice and gave her contact info. The hard part with his frequent travelling is he's not reliably in the same cities often enough to try to build a relationship. He admitted he was a little nervous going in to Hermès by himself, and asking for something so big, but overall he wanted to try again in the next city!
On his next work trips, he visited new Hermès boutiques and brought his colleagues with him for moral support. Finally he was offered two bags to choose from, and the colleague said "I think your wife would like both!", so my husband brought home both! When my husband brought the big orange boxes home, I was over the moon with excitement and so happy that he was so thoughtful. I never expected him to ever actually commit to this! When I opened the boxes I was in shock – I absolutely LOVED the sight of the two beautiful pink bags, but they weren't what I had asked for and I wasn't exactly sure they were a great fit for me. We discussed day and night what to do and finally settled on returning them. My husband was very hesitant to return them and said he was for sure being added to some list and banished from Hermès. He made the return and said it was okay and maybe he will have another chance to try again for me, but he realized he needed to be very specific about what he was looking for. Then he realized the best thing to do was not going from city to city as he travelled, but rather work with my Sales Associate who knew me, my likes, dislikes, and my wish list!
He began working with my Sales Associate via text and did a lot of shopping leading up to my big dream bag! I had TONS of orange boxes for my Birthday and Christmas stacked up under the Christmas tree (I have a December birthday). He finally got "the text" and he snuck off to the store to meet my Sales Associate. It was going to be my birthday surprise and he told me it's something exotic and green… and I couldn't wait for him to get home! He came home from his long work trip with my bag, and I had to open it right then! My husband had gotten me Vert Emeraude Lizard Orans and a matching Vert Verone Ostrich Kelly 25!!! I was over the moon and so thankful for my amazing SA and husband!
Then we took a trip back to our other home in Miami with our daughter and our "new baby." My husband already had an idea that this bag should stay in my closet in some lucite protective showcase, but I told him it was meant to be worn and to be loved! So off we went. The first day out in Miami I wore the bag for a walk down the beach and my husband noticed a little spot. I said, "I read that ostrich is hearty with water and it'll be okay!" He said "okay then." Shortly thereafter I showed him there was no mark from the water and everything was okay and he was impressed.
Fast forward, a month later, and I've actually stained the bag… I didn't tell my husband right away, because I was hoping that the stain would Houdini itself or that I could do something to fix it then tell my husband after the fact with some before and after photos. First I tried using a water wipe and my Dyson on cool. It made a huge difference but it didn't go away completely. So after speaking with Monika, the expert founder of PurseBop, she showed me her experience with her own Barenia stain and encouraged me to try talcum powder. Before thinking, I called my husband to ask him if we had talcum powder and he asked why I would need talcum powder. I told him I'm treating a stain, which I often do with my daughter's clothes, it's almost another hobby of mine! My husband told me to throw it out, whatever I was trying to stain treat with talcum powder, just THROW IT OUT! I said "oh no, I'm not throwing it out!" Then my husband said "Nothing is worth that much trouble! Throw it out!" and I was like "No way, this is worth it, if you only knew!" and I was laughing hysterically, I could hear his heart sink when he realized it had to be the bag he just got me.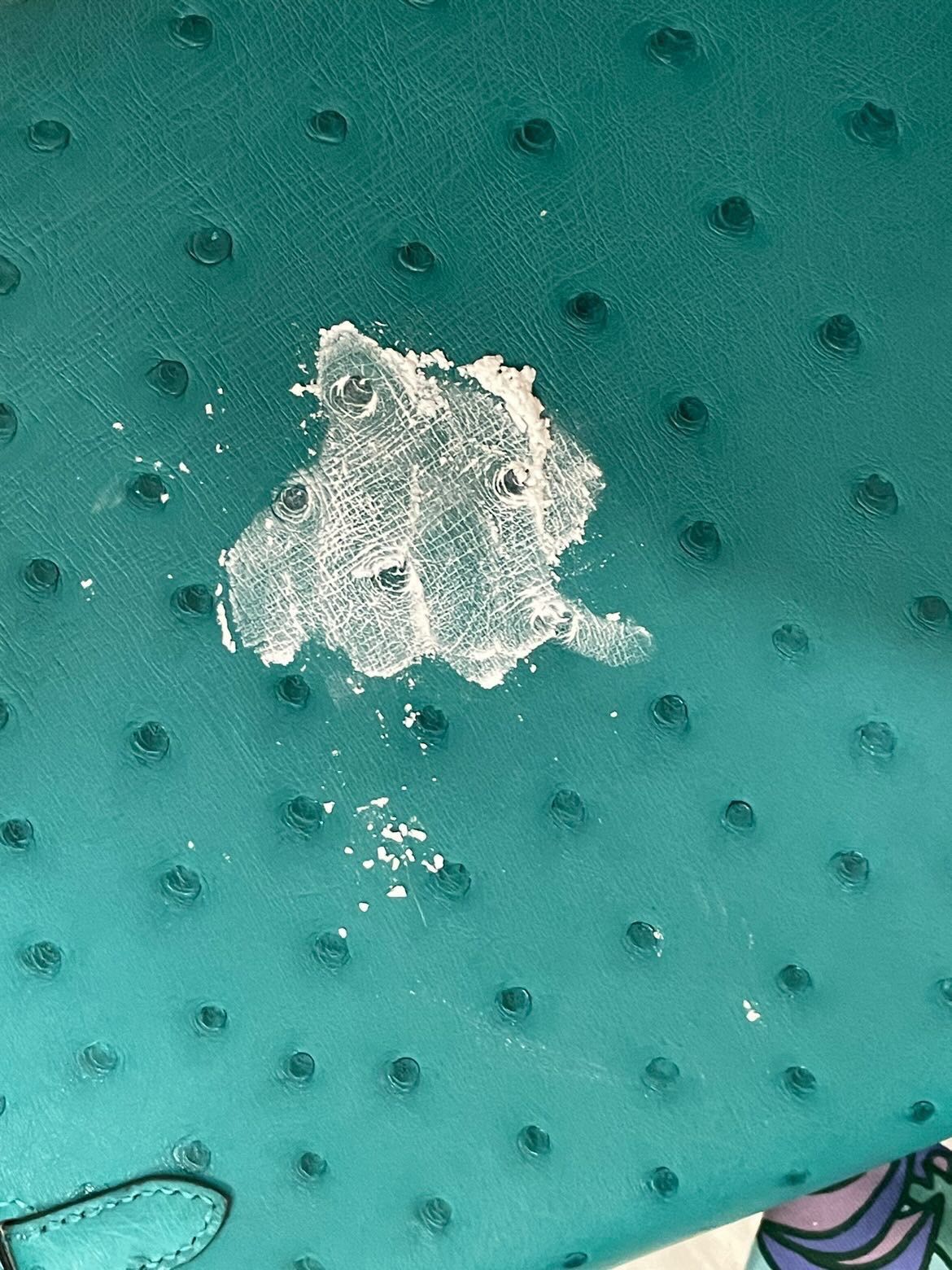 As we were getting ready for bed, I asked my husband if he wanted to go check out the stain before we went to bed (hopefully it would be gone by the morning! fingers crossed!). He looked at me, and said "No I don't want to see the damage that's been done!! Now I understand why they wear gloves at the store. I don't want you to handle it without gloves from now on. I don't even want you to look at it!" He tried to keep a straight face as he said all this. He thinks the bag is "our baby."
7am the next morning I was pleased with how much it's disappeared, and I went to show my husband… He said "I still see the spot!" I told him I'm confident the talcum powder will help fix it and this will either be the story of how resilient an ostrich bag is.. or the story of how a patina starts. :) Now, we wait for the delivery of talcum powder. I ordered Imperial Leather Talcum Powder.
Verdict = The Talcum Powder did help significantly but didn't remove the mark entirely… so we headed off to a Flagship Hermès location to evaluate and see if we can make this like it never happened!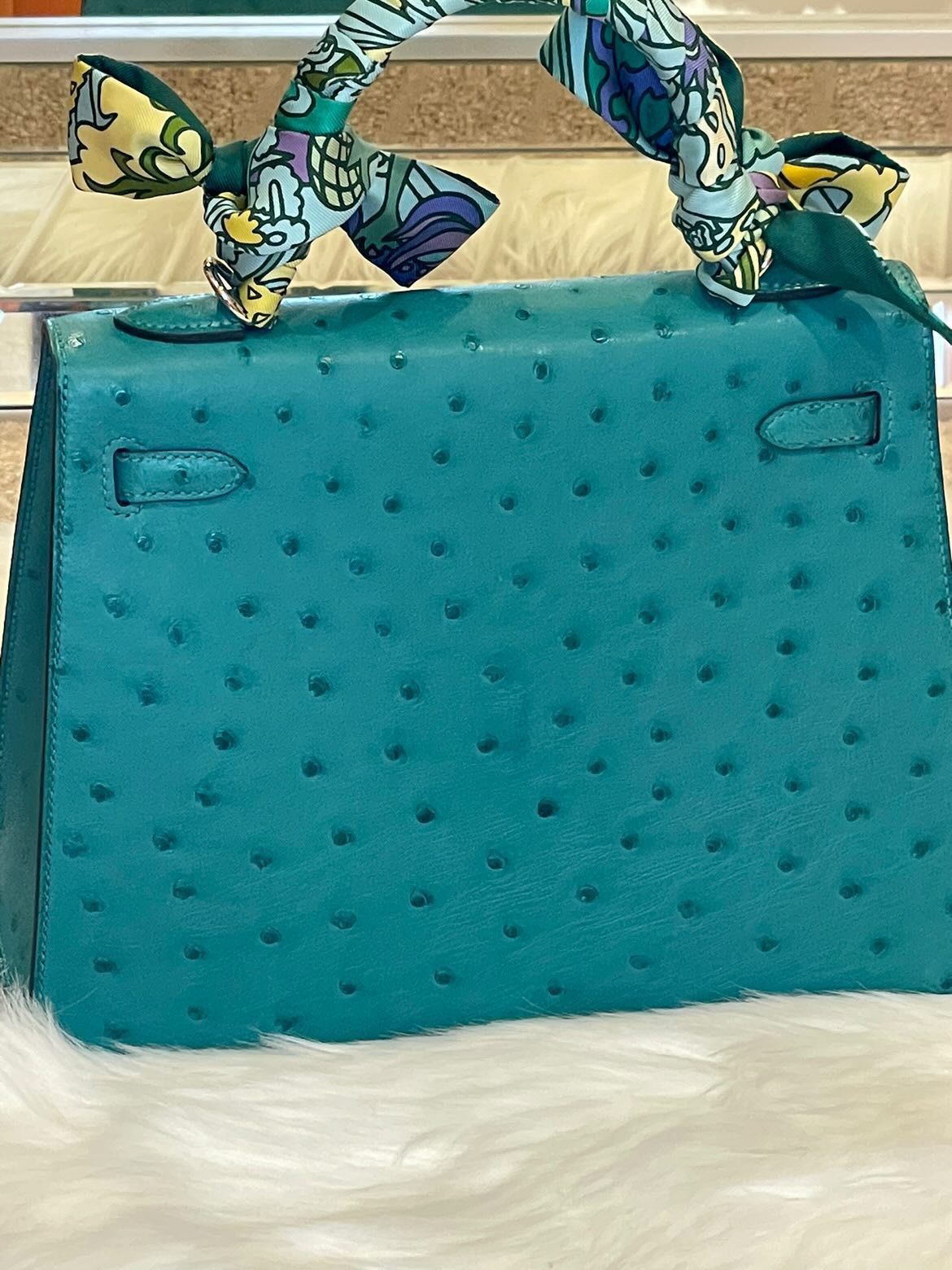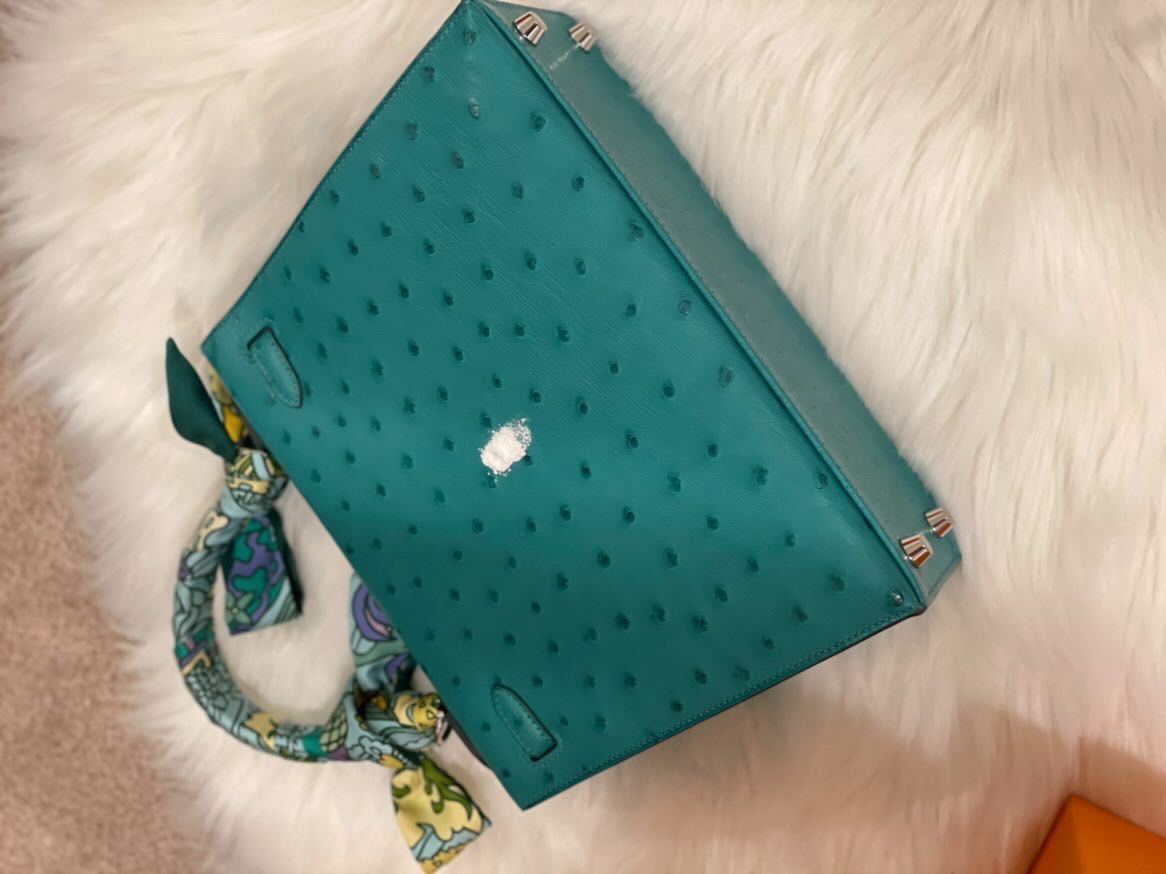 My husband, my daughter and I headed into The City for a date day and then to find out the fate of our bag baby. When we arrived at Hermès Madison Ave, I was advised they had an Artisan from Paris there who would evaluate my bag and options, but the SA who viewed my bag said she didn't think there would be much hope as "Oil is literally the worst thing for Ostrich!" Sigh. She said I could maybe try the talc again one more time, but if it didn't resolve it then it would likely equate to having to rebuild the bag – which wouldn't be possible, most likely. She did, however, say that she wouldn't have seen or noticed the mark if I hadn't brought it to her asking if she could see anything amiss on the bag. I had to specify it was the back of the bag and she said "oh this is so tiny – it's barely visible!" As I shopped around the big lovely Hermès store, on every floor for an hour or so, waiting for the expert artisan to arrive back from their lunch and either concur with the SA or offer me a miracle, I hunted for my wish list items that I still haven't had any luck scoring… finally I received the call and final verdict: the artisan said what the SA had advised was correct. So now, my green baby Kelly has a story to tell. :)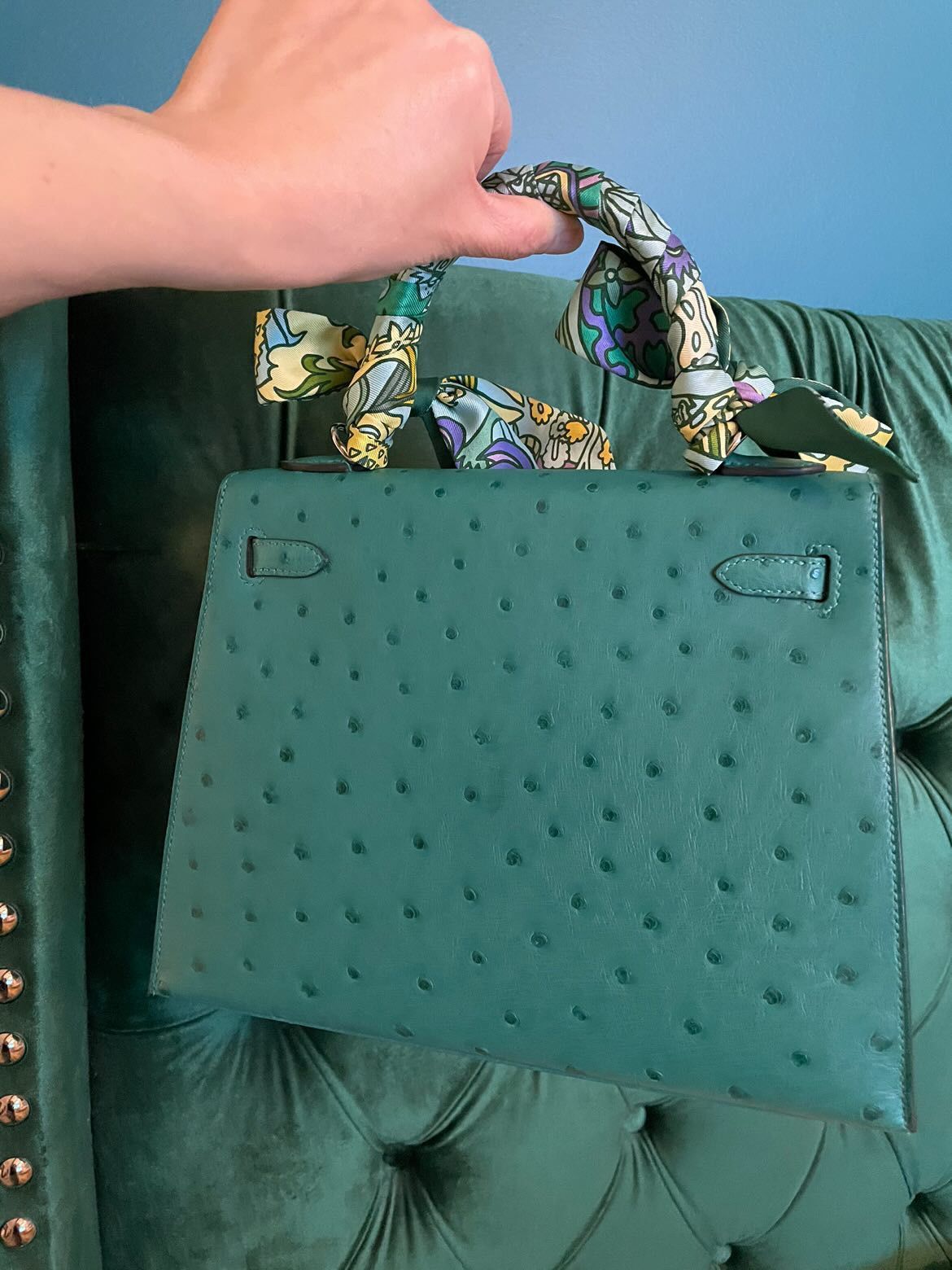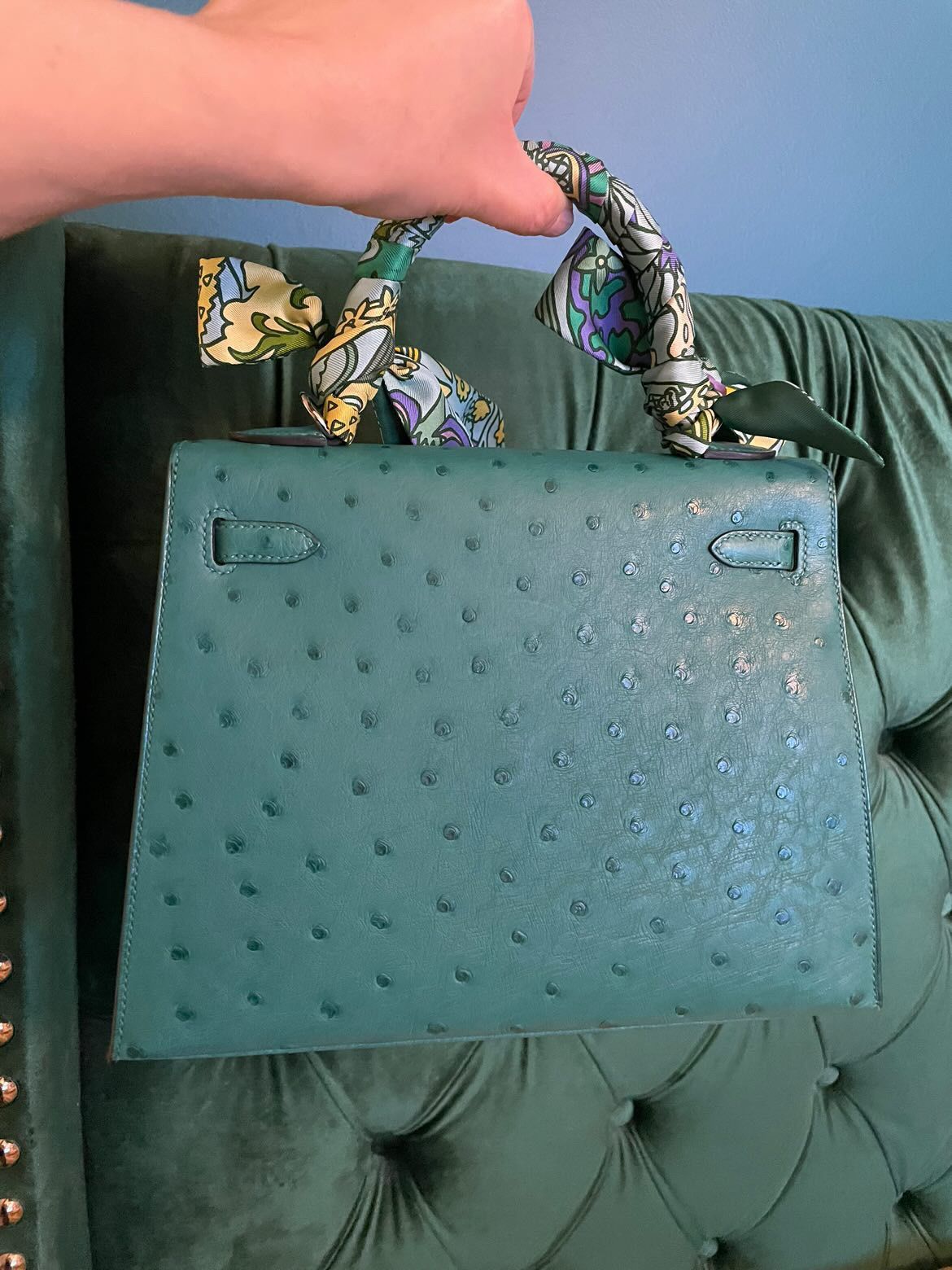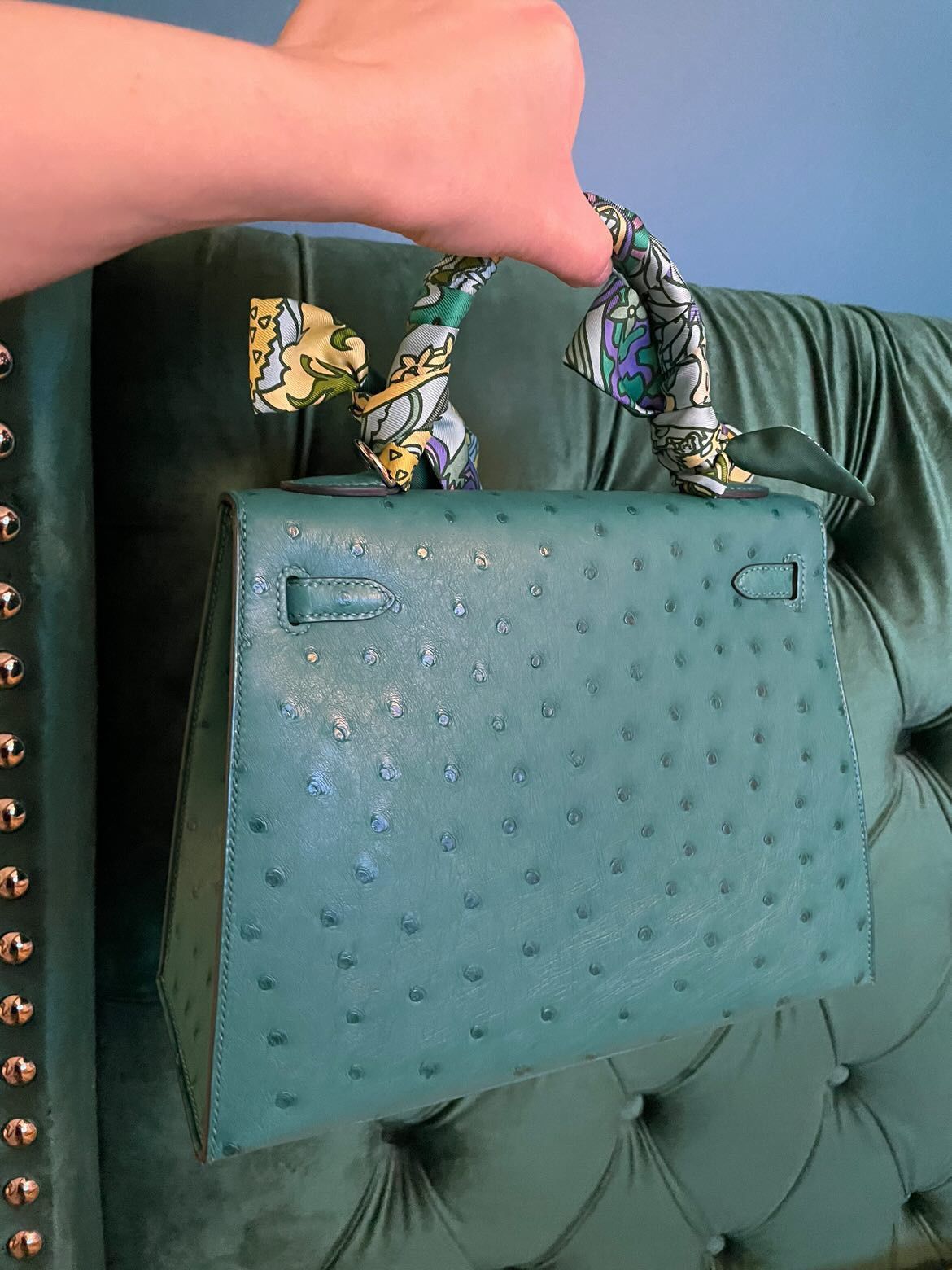 @bellarosetoombs
XO