The House of Gucci, a scandalous and riveting story of murder and glamour is all set to hit the silver screen, later this year. But making the wait harder and taking fan excitement level to its peak is the photograph that Lady Gaga just posted!
The Oscar winning lady recently posted the first look of her as Patrizia Reggiani alongside Adam Driver who plays Maurizio Gucci; on her Instagram account- and the similarity between the real and reel characters is unreal!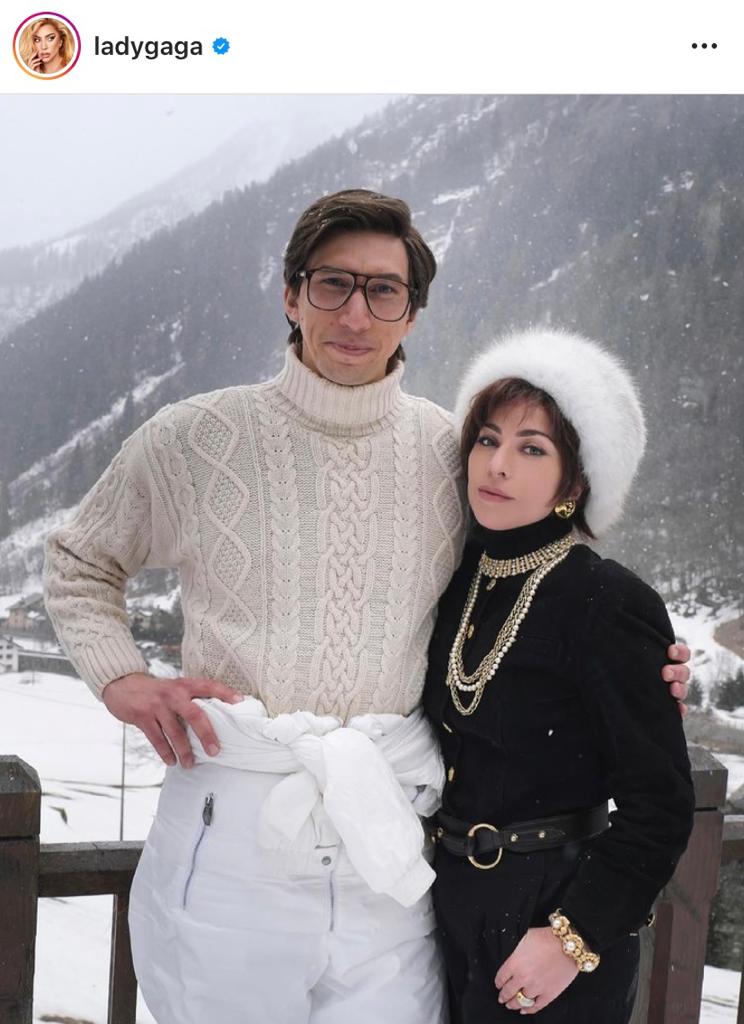 Gaga and Driver look super glamorous against the backdrop of snow capped mountains in a post titled "Signore e Signora Gucci", that's Italian for Mr and Mrs. Gucci. Gaga wore a black turtleneck and pants, with layered gold chains around her neck, along with other gold accessories including earrings and a bracelet. Whereas Driver sported a beige turtleneck and white jacket casually tied around his waist; with large black rimmed spectacles to replicate Maurizio's look. The pair looked positively chic in their 1980's inspired après-ski attire.
The movie based on the book "The House of Gucci: A Sensational Story of Murder, Madness, Glamour, and Greed" by Sara Gay Fordon, follows the controversial aftermath of the murder of Maurizio Gucci; grandson of Guccio Gucci, the founder of the giant Italian fashion house. Directed by Ridley Scott, the mega starrer movie, stars Al Pacino, Jared Leto, Jack Huston, Reeve Carney, and Jeremy Irons.
Reportedly releasing in November 2021, the movie depicts the conviction of Patrizia Reggiani (Gaga) for hiring a hit man in 1995 to assassinate Maurizio Gucci (Driver), for leaving Patrizia after 12 years of marriage for a younger woman. Patrizia was subsequently sentence to 29 years of imprisonment in 1998 and was there after labelled the "Black Widow" by the Italian media houses.
After serving 18 years, Reggiani was reportedly released from prison in October 2016.
We eagerly await this movie release. How about you?
Read related articles below:
Chanel Launches a Star-Studded Podcast Series
Hermès Movie Magic: When Birkins and Kellys Steal the Show
7 Fabulous Chanel Bags We Spotted on 'Emily in Paris'
Photo Courtesy: @ladygaga