Amazon, Cartier. Two names that one usually wouldn't think to put together. One's a luxury jewelry brand, the other a department store for the world. Giants in their own right, the companies have recently joined forces to fight a an issue that has long plagued both industries- counterfeits.
In lawsuits filed earlier this week in the United States, Amazon and Cartier claim that sellers on the former's marketplace website are knowingly promoting and selling items branded with the latter's logo, markings and more. For context, Amazon Marketplace is a platform wholly owned and operated by the ecommerce phenom that allows third party sellers to list their products under the Amazon brand, alongside products sold by the company itself. This has opened the door to hundreds of thousands of online merchants listing anything and everything on the Amazon website… including fakes.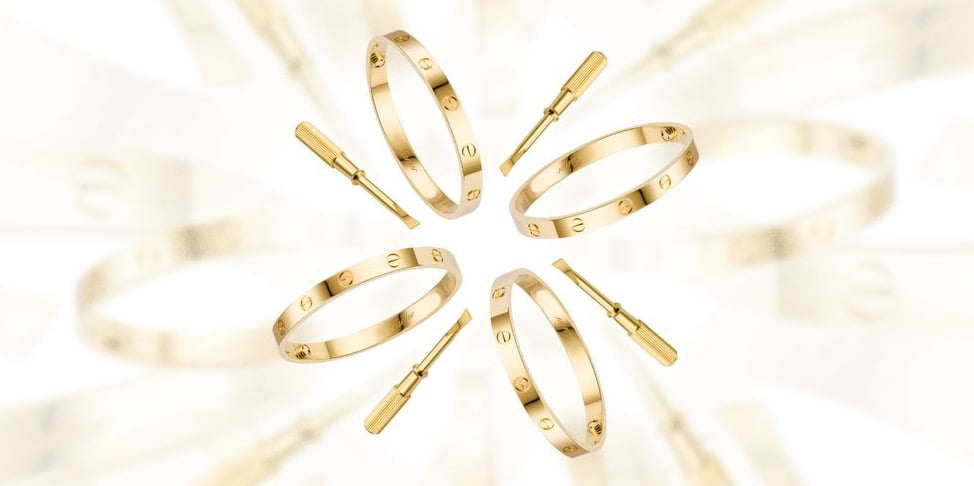 Image Credit: Cartier
In this scenario, Amazon and Cartier focus their efforts on sellers posting generic, and often cleverly positioned images of what appear to be Cartier Love Bracelets. Moreover, the iconic Love Bracelet name is not used, but rather a simple description of "women's bangle" or "screw bracelet." Court documents detail that this practise occurred during the period from June 2020 to June 2021, as it applies to this specific group of sellers against whom the suit is levied. Additionally, it is alleged that the individuals behind the online vendors also marketed their products to followers on social media, detailing the process on what store to search for, what link to click, what product to select, etc.
This is not the first time that such a suit has been launched. In an article by The Fashion Law, it is stated that in November of 2020, similar legal proceedings were drawn out (leading to an eventual settlement) against two social media influencers who partnered with sellers to promote, direct and aid users in purchasing these copycat Cartier bracelets.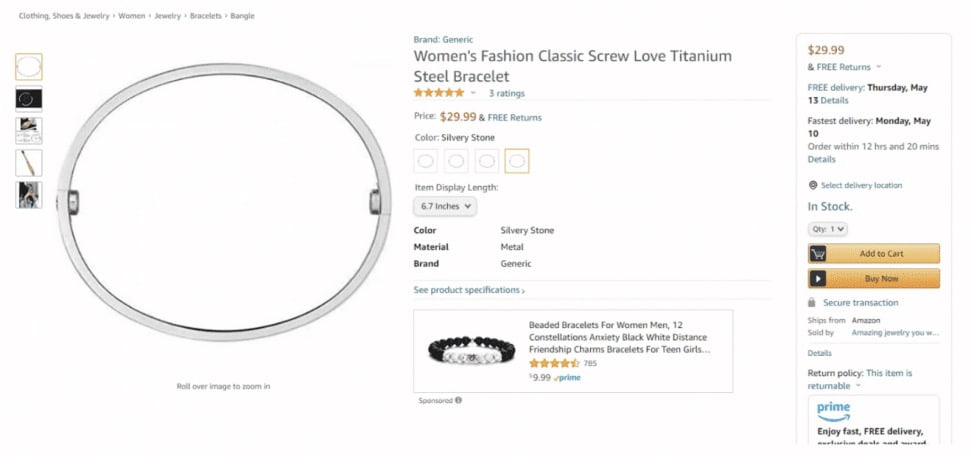 An example of a listing on Marketplace, Image Credit: Amazon.com
In a statement released by Amazon's Anti-Counterfeit unit, reflecting the sentiments of both Amazon and Cartier, the brands state that "by using social media to promote counterfeit products, bad actors undermine trust and mislead customers. Amazon will keep investing and innovating to stay ahead of counterfeiters, and working with brands and law enforcement to hold bad actors accountable. We don't just want to chase them away from Amazon—we want to stop them for good."
This case is ongoing and we will share more info as it becomes available to us. What are your thoughts on this? Do you feel online platforms like Amazon are doing enough? Moreover, will this have you thinking twice about listings when shopping online?
Read Related Articles:
Heartache & Heartbreak: The Truth Behind the Cartier Love Bracelet
Hundreds of Counterfeit Watches Stopped at US Border- Rolex, Cartier