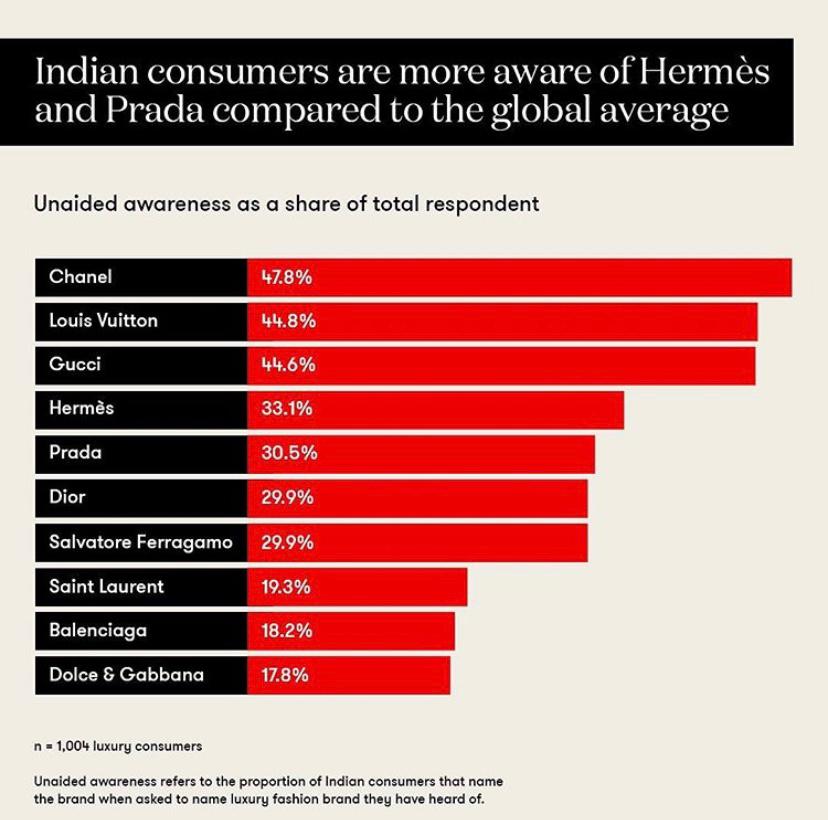 With a population of 1.3 billion people, a median age as young as 28, and a growing affluent population, India has been the cynosure of attention for the global luxury industry since the last couple of decades. With luxury brands like Louis Vuitton and Gucci establishing their presence in the country nearly two decades ago, and brands like Tiffany recently making an entry, Indian's no longer need to travel abroad for their luxury fix. The awareness and aspiration to own luxury brands is probably second only to China. A recent survey by Vogue Business reveals that Indian's are more aware of Hermès and Prada compared to the global average!
India holds the 11th position among the list of countries with HNI population. The optimism and enthusiasm among luxury players, therefore, is justified. However, it is pertinent that international luxury brands be cognisant of the purchasing pattern of Indian Luxury consumers before moving forward with their plans to capture and grow market share.
Unlike global luxury consumers, the Indian luxury customer has other avenues for luxury retail purchases. The average Indian luxury consumer turns to Indian bridal designers for apparel, Indian jewelry brands for diamonds and other precious jewelry, and only turns to international brands for accessories like handbags, shoes and accessories. Consequently, international brands haven't seen much success with categories outside of these.
Nevertheless, apparel focused brands like Balenciaga and Valentino are reportedly evaluating India entry strategies. Access to a wider variety of global brands, combined with the coming of age of a more brand and fashion conscious Gen-Z could be the formula that clicks for segments other than handbags, shoes and sunglasses for global luxury giants in India.
Read related articles below:
Could Duty-Free Airport Shopping Be the Next Must-Have Luxury Retail Experience?
How Technology will Re-Define Luxury Shopping
As Brexit Confusion Continues to Grow, China Luxury Sales Sky Rocket
Chart and Photo Courtesy: @voguebusiness