Hermès, Chanel, Louis Vuitton. Fans of these iconic luxury brands often find themselves at their boutiques clamoring for appointments and the opportunity to purchase their fancy wares. Or they peruse upscale resellers for access or a deal (rarely a steal) on a top hard-to-get item. But could another source for these brands be coming to the internet?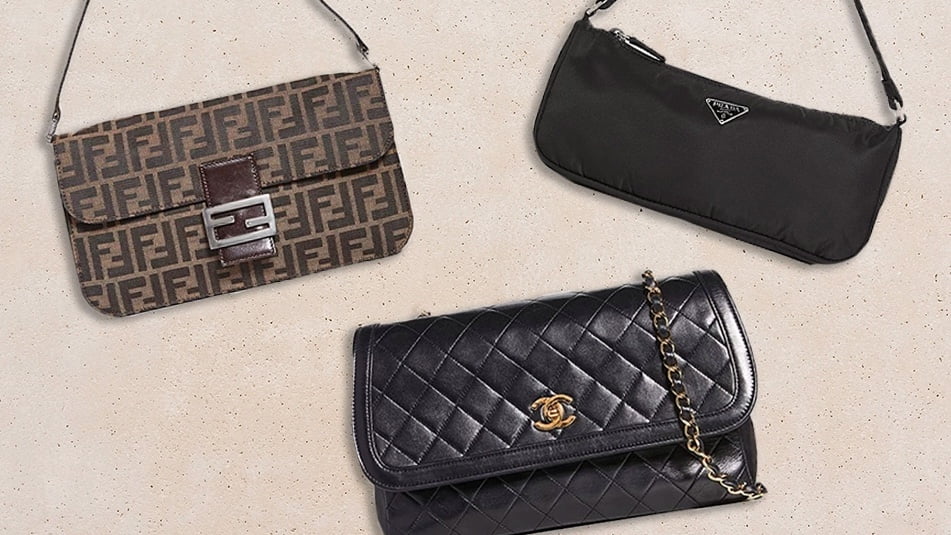 Image Credit: Amazon; Adobe. Design: Bella Gerard/StyleCaster
Preloved luxury retailer What Goes Around Comes Around has partnered with everyone's favourite A-Z company, Amazon, to sell their goods on the online marketplace. So now, the same place you buy your odds and ends can also be where you splurge on a vintage Classic Flap or Keepall tote… or even a Birkin. The reason the news is so noteworthy is that, for years, luxe brands have downright refused to have their items sold on Amazon. It is reasonable to deduce that brand image and prestige have a lot to do with the decision- and for good reason.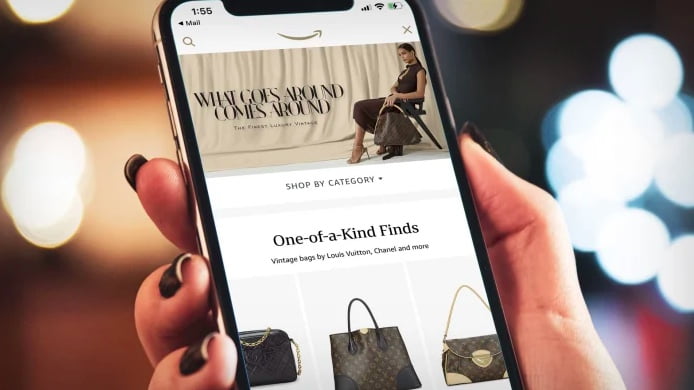 Image Credit: Shutterstock/TheStreet.com
With Amazon being a commonplace market, where anything and everything under the sun is available, luxury brands like Hermès, who essentially pride themselves on "quality over quantity," would find themselves being grouped with always-in-stock items, and it's just not something a brand like that wants to be known for. As we've said before, scarcity is the name of the game in the luxury business. Less is more. The less of something you have, the more people want it, and the more they're willing to pay for the look and feeling of exclusivity.
However, it seems that Amazon is now being a bit more creative in its attempts to tap into a market previously inaccessible. Afterall, eBay began selling authenticated luxury goods not too long ago, and its proved quite a fortuitous and successful endeavor. "We continuously [look to] expand our product offering," says Amazon Fashion President Muge Erdirik Dogan. "Our customers, especially Millennial and Gen-Z customers, have been sharing their interest in vintage and pre-loved luxury. We are excited to bring Amazon's joyful shopping experience, convenience, and fast shipping to pre-loved luxury product shopping."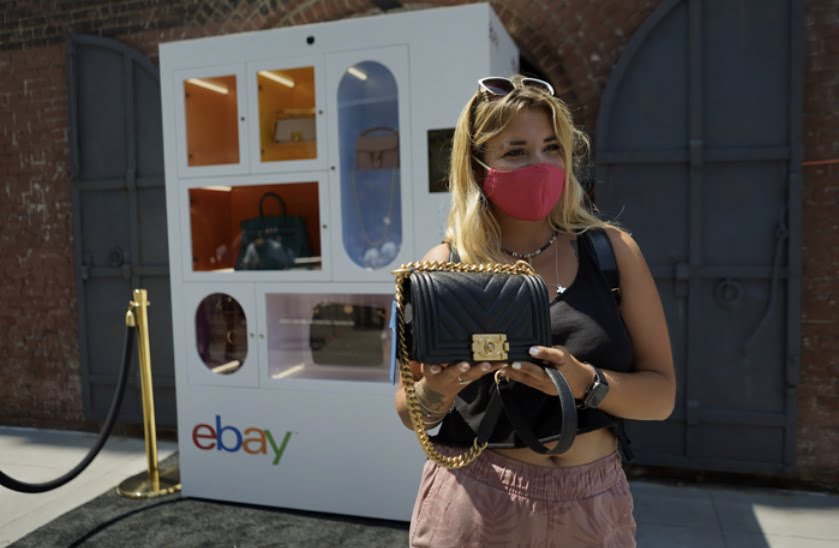 Image Credit: eBay
Read: Ebay to Host First Ever Luxury Handbag Auction on November 15th
Ahhh.. GenZ and Millenials, ever the ones at the center of the story. This demographic has been behind a significant surge in luxury shopping over the past few years, and has, in fact, driven brands' desire to seek out ways to attract them to boutiques. In places like China, for example, an interest in vintage designer goods has completely taken over the luxury goods market such that it even rivals the desire to acquire new and trendier products brought out each season.
Though this partnership is an interesting one, it is arguably a tricky one as well- especially for Amazon. Having been consistently denied of any such collaboration by top brands themselves, let alone the conglomerates they make up like Kering, Richemont and LVMH, will this sneaky shortcut only do more to harvest the distrust between giants of the commercial realm?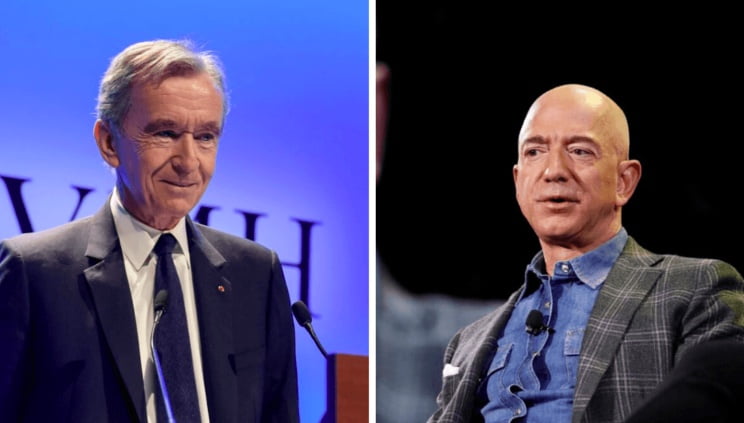 Bernard Arnault of LVMH, Jeff Bezos of Amazon, Image Credit: Sambadenglish.com
Chairman of LVMH, Bernard Arnault, certainly seemingly thinks so. Having shut down such talks in the past, Arnault once commented on the subject saying "We've been asked several times to participate in these businesses, and I've always said no.…they use their database to connect customers to sellers and they take a percentage, which leads them, and we're going to try to fight this on their site and on others, to sell counterfeit products and therefore in a certain way to be linked to organized crime, because the sites that sell counterfeit products are financed by organized crime or even by terrorism. Is it normal for prestigious, highly successful global sites to make money by being associated with organized crime? I don't know what you think, but it's a bit shocking."
Read: Love Lawsuit: Cartier, Amazon Take Legal Action over Sale of Counterfeit Bracelets
This argument leads to another potential, though frankly already existing, problem for Amazon- counterfeits. Having already partnered up with Cartier to fight the sale of faux jewellery circulating the online store's pages, how will Amazon be able to verify and uphold the authenticity of its luxury products? Will it rely solely on the much smaller WGACA to attest to the legitimacy of that Hermès Kelly or Chanel Wallet-on-Chain? What if one slips through the cracks- then who is to blame? Moreover, is that the point at which luxury houses will start to get involved?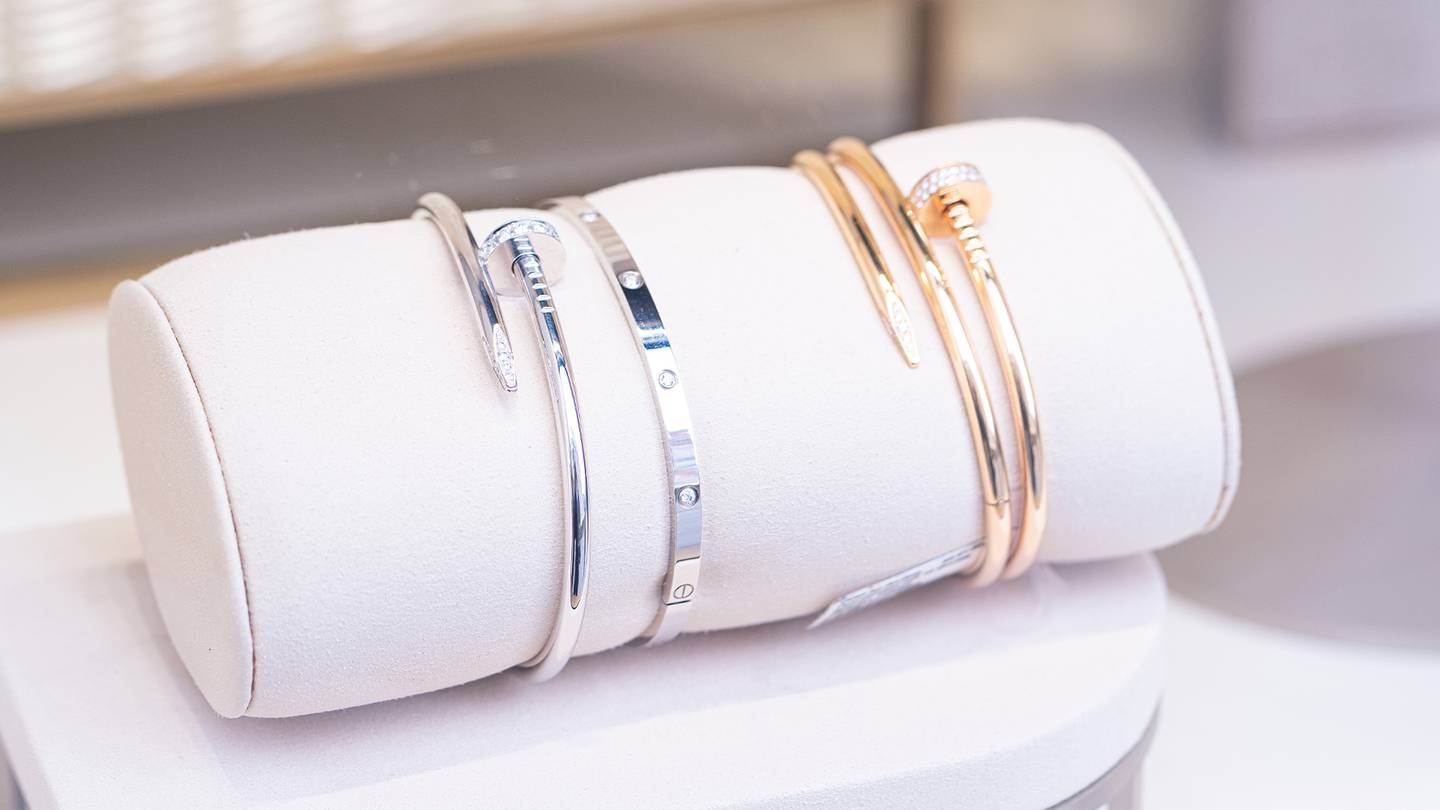 Image Credit: Shutterstock
That's not something either company is abundantly worried about at the moment. Rather, the focus is on the long sought after ability to provide access to a starved market. With the hunger for luxury goods at an all-time high, both Amazon and What Goes Around Comes Around are eager to feed the masses. "We provide access to Louis Vuitton, Chanel… to amazing customers. We make this kind of luxury a little more accessible and available to people that don't have it in their own town," says WGACA Cofounder Seth Weisser.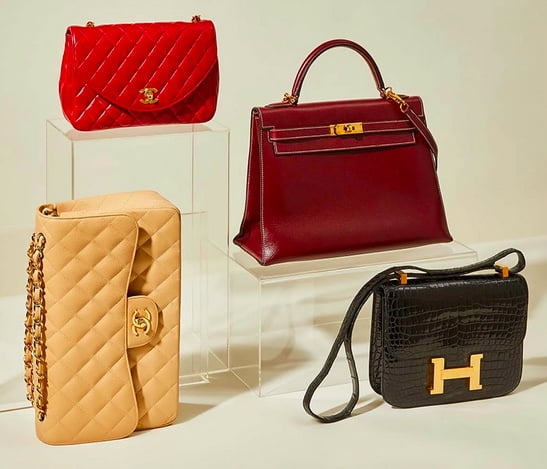 Image Credit: Rebelle
Hermès Birkins, Kellys, Chanel Classic Flaps and even vintage Rolexes will all soon be available online at Amazon. The question, though, is how this will affect the way You shop. Are you intrigued by this new way of buying luxury? Is access to items that seem to be impossibly inaccessible a good thing? Will this bring the luxury goods world into a new era? Or will it flood the market with volume, whether real or not. Let us know your thoughts…
For more on this, click here.