Something whimsical is happening in Chicago! A surreal line is being drawn from the Art Institute to Barney's in celebration of Belgian ART…and much to Pursebop's glee, BAGS! In collaboration with historic luxury house Delvaux, Chicago Barney's is presenting the "Les Humeurs de Brillant" ("The Moods of Brillant") collection in an exclusive, gorgeous store window. The display is set to coincide with famed Belgian artist Rene Magritte's retrospective at the Chicago Art Institute. As part of Delvaux's commemoration of Magritte's iconic work "La trahison des images" ("The Treachery of Images"-1929), Barney's is exclusively carrying 10 numbered pieces of the Brillant
"Ceci n'est pas un Delvaux" bag.
(Note: Brillant is pronounced Bree-aunt)
For those new to Delvaux, it was founded in 1829 in Brussels and is the oldest fine leather luxury goods company in the world. Yes, it's older than Hermes, Chanel and Louis Vuitton. Delvaux has been internationally recognized by Royalty and is in the same league as the Hermes Kelly. It has earned its reputation by remaining true to its values of uncompromising craftsmanship and supreme quality of its creations.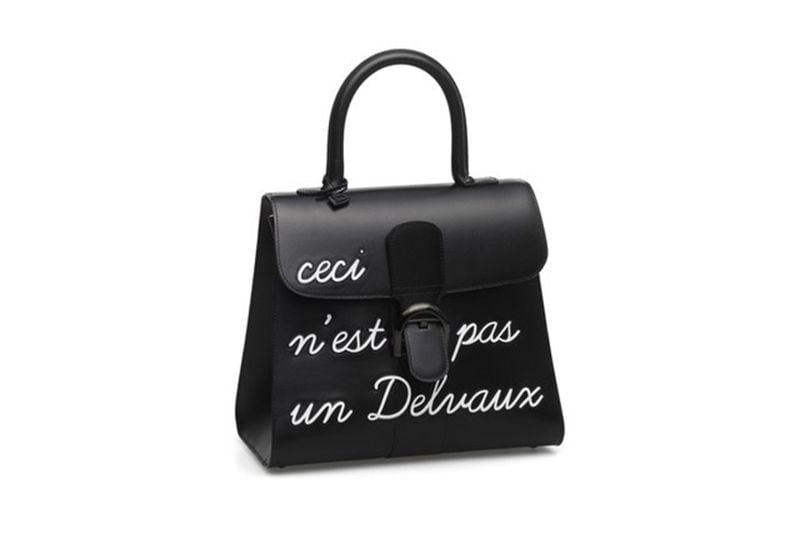 Photo courtesy: Delvaux
Magritte was a hugely influential figure in the surrealist movement (along with artists like Salvador Dali) and his work blends everyday concepts and objects together in inconceivable ways. Some of the paintings are definitely eerie, but they have a tranquil air to them I think anyone can find appealing. His famous image of the pipe, with the words "this is not a pipe" written right below in the style of a newspaper ad, is meant to make clear the representational aspect of language.
Magritte: "The famous pipe. How people reproached me for it! And yet, could you stuff my pipe? No, it's just a representation, is it not? So if I had written on my picture "This is a pipe", I'd have been lying!"
But there are no doubts about the bag…its definitely a Delvaux!!!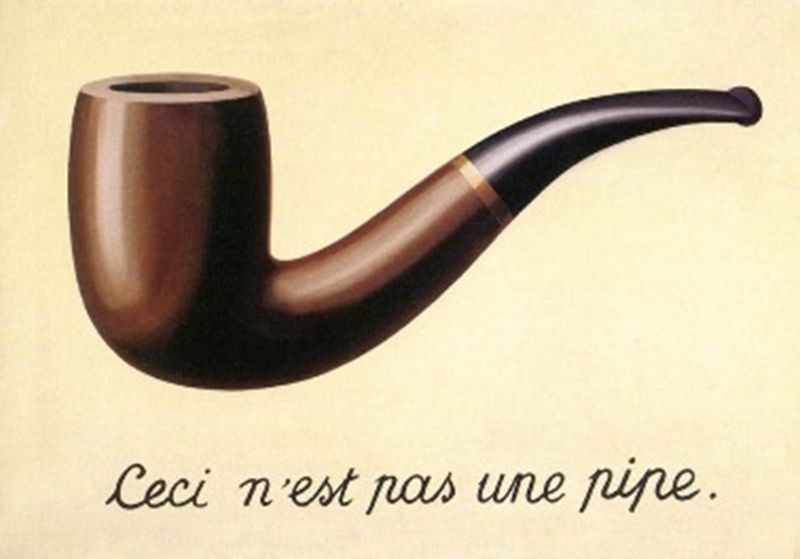 René Magritte's "The Treachery of Images Painting," 1929
Just this last weekend Rihanna was spotted sporting one in NYC…could this be one of the numbered pieces from Chicago? Rumor has it the $7,350 special edition pieces are already sold out.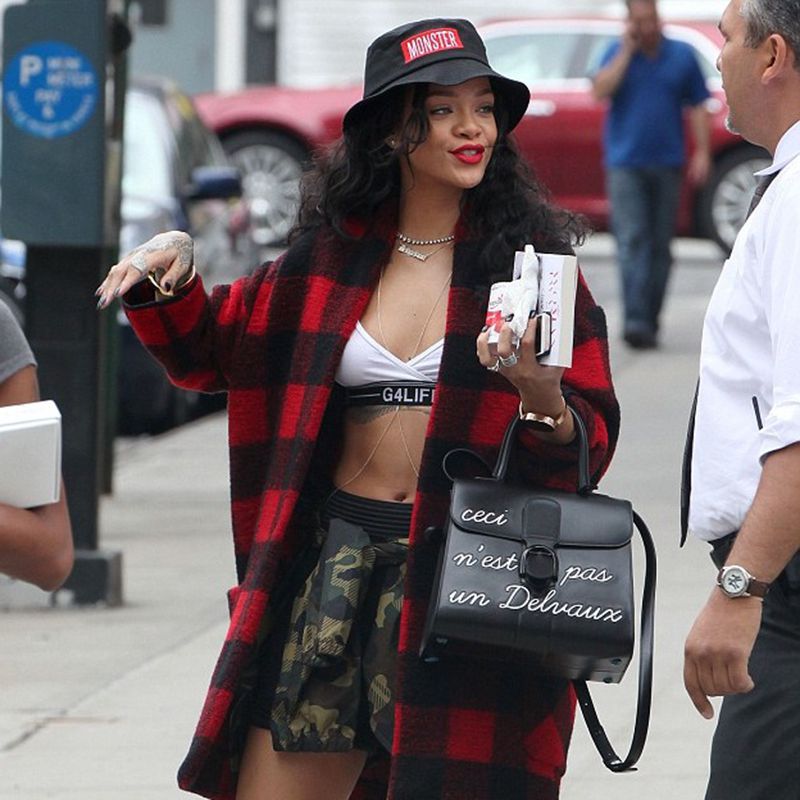 The "Ceci n'est pas un Delvaux" bag also celebrates the 50th anniversary of the brands signature 'Le Brillant' silhouette. They come in three sizes called the Brillant Mini (20 x 27 x 11 cm), Brillant MM (Moyen Model 28 x 36 x 14 cm), and Brillant GM (Grande Model 36 x 44 x 19 cm) priced at $3,600, $5,600 and $7,400 respectively. Of course as with any exotics and specialty details, the sky is the limit.
It's important to  note that these treasures are entirely handmade and meet the highest quality standards…they're truly pieces of art crafted with immense precision and detail. When I took a close look (and it was a long one, you can ask my sales associates, LOL) I was extremely impressed. We all know of luxury handbag designers that tout handmade whose pieces still leave much to be desired, but these were impeccable down to the last stitch. In my opinion, the prices are completely justified with this caliber of craftsmanship.
The Delvaux window installation begins at Barneys' Chicago and will 'BOP' to Brussels, Paris, Tokyo, Shanghai, and Hong Kong over the course of the year. If you are in the area it's really worth the trip to see these 'works' of art' on display. Barney's has been Delvaux's exclusive retailer in the United States since 2010.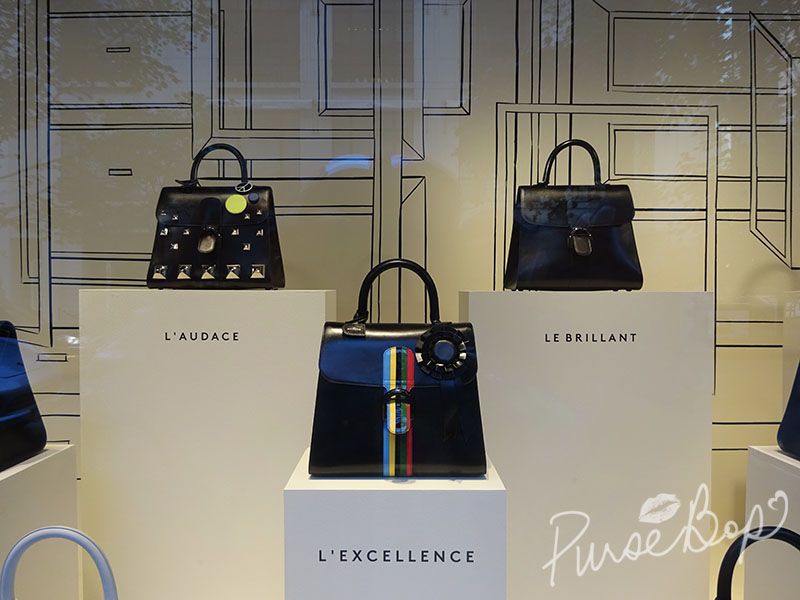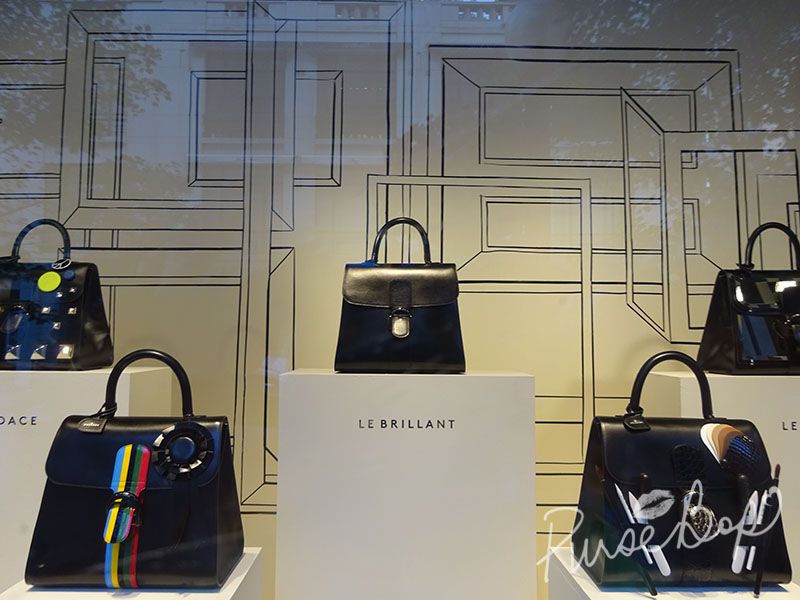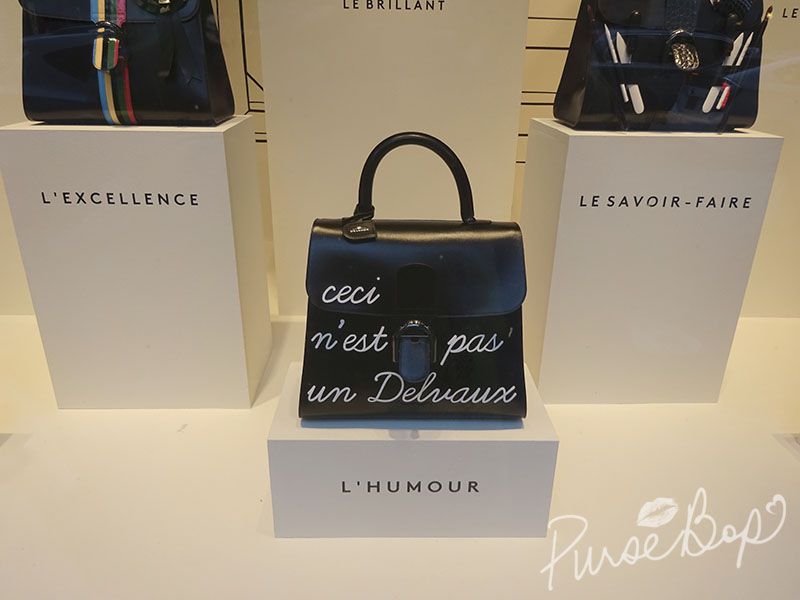 I've seen the window and reveled in the glory of the bags at Barneys… Next up is the Art Institute for the official Magritte exhibit!
I assure you this is not the last you will hear PurseBop speak of DELVAUX, I have a feeling this might be the start of a life long love affair…
Love PurseBop
XO
Updated: June 17th, 2019