If You Could Have a Celebrity's Bag, Would You?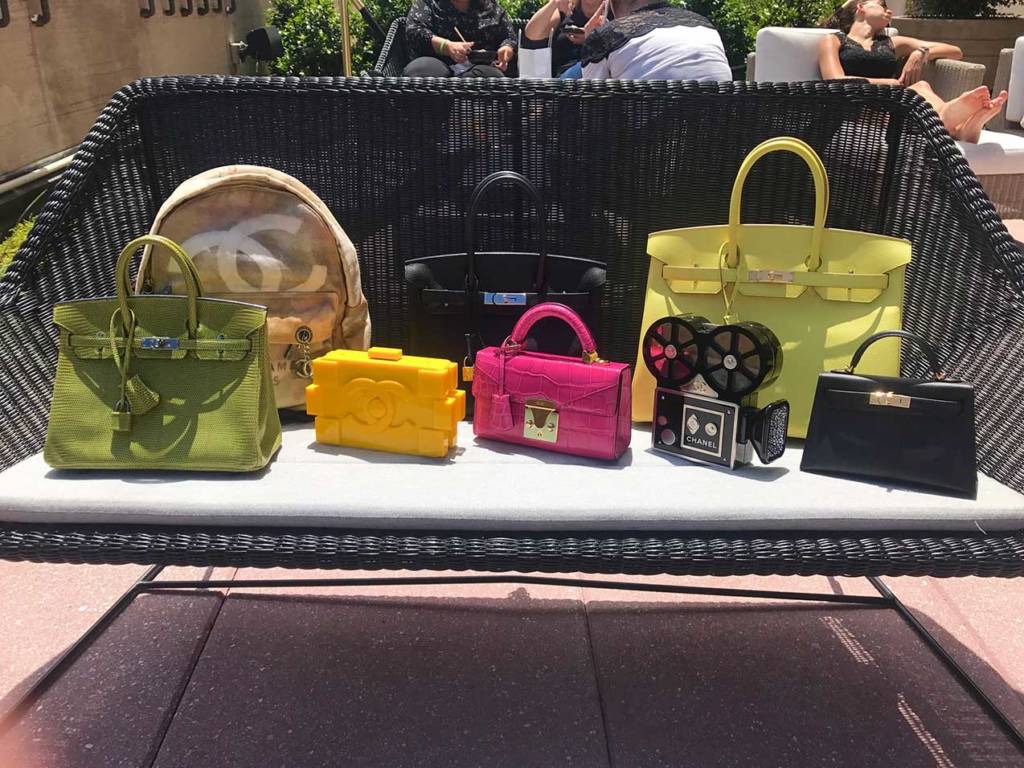 Have you ever seen a celeb with a beautiful bag and thought, I simply have to have that? We confess, we've been there a few times (perhaps more than a few, to be honest).  But when we were browsing through some of our favorite celebrities' fashion the other day, we thought: what if those bags were readily available? What if you didn't have to seek out a Chanel boutique, play the waiting game at Hermès, or covet pieces from past seasons?
Then, it dawned on us. Christie's, the esteemed auction house, has curated the perfect selection of handbags for its NYC online auction, which continues until June 19th. (The bags can be viewed at Christie's NYC Rockefeller galleries from June 8th to June 13th, if you want to take a peek yourself!) The luxury of this auction is that you don't have to wait, and seek, and hope without end that you'll somehow find a bag  you've been coveting.
And a number of these bags are tried and true. They've been spotted on the most fashionable celebs around, and we have the photos to prove it. We've found 8 celebrities that carry the very bags Christie's has to offer. And if it looks good on Rihanna…well, perhaps it might accompany you in style as well. Let's look at these celeb handbag moments, shall we?
Khloe Kardashian x Chanel
Rihanna x Chanel
PurseBop has had a soft spot for Chanel's lego clutches for quite some time, and this canary yellow beauty is no exception. Just look at how it pops in Rihanna's low-key outfit—we're smitten.
Chiara Ferragni x Hermès
No one does insta-chic quite like Chiara Ferragni, and the relaxed combo of her denim cut-offs and striking mini Kelly shows that the black bag is truly a chameleon—it's perfect for almost any occasion.
Chloë Sevigny x Chanel
When you look at this bold yet dainty Chanel film bag, do you immediately think of Cannes? If you don't already, seeing it elevate Chloë Savigny's boatside outfit is sure to bring you there.
Kris Jenner x Hermès
This bright lime Birkin undoubtedly makes a statement. And, as Kris Jenner's jubilant expression attests, it's likely to bring a bit of sunshine to any outfit.
Dakota Johnson x Chanel
The Chanel Matryoshka evening bag is the epitome of the maison's minaudières. Its dainty figures lends the perfect dose of whimsy to any sophisticated outfit, like Dakota Johnson's sequined yet muted dress—it's as if the bag was made for the red carpet.
Miroslava Duma x Chanel
No brand creates 'new classics' quite like Chanel, and the Perfume Bottle minaudière is no exception. Loved by fashion-savvy celebs and urban fashionistas alike, the bag has become a true staple for the Chanel-obsessed (PurseBop included!).
Nicky Hilton x Hermès
It's a fact that you can't go wrong with a black Birkin 30. It's simply impossible. But if, by any chance, you need any convincing, take a look at how Nicky Hilton has paired the classic handbag with an elegant frock. We simply can't help but want that look.
So, what's the verdict? Are you celeb-obsessed, bag-obsessed, or celeb bag-obsessed? Perhaps a combination of the three? Is there a particular bag (or celeb toting it) that caught your attention? Regardless of the cause of your fascination, Christie's online auction is perfect place to head if you want to chase a bag—or even just browse—a little further.
Celebrity Photo credit: Us Weekly, People Magazine, In Touch weekly, Elle Magazine and some photo sources unknown. 
As part of our collaboration with Christie's, our PurseBop community members are entitled to a little extra special care. If you are interested in curating your collection with Christie's or if you should need any help with registration, the bidding process or would like any bag tips or advice, contact us at monika@pursebop.com or direct message us on IG @pursebop and we will make sure to get you the help you need.
Read related articles below:
PurseBop x Christie's: The Evolution of a Collection
Where are you in the Evolution of a Handbag Collector?
Celebrity Style Showdown: Mini Bags
Battle of the "It" Bags: Celebrity Style Edition
Love, PurseBop
XO