The longest reigning British monarch has graced us with so many elegant looks. From her monochromatic ensembles, her three strand pearl necklace and her Launer handbags, we honor Her Majesty's memory with a look at the Hermès scarves she sported over the years. 
Although her regal formal attire is divine, the Queen's casual looks made her so laid-back, carefree, and relatable. Her signature casual-chic is the bold-printed Hermès scarf tied gracefully under her chin. As a lover of horses and fan of equestrian events, Queen Elizabeth was often seen in the heritage brand's signature colorful silks.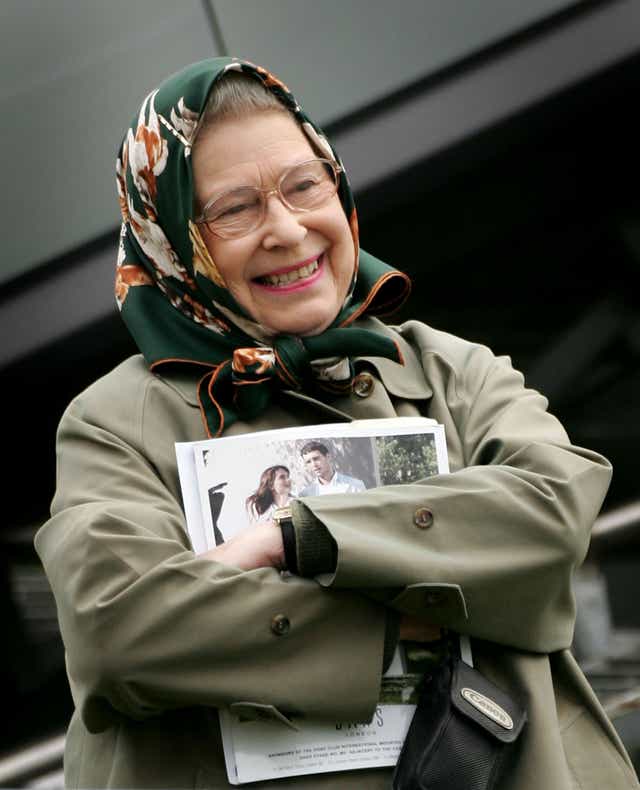 Queen Elizabeth's original accessorizing  with Hermès silks began with the annual Windsor Horse Show. Instead of a crown, her head has been adorned with a scarf in the nearly nine decades long running show. Since the event is outdoors, the scarves were a practical, as well as, fashionable choice. 
In fact, the Queen and Hermès scarves became so synonymous that Hermès produced a limited-edition scarf in honor of her 90th birthday. It debuted in 2016 at The Royal Windsor Horse Show with portions of the profits going to The Queen's Trust charity.
Rain or shine, through cricket games, windy days and walks with Obama, Queen Elizabeth reigns over Hermès silks. 
Let's take a look at her love for scarves leading up to Her Majesty's Platinum Juliee.