The House of Louis Vuitton got its start making travel luggage for the wealthy and it seems the house is still living up to these roots in 2021.
Kendall Jenner is one of the celebrities Louis Vuitton has been gifting with lavish presents this month. The brand sent Jenner and her new boyfriend Devin Booker, a professional basketball player, a clear Vuitton monogrammed box with white roses and his and hers LV fragrances as a gift for Valentine's Day. The gift was personalized with the couple's initials, "KJ + DB", engraved onto the case's handle. The fragrances were held in Vuitton's highly covetable individual fragrance cases.
Jenner took to her Instagram Stories to show her fans the lavish gift.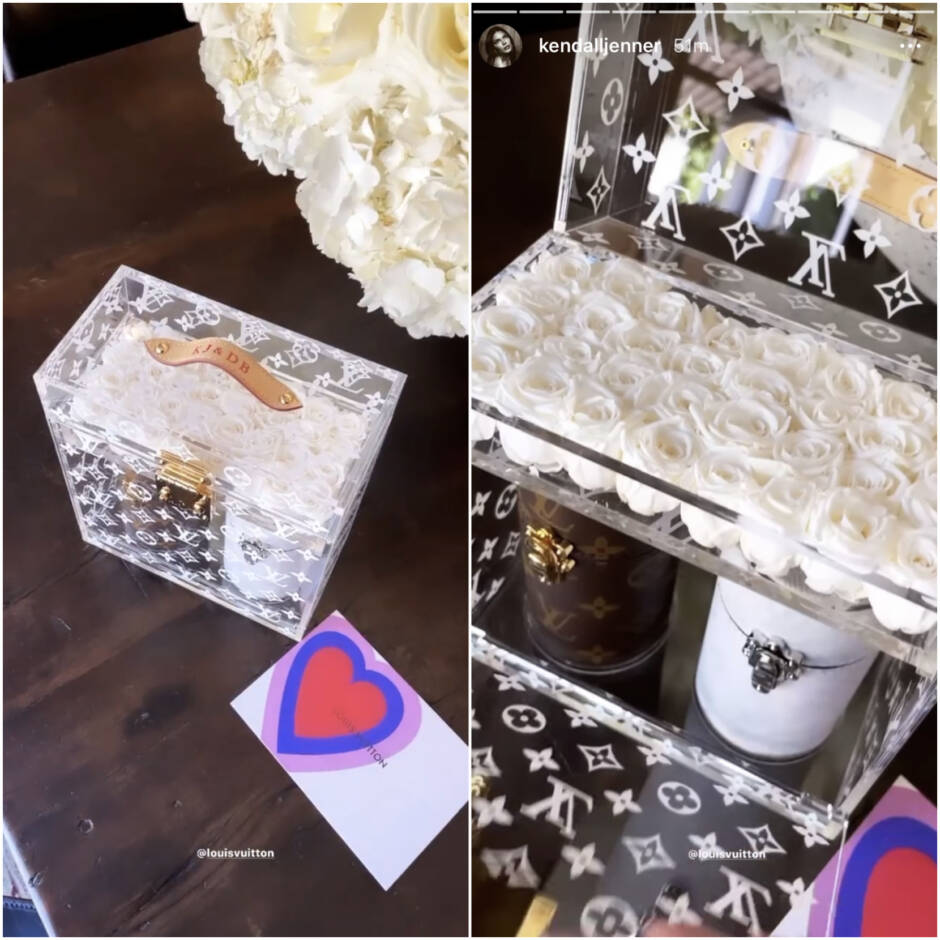 Page Six Style tallied up the price of all of the items and worked out that the gesture consisted of $3,000 worth of LV products.
Others A-listers who were lucky enough to find themselves in the house's good books included LV ambassador actress Sophie Turner and husband Joe Jonas. The pair received fragrances from the brand personalized with their initials.
And fragrances aren't the only lux items LV has been giving away. Several high profile influencers have been gifted the new LV Coussin bag from the house's Spring 2021 ready-to-wear collection. The style is a large unstructured tote bag, finished with LV's iconic Monogram pattern, a crossbody strap and chunky chain. The Coussin is slated to be one of LV's next 'It' bags and the design also features in the house's Pre-Fall 2021 collection.
In the wake of the house recovering well from the pandemic, the news that LV are continuing to shower some of their wealthiest and most well-known customers doesn't exactly come as a shock.
But what we really want to know is – how do we get our name on LV's gifting list?
Read Related: Which Two Luxury Brands Nailed Success Amid the Hardest Time?
Photos courtesy of @kendalljenner @sophiet @tamara @chiaraferragni