One of PurseBop's most lauded blog posts has been the Celebrity Fashion Review and it's PurseBop's turn to be handbag stylist to the stars again. This time I will style a star-filled event where Hollywood  celebrities mixed with Washington politicos.
President Obama joined Conan O'Brien onstage at the Washington Hilton for the annual White House Correspondents' Association Dinner and gave his fifth address to the organization of journalists who cover the White House.
The red carpet at the Capitol Hilton in Washington, D.C. felt just like the ones in LA, but this one was filled with journalists and politicians in addition to celebrities. The stars attended as guests of various media outlets; cast members from "Modern Family," "Nashville," "Scandal" and "House of Cards" were just a few stars seen on the red carpet.
So lets review: For this segment PurseBop selects her favorite 6 attendees and posts a picture of each of them posing for the camera with all their flare and style. I then selected and took pictures (note the traditional RED background that has become symbolic of my segment) of a few of the "evening favorites" in my personal handbag collection. Now comes the exciting part: let's style each DC delegate with a PurseBop Pick. What would we like to see them strutting on the most celebrated political red carpet of all???
Katy Perry: must be in LOVE with this years color trend because this is the second time she appears in the most dazzling shade of green 'head to toe.' First at the Grammy's, in a soft shade of pistachio and then here in Giambattista Valli's fairy tale gown of iridescent moss green chiffon reflecting shades of subtle organza hued gold. Her waist adorned in matte golden forest like twigs and berries carried me to an ethereal story bookplace.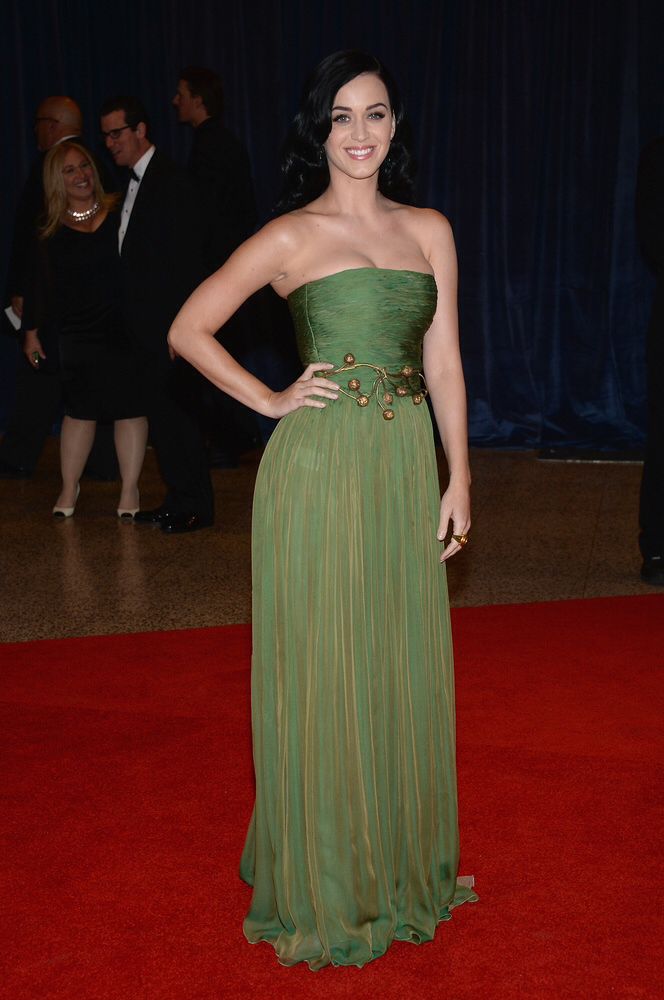 PurseBop's Pick: Chanel's golden python Shiva bag released for the Paris~Bombay Metiers D'art collection could not be more perfect. It's soft structure compliments the flowing gown and its golden metallic finish highlights her waist clinching forest details and the chiffon's soft glowing iridescence. Katy could carry this bag in her hands as a clutch or dangle from the shorter chain straps. This Chanel favorite of mine exudes elegance with the use of exotic python but yet has a casual vibe that comes from its more relaxed shape, making it so appropriate with a variety of looks…from Diva to Girlish!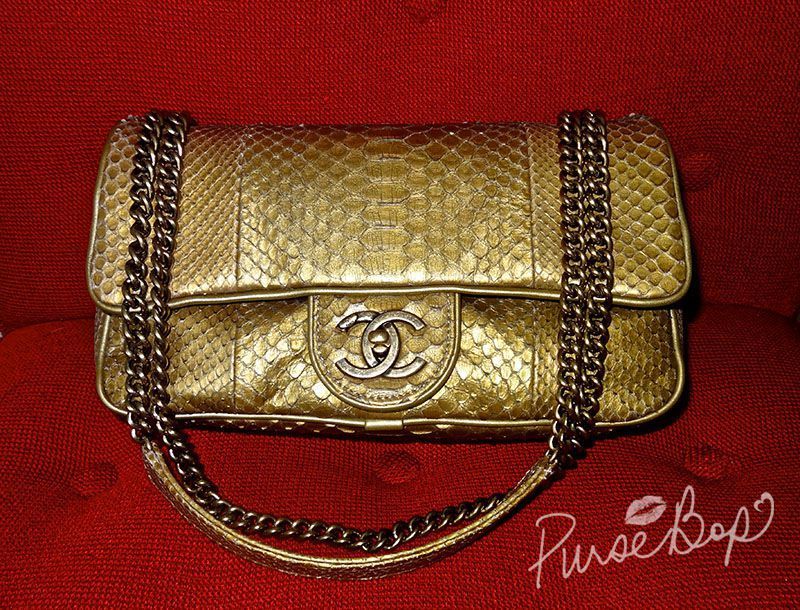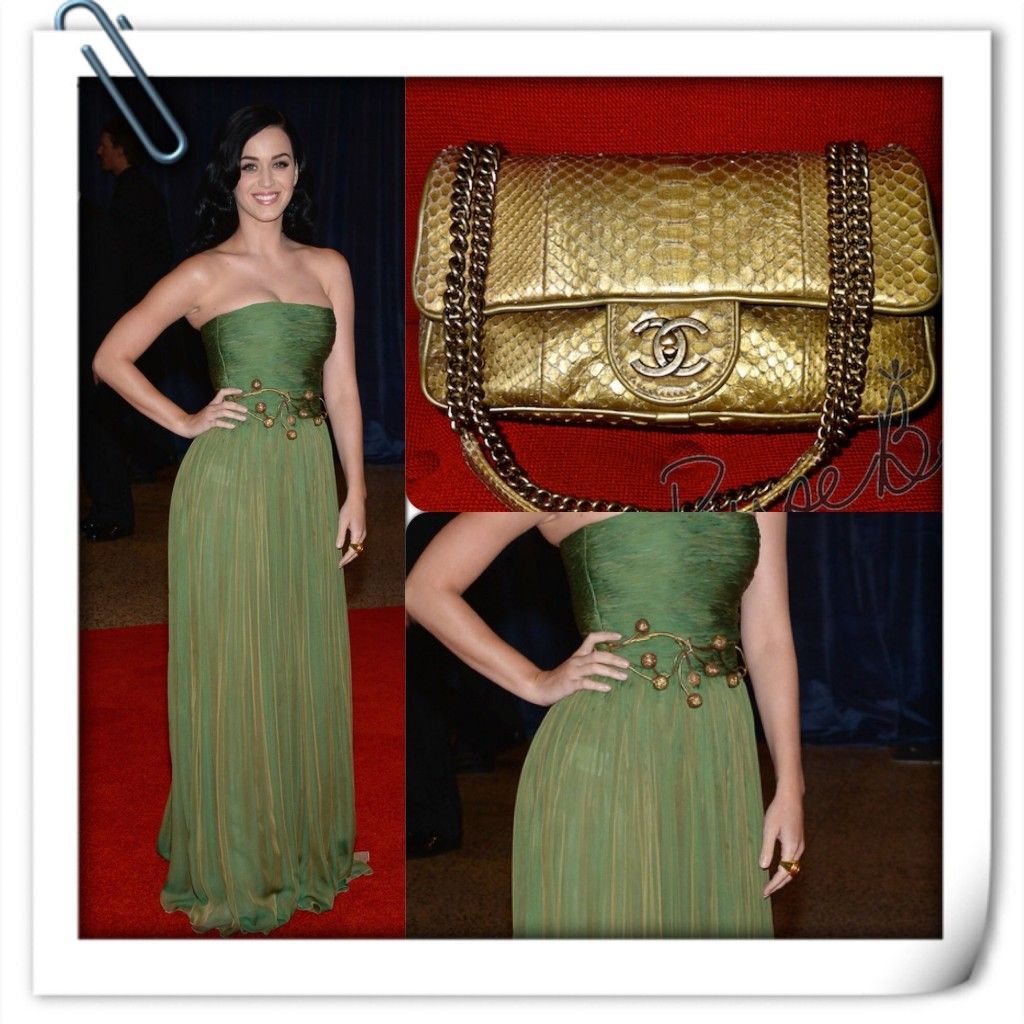 Sofia Vergara: opted for a colorful playful look, donning a lively teal Herve Leroux gown. The voluptuous Modern Family star, who is known for flaunting her fabulous curves on the red carpet, kept things relatively modest this time, revealing only the tiniest bit of skin with a petite peekaboo cutout detail.  Her look was fun and festive, and what 'set the tone' for PurseBop's Pick, was her pink hued playful Lorraine Schwartz jewelry.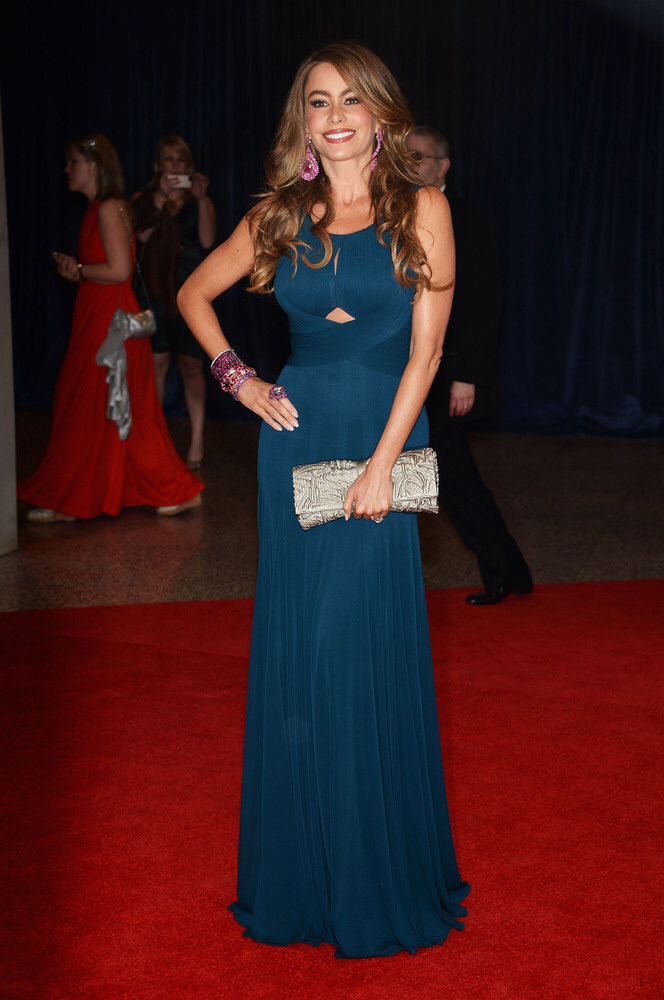 PurseBop's Pick: Judith Leiber Swarovski leopard patterned clutch in the same pink colored stones as her Lorraine Schwartz jewelry. The clutch just perfectly accentuates the festive pink on her dangling earrings and stacked bracelets. I love this piece of mine and find the pink surprisingly easy to match against a variety of patterns and solids.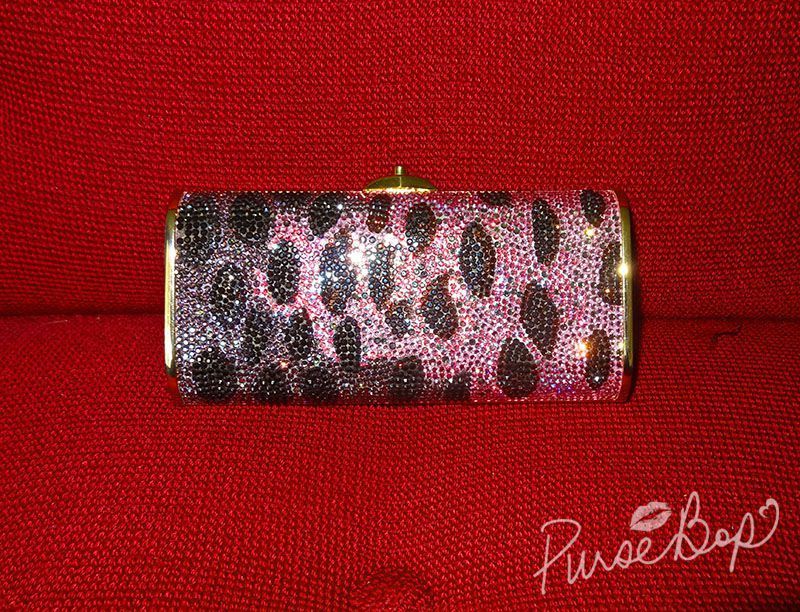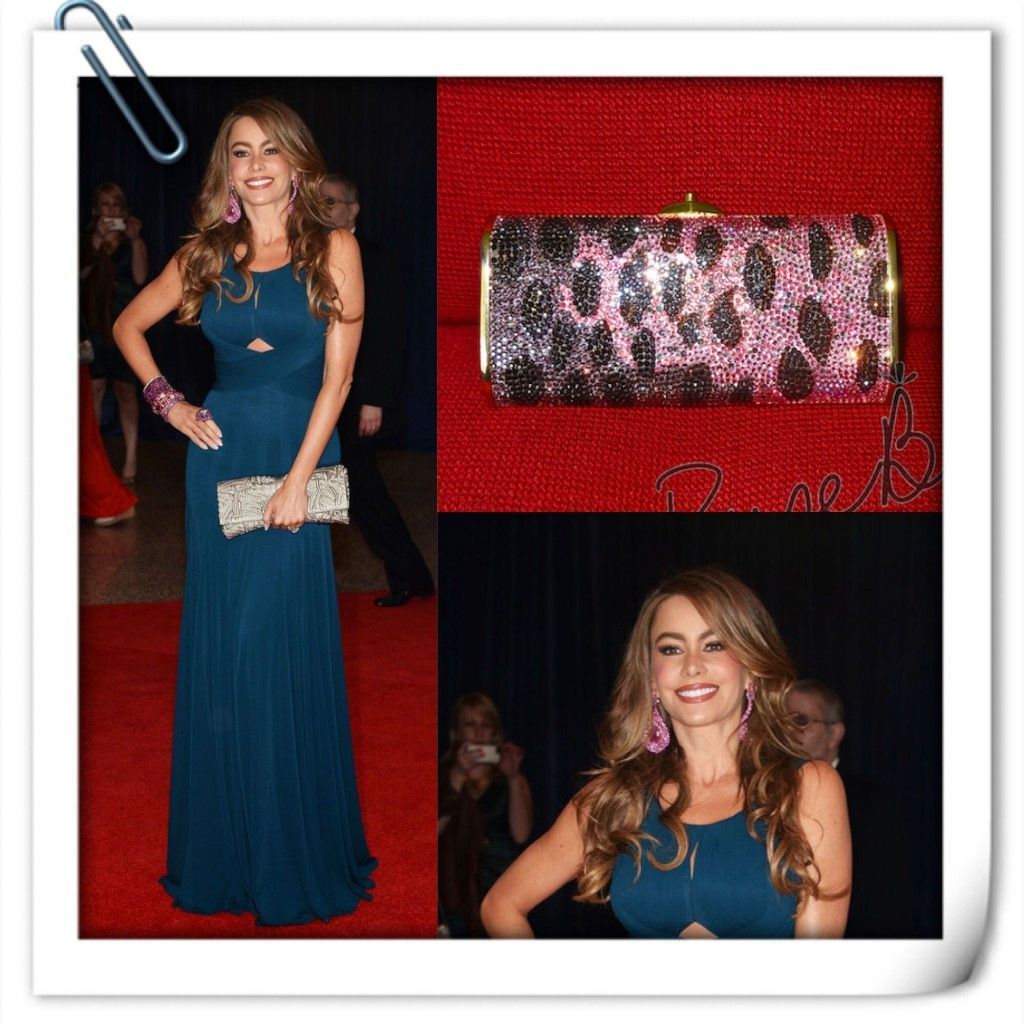 Anna Wintour: British editor-in-chief of American Vogue, and artistic director for Condé Nast, Wintour is the ultimate powerhouse and has become an important figure in both the fashion and political worlds. For the big DC 'DO', Anna chose a white fur capelet, most likely mink and a golden lace fit and flare gown. Her look was very retro chic and reminiscent of Jackie O's days in the White House.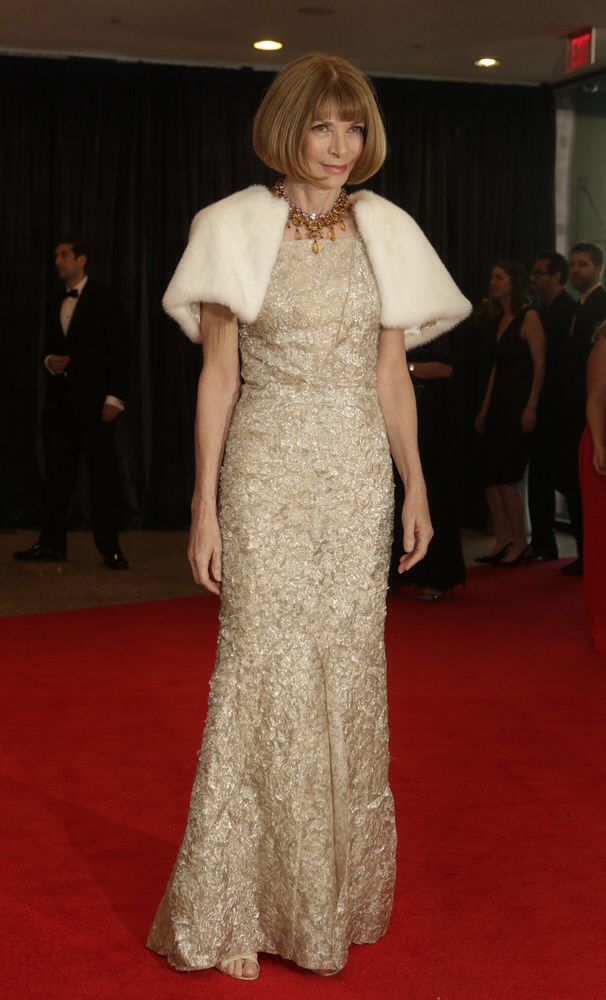 PurseBop's Pick: I am going to take a bold plunge on this one and style the queen bee of fashion with the Chanel Boy bag that stole my heart and those of any that laid eyes on this detailed filigree beauty. It's a 'strong statement look' for the diva, but still graceful enough to compliment her fur trimmed evening ensemble.
Karl Lagerfeld will surely be smiling while reading this headline… "Anna Wintour, Vogue powerhouse, sports Chanel Chateau Boy whilst at the White House Correspondent's Dinner 2013"…. The Boy is "romantic and refined, subtle and bold all at the same time….."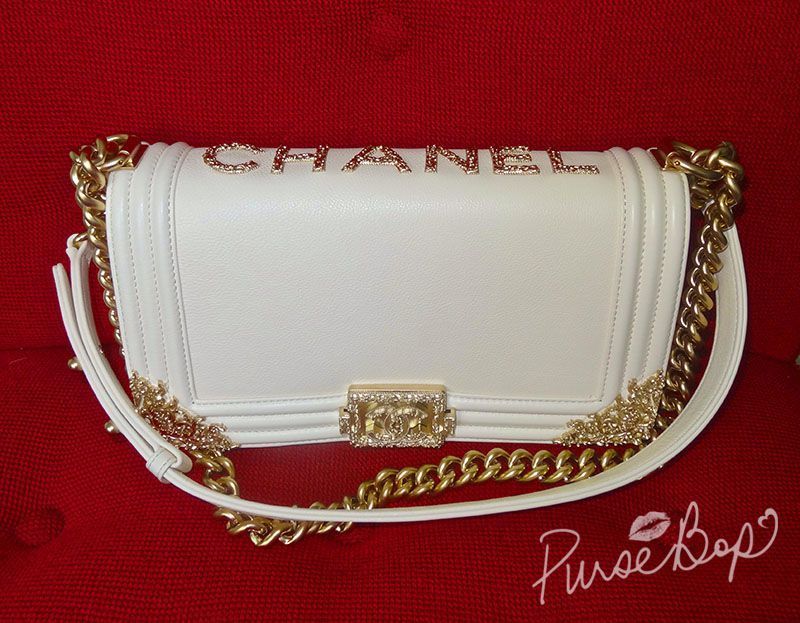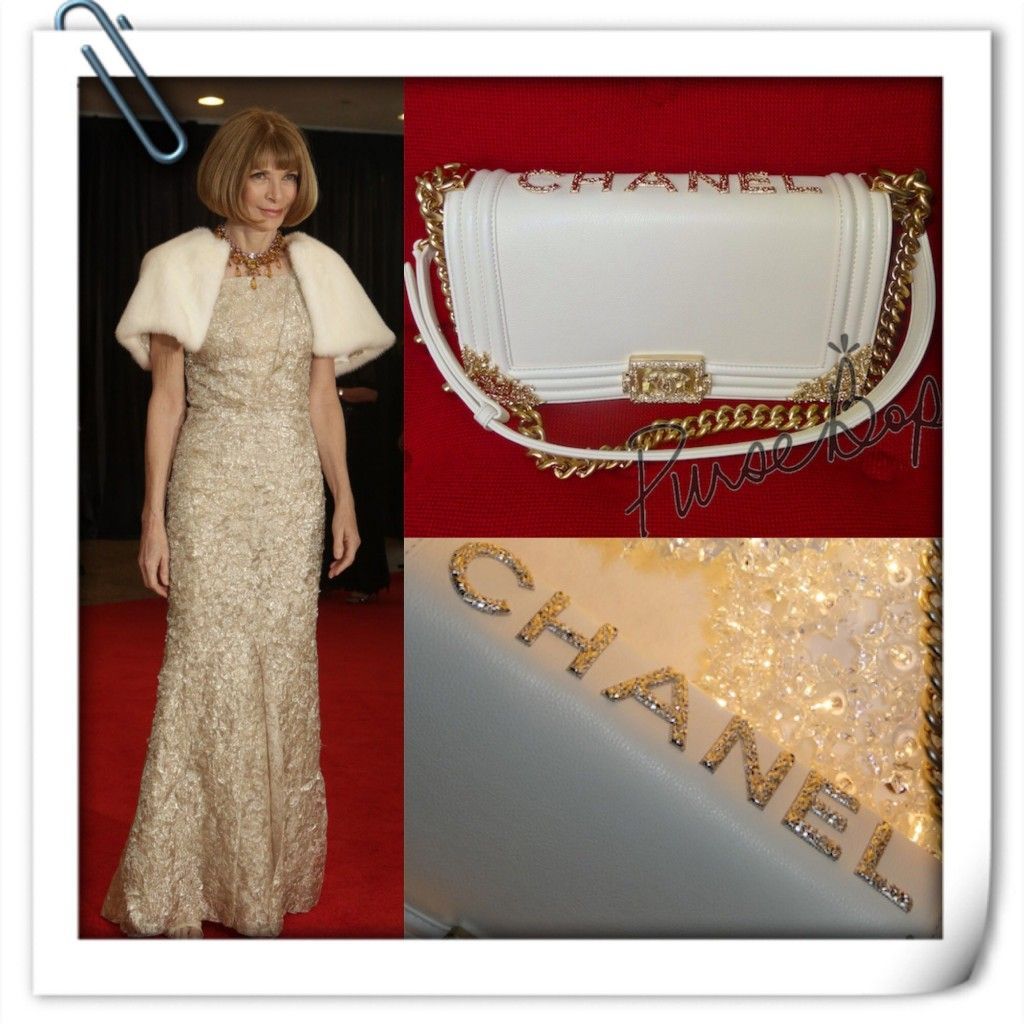 View my reveal of this 'golden treasure' : PurseBop Has the Midas Touch.
Stay tuned for part two of our D.C. dazzlers, featuring the First Lady. What will be PurseBop's pick? Find out Thursday.
Love PurseBop
XO
Updated: May 18th, 2017