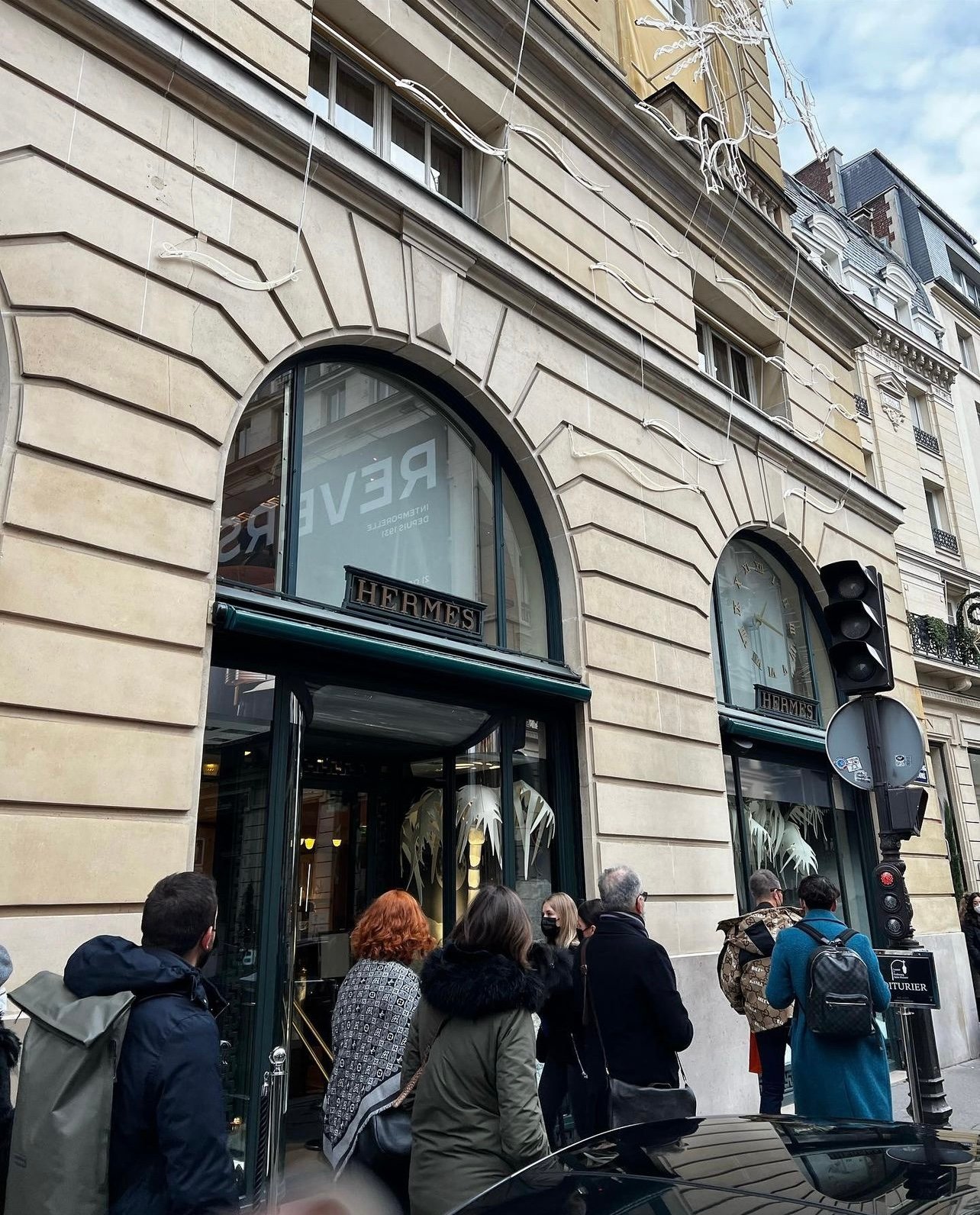 My wife and I saved up money for 4 years for a recent trip to Paris. We were well-prepared for the Hermes Appointment System as well as exactly how to conduct a walk-in Hermes boutique visit (FSH, George 5 and Severes) without an appointment if we had no success with the online system. We had enjoyed 'budget' vacations in Paris two previous times but this time we had enough money to buy the things she wanted. We both agreed to concentrate our precious funds on only high-value, highly sought after items that have been on her wish list for years. We would not nickel-and-dime away our savings on smaller purchases.
I'll cut to the chase: despite both of us registering/requesting Hermes leather appointments everyday (at any of the 3 locations in Paris), we had 10 consecutive days of failure. Each day without an appointment didn't discourage us, we still purchased other planned Hermes items (Clic H bracelet, Constance belt & buckle, silks) and during each purchase we kindly, graciously asked our SA about a leather appointment or advice on when to come back later in the day. Each time the SA was extremely kind and did her best to help us. Each time did NOT result in an appointment or advantage. Our hotel was next to FSH so we visited the boutique everyday. Our motto was Let's give Hermes one more chance! We were always upbeat, patient, smiling, well-dressed, and polite. Only to be matched by the boutique staff's upbeat, patient, smiling, well-dressed and polite rejections.
Since my wife and I already discussed the logical possibility of NOT getting an appointment/bag offer… we had a list of other purchase priorities at upscale consignment boutiques as well as specific jewelry at Cartier and Van Cleef & Arpels. Her absolute target Hermes bag was the Kelly Sellier 25 in a cool tones – but the consignment price was in the mid 20ks – which we didn't want to pay.
Back to the Hermes boutique leather…. only at the 3 Paris locations does it become not only common place to see ladies preening with their B/K/C bags but witnessing so much of that can make one's mindset toward the B/K/C bags turn slightly toxic. Kind of like "I don't want even want one now." Throughout the 10 days in Paris my wife starting loving the Constance To Go Long Wallet. As you could imagine, that particular wallet (though to me seems more like a legitimate 'bag' because of it's versatility) is equally impossible to acquire. Suffice to say that there was NO possibility to purchase a bag at the Hermes boutiques in Paris. After thorough research on the topic it seems like there's no particular time of the year (despite people's musings) that is worse or better than others in Paris to score a leather appointment. You're either lucky or your not. Everyone we saw in the Paris Hermes boutiques were well dressed, well educated, wealthy, reserved, beautifully polished in their presentation, and gracious. My wife and I were simply another pleasant couple in the boutique ballet. We had no advantage. You either have an appointment or you don't. Everyone who doesn't get an appointment cues up in the crying place and receives very polite rejections sprinkled with hopeful suggestions that will lead nowhere.
In the end my wife located and acquired a 2022 new-in-box pre-owned Constance To Go Long Wallet (black Epsom leather, palladium HW) with receipt for $8,500 at one of the consignment boutiques close to our hotel. We gladly paid the premium over retail. Just not a crazy amount over retail. It was an easy decision for her after a week of impossibility at the Hermes boutiques. She got exactly the jewelry she wanted at Cartier and VCA. It was a successful trip. And yes, we did all the touristy stuff she wanted too including a quick trip into Geneve, Switzerland.
We even grabbed a big tote at Monat that she loved as a bonus!
So husbands… don't get mad at Hermes boutiques. They have their limitations as well as their magic.
Warmest regards,
Robert
Please login first to submit.
Hi, I am French and I used to live in Paris. One good (maybe secret) tips I can give you, is maybe go to Lille Hermes boutique. By train (TGV) it might be 1h away from Paris and train price are quite reasonable. SA are very helpful, plus you would discover a new very charming city and maybe come back with your dream bag. All the best,
You must login to post comments
Robert thank you for sharing this experience with us in such detail. I really wish you could have had the outcome you hoped for. Congratulations on your wallet and all the other incredible purchases. I am delighted that above all — you enjoyed your trip. I am going to share your story with our community as an example for others.
Once again I appreciate you taking the time to so beautifully narrate your candid experience.
PurseBop
Xx
While in Paris my wife and I received multiple suggestions from current Hermes employees, former Hermes employees, and other fashion boutique staffers who learned of our unsuccessful Hermes bag hunt…. and those lovingly offered suggestions fell into 3 categories:

1. You should come back to Paris next month or another time of the year.
2. You should take a trip to another capital city in Europe or a smaller town/city in France that has an Hermes boutique.
3. You should go back to your home country and really work hard to establish a long term relationship with your nearest Hermes boutique.

All those well-meaning suggestions were logically sound – and not helpful to our current situation.
When you've saved money for 4 straight years (researched, rehearsed, planned, dreamed) and you are inside a preciously short vacation window you will be open to suggestions. Like the movie Casablanca, we were the couple desperately trying to get exit visas to America – time was slipping by and we were praying for a miracle. It's embarrassing to think back of that frantic time, speaking to anyone and everyone about securing an Hermes leather appointment.

I'm not mad at Hermes, on the contrary, I recognize Hermes genius. Even call it magic. Walking around St Honore, you see lavishly decorated stores (entire sides of 4-story buildings splashed with beautiful designs) like Dior, Chanel, LV, etc. People stop and take pictures of the outside of the stores. Some people go into those stores, like us, to look around. Curious. Potential customers inside were contemplating purchases.

In contrast you look at Hermes FSH and its decor is not impressive… but the boutique is jam packed with well-heeled clientele that are tastefully requesting the store accept their money. In hushed tones, all of their money if possible. The value proposition is already satisfied long before a client walks inside. There's no evaluating or contemplating. Financially it makes perfect sense. If someone offered to sell me an investment product for $10k which I could sell 30 minutes later for $35k, it's an easy decision. Criminally easy.

Walking up/down St Honore you see LV, Dior, Chanel bags galore, but the moment you see an Hermes bag your eyes involuntarily catch on it and then on the lady carrying it. You can stand on St Honore and watch the cream of the fashion world stream past you, if 100 ladies walk by – you will see 15 LVs, 5 Chanels, 5 Diors and many other unremarkable bags. You will see zero Hermes. If you let another 500 ladies walk past you – you still don't see one Hermes. Then you start walking and actively searching for a lady carrying an Hermes – and you realize how rare they are in the wild. To be clear, St Honore isn't the wild, it's a curated selection of lottery-winning females carrying their A bags. From a supportive husband's point of view I get it. I know why my wife wants an Hermes or nothing.

Regards,
Robert
You must login to post comments