Editors update direct from Chanel:


Chanel has closed it's boutiques in Russia and shut e-commerce there as well.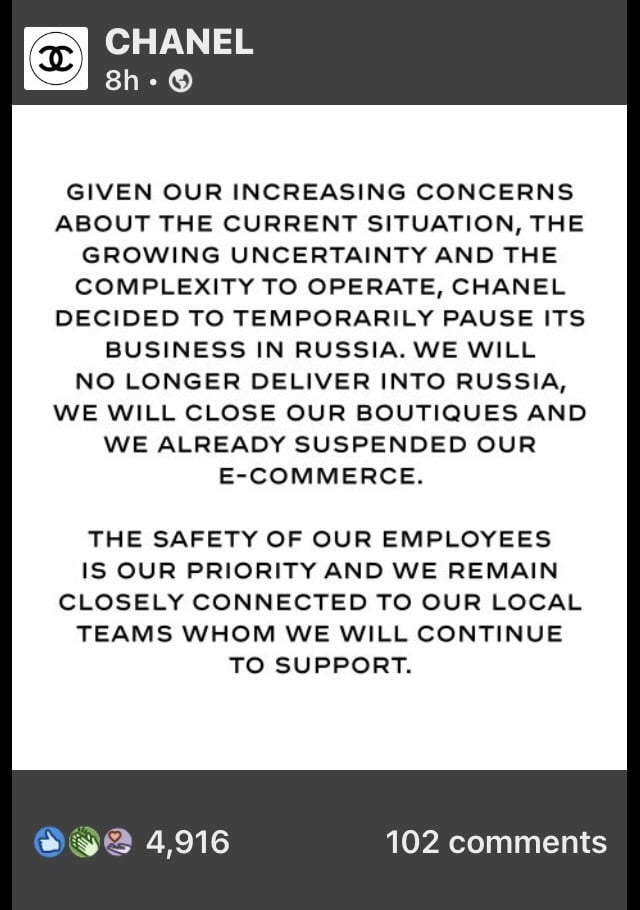 Concerned about the events in Europe, Hermès and Cartier shut boutiques in Russia. In a LinkedIn post, Hermès stated:
"It is with regret that we have taken the decision to temporarily close our stores in Russia and pause all our commercial activities from the evening of March 4th"
Richemont, the parent company of Cartier, also issued a statement that it suspended business in Russia on March 3. It had stopped operating in Ukraine on February 24.
Both Hermès and Cartier have stores in Moscow that cater to the wealthy Russians who favor luxury goods. However, the consumer base there is relatively small, unlike the growth areas of China and the Americas upon which these companies rely.
But, is this the tip of the iceberg? Which, if any, other luxury brands will follow suit. Louis Vuitton, for example, has several boutiques in Russia and one in Kyiv, Ukraine. As of this writing, Louis Vuitton has pledged €1million to UNICEF to help children and families touched by the conflict in Ukraine. Chanel also operates stores in Russia and, as of now, we believe they remain open. However, Chanel has pledged €2million to relief efforts.
This situation (like the one in Ukraine) is fluid and we will keep you updated. And, it certainly points out the dilemma faced by brands as they again navigate world events.