Hollywood gathered in all its splendor at the 71st annual Golden Globe Awards on Sunday, January 12 2014 in Beverley Hills, CA! My eyes were glued to the red carpet in search of the perfect bags, but as usual the focus was all on the dresses…
To even out the coverage, let's continue the tradition of adorning the stars with complementary (mostly MY Chanel, hehe) bags.
Welcome to PurseBop's Picks for the 2014 Golden Globes!
Jennifer Lawrence was predictably in DIOR, and as always was a doll with her relaxed, charismatic and genuine demeanor. Her dress was so simple that fans were inspired to jump on social media to come up with their own versions made with sheets and comforters with black bands to cinch it all together. It definitely added to the comic relief that seems to always follow her. I do LOVE this age appropriate dress on her but few could pull it off like she did.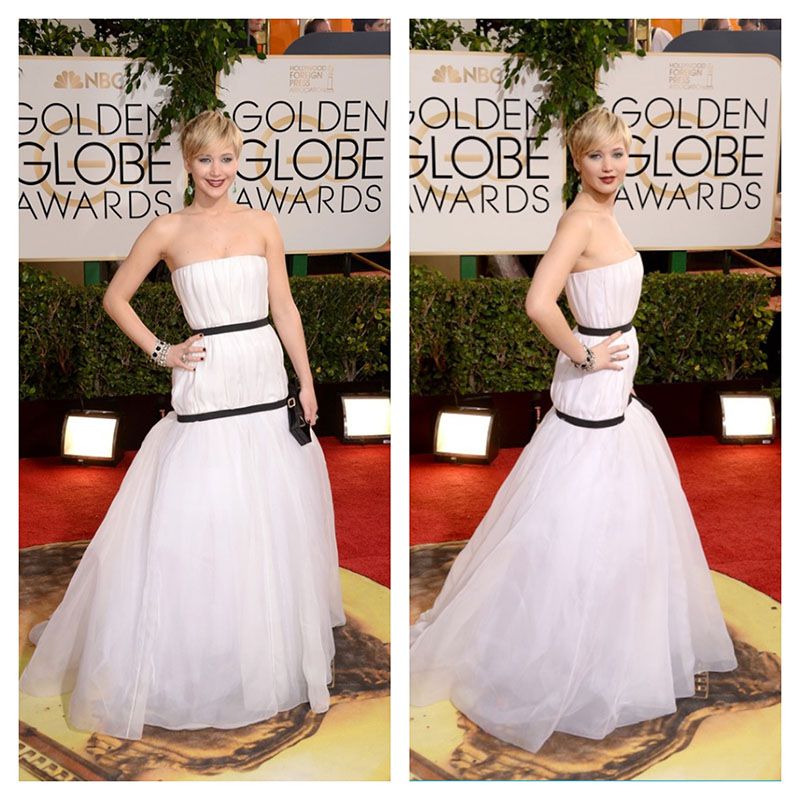 PurseBop's Pick: From the moment I saw her on the red carpet, I could think of ONLY ONE PurseBop Pick for this talented charmer.Yes it's my latest obsession: The Chanel No. 5 Bottle Clutch.
What could possibly be more darling than her little fingers gripping on this! I personally think the black would provide the perfect magical dose of whimsy, but the clear option would by no means be a mistake. Usually I try and pick choices from my collection, but this 'match-up' was just too perfect to resist!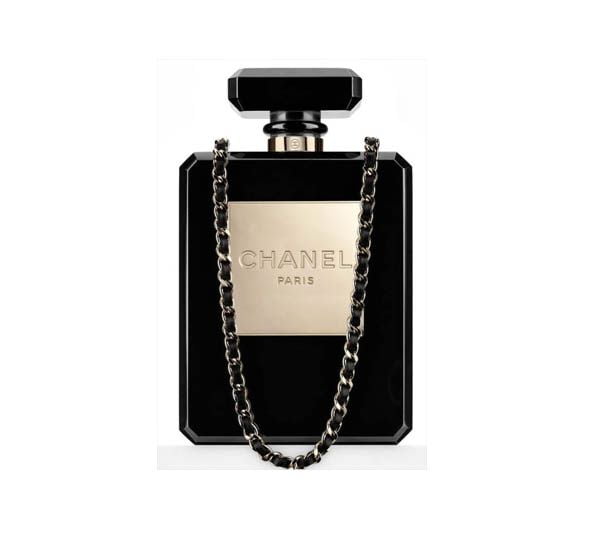 Photo courtesy: Chanel
Taylor Swift  achieves new but age-appropriate elegance in a strapless cherry red and black two tone Carolina Herrera gown. Her look was carefully executed to perfection. Her hair and lips took me to Marilyn's era…and although she went home empty handed (nominated for Best Original Song) she exuded plenty of poise and glam.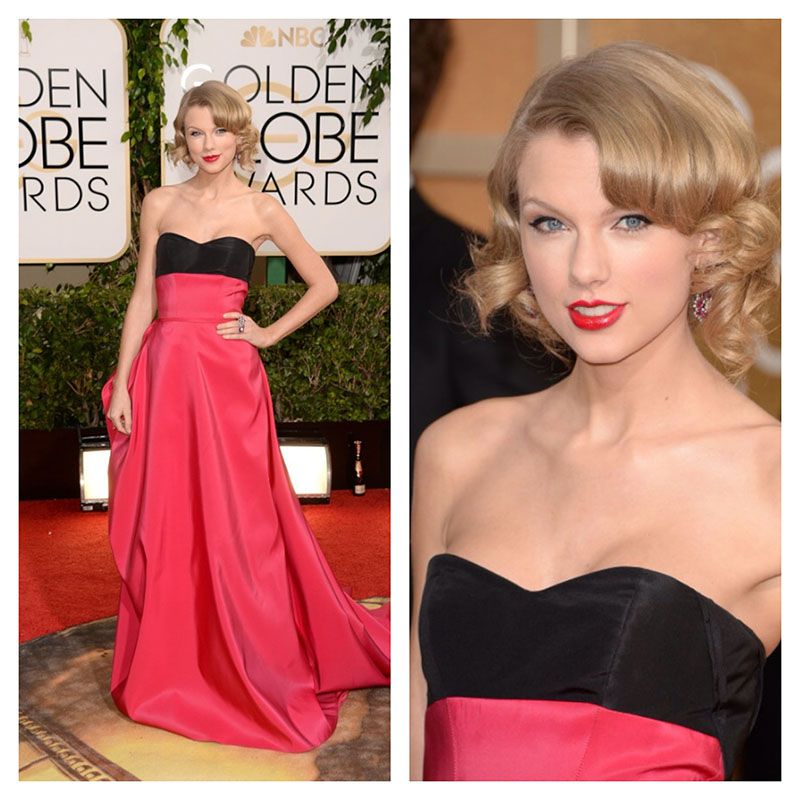 PurseBop's Pick: I was drawn to select my vintage Chanel satin mini that complements her 'Hollywood Glam' look. Imagine Miss Swift dangling this classic on her side with the 22ct gold braided strap. Vintage and elegant, with just the right amount of bling…and maybe even some long gloves to complete the ensemble!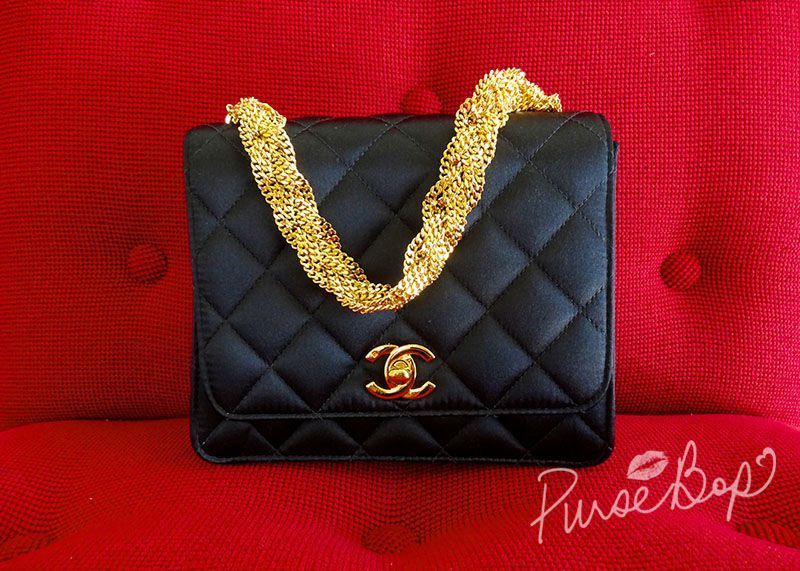 Cate Blanchett was one the best-dressed stars of the evening in a stunningly complicated black lace Armani Privé. Bordering gothic, and totally REGAL glamour with the lace and high-neck. The demure neckline complements the implied nudity of the black lace over the lining that looks practically custom-dyed to match Blanchett's flawless skin.
As if the front wasn't impressive enough…there's a very revealing back that hits her look 'out of the fashion park'…not to mention she took home the award for  'Best Actress'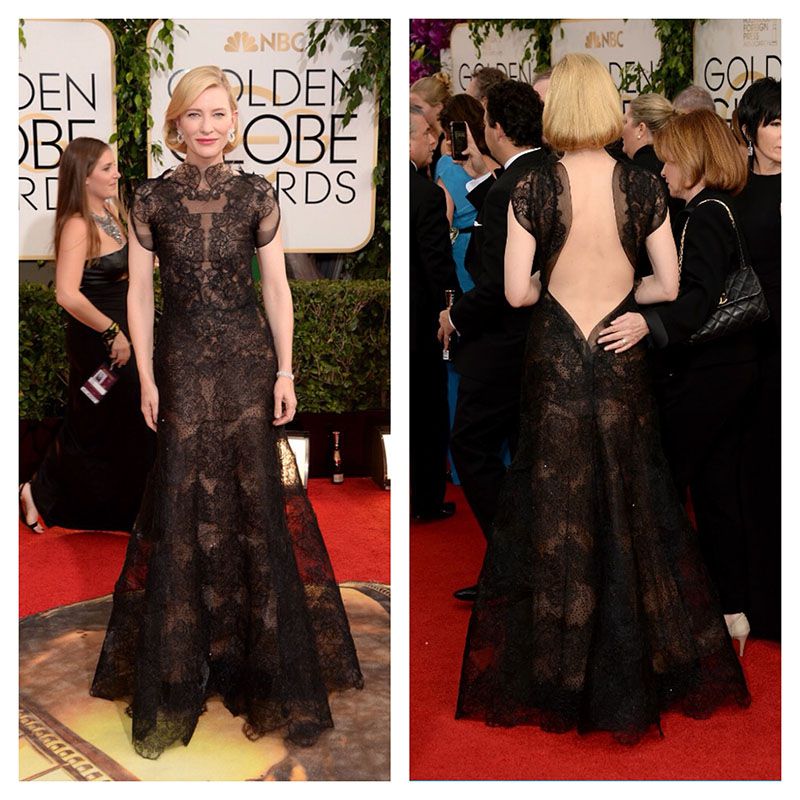 PurseBop's Pick:  Cate accessorized with an old-Hollywood-channeling faux bob and blinding Chopard diamonds. The earrings set the tone for PurseBop's Chanel Sparkle Beauty bag that never fails to ramp up glamour. Again a classic uncomplicated shape that doesn't conflict with the dress AND a hearty dose of 'bling' provides the perfect hand candy. I honestly think if I had to select the most versatile bag to complement multiple red carpet looks, it would be this one!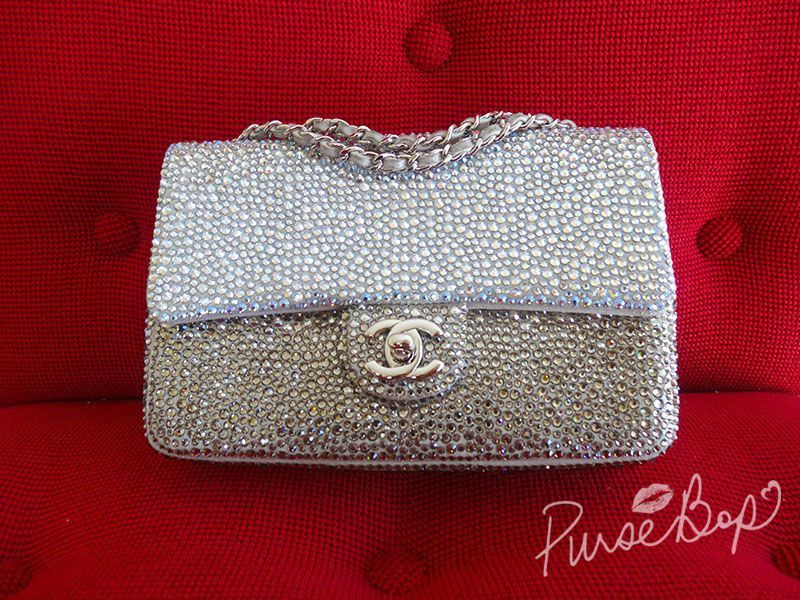 Ladies in red dominated the fashion scene and commanded the crowd's attention, but there was one RED beauty that stole the show. Lupita Nyong'o earned her fashion buzz  in a scarlet Ralph Lauren off-shoulder gown with cape. Her look was regal, elevated by her cropped hair and minimal accessories.
After having spent several minutes reviewing the options in my Chanel armoire and scouring the internet, I truly couldn't come up with a single handheld accessory to properly accentuate our lady in red. Admittedly, this may be the one look absolutely perfect without a bag! Kudos to the new comer!
Hope you enjoyed my PICKS, fellow fashionistas!
Love PurseBop
XO