Today we style music artist Miley Cyrus and Jennifer Lopez at the Billboard Music Awards. Don't miss PurseBop's earlier Picks for Taylor Swift and Selena Gomez.
Miley Cyrus:
Makes a dramatic entrance with a more 'covered up look' at the Billboard Music Awards. Miley rocked a one piece geometric printed crochet Couture Balmain jumpsuit on that infamous musical 'blue carpet…' Her jumpsuit looked far more impressive on stage under the bright lights where the all-over diamante diamond embellishments shined and shimmered like no other. It featured zippers at the ankles, and the strategically placed zipper which ran all the way down her back to her derrière . While her whole appearance was hard to miss, it was her a humongous engagement ring that stood out confirming any false rumors of a split.
Not one of PurseBop's favorite outfits, BUT I must say, it takes a bold and confident woman to pull this one off, and she did it with flying colors! Her striking punk hair and makeup certainly topped my favorite beauty looks from the night! The singer added a little glamour to her rocker style, by opting for my ultimate favorite: the classic red lip and smoky eye combo.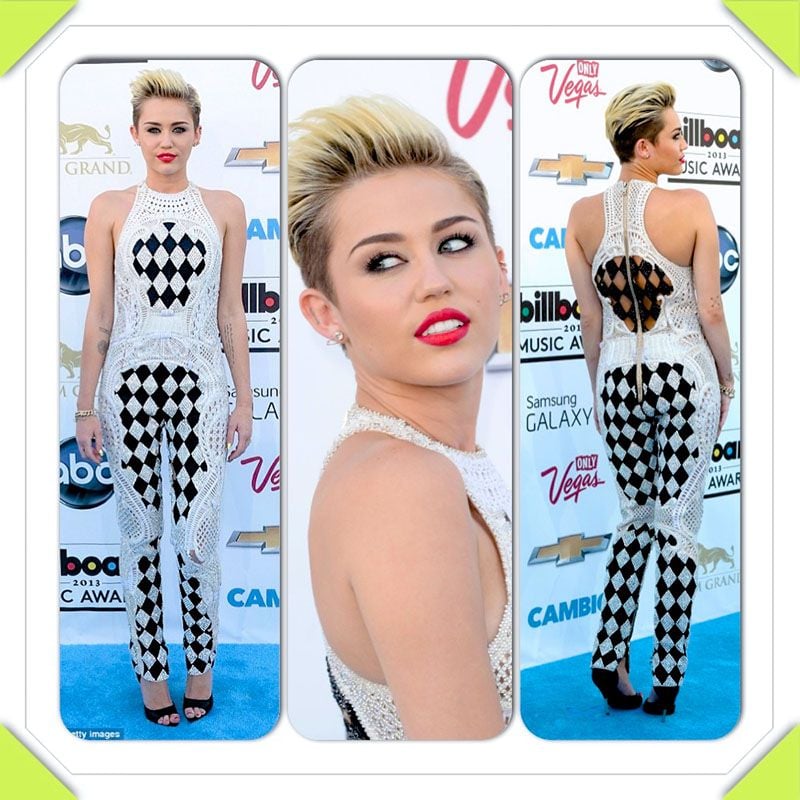 PurseBop's pick: I must confess my cheat here! My pick for Miley Cyrus is not a piece from my personal collection. As tempted as I was to take the plunge and add this magnificent Chanel 13C cruise Boy bag to my armoire, I got swept away with my own crush on Madame Boy revealed earlier here on my blog (seePurseBop has the Midas Touch). I simply cannot resist pairing Miley with this special edition Chateau Boy, despite knowing the look is a little busy… Her edgy, strong style could easily carry off this bag like a match made in heaven…Do you agree??
But, if I were to keep within this segments rules, and pick from my personal armoire,  I guess I would go with my vintage triple XXX Chanel clutch. It's a true classic that never fails me whatever the occasion!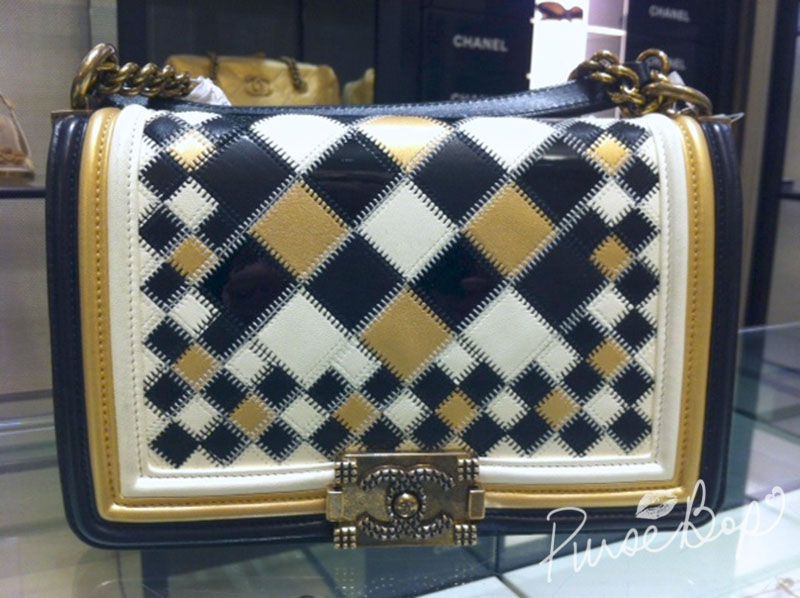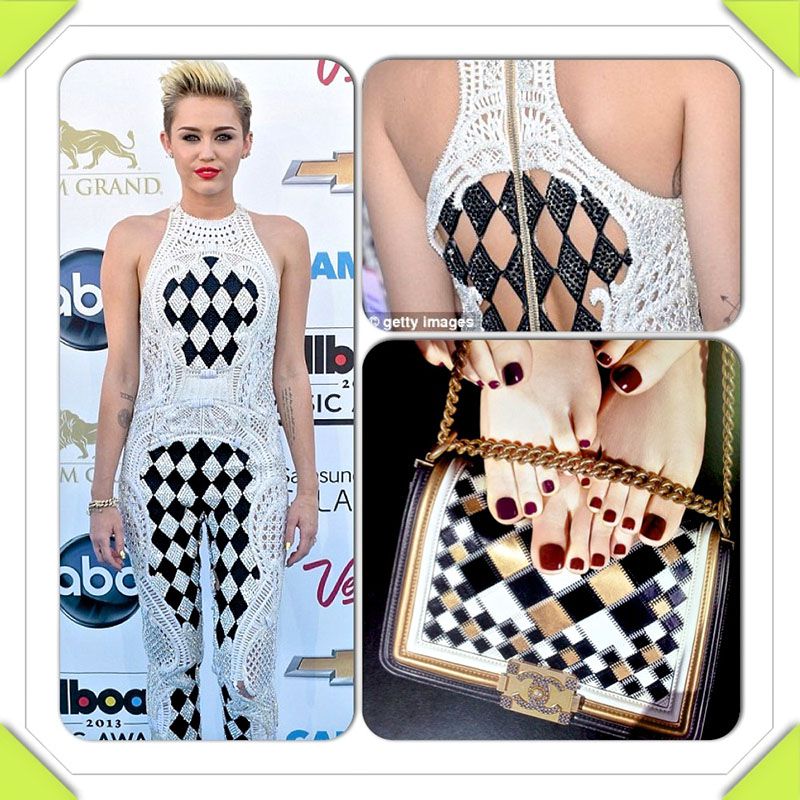 Jennifer Lopez:
One of the most beautiful women to strut any carpet—red or blue, in my opinion. I must say, she has to be one my favorite dressed stars, regardless of the occasion. She has that 'swag' on and off the carpet. I miss her American Idol days…I would DVR the show just to see what the "Goddess of Beauty" would wear… Her look at the Billboard Music Awards surely did not disappoint. That plunging infamous neckline on her Zuhair Murad gown took our eyes to her navel, a look synonymous with J-Lo now. And it was all about gold— the dress sparkled with shaded metallic scales, golden ankle strap pumps and the invisible gold clutch. The sheer lower half of her dress kept only the very essentials to our imagination.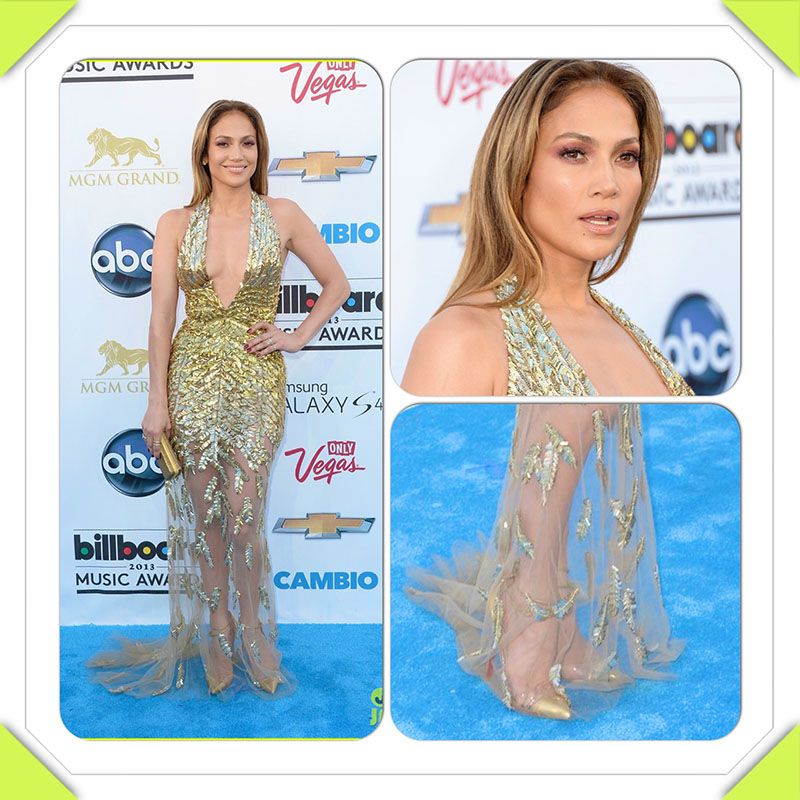 PurseBop's Pick: personally I would like a more dramatic look for her hand held accessory. Perhaps an 'Alexander McQueen skull topped clutch' or even their signature 'knuckle duster clutch' would fit the bill, but she played it safe with the monochromatic theme that I find very boring, yet so popular with many red carpet looks this year.
Keeping her choice in mind I'll select a more conservative option from my armoire …my Miu Miu light gold matelassé framed clutch bag from their special edition collection. The scrumptious soft lamb  leather folds lend this clutch a luxurious yet modern vibe, perfect for our diva's dress. The light yellow gold color picks up the embellishment tone perfectly!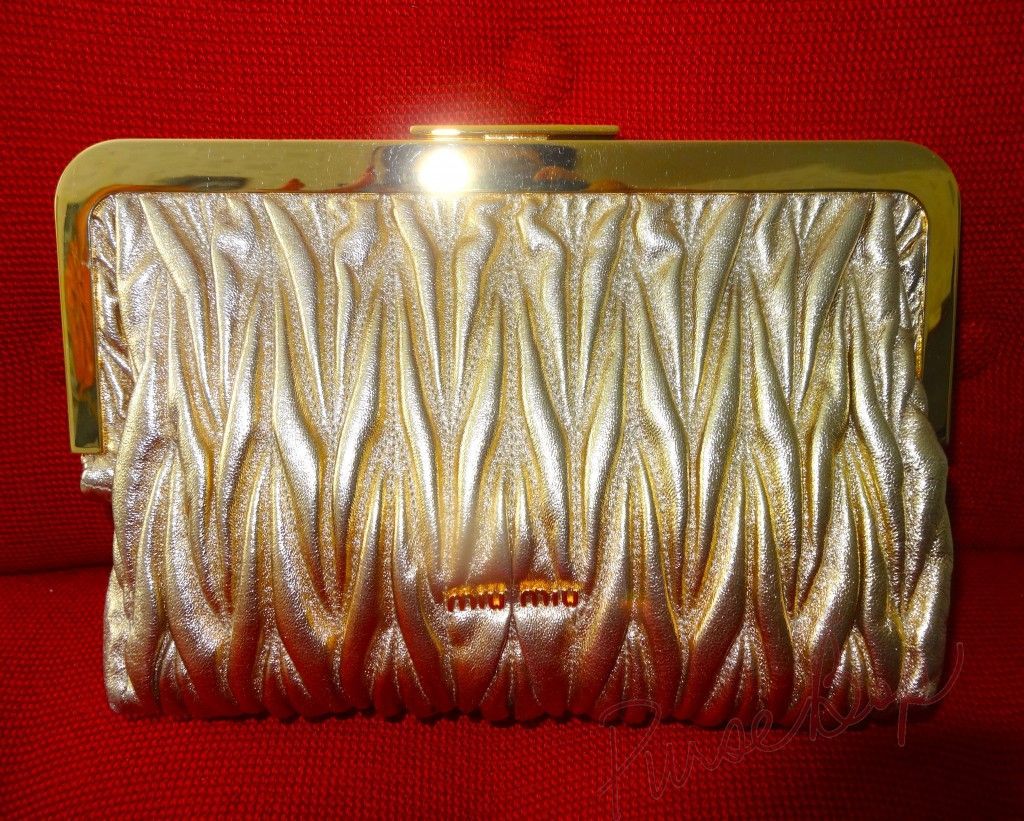 I love to dress this clutch up or down! It's a handy little number in my closet that I reach for very often!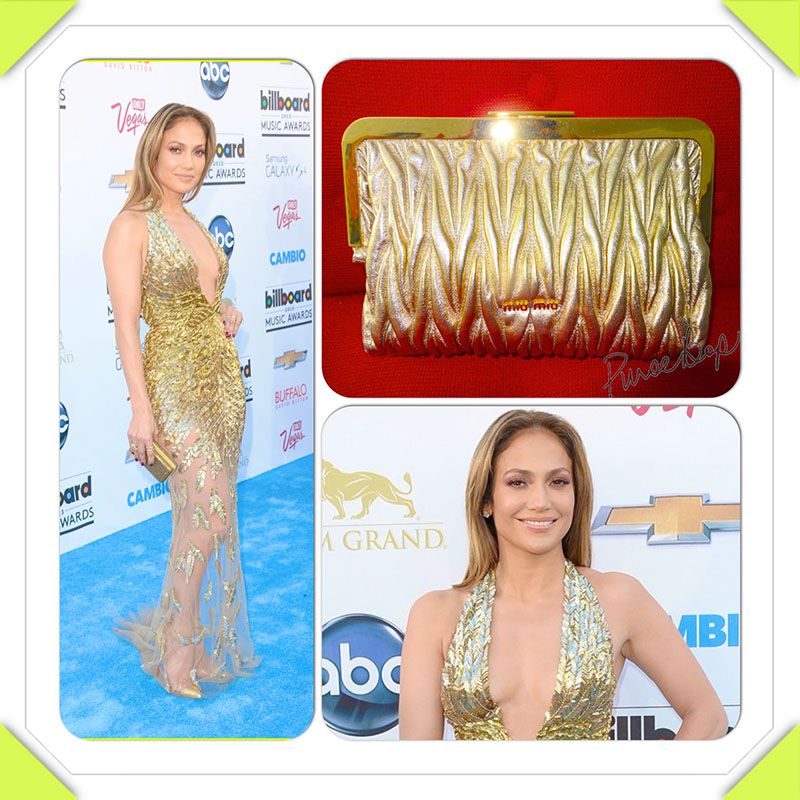 So of the two Alexander McQueen clutches above, which should PurseBop add to her collection…?
Love PurseBop
XO