Chanel makes a grand return to Los Angeles on May 9, after 16 years since their 2007 Cruise collection was presented at Santa Monica airport under the leadership of Karl Lagerfeld. In a statement announcing the highly anticipated event the French fashion house said:
"This show is an opportunity for the house to celebrate its connections with the City of Angels."
It was only last week, on May 5, 2023, that Chanel unveiled its all-new boutique on North Rodeo Drive, in Beverly Hills. This impressive four-floor, 30,000-square-foot boutique is now the brand's largest store in the U.S.
During the lead-up to the hotly anticipated Resort show, Chanel released the 'Chanel Workout' promotional film, directed by Inez & Vinoodh, featuring actress and house ambassador, Alma Jodorowsky. In this ode to the City of Angels, Virginie Viard channels Hollywood glamor with a retro aerobics aesthetic. 
Chanel's Resort 2024 show took place at the famous Paramount Studios lot in Los Angeles, showcasing its strong ties to Hollywood. The set itself was dominated by a vast movie screen, while the runway resembled a basketball court, which later served as a roller rink for the exclusive after-party. As the models walked the runway, the film backdrop featured the L.A. skyline and beach, before the Alma Jodorowsky feature film made an appearance. 
The event was attended by Chanel global ambassadors Margot Robbie, Whitney Peak, Margaret Qualley, Elle Fanning, Nile Rogers, and Kristen Stewart. The star-studded guest list didn't stop there, with Issa Rae, H.E.R., Paris Hilton, Andra Day, Leslie Mann, Tracee Ellis Ross, Kris Jenner, Kimora Lee Simmons, Christina Milian, and Lori Harvey – it was certainly a celeb-packed front row.
The color palette of the collection was filled with bold Barbie pinks, and glistening metallics, with touches of classic Chanel monochrome. Featuring plenty of sparkles, including statement sequin dresses, and bouclé two-pieces. All the while, the sports theme is consistent throughout, with a certain retro appeal. 
Virginie Viard describes the inspiration for the Resort collection:
"From John Travolta to Jane Fonda, so many actresses, the body, the gym, aerobics. "Un peu sport, un peu tweed."
Channeling Hollywood glam working out at Venice Beach, the handbags range from red-carpet ready, to beach wear. 
When it comes to sizes, the bags range from micro minaudieres to beach-ready shopper bags. Unsurprisingly, most of the bags in this collection feature the iconic interwoven leather chain shoulder straps. Worn on either the shoulder or hand-help – the bags have a care-free attitude. 
Classic Flap bags and Metallics are aplenty in this collection. Size-wise – the mini reigns supreme. Crafted in patent leather, the mini flap bags have a metallic finish. Here we see the bag in silver, and a deep purple tone. And there's more… Perhaps the star of the show, is the addition of the quilted star-shaped matching accessory. Is it an SLG, or a mini bag? This is yet to be revealed, but it certainly has our full attention!
Backpacks are certainly 'in' right now, with the likes of the Chanel 22 backpack gaining popularity, this new boxy style will turn heads. An oversized gold patent Classic Flap bag reimagined into a fun backpack – what's not to love?
It's not a Chanel runway show without a playful minaudiere. This time around, in an ode to laid-back beach vibes, we see a retro surf camper van reimagined in a glistening metallic variation and classic resin. Ideal for evenings out, this van-themed minaudiere will definitely turn heads!
Sure to be a summer staple, rattan isn't just for everyday beach bags. The classic flap has certainly had a summer makeover. Trimmed with a pop of pink, and complete with a contrasting white leather interwoven chain. You can transition from a beach bar to a Hollywood party in no time.
Caramel is back, and this time around, it's patent. A recent popular colorway, this time we see caramel making a welcome appearance in a glossy finish. 
Catching our attention, was a new variation of Chanel's more recent releases. Almost a hybrid of the Chanel 22, and 19, the oversized tote comes in sunset ombre tones. This new addition features a flap and classic turn-lock closure. 
Tiny bag energy is back, and smaller than ever before! This miniature marvel is crafted in pink shearling, with an oversized chain. While we're unsure as to what could fit in this micro piece, it's definitely a talking point! 
Chanel is no stranger to bouclé and tweed. This pink mini flap bag is embellished with retro pin badges, and finished with brushed gold-tone hardware.
Something we have seen in previous collections is the oversized and chunky chain strap. Designed to be worn on the shoulder or hand-held, the bag has a retro appeal. Seen here in metallic gold, and turquoise – with matching color hardware. 
Clutches are certainly making a comeback. Here we see a variation of the classic flap, in evening-ready clutch form. The perfect pop of color, the clutch comes in the most vibrant Barbie hot pink lambskin, and a fun holographic variation. 
Hollywood glamor in the form of a mini classic flap. This embellished baby blue beauty is studded with glistening silver crystals. The addition of the CC emblem crystals is sure to catch the eyes and hearts. 
While the majority of the bags are mini in size, the beach-ready tote bag makes an appearance more than once. Similar to the Chanel Deauville tote, this variation is crafted in statement ombré tones and vibrant purple. 
The heart bag has a new rival, in the form of a show-stopping star. A quilted star-shaped shoulder bag has certainly caught our eye. In hot pink with black piping, this bag is reminiscent of the vintage Chanel heart bag. We love this hot new take. 
The classic flap is anything but basic in this Resort collection. Bejeweled in rainbow sequins or in a pastel ombre rainbow, the classic flap has been reimagined into a true party piece.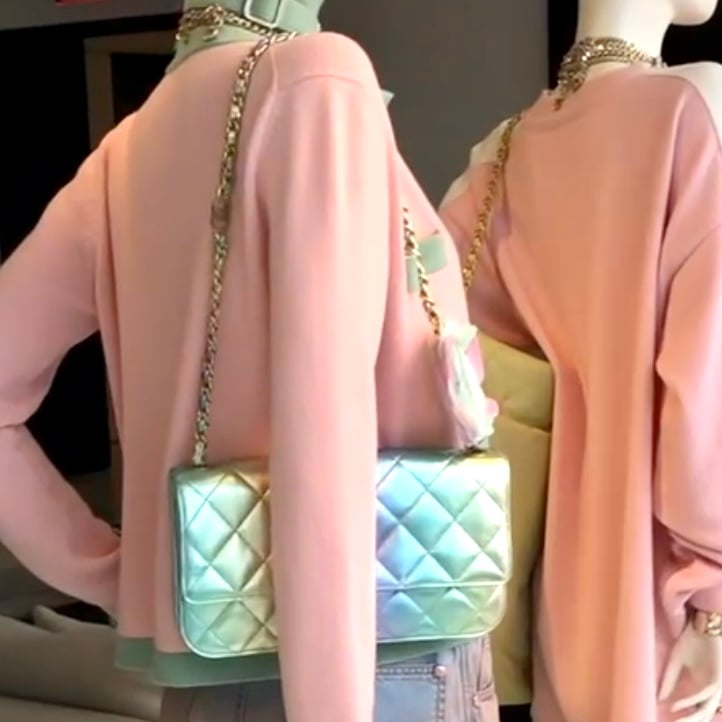 Monochrome flap bags are back – this time around in deep purple tones, and metallic blues. With matching colored hardware, and oversized CC and chain, the design has retro charm.
What are your thoughts on this bold new Resort collection? Are you feeling the metallic minis or the sunset ombré bags?