It's 6:22 am in Dallas, Texas…
I report to you just moments after the unveiling of the windows at Neiman Marcus Dallas downtown, created as a tribute to last night's Texan themed Chanel spectacular – The Métiers d'Art pre-fall runway show.
The windows are a dedication to Coco Chanel from Karl Lagerfeld and will be on display today and tomorrow only. The windows recreate the exact mood and feel of last night's rodeo show: 'Paris-Dallas'.
These are the only vignettes anywhere in the world created to commemorate this event.  Mr. Lagerfeld designed the windows himself along with Chanel Paris Image Director Agnes Liely. The Chanel US Image Director Laurie Gilliar partnered with Artistic Director Todd Shear to execute these Texan scenes. Every detail has been carefully considered to create THE perfect visual to recreate last night's rodeo and Saloon scenes.
The first set of windows is symbolic of the actual 'runway' show and rodeo scene… even the wood used for the set was brought in from 200 year old barns, because Mr. Lagerfeld wanted everything absolutely authentic to translate western realism…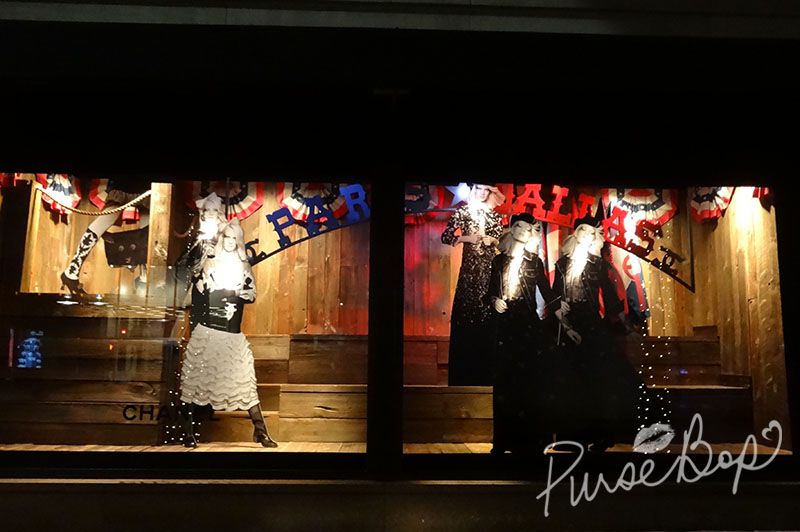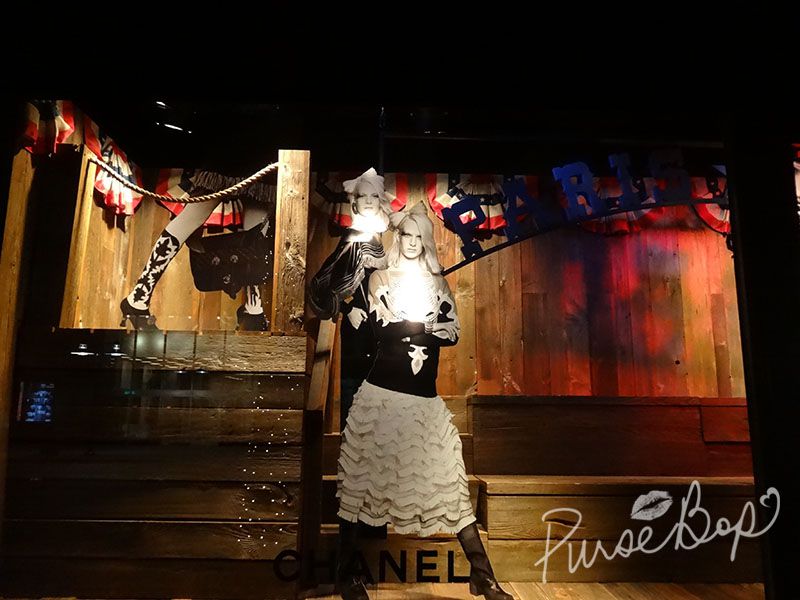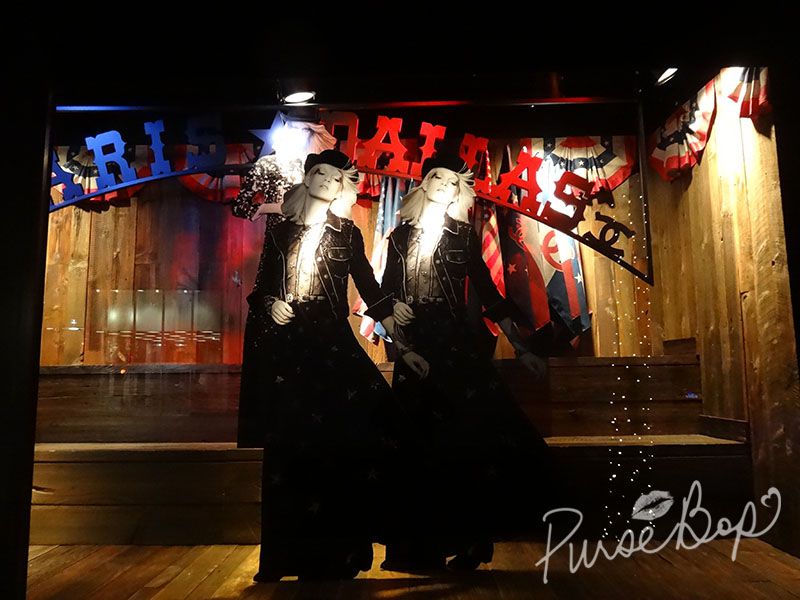 This second set of windows recreates the 'Texan Saloon Bar' atmosphere of the 'after party' last night…and Tim Love's historic White Elephant Saloon had much to do with that!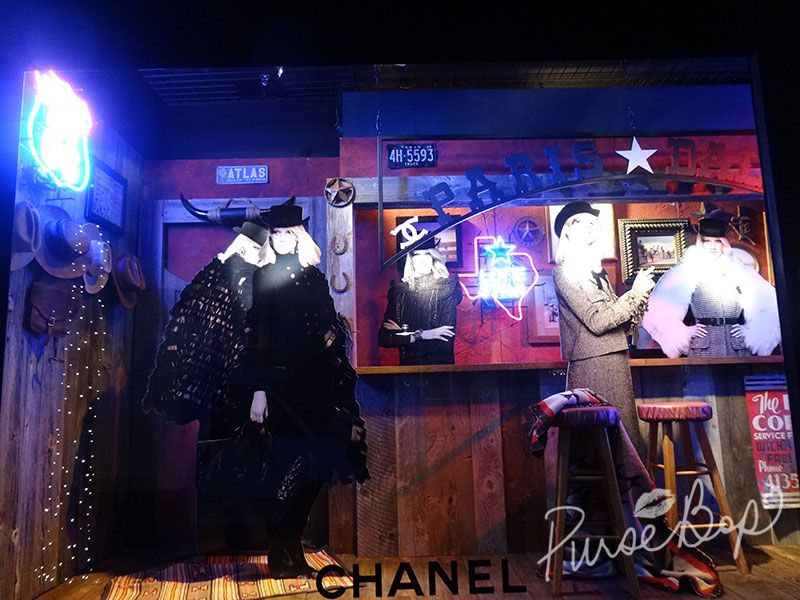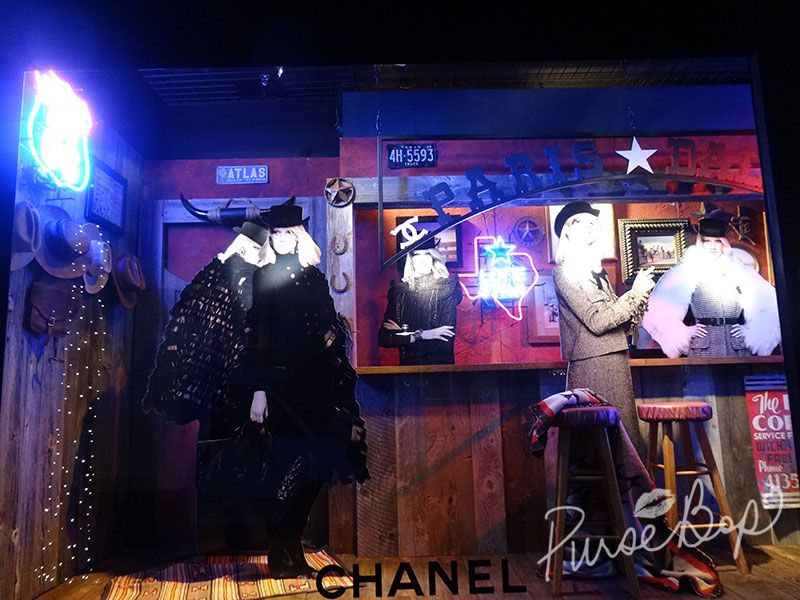 Note the framed picture of Coco Chanel being presented the award by Stanley Marcus (in 1957) in the background to the right…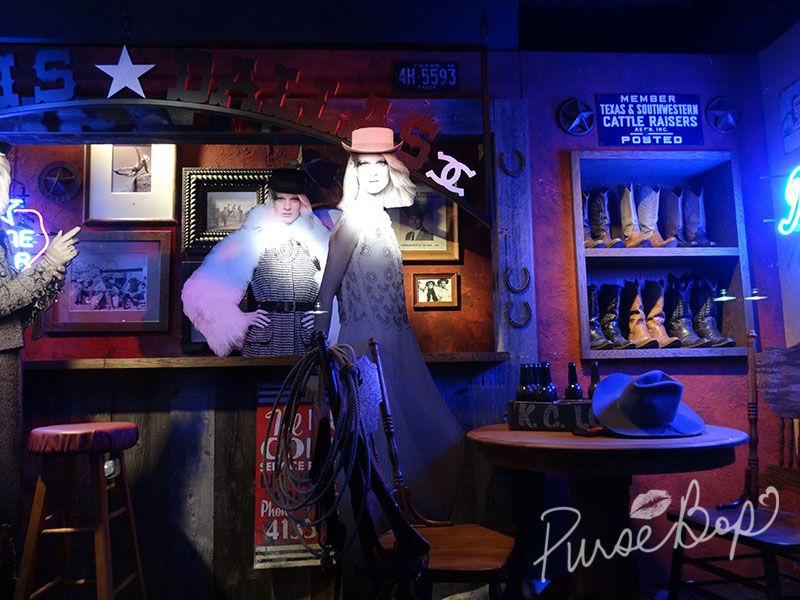 I had the privilege of watching this morning's sun rise and  'illumination' of the windows with Laurie and Todd themselves, moments I will cherish forever. This is 'Chanel history in the making' and what an honor to be a part of this chapter. I promise I will recount this story to every last detail in a further post, for now PurseBop must prepare for the incredible events that lie ahead.
Today PurseBop will witness the exclusive ceremony  where American Vogue Editor-in-Chief Anna Wintour will present Mr. Lagerfeld with the 'Neiman Marcus Award for Distinguished Service in the Field of  Fashion'.  This private event is to be held at the flagship Neiman Marcus store this afternoon. Today's  award brings the story full circle and commemorates the original 1957 award presented to Coco by Stanley Marcus.
I have only just begun to scratch the surface of my details, but wanted to be the first to 'reveal' these windows to you, LIVE from Dallas!
Stay tuned for the AWARD pics later today and I'll be updating my @PurseBop Instagram as the day unfolds!
With a warm heart, filled with Chanel pride and honor,
Love,
PurseBop
XO