Get your luxury market highlights in one convenient place! PurseBop curated and approved.
PurseBop's designer "Bulletin Boards" are useful tools to help you get caught up on all the latest happenings in the fashion world, including new styles, celebrity sightings, and interesting features from our site. Here, we focus on the global luxury market and how certain brands are faring within it. It's been an exciting—and tumultuous—time for the luxury industry, and we've been following it closely.
Take a few minutes to read the excerpts below and continue onto the full posts for more information!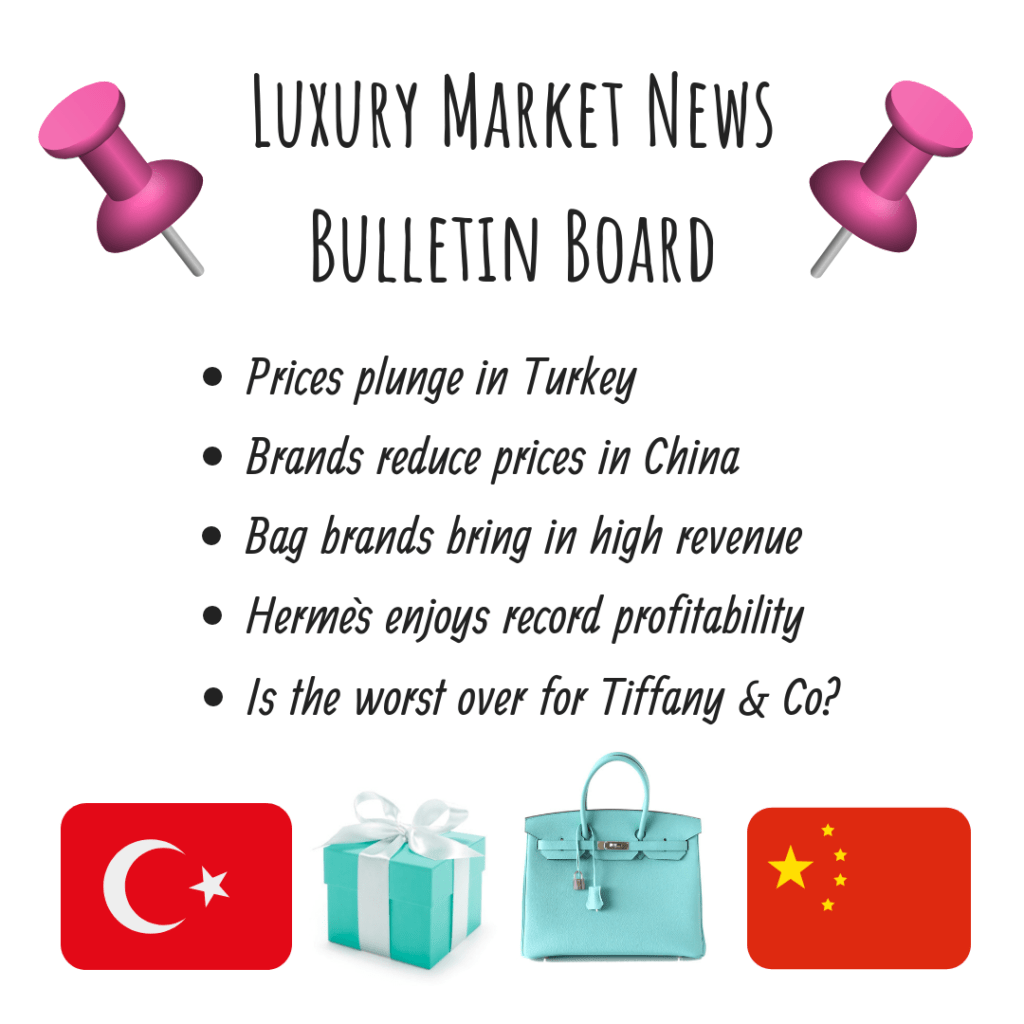 In the last few weeks, foreign shoppers have been flocking to Turkey to score "bargains" on luxury goods. So, what's the deal with the extreme drop in prices? And what does it have to do with current international disputes?
Click HERE to visit the full post.
Hermès, Louis Vuitton, Gucci, and Burberry recently reduced their prices in China across the board. Long story short: this has serious implications for not only China, but also the global luxury market. In this in-depth article from August, we analyze the importance of China in the luxury industry and the interrelated nature of politics and luxury prices.
Click HERE to visit the full post.
As of late July, luxury bag brands are bringing in big bucks. Revenues and profits keep rising at Chanel, Hermès, Louis Vuitton and Gucci. In this comprehensive article, it's clear that the handbag market is looking promising.
Click HERE to visit the full post.
In the spring, we honed in on Hermès' profits. Like the handbag market in general, Hermès is coasting (or, at least, coasted throughout most of 2017). The brand enjoyed record profitability in 2017 with strong growth in sales revenues. Asia continued to lead geographically in terms of sales.
Click HERE to visit the full post.
In this article from earlier in the year, guest contributor @el4bz examines another side of the luxury market: jewelry. Like all luxury brands, jewelry giant Tiffany & Co is caught in the struggle of rapidly changing times. How bad has it been, and what's the brand's strategy to keep up?
Click HERE to visit the full post.
Are you feeling up-to-date on the luxury market now? Keep checking the site for future bulletin notices and financial news articles—we'll make sure to keep you updated!
Love PurseBop
XO