Every summer, a plethora of basket-themed bags hits the market.  Fashion magazines, websites and blogs invariably publish some variation on top straw bags for the season. Some offerings are large and tote-sized for beach, barbeque and farmer's market outings.  Others are more petite and meant to complete a casual summer ensemble, either as a clutch or handheld. Perhaps ironically, the demise of Jane Birkin's straw tote in the former category led to the creation of the infamous Hermes Birkin. The late Kate Spade was a master at the latter. The point is, these bags are ubiquitous and a summer staple.
A tisket, a tasket (an old nursery rhyme turned into a song by Ella Fitzgerald), no matter the color of your basket, we wondered the difference between straw, wicker and raffia. The terms seem to be used interchangeably or, at a minimum, the bags stuffed into the same category.  Here's what our online dictionary had to say on the matter:
Wicker  – pliable twigs, typically of willow, plaited or woven to make items such as furniture and baskets

Straw – dried stalks of grain, used especially as fodder or as material for thatching, packing, or weaving

Raffia – the fiber from the raffia leaves, used for making items such as hats, baskets, and mats.
Right, clear as a woven basket.  Perhaps we should just call them plant-based fibers that may be woven into baskets.  Or straw. Or wicker. Or raffia. We'll skip rattan in this article.
These handbags also are available at all price points – from very inexpensive (Walmart has totes and  structured handheld bags at or around $20)  to extremely costly, like the Hermes Osier Picnic.  In case you're interested, the teal picnic Kelly just realized $75,000 at the Christie's NYC online auction.  Of course, you need not spend anywhere near that amount. There is a substantial middle ground between $100 and $500.  But we were intrigued by the higher end – at various levels in the four figures.
Initially we assumed that the more structured the bag, the higher the cost. Surely it must be easier to make a simple sac with a handle than to produce a lined rigid one.  That Walmart bag (which to be honest, some of us are thinking of buying) seems to disprove that theory. On the other hand, at jcrew.com, there is a price difference: a rounded rattan basket bag retails at $185 and a fan rattan clutch at $88, while a straw market tote is around $60. All of these, have leather trim and/or handles, by the way. Whether the discrepancy is significant is your call.
Based on (some of) our experiences with the straw/wicker/raffia family in bags and other products like actual baskets, sturdiness and longevity have not been strong suits.  In other words, often these bags are one-season delights. Which takes us back to the initial query:
Is it worth spending bigly on a designer wicker/straw/raffia bag?  It depends. That Hermes Osier Picnic (and the other bags from the Hermes Picnic series) took our breath away and really does seem to be an expertly-crafted product.  The fact that those bags sell above current retail price, well – someone sure is loving them. They are also in the five figure category… more than most other bags we'll consider.  
For label lovers (which we confess to be), there's always the allure of the brand name. Much as we love a steal at Walmart or Costco, carrying Chanel, Balenciaga, Fendi, Gucci and the like, is always a thrill. It somehow just elevates an outfit.  Fortunately, many of these brands offer versions of their classic styles in the basket materials and/or in a basket style. Below, we've picked out a few you might like… should you choose to invest.
Hermès showed some for Spring Summer 2018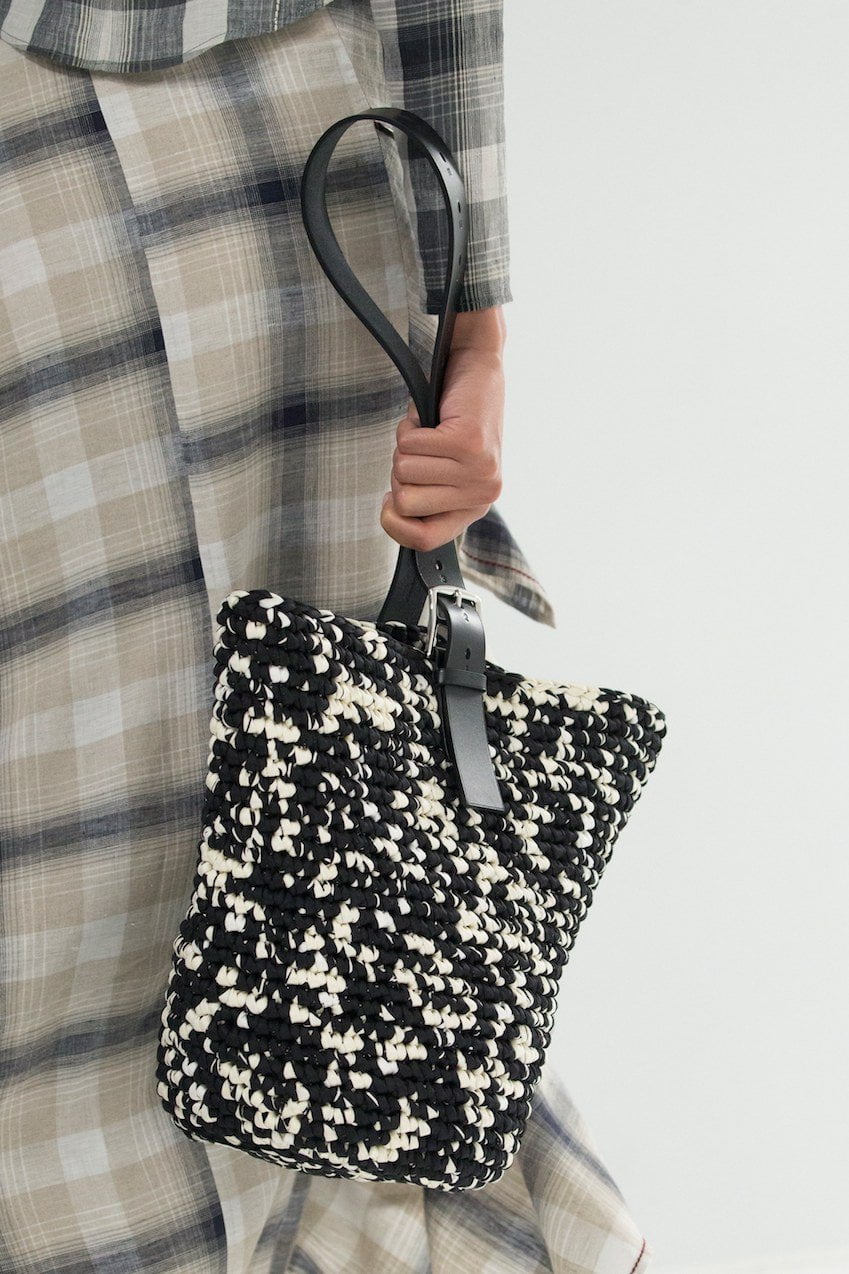 What about you? Would you spend over $1000 for a straw bag? And if so, what's your price limit?