Chanel apparently knows the best things come in small packages… at least that appears so in reviewing the Cruise 2021 fashion show. Instead of heading to the Isle of Capri for what was sure to be an extravagant spectacle, this one was digital. For obvious (COVID-19 pandemic) reasons. Black, white, and shades of pink and blue (including denim) dominated the virtual runway. Pretty, comfortable, elegant, even practical is likely how we'd describe it and tiny really stands out! 
Ironically then, our favorite bags are the least practical and truly are worn, rather than carried. Small and smaller – they are attached to a belt, necklace, or crossbody chain. You actually have to search for the smallest of these, as it is nearly hidden in the monochromatic ensemble. 
The ever shrinking of Chanel bags, of course, isn't new. Tiny bags popped up in the pre-Fall 2020 Métiers D'Art show
Read: Chanel Métiers D'Art 2020 With a Little Flap and a Bird Cage 
We have no idea what these cuties will cost but we doubt there's any discount for size… especially in light of the steep price increases just taken in May that we are all still digesting.
Read: Global Chanel Price Increase 2020:  Here are the New Prices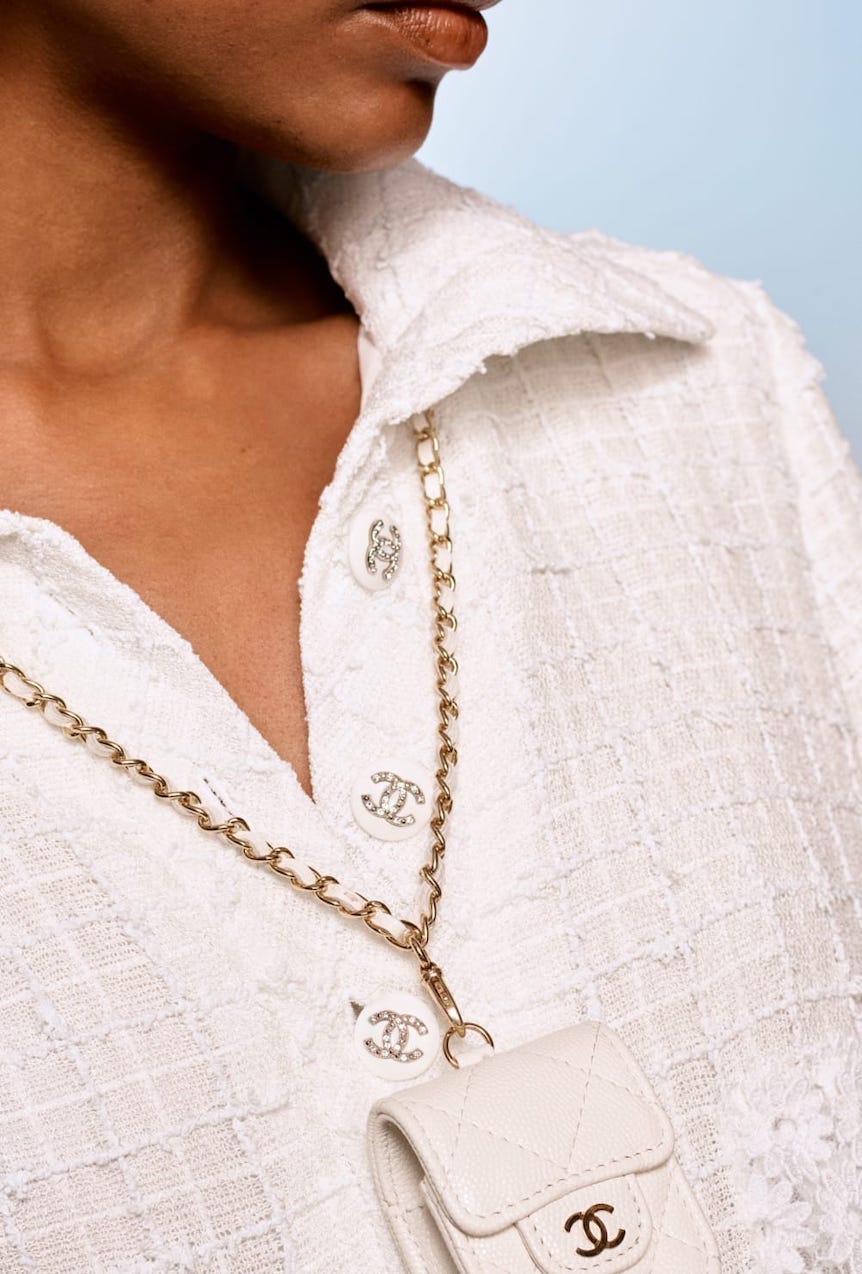 As for the rest of the bags, they are pretty but nothing really new. Black and white combos, tweeds, flaps. In other words, the bags are mostly what we expect from Chanel. Interestingly, the flaps shown are Classics and Chanel 19s. No reissues or boys on the runway – though no doubt those styles will be available for purchase. And, yes, the group includes last year's popular wicker case. According to Viard (in our words), why re-invent something that works.
On an interesting note, Chanel says it does plan to resume its grand-scale fashion shows. Business of Fashion reports that Chanel intends to resume a full-scale fashion calendar. You may recall that some brands, like Gucci and Saint Laurent, are looking to limit the number of collections and shows. Not so for Chanel. It plans to stick to six shows: two ready-to-wear, two haute couture, cruise and Métiers D'Art.
Will you be cruising with Chanel 2021? And do you miss the extravangas? Or perhaps a digital showing works just as well?