The puck drops tonight for game one of Lord Stanley's Cup! The Kings are long gone, but an epic battle for the throne awaits…
PurseBop will take you to 'HAWKey town' on BlackHawk Drive to revisit history!
Boston Strong, Chicago STRONGER!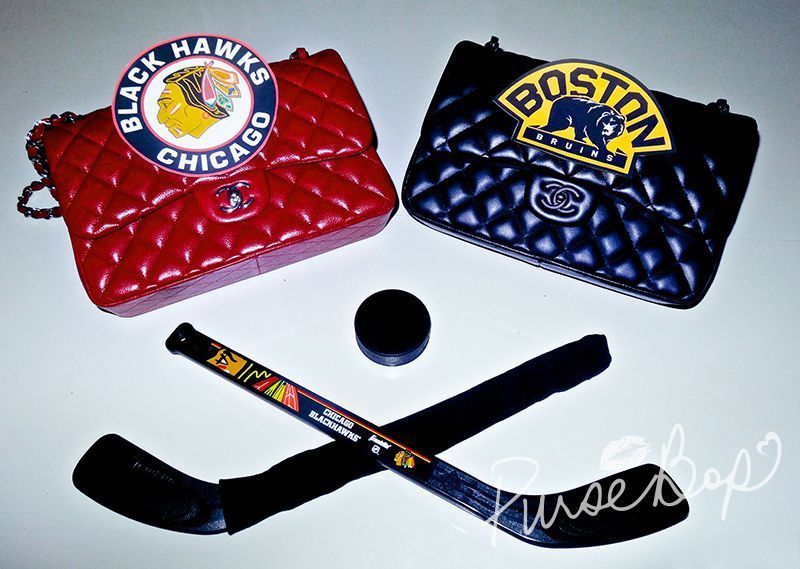 Two of the 'original six' (Chicago BlackHawks, Boston Bruins, Detroit Redwings, New York Rangers, Montreal Canadians and the Toronto MapleLeafs) teams are battling for the first time since 1979 (girls its your turn to impress the guys with some NHL trivia). Chicago and Boston are two of the most passionate hockey towns, so I have no doubt the rivalry will be fierce. Boston has been through a lot this year, which we mustn't forget, but ultimately I'm rooting for my hometown HAWKS.
On the ice, for the Chicago BlackHawks we have 12A red iridescent caviar from Manhasset NYC (LOL, Hirshleifers…)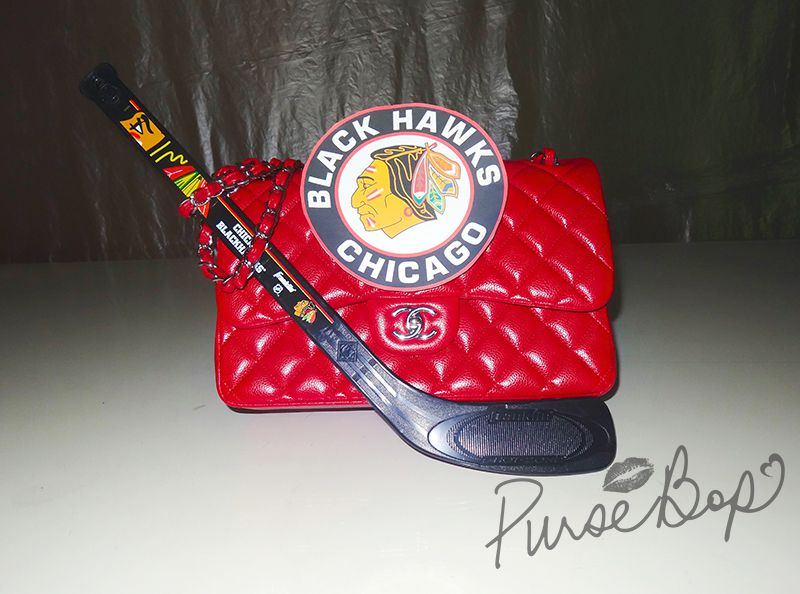 and for the Boston Bruins we have 13C 'So Black' lambskin from Houston
(LOL, Chanel Boutique Houston, TX)
PurseBop's passion for hockey stems from her childhood days growing up in 'O Canada'. Mr. PurseBop and his buddies are all serious hockey fans, and I have an adorable set of very talented hockey playing nephews (loyal Ottawa Senators fans!) Overall, there is a very 'enthusiastic hockey influence' in my life, to say the very least!!
Throughout the series I'll be posting photos from my own "rink" and who knows, maybe some photos of PurseBop at one of the games!
Countdown to the CUP…4,3,2, 1 #GoHawks
Skate along with PurseBop!
June 12th: Game 1 was actually 2 games in 1! It was the fifth longest game ever in Stanley Cup playoff history –Triple OVERTIME!! The most watched Stanley Cup opener since 1997 surely didn't disappoint!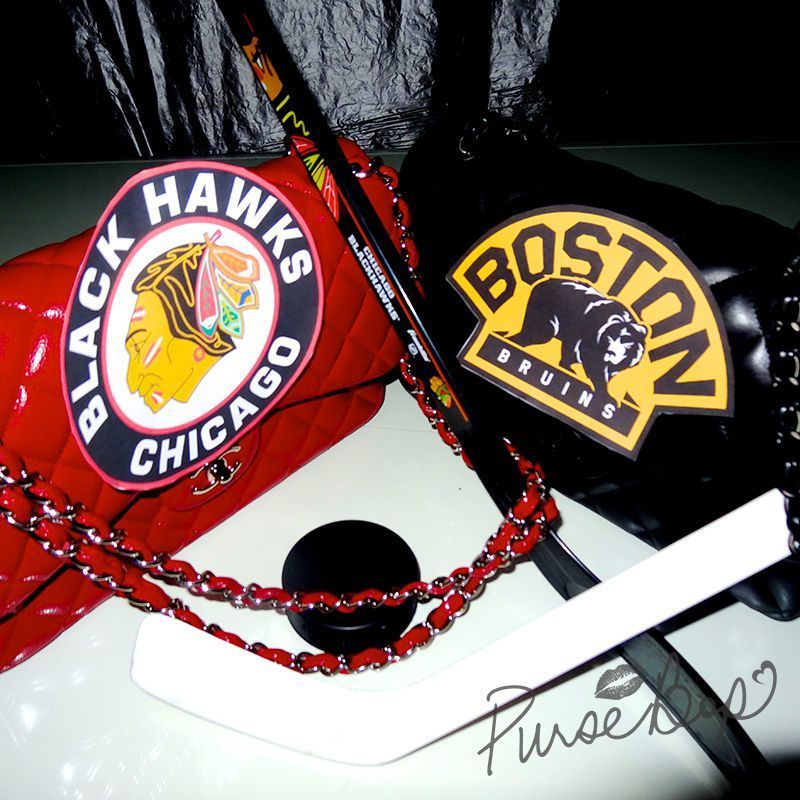 Both goalies put on a spectacular show, but in the end, Crawford and my hometown Hawks were victorious!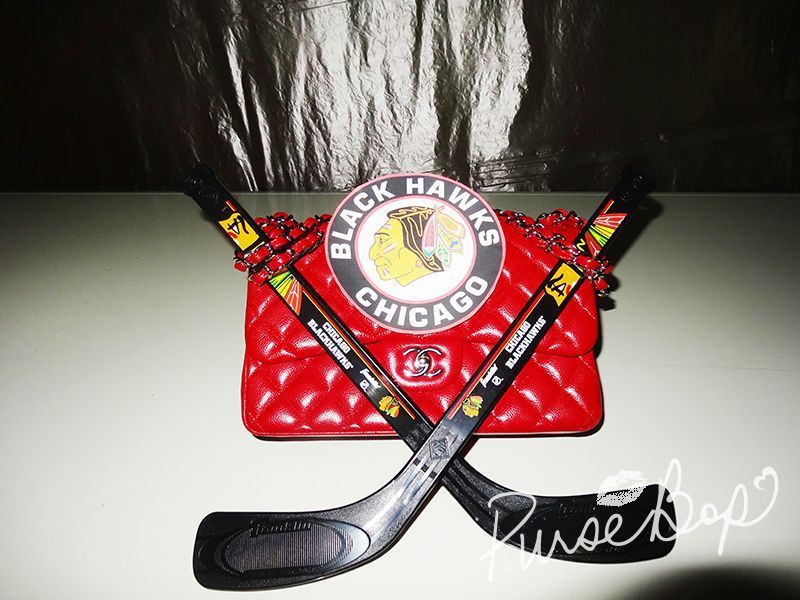 Chicago Tribune front page sports section, the morning after…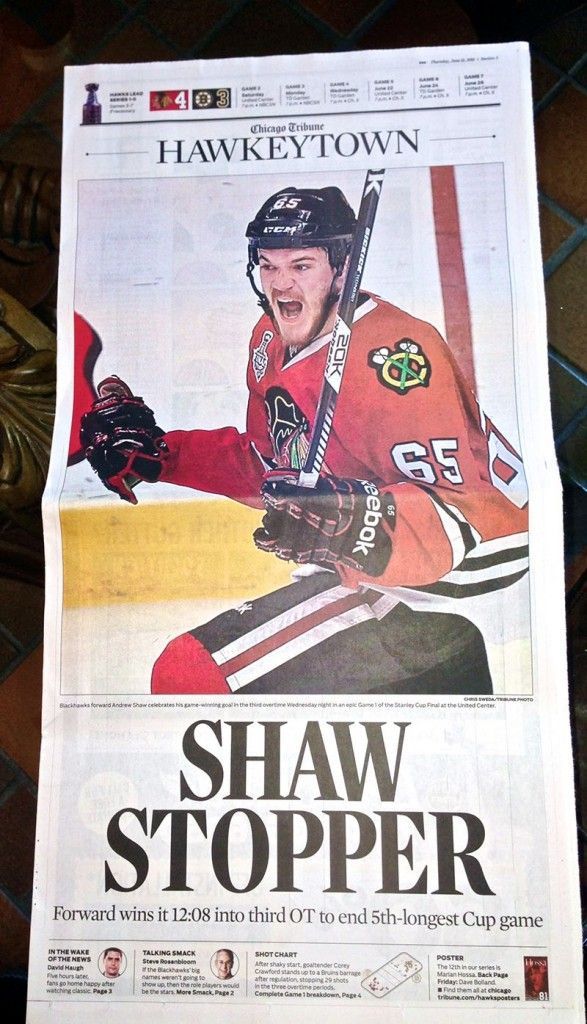 Get ready to lace up your skates for Game 2 and check out my Instagram @PurseBop for lots of BlackHawks pics…
June 15th (game #2) and June 17th (game #3):
It's been a tough couple of games since PurseBop last posted about the series. For the last week, I was in sunny Florida paying my parents a much-deserved visit. I'm proud of our BlackHawks boys for their effort in games 2+3 but they've really gotta step it up and find a way to get past Tuuka Rask and score! (Love the name, hehe). Lets get a W tonight and bring this series back to Chicago 2-2!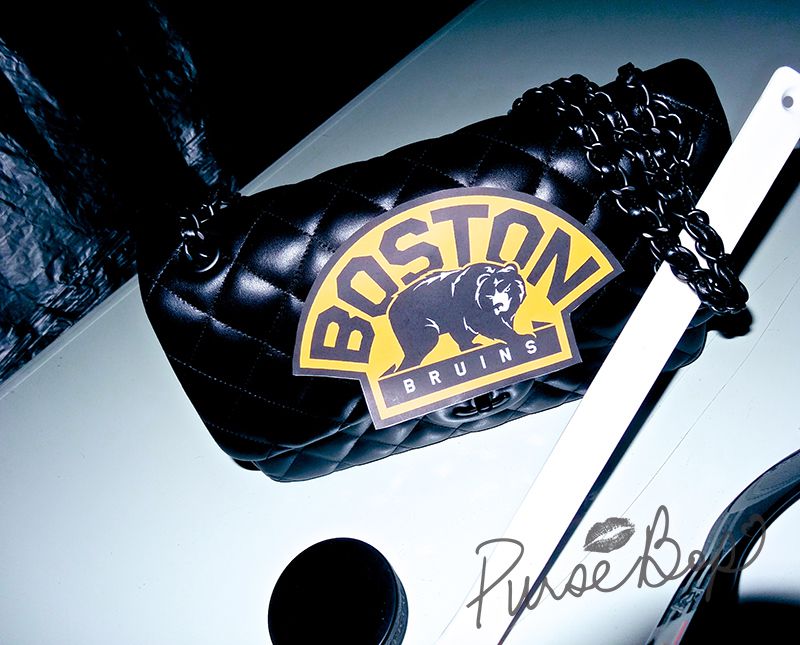 The quest and THE BATTLE for the cup continues tonight from Boston for game #4!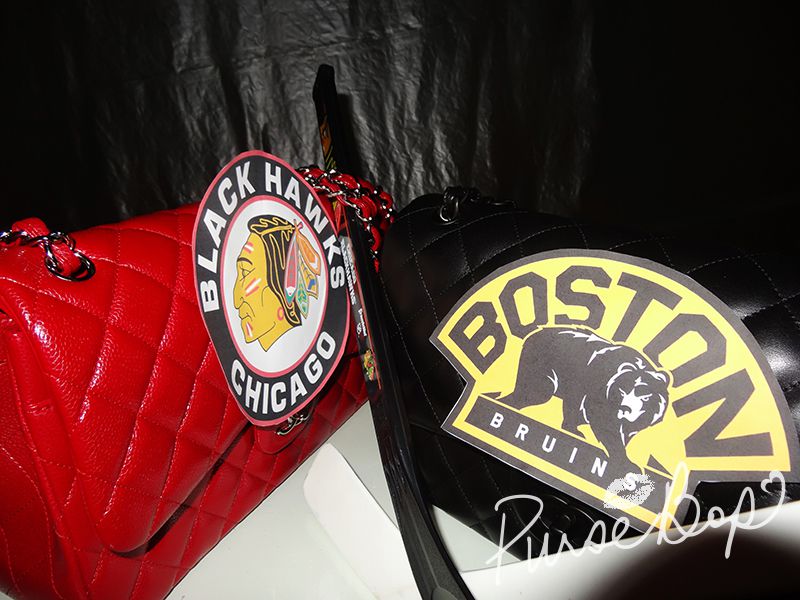 Chicago Tribune sports front page after Bruins win game #2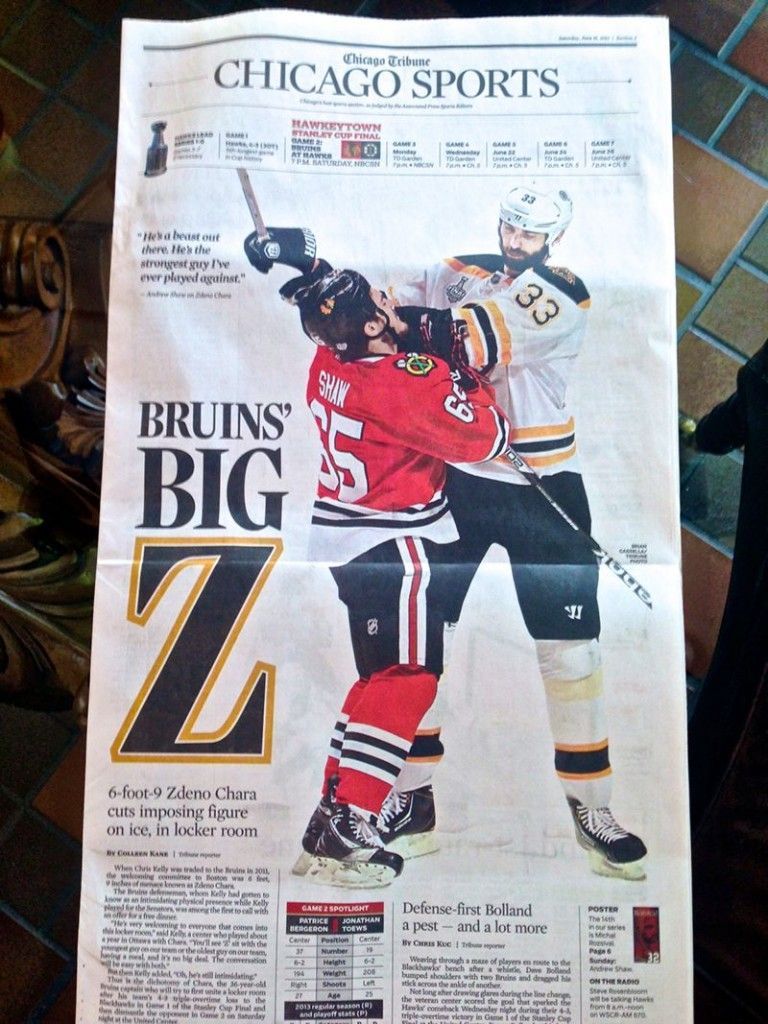 #Go Hawks
Game #4 (June 19th ) and Game #5 (June 22nd):
BlackHawks pull out off nail bitter with game #4's 6-5 victory and stay on track in winning game #5 on their way to the Stanley Cup. Patrick Kane had a huge hand at both those victories. Watch out tomorrow night for what might possibly be the victory game for the Hawks! PurseBop and gang have been in high drive hockey mode and look to Game #6 to satiate the 'quest for the cup'…
Getting ready for FACEOFF in Game #6
Chicago Tribune sports front page after Hawks win game #5
STANLEY CUP FINAL GAME #6
"Ladies and Gentlemen, the Chicago BlackHawks have won the STANLEY CUP! … For the second time in four seasons, the Chicago Blackhawks have won the Stanley Cup!… AND LORD STANLEY is moving back to the Windy City!"
—call by WGN-AM 720's John Wiedeman
What can I say, PurseBop and the entire city of Chicago are in celebration mode! Hawks score a pair of goals in final 1:16 to stun Bruins and BRING HOME the Stanley Cup! What a run  of excitement the BlackHawks have created for world of Hockey.I am a PROUD BlackHawks fan!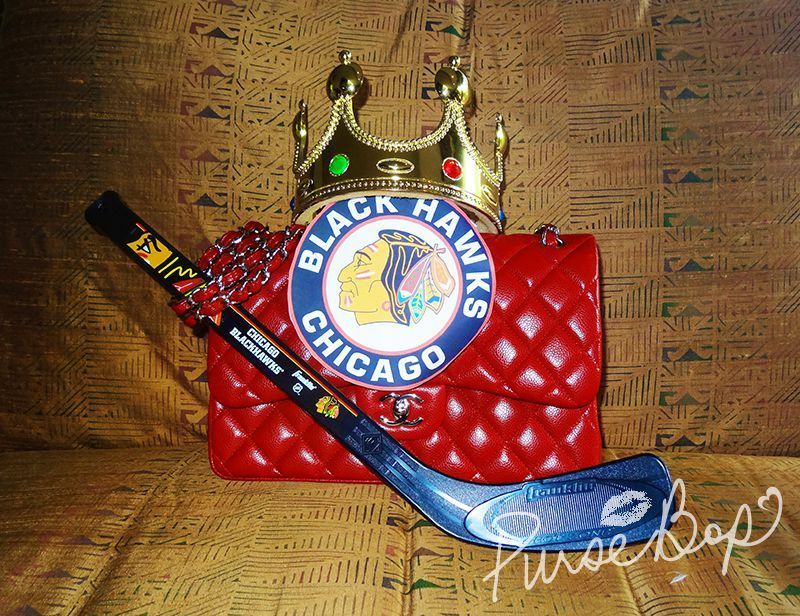 This says it all…front page Chicago Tribune and front page Chicago Tribune HAWKeyTown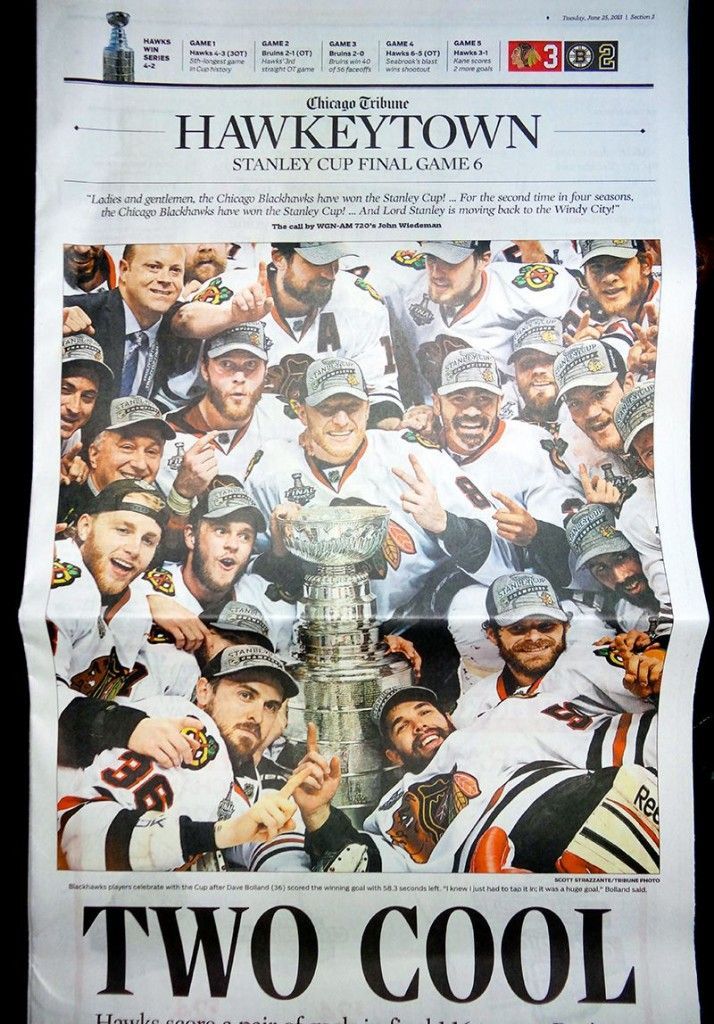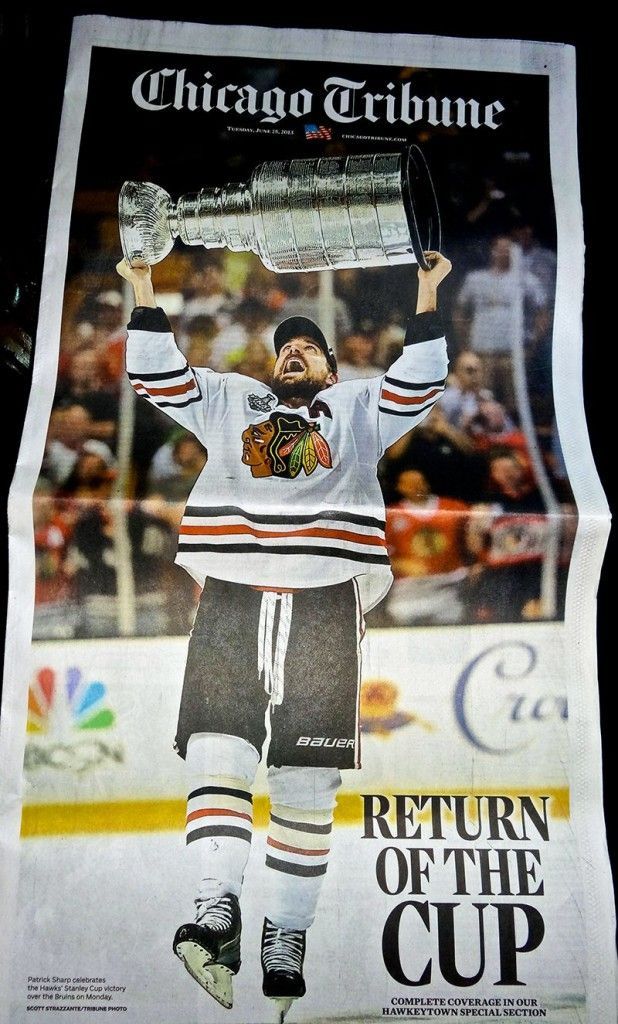 Congratulations to a remarkable team…
Love PurseBop
XOXOXO….