There isn't a particularly long and windy reveal story here. It really only dates to a trip to the Van Cleef & Arpels boutique that I referred to in my lotus ring reveal story.
If you recall, my girlfriend spontaneously fell in love with and bought a Magic Guilloche pendant. She wasn't the only one who fell in love. Let me digress.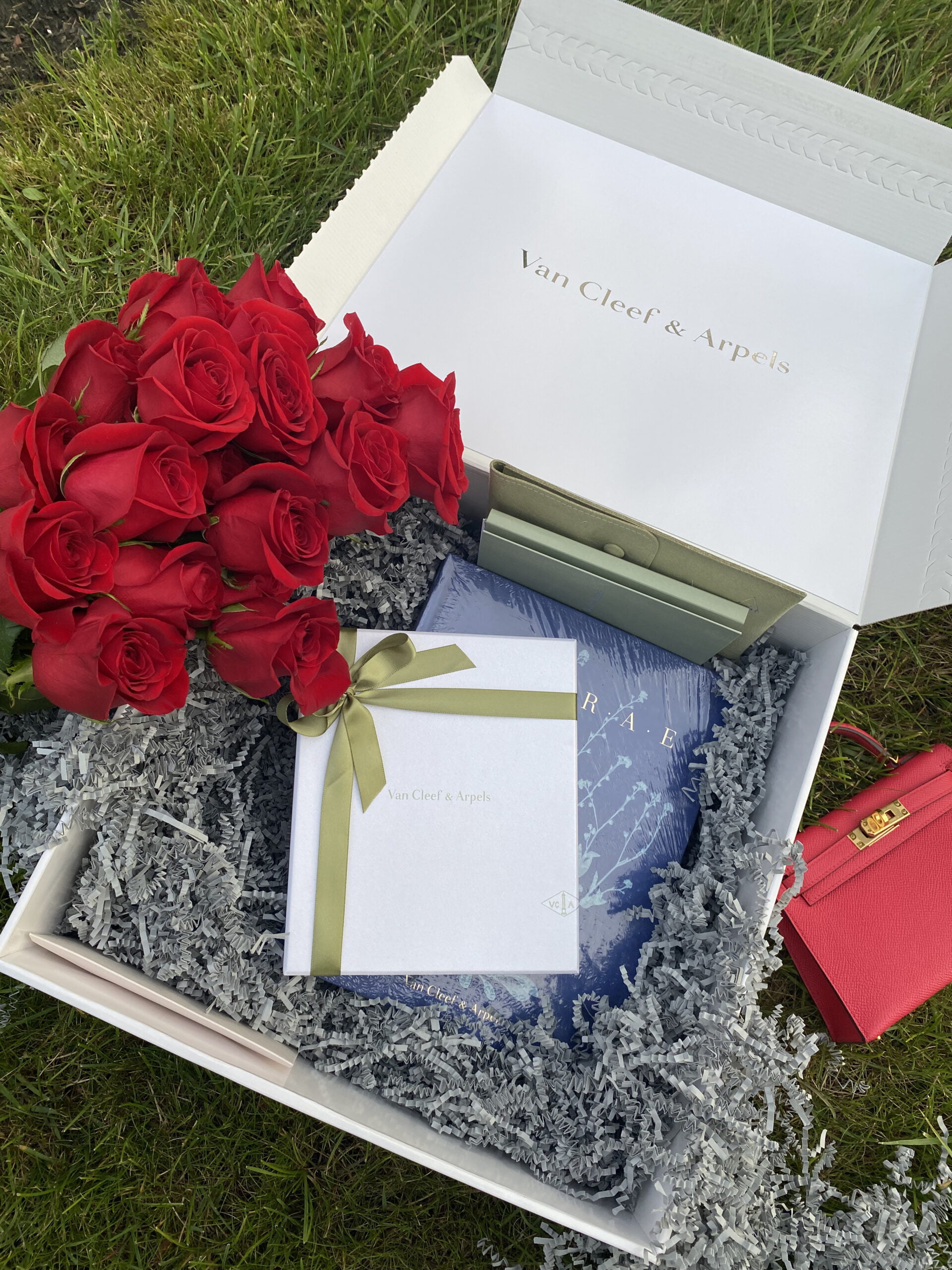 Over the last few years as I have watched many of you fashionistas curate your Alhambra collections, so many are bursting with colorful and beautiful stones… but there is one gleaming gold one that really pulls at my hearts strings. And that would be the Guilloche collection.
Guilloche is a technique that has been used by the house since the early 1900s. It is a traditional gold engraving technique. The guilloche is said to emulate the sun – its sharp lines arranged in circular form to create miniature beams of light on precious metals.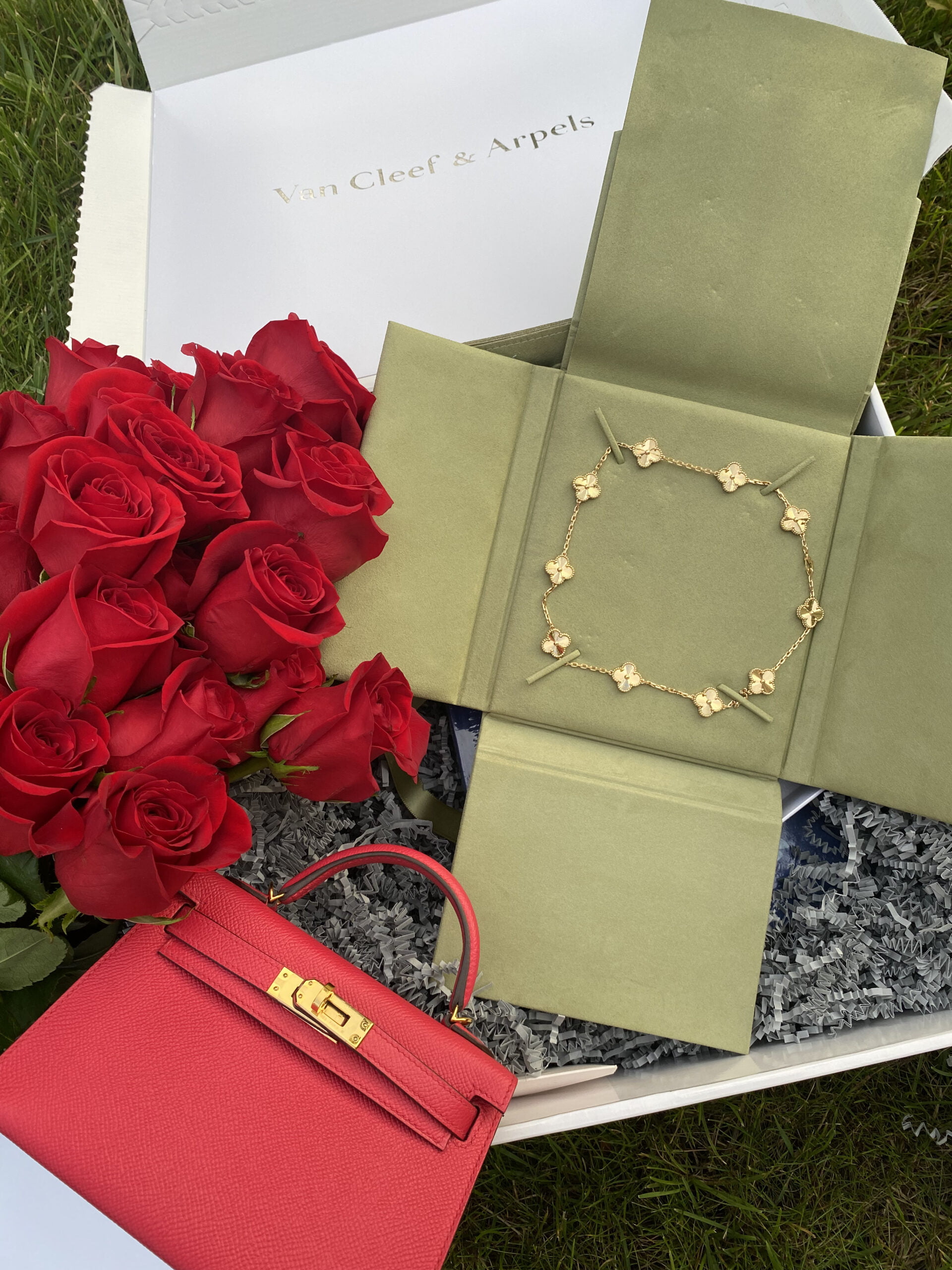 Although I have loved the Guilloche Alhambra series since its launch in 2018, I had never actually seen it in person. That is, until that leisurely afternoon when I was at the boutique to finalize the size for my Lotus (read: PurseBop Dips Her Finger in Van Cleef & Arpels).
Our lovely SA had the beautiful pendant waiting for us to see. My gal pal tried the various lengths it could be worn. Within a matter of moments her mind was made up and a neatly wrapped up box was sitting before us.
Even though I was clearly in no position to contemplate another jewelry piece so soon, the Guilloche seeds of desire had been planted deep. Perhaps even deeper than I had realized. I professed that my next purchase would be a Guilloche. I just never thought it would be so soon.
On the morning of July 12, just one week before our anniversary on the 19th, Mr. PB mentioned during coffee the following: "tomorrow is your birthday and if I am completely honest, I have not planned any special or surprise gift for you…" …Now at this point — we both were thinking the same thing… we had just purchased and planned the arrival of the lotus ring for the coming anniversary Monday. And to be frank, we don't get hung up on gift giving on special occasions because we just treat ourselves as and when we want – well with maybe the exception of milestone anniversaries and birthdays.
Back to topic…
Mr PB asked again, "is there anything you would like to buy right now, anything that you have been wanting…?!"
I mean words like these are music to anyone's ears, but truthfully there wasn't really anything that I was laser focused on except…VCA! (LOL) But you all know this by now too.
Now this was a very casual conversation in the kitchen at probably 7:45 on a Monday morning. It was really sweet that he was thinking ahead to my birthday the next day. We had talked about having a small party, or maybe having a few friends in the backyard, or most likely a family dinner out as it was going to be a Tuesday night.
I share context with you to give you a sense of the vibe —it was a really relaxed innocent conversation. Somehow the conversation veered towards Van Cleef & Arpels again.. and I mentioned the piece I would add next would be a Guilloche necklace. Now Mr. PB does not know (at this point) what a Guilloche a necklace is. In fact, I don't think we looked at any pieces together at the boutique.
I surely (in his ears) droned on about how this was my favorite Alhambra, in yellow gold, again my favorite… And the fact that it's impossible to get any pieces because of production shortages in France… etc etc…
Finally, he interrupted: "have you checked to see if there's any available, now?" I replied "probably not as every time I have gone in, there isn't any stock to see" …
So at his urging, I began inquiring. I don't think it took me very long to text my Chicago SA, and later that morning I received the predicted reply… that there was not a single piece of Guilloche in store.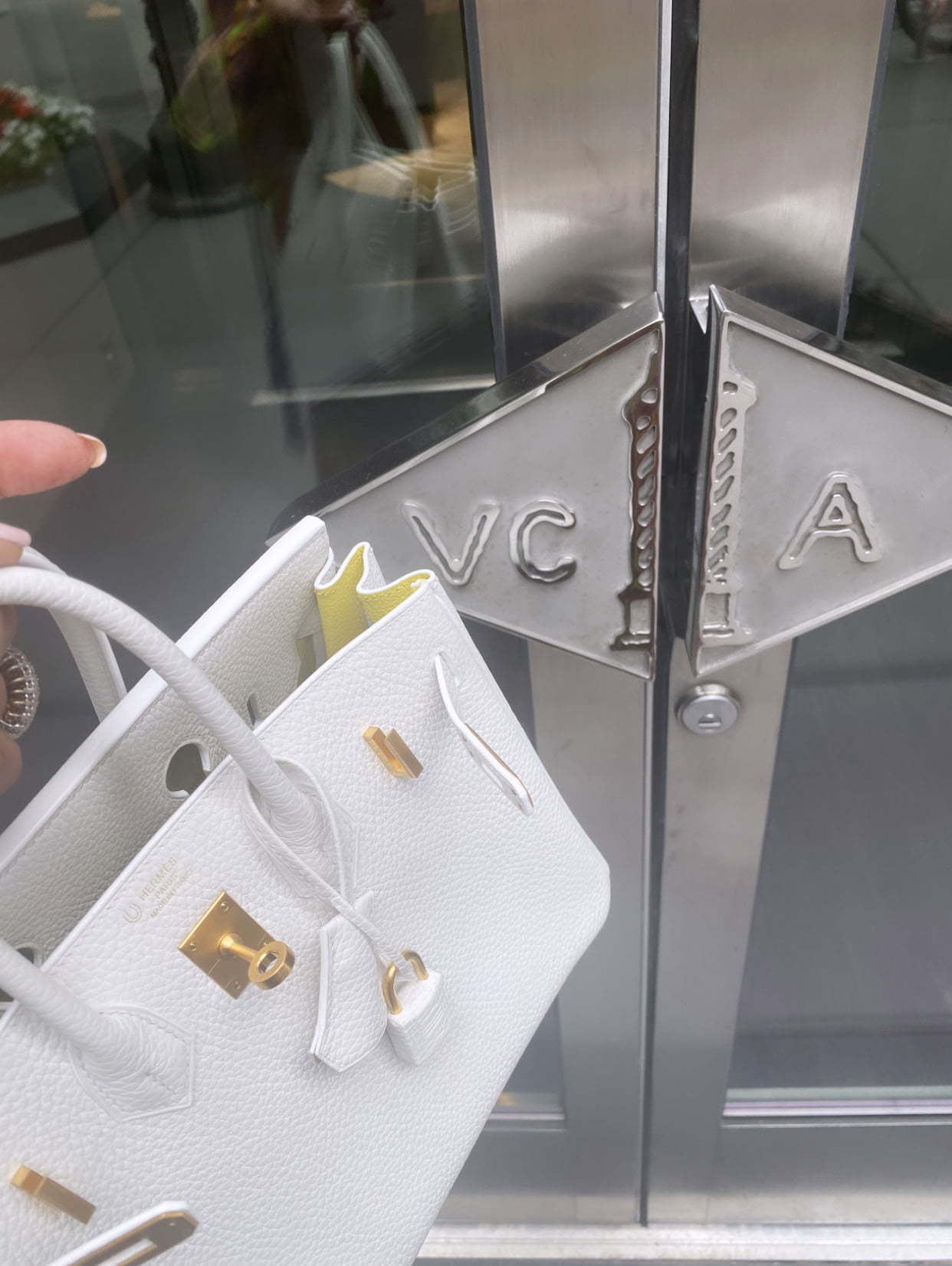 Knowing it was a long shot, I texted another SA in NYC that I had only met virtually. I explained that tomorrow was my birthday and wondered if there happened to be a Guilloche necklace in stock. Her reply was similar, that there were none in the system anywhere.
However – and here is that moment of hope – if I could give her a few hours she would check to see if one could somehow be arranged for me that afternoon. I was getting really excited at this point. There's nothing quite like a chase, and this one was totally unexpected and unplanned.
By this point, Mr. PB was off somewhere knee deep in work. But I texted him this- "there are no Guilloche necklaces to be found but my SA is going to get back to us this afternoon to see if she can somehow arrange one for tomorrow!"
I wanted it on my actual 'birth' day if I was going to do this so spontaneously.
In a matter of a few hours I got a text confirming that one 10 motif Guilloche in yellow gold had been secured. The only hitch was that it would need to be shipped the following day and therefore arrive one day after my birthday. I was delighted and, well, the rest is history.
I pondered whether I would enjoy a magic pendant or the 10 motif. So similar yet so different in use. If I rationalized with the logical side of my brain, I loved the pendant more and felt it was modern, more practical, casual and easier to wear, but I only got that fluttery feeling with the thought of having 10 vintage Guilloche motifs strung around my neck. This time I was going to lead with emotion over practicality.
On my last visit I also learned of the special limited edition capsule collection releasing of the Guilloche in rose gold alternating with Carnelian stone. This collection launches September 1st with a 20 motif necklace, a 5 motif bracelet and a two motif earring. I am sure it will be absolutely stunning and as tempted as I was upon hearing the news, I knew this yellow gold Guilloche is the right pick for me. I know our seasoned collectors must be salivating in anticipation… and the rest of us will sit back & vicariously enjoy.