As I write this, I cannot help but gaze back at the images in front of me of this gorgeous little bag/accessory. I am fraught with the question we handbag lovers find ourselves asking almost constantly- to add to cart or not add to cart? It is simply the most delicate, intricate, beautiful piece of art (literally). Though small in size, it surely packs a punch, makes a statement and stands out among the crowd.
What am I talking about? Well, it just so happens that Chanel has struck gold twice (both figuratively, and literally) with another new mini bag. Recently, we reported on (and continue to rave about) one of Chanel's newest mini flap bags that has taken the luxury handbag world by storm. Available in a variety of shades and iridescent hues, the mini marvel includes an adjustable toggle strap that, quite simply, seals the deal. Frankly, we'd be fibbing ever so slightly if we didn't admit to inquiring about this lovely little bag to our SAs already.
However, this new item, fresh from the House of Chanel, has almost completely taken my mind off the previous model. Why? Well, there are probably a dozen reasons, but I keep coming back to how elegant and detailed this style is. Small? Sure. Maybe even too small to use on a daily basis? Probably, but hey- we're all entitled to a little self indulgence (regardless of logic) sometimes.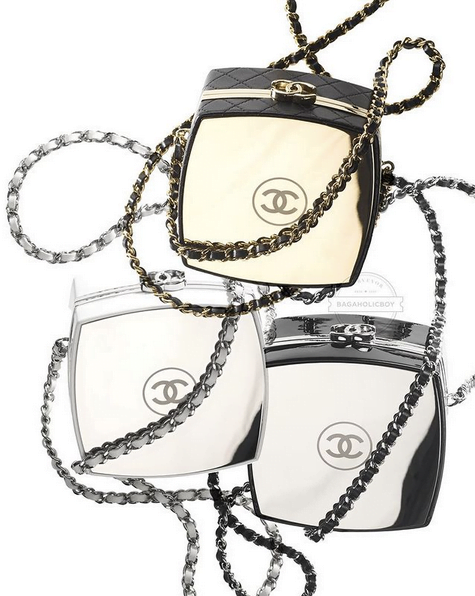 The bag in question, is really not a bag at all. In fact, even Chanel categorizes it as an SLG (small leather good). Dubbed the Clutch with Chain, my fellow Chanel lovers must be wondering what I, too, initially thought- what makes this clutch with chain different? A valid point, Chanel has released many a clutch with chain in the past, with even a few new adaptations on the classic style having hit the market recently. What sets this clutch apart, though, is beyond what it looks like, but the energy, aura and vibes it gives off (a bit melodramatic, I know, but you'll see why).
When I look at this little clutch, my first thoughts go immediately to old Hollywood glamour meets vintage-chic Paris. A crossover between Audrey Hepburn and Josephine Baker, between Brigitte Bardot and Elizabeth Taylor. What makes me fall in love with this bag even more, though, are the details.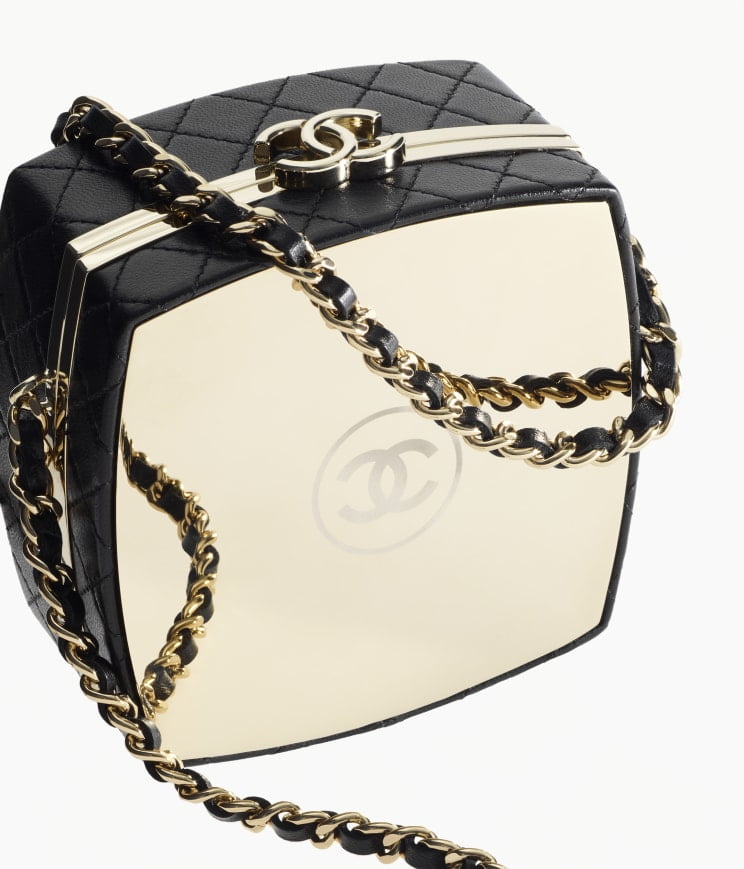 The front of this clutch with chain sports a mirrored surface with the CC logo stenciled in and, of course, all versions have the quintessential Chanel interwoven chain strap. It comes in a few variations, two different sizes and metallic finishes. The smaller of the two sizes measures roughly 2 inches in length and width, and slightly over an inch in depth. Inside, you'll find just a small mirror with an even smaller concave section in which to put… well, you let us know what you can fit in there!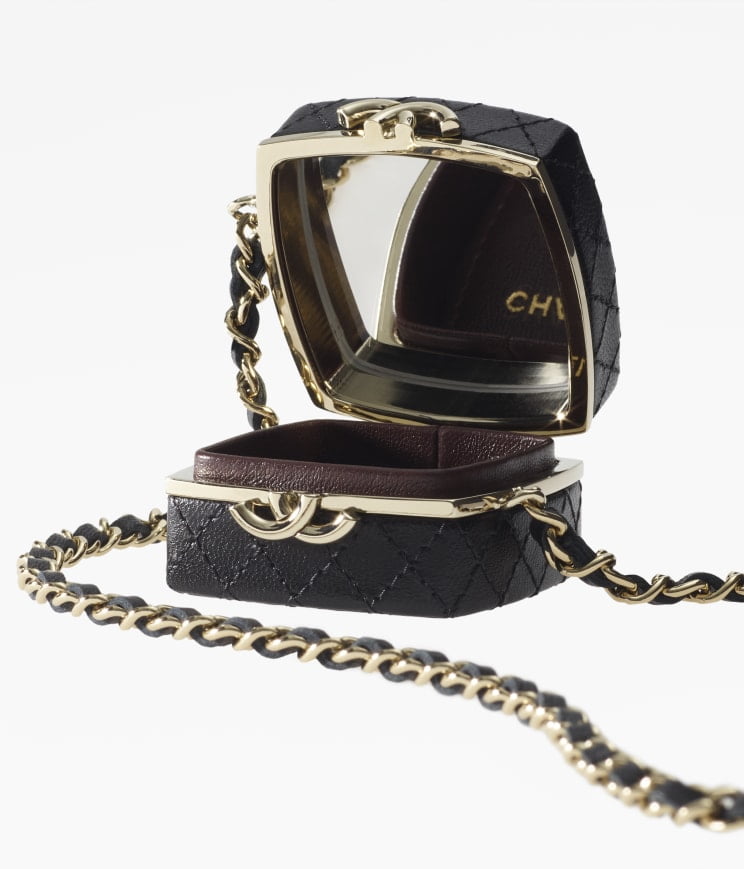 The other version of this clutch is approximately double in size. It is about 4 inches in length and width and just over 2 inches in depth. You do get a little bit more in this version. Despite not having an interior mirror, this style does open up into an accordion card holder, with three sections in which you can put your cards, cash and maybe even a sample size of Chanel No. 5.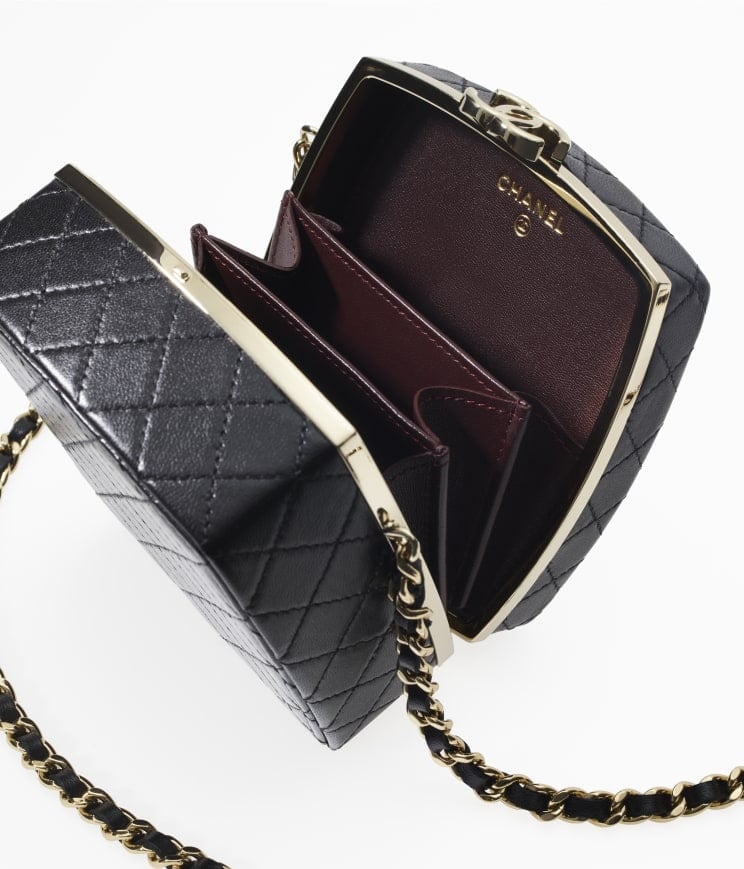 In terms of actual style, there are two versions available. There is the option where the outside four faces of the bag are quilted lambskin leather, while the other style has an exterior made from patent goatskin.
Moreover, it is available in three finishes- champagne gold with black interwoven leather chain (this is the lambskin leather exterior model), silver with white interwoven leather chain and silver with black interwoven leather chain (larger size only). The latter two are the ones with patent goatskin exterior, while the champagne gold version is currently the only one available in quilted lambskin (a personal favourite if I do say so myself).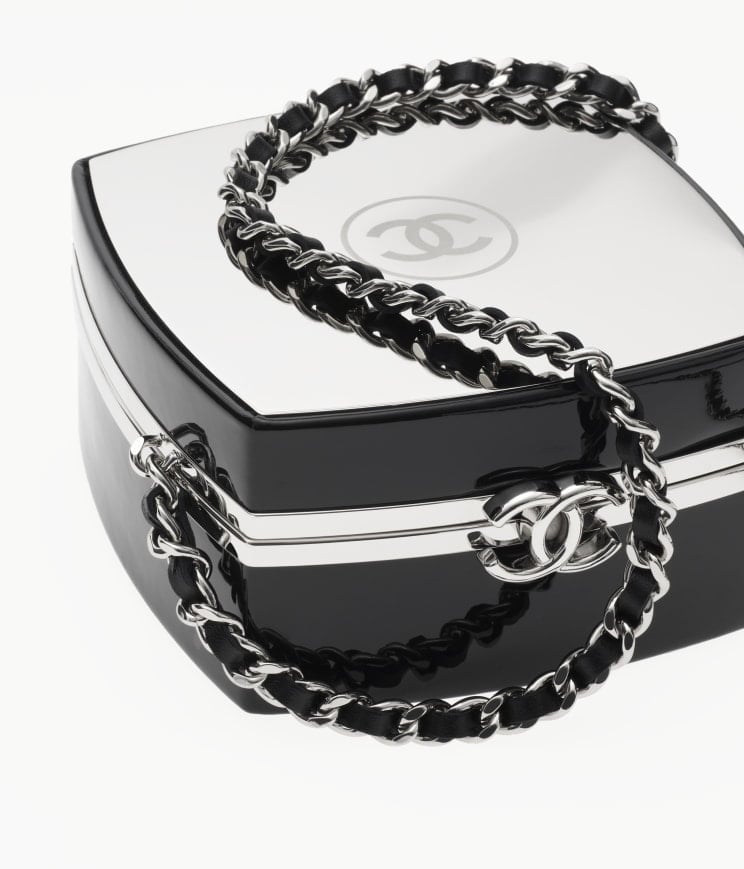 I must admit, my hat's off to Chanel for continuously getting it right (and then some) with its mini bags. Styles like this, and the mini flap bag I mentioned before, are just too good, and it makes total sense as to why they're capturing the hearts of shoppers everywhere. Utility aside, they are made to be trinkets, pretty little things we entwine betwixt our fingers that can almost replace our fine jewellery and the like. The thought alone is enough to make most of us have a twinkle in our eye, a spring in out step, and rouge in our cheeks.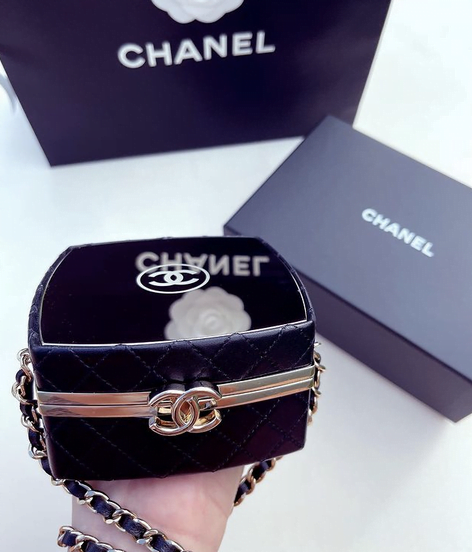 When it comes to Chanel, though, pretty little pieces like this are only half the story (yet the entire story, or rather the only part of the story that matters, when we decide to treat ourselves). What I mean by this is that price has a lot to do with things. The larger of the two sizes is currently being sold on the brand's website for just under $7,000 USD. Yes, I know what you're thinking, the price is venturing dangerously close to classic flap territory. The smaller size comes in at just under $3,000 USD, which is still significant given what you're getting. Even more discerning, is the possibility that this piece might go up in price with all the increases Chanel is implementing as of late.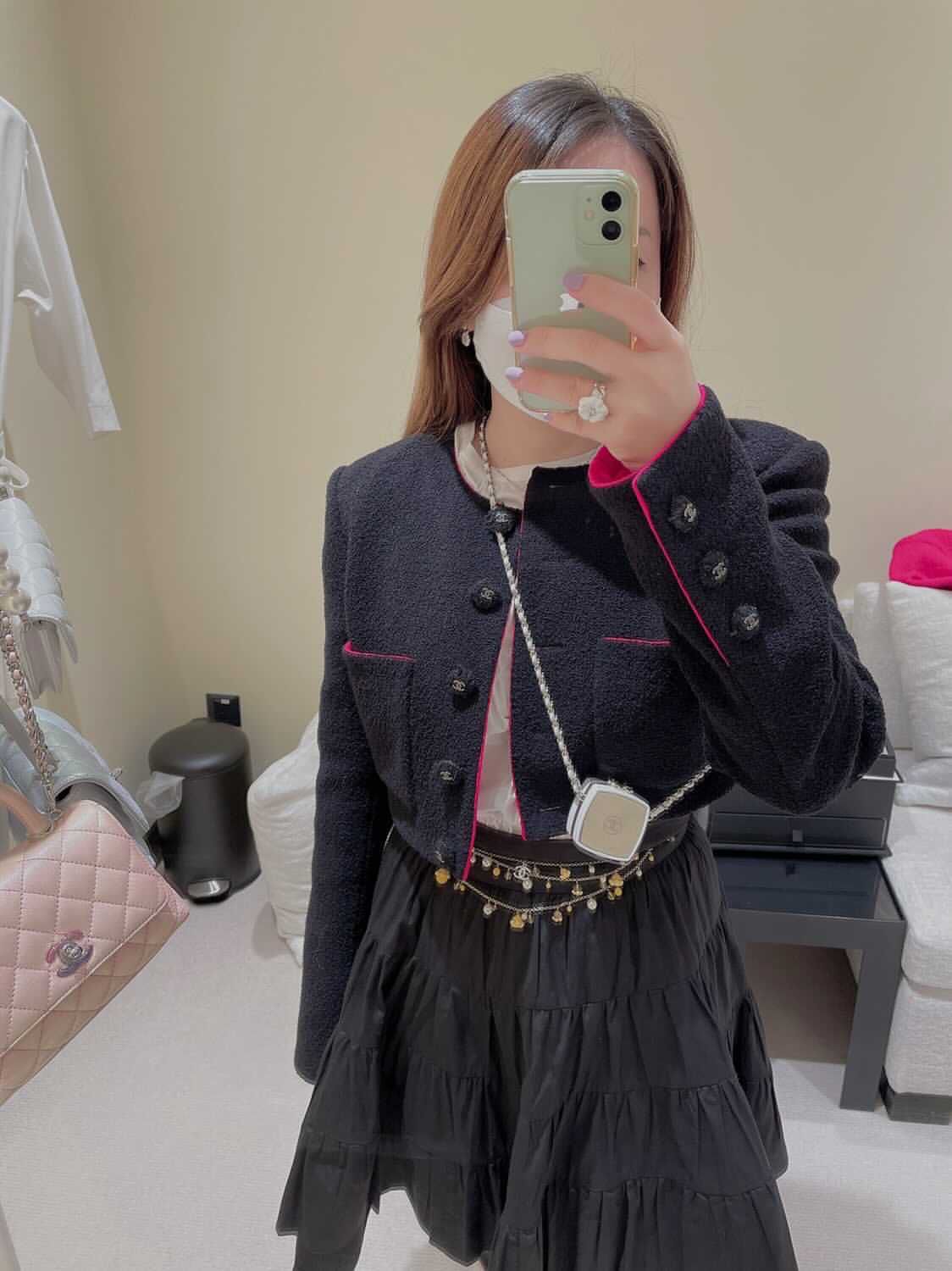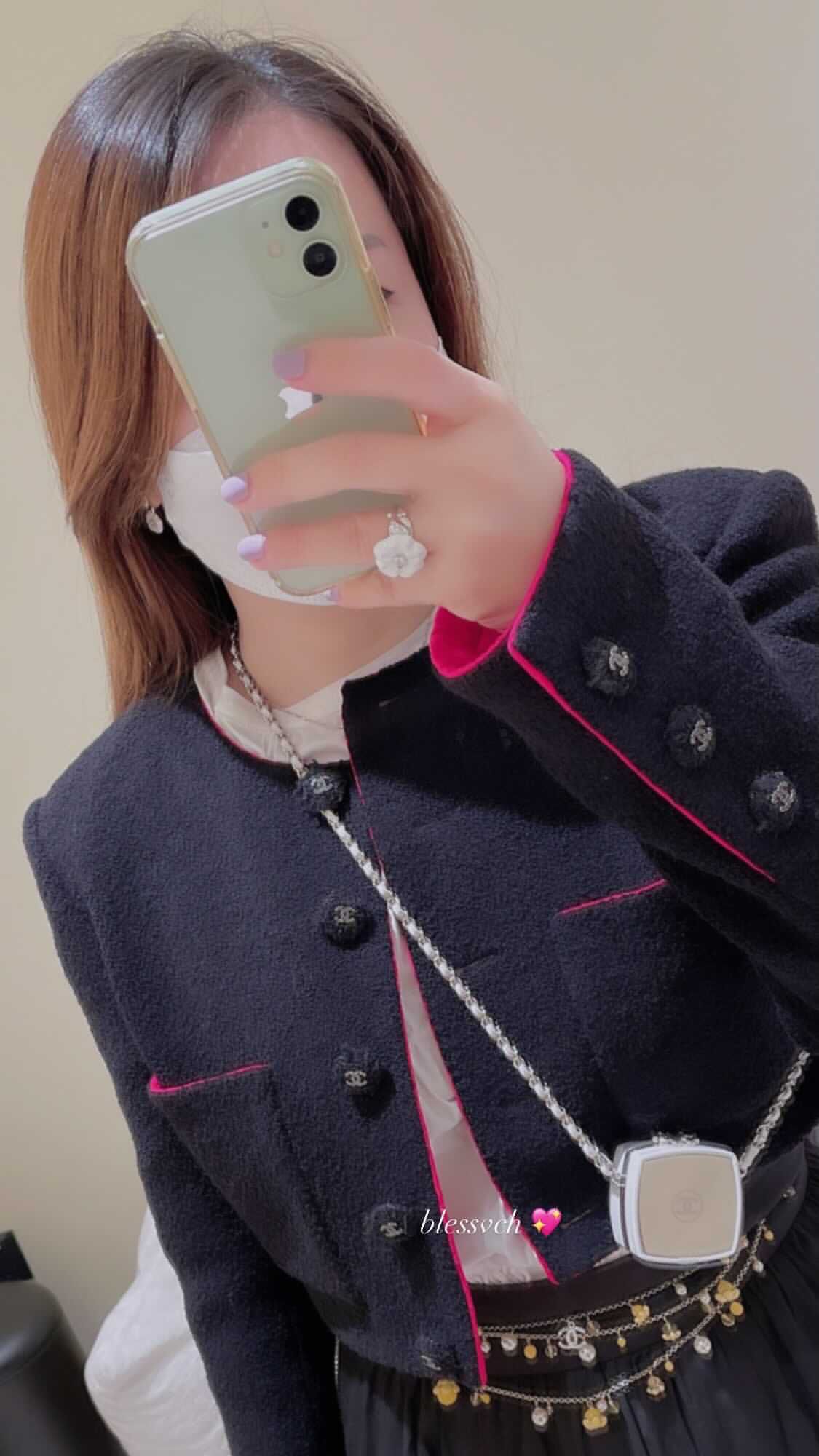 In spite of it all, however, I revert back to what I said at the beginning of this narrative- that I simply cannot stop thinking of this beautiful little piece of art. Might I pull the trigger? Or, a better question yet, might you find yourself pulling the trigger on this newest Chanel mini?…
Be sure to share your thoughts!
Read Related Articles:
https://www.pursebop.com/boptalk/topic/breaking-news-overnight-chanel-price-increase-vanity-cases-and-clutch-on-chain-affected
Image Credit: Chanel, @therealfashionblogger, @bagaholicboy, @blessvch