This morning I awoke to another new PurseBop article which I read before I ever considered getting out of bed. It has become my habit for the past 3 years to check my email and Instagram for purse news as soon as I open my eyes each morning.
As I read all about the frenzy with the 21P Caramel Classic Flap, I reminded myself that it was not my color and to not get caught up in this madness. Anyone who knows me, or follows me on Instagram, knows that I am a pink girl through and through. I am slowly building my Hermès pink bag collection and waiting for the call when (and if) they get a K25 in Rose Sakura or 5P Bubblegum Pink.
But I was a Chanel lover first. I started collecting Chanel bags soon after I graduated Law School. I could barely make my monthly student loan payments, let alone afford a Chanel bag, but that did not stop me. Over the years I have bought and rehomed many Chanel bags including classic flaps. The most recent was a small classic flap in pure white lambskin with champagne gold hardware. I had to have that bag and loved it, until I didn't. The white lambskin was so hard to maintain and the color transfer was impossible to avoid. I decided I would never use it again and let it go approximately two years ago. My daughter told me I was crazy but I ignored her.
Just recently, amidst the numerous price increases and new colors emerging, I realized I did not have a classic flap. What collection is complete without at least one Chanel classic flap? I started seeing the new Rose Claire small classic flap popping up all over Instagram and I became obsessed. I decided that would be the perfect bag to fill the void in my Chanel collection.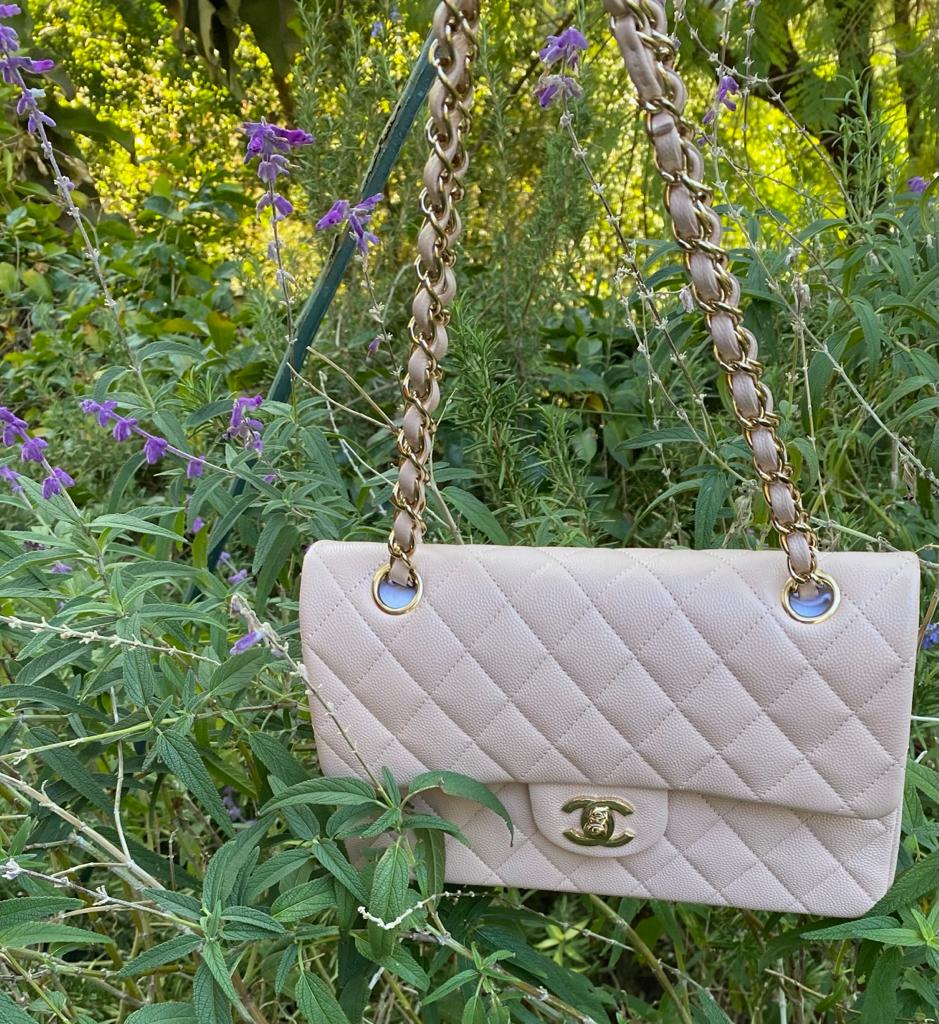 I contacted my Chanel SA and asked her if she had seen it and if she could put me on the waitlist. She said it was from the Cruise 21C collection. She did not think she could get it, but she would put me on the waitlist for the mini size in Rose Claire which was ordered for the Spring Act Two collection arriving in March.
Then my luck began to change! My Chanel SA texted me a picture of a Jumbo lambskin classic flap in Rose Claire and asked if I was interested. I declined because not only did I not want another lambskin bag, the jumbo size is not for me. The very next day I booked an appointment with her to check out more rtw (ready to wear) she had received. (The rtw collection this season is amazing in my opinion.)
Three hours before my appointment she texted me a photo of the small classic flap in Rose Claire caviar and said, "Someone just returned!!" I texted back "OMG!!! Can it wait for my appointment later today or should I come now before I shower?" She responded, "I can hide it for you. We may have to do it in the dressing room lol." Having just read PurseBop's article that morning, The Chanel Caramel 21P Frenzy – The Race for the Classic Flap is On Again, I told my SA it seems Chanel is becoming more like Hermès every day!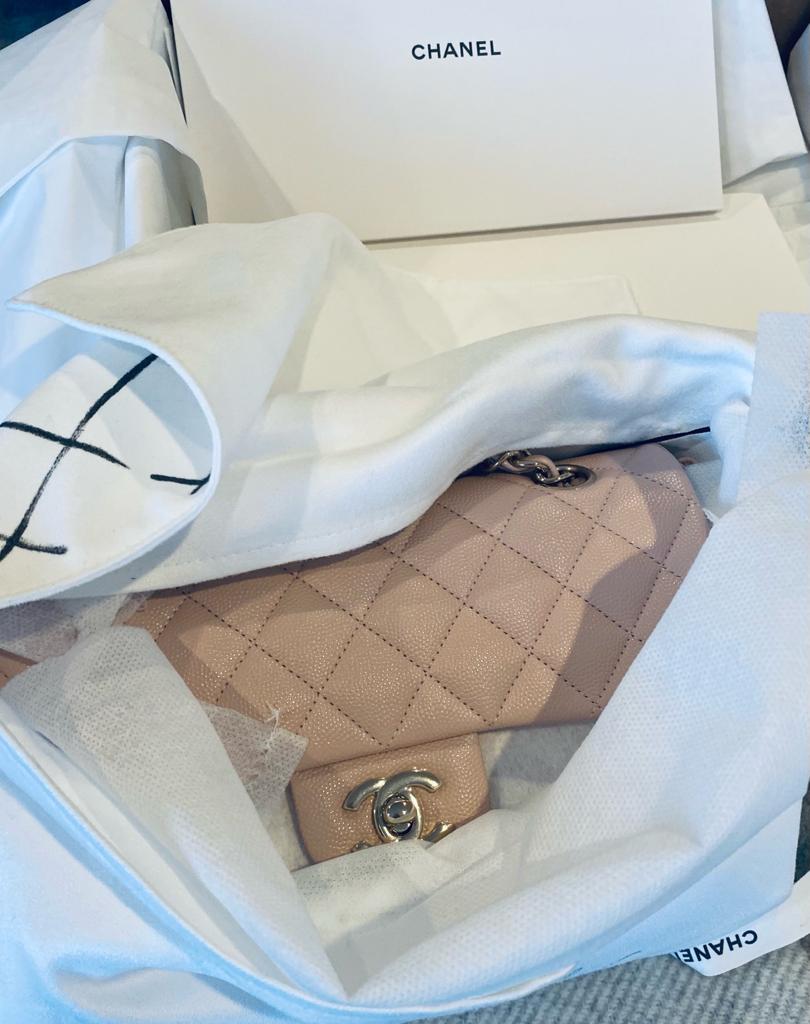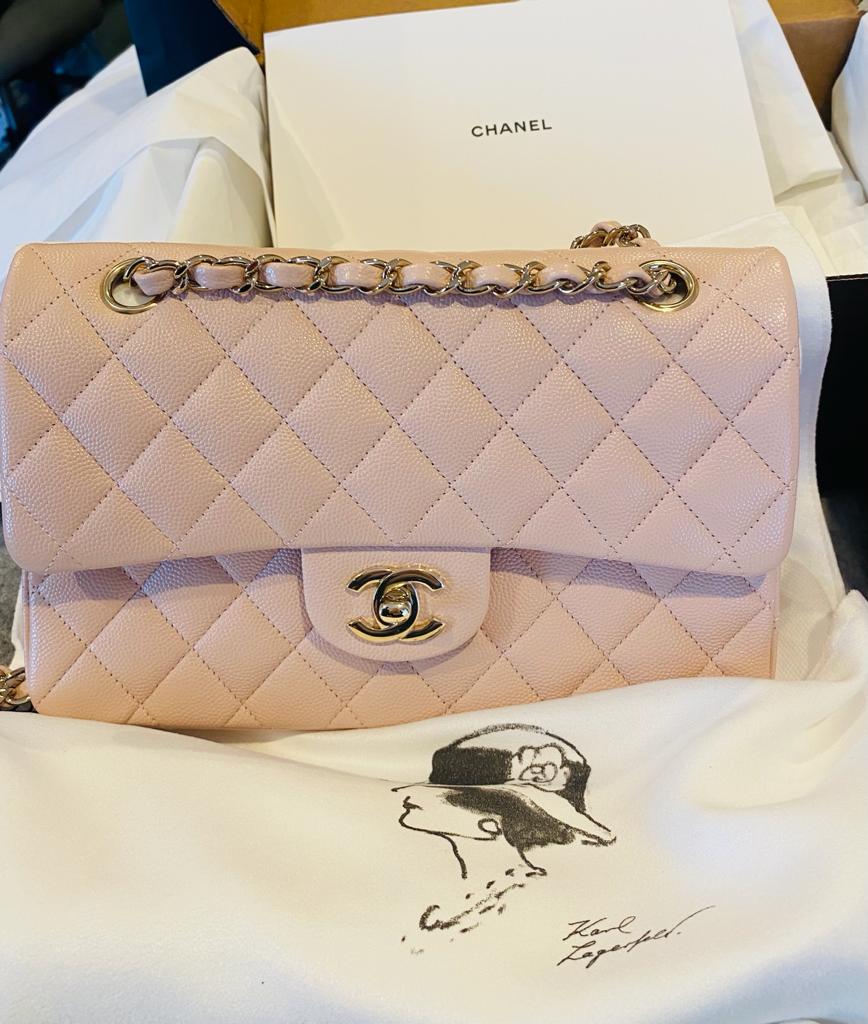 I arrived for my appointment and she hurried me into the dressing room. There she unboxed the elusive small classic flap in Rose Claire caviar with light gold hardware. It was beautiful. I tried it on and compared the color to my mini Coco Handle in pink python. I was lucky to score this Coco Handle in May 2019 right before Chanel discontinued producing exotics.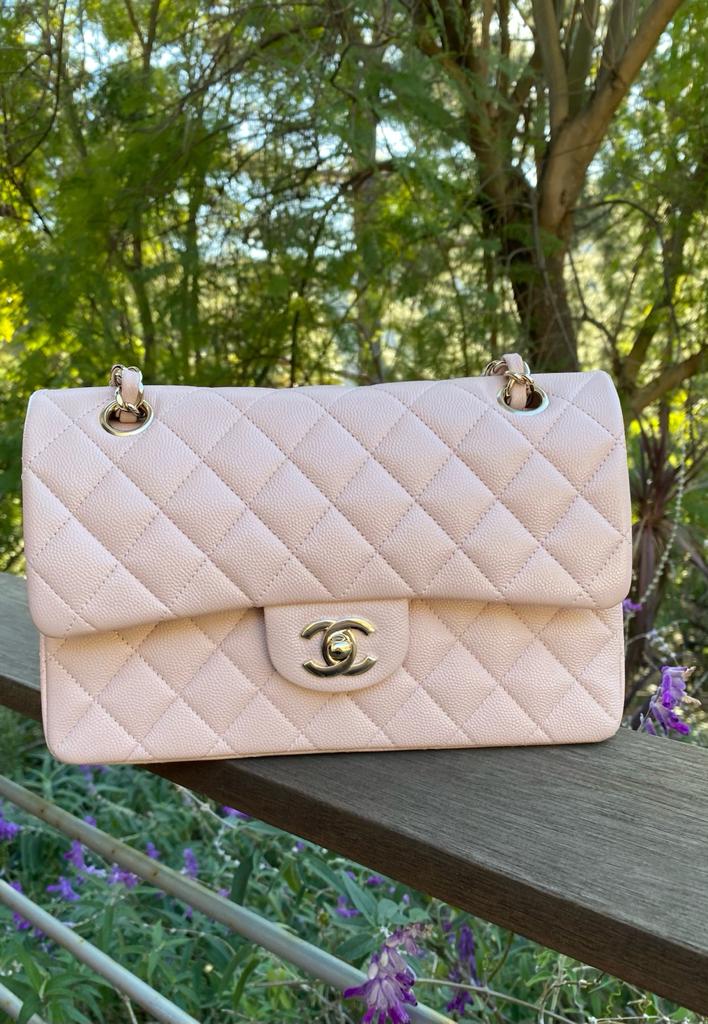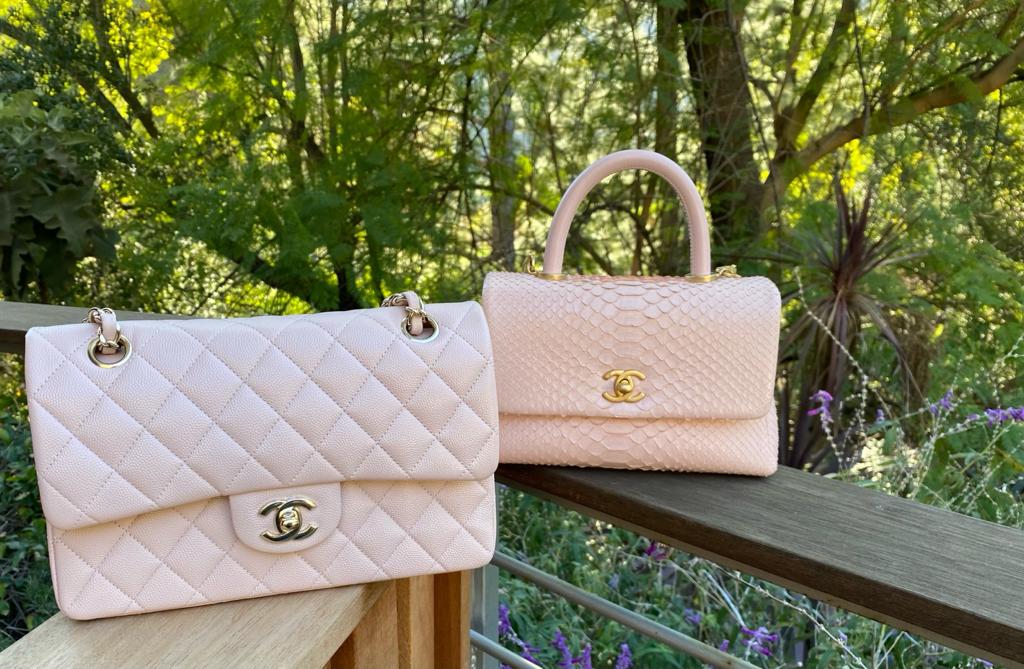 The bag was perfect. The color is a very soft blush pink, in the correct lighting. It definitely changes color depending on the time of day and amount of natural light. It is a small classic double flap in caviar leather with light gold hardware. There was no question this bag was coming home with me!
Since Chanel has been out of their signature black boxes since before Christmas, the bag was packaged in a black shipping box with the promise that a real Chanel box will be sent to me as soon as their supply arrives from Paris.
Good luck to all the pink lovers who are trying to score this Chanel unicorn! The Chanel frenzy continues . . .
Read related articles below:
The Chanel Caramel 21P Frenzy – The Race for the Classic Flap is On Again
7 Fabulous Chanel Bags We Spotted on 'Emily in Paris'
Here are the New US Chanel Prices for January 2021
Love,
@karenzkloset