Washington's most glamorous night is still generating buzz across the nation. Jokes are still being dissected on all the major network late nights, Twitter is still abuzz with #nerdprom and #WHCD, and PurseBop continues her tribute to the Celebrity Fashion Review for The White House Correspondents Dinner…
Julie Bowen: Our Modern Family sweetheart was stunning in this Monique Lhuiller contemporary strapless number! Some people think political events can be a little bland, but not when Julie Bowen made an entrance! She brought some major shimmer to the event! There was a lot going on on that tiny frame of hers, so I'm really glad her dress was NOT floor length. Celebrity Makeup Artist Jamie Greenberg gave her a gorgeous soft look to offset her busy look.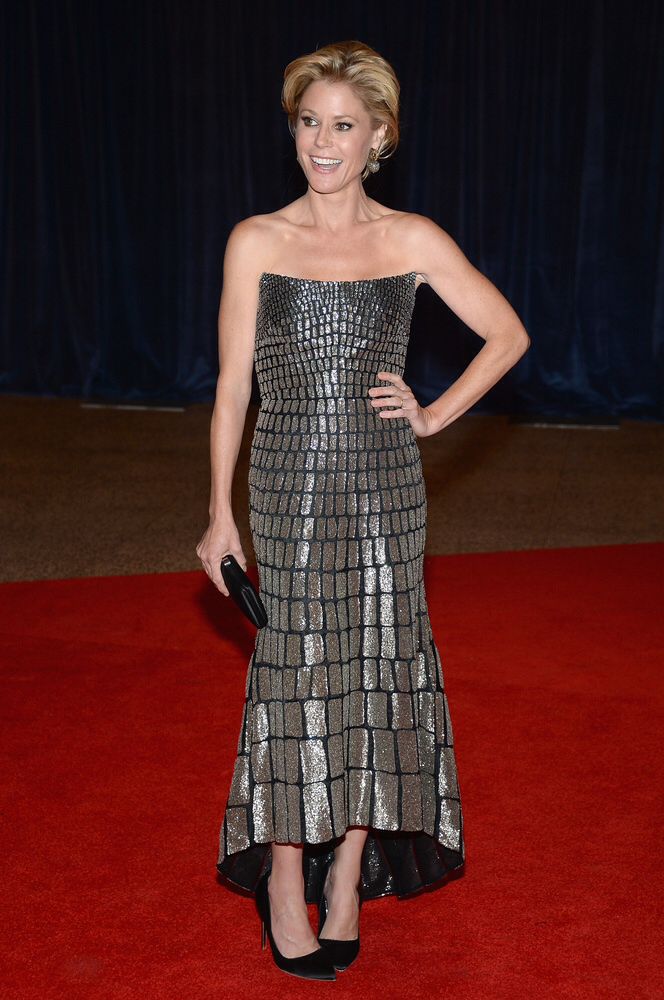 PurseBop's Pick:
Chanel 'mirrors' mademoiselle reissue 2.55 from the Paris- Bombay Metiers D'Art collection. This bag was offered by Chanel in two variations, the first as I describe (and own) with "WHITE GROUT" between mirror tiles and the second with "BLACK GROUT" between the mirror tiles… Ideally I would like to style our darling star, with the "Black Grout" version, but PurseBop owns and loves the white one…so use your imagination with me and envision ms. mirror mirror with black grout :)
Then, it's as though the bag was created from the same shimmery fabric — an extension of her dress, graphic and all… I couldn't resist the monotone 'matchy matchy' effect here. I think if Julie were to carry the reissue from the shiny ruthenium chains, it would add some dimension and needed distraction…she always exudes a playful youth, both on and off the set.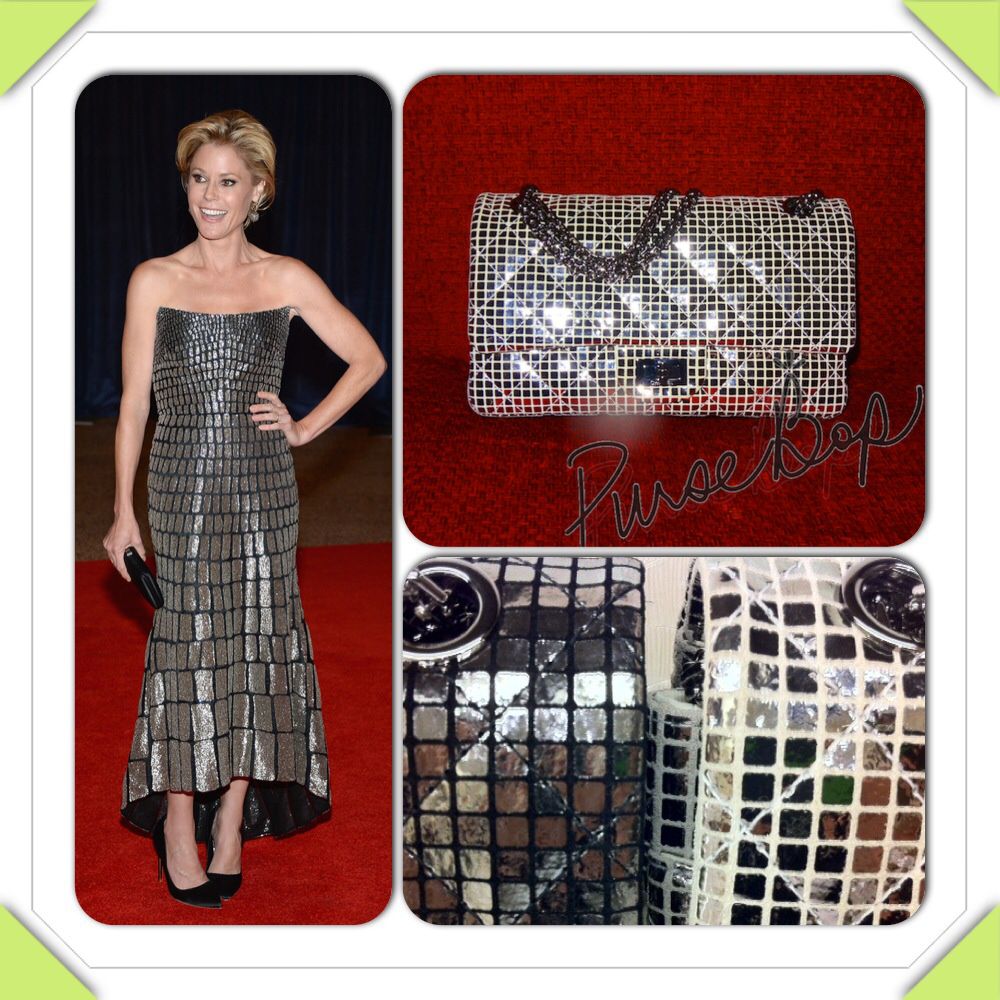 Kerry Washington: our favorite political heroine from Scandal was nominated as one of the best dressed on the red carpet in a striking halter dress design by Wes Gordon. Her saavy contemporary choice proved the classic black-and-white trend is definitely in full swing. I must say 'Olivia Pope' has made Thursday nights on ABC one of my favorite TV nights!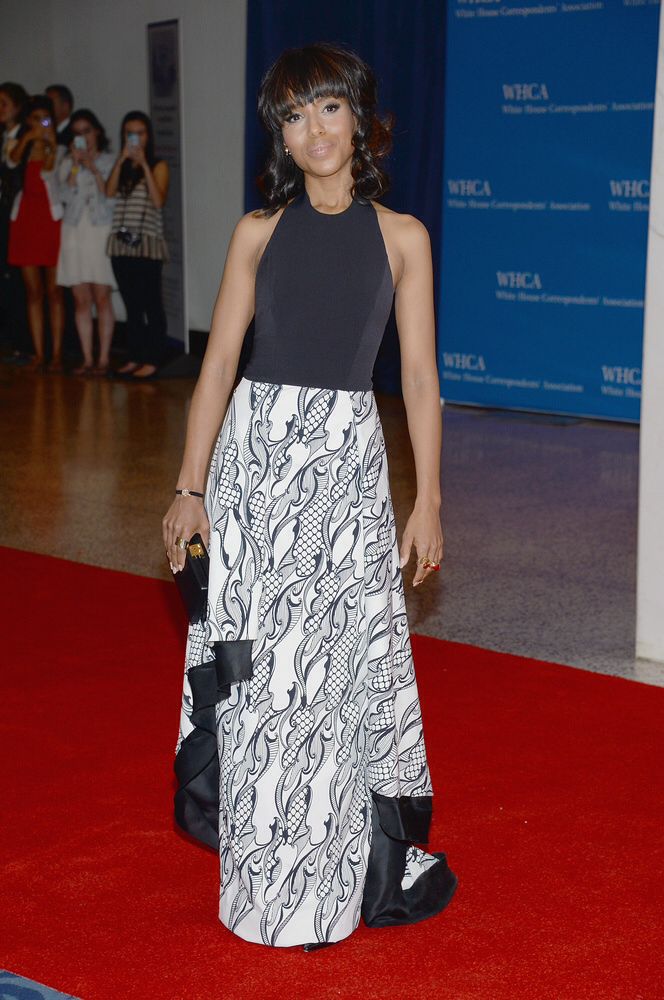 PurseBop's Pick:
Kerry's on screen fashions are clean and classic, as is PurseBop's Pick. My Chanel Vintage lambskin clutch with 22K gold hardwarelends a modern finish that completes her look flawlessly. The Vintage Chanel'sleather texture is unlike any other of my lamb Chanels, the depth of color is deeper than just any black or navy blue, the solidity is like that of a supple brick. This is indeed 'Chanel at its finest,' and the feel of something truly special in one's hands—AND to boot—3 sets of real gold CC's–TRIPLE XXX! There was no way PurseBop was going to let this classic baby slip away!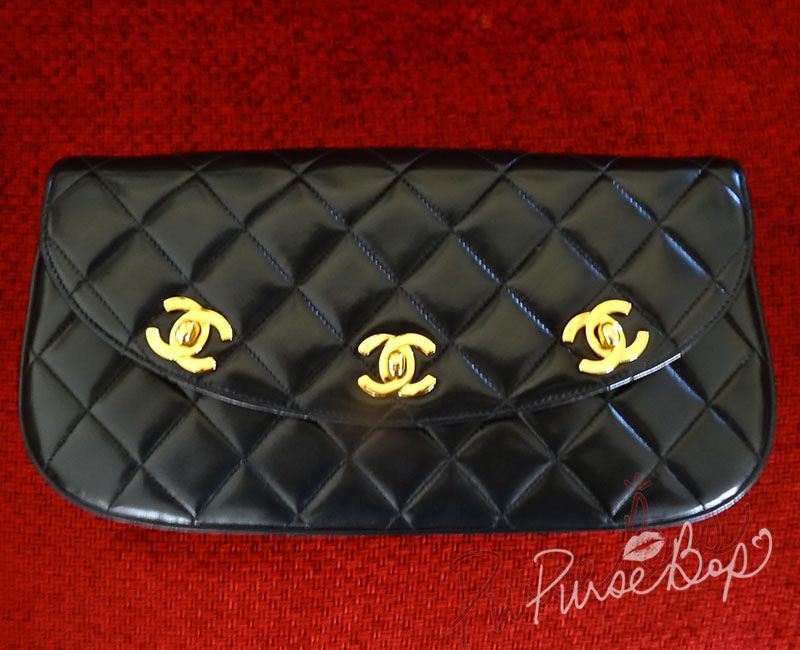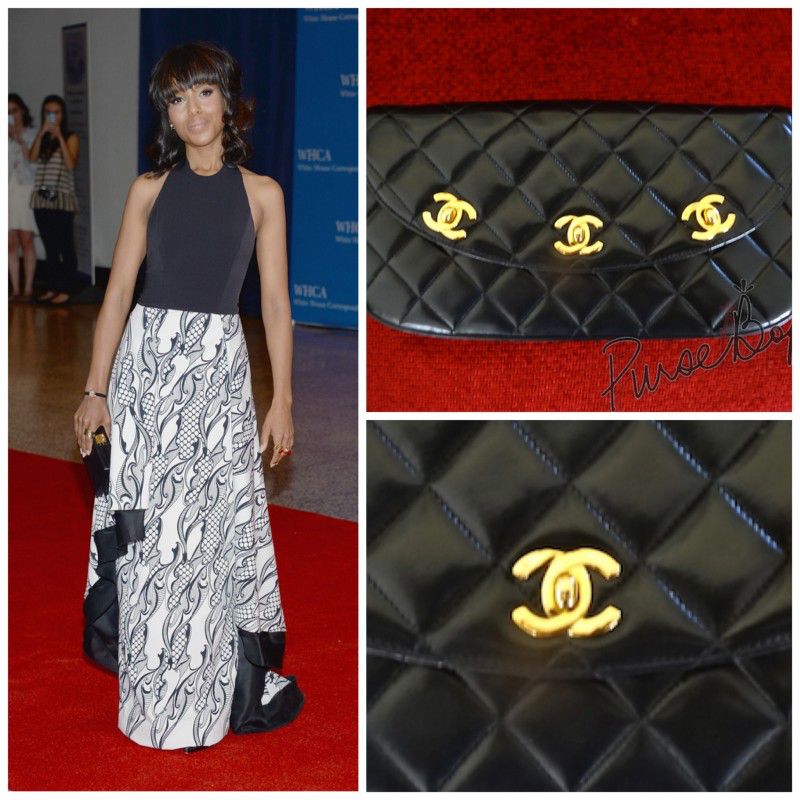 First Lady Michelle Obama: Michelle glowed in a glittering black cap-sleeve gown by Monique Lhuillier. It was described by fashion journalist Laurie Brookins, via twitter as "a black beaded, draped chiffon goddess gown, with a high neckline in Chantilly lace." Madame Obama was wise to keep in mind that the bodice and neckline would be especially relevant when seated at the head table for photos. Her dress accentuated her best assets — her long neckline and sculpted arms. Our first lady's hair was swept up in a soft updo and her bangs still made a prominent statement in the overall look. Michelle Obama has mastered the art of highlighting her strongest suits…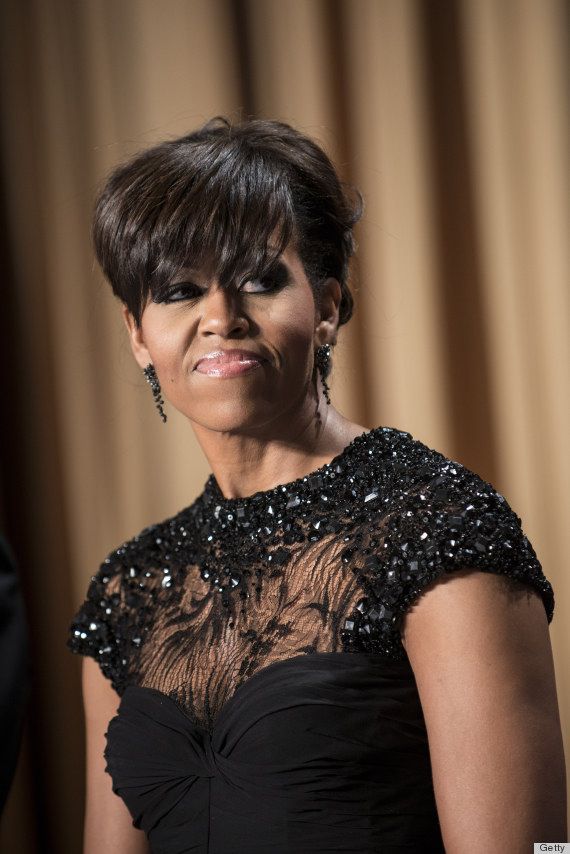 PurseBop's Pick: So of course 'the sparkling princess' of all my Chanels would make it into the hands of Flotus herself. PurseBop saves this treasure for those moments when all eyes are on her. It's my personal Holy Grail favorite Chanel: the Sparkle Beauty Bag. Soft silver grey goatskin completely encrusted with thousands of Swarovski crystals decorated in a degrade scheme from bright white to grey, at the bottom ~ true crystal perfection. It is my most coveted Chanel treasure. It's the ultimate perfect box of bling that makes a statement of sheer luxury and elegance like no other. My Sparkle Beauty, her diamond ring, and her brilliant smile, would be the only accessories she needs to carry her through the night…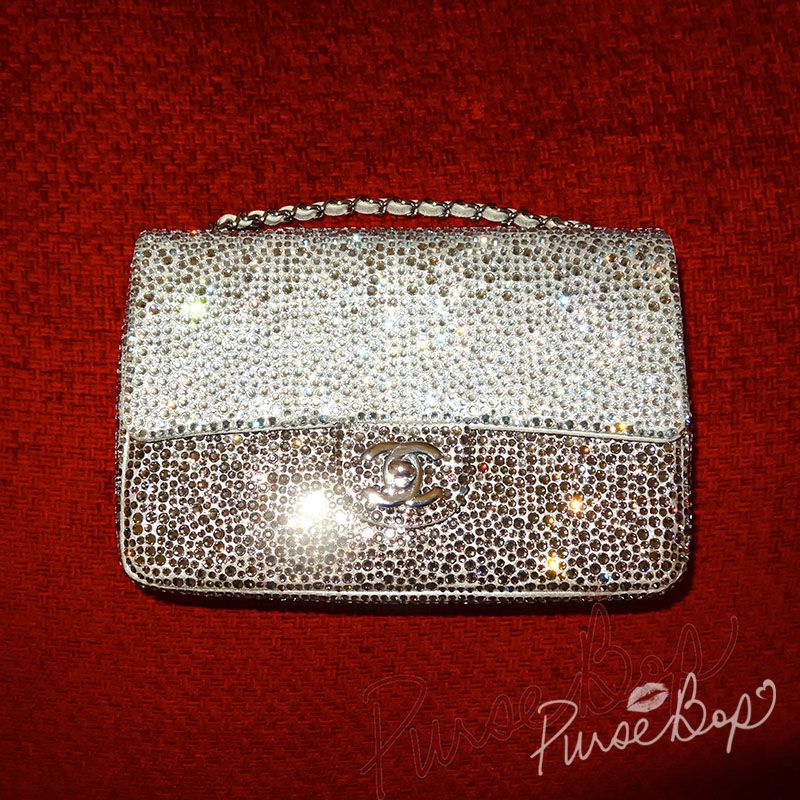 Just for some #WHCD Fashion Fun:
President Obama professed that he's looking to shake things up and improve his image in his second term as president. So it was only natural, POTUS said in his speech, to take a cue from his wife…
"and get bangs…"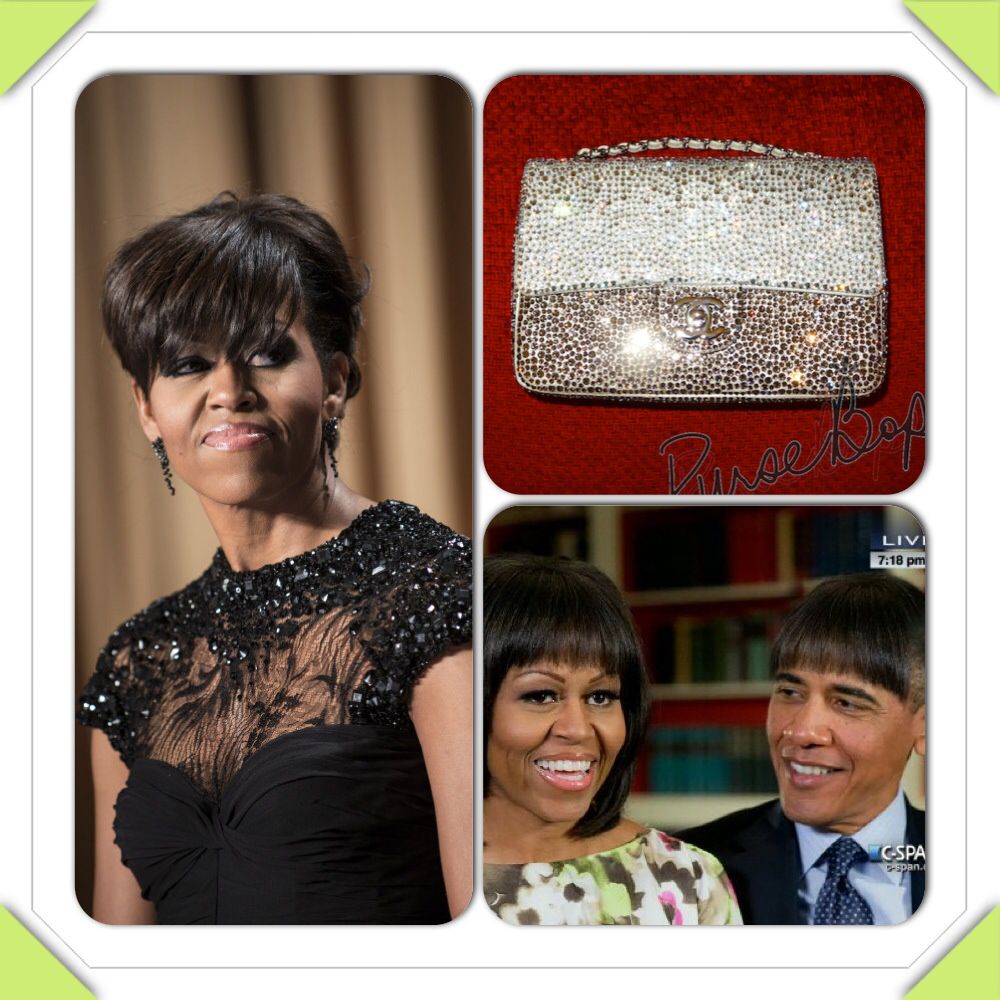 Love PurseBop
XO
Updated: May 18th, 2017