It's been virtually impossible lately to open a browser or social media app without seeing something about Kanye West. Among other activities, in the past week he's endlessly teased his new album (which was finally released on Tidal last night) on Twitter, launched season 3 of his Yeezy Adidas line at the famed Madison Square Garden during fashion week , had a public spat with Taylor Swift, and performed a 10 minute set on SNL.
I've never taken more than a passing interest in the Kanye phenomenon, rap isn't really my thing and I've never really taken his forays into fashion seriously. But someone sent me a tweet Mr. West wrote this week stating that he wanted to be the next creative director for Hermes.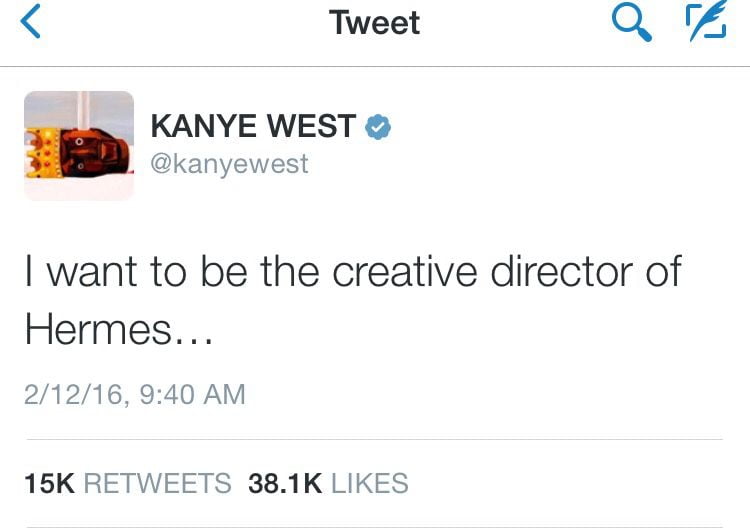 My jaw hit the floor. Kanye West? THE Hermes?!?! At first the line struck me as just another intentionally provocative statement by an artist with a project launching the same week. Surely he's not serious…
By all measures, his latest collections are far more interesting and successful than when he started but I really don't think he's ready for our beloved Hermes, even if he really does want the job. This isn't to say that musicians can't pull off high fashion (anyone who owns LV sunglasses or accessories should google Pharrell Williams), but I doubt Hermes would take such a gamble on such a culturally explosive figure. No one knows what Kanye will do or say next. Hermes is the absolute opposite of unpredictable. Does he have the talent? Maybe. I don't know Kanye well enough and it could be that he's just what the brand needs to jumpstart growth in a tough environment. Some say he has impeccable taste, he married Kim.
But I highly doubt anyone in Paris takes him seriously. Do you think Kanye has a shot at the Hermes gig? Could you ever see them bringing a controversial artist like Kanye into the fold? Once I heard the news, I put it out on our IG platform @purseboppicks, let's just say there was a vehement reaction!
Let's take our discussion to BopTalk…
Love PurseBop
XO