Editors Update: February 23, 2023
You thought you've seen them all, but this might be the answer to the missing Hermès bag in your closet. This new Kelly style bag features an adjustable strap. That's right, we said adjustable! And comes with a Kelly pocket, the perfect size to store your Hermès lipstick or set of keys. It can be worn cross body or over the shoulder. The rounded shape might tempt even those Sellier die-hard fans.
Scroll down below for a refresher on all the new bags in this article below.
Editors Update: December 5th, 2022
Just when you thought the mini Kelly II couldn't get any better, we spy this furry addition to the list of unattainable minis we can only dream of.
The teddy is back – but this time in the pint size K20 that even in a regular leather can fetch 3-4x its retail cost. Now just imagine this…
The Teddy style designed by Jean Paul Gaultier was originally seen in 2005 in larger sizes like the 32 and 35 and in auctions has realized prices as high as $135,000. (Jane Finds) or ($77,000 on Christie's)
Hermès shearling fur has been on fire with the ever popular furry Chypre sandals that debuted in the Spring of 2022. Has the shearling shoe craze gone to mini Kelly? Or is this a mini Teddy? We let you decide and drool.
Don't forget that metallic gold mini we shared near the end of this article below.
For Spring 2023, Hermès apparently left the horses behind. Instead the collection mixes classicism and sophistication with a dose of hipster and utilitarianism. Held at the Tennis Club de Paris, the show was more Burning Man festival than Polo Championship with loose and non-constricting garments.
The overall theme was the liberty to explore and hike beneath the desert sun. Indeed, after two years of restrictions, Hermès artistic director Nadège Vanhée-Cybulski was inspired to create a collection that freed the body and mind. She said
"When you dance you just want to have freedom of the body. We've been so confined that I really wanted to celebrate going back outside, feeling the wind, the heat, the sweat on your skin." 
True to that intent, the color palette showcased glamorous desert colors, warm neutrals, terra-cotta desert sands, and sunset hues. The utilitarian designs seemed to be cut from tent cloth with classic  camping (or perhaps more accurately, glamping) references like ropes, hammocks and netting. 
In typical Hermès style, the unexpected became the expected. This was particularly true when it came to the handbags.
At least five new bags walked the runway, each with a unique design. Some were adorned with feathers, several in bright colors, many neutrals, and a few unusual shapes.
A brand new Gold Mini Kelly joined the Spring-Summer 2023 release, which is sure to create a frenzy! And there is a newly designed Picnic Birkin and Retourne Birkin with geometric stitch details on the outside you need to see.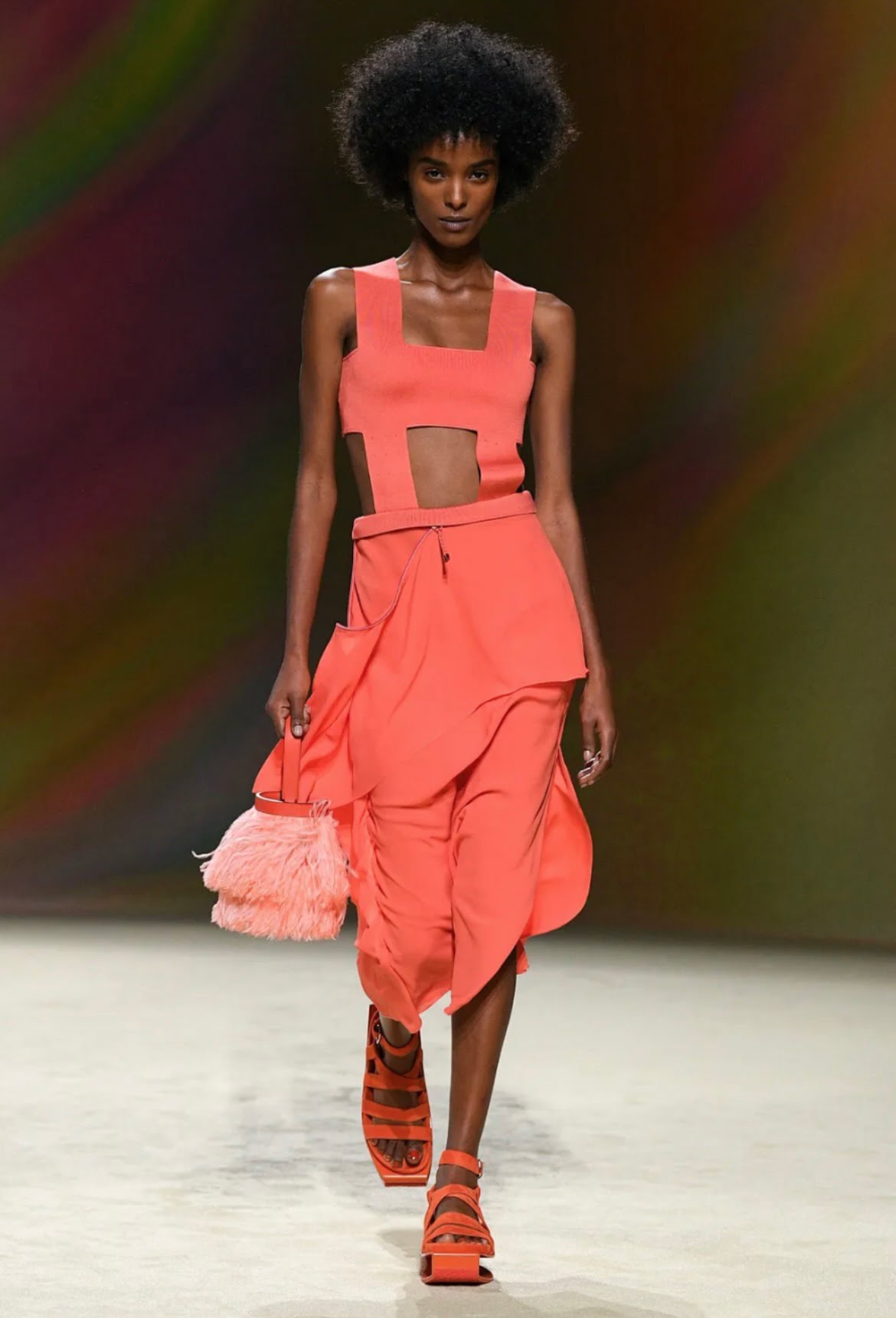 The most familiar bag on the runway was a plumed Kelly To Go. Yes, for this collection it is actually reimagined with bright colored feathers. A new Bird of Paradise, perhaps. 
Upon examination, the bag looks larger than a typical Kelly to Go and more like an elongated larger version of the Kelly 25. Regardless, typical of the Kelly line there is a thin leather shoulder strap.
Shown in a vibrant orange, rich gold, and black, the plume of matching feathers cover the front of the bag starting below the Kelly flap and clasp. The feathers appear to float and sway in the wind giving an airy and carefree feel to the classic Kelly style.
It is sure to be a popular bag for many.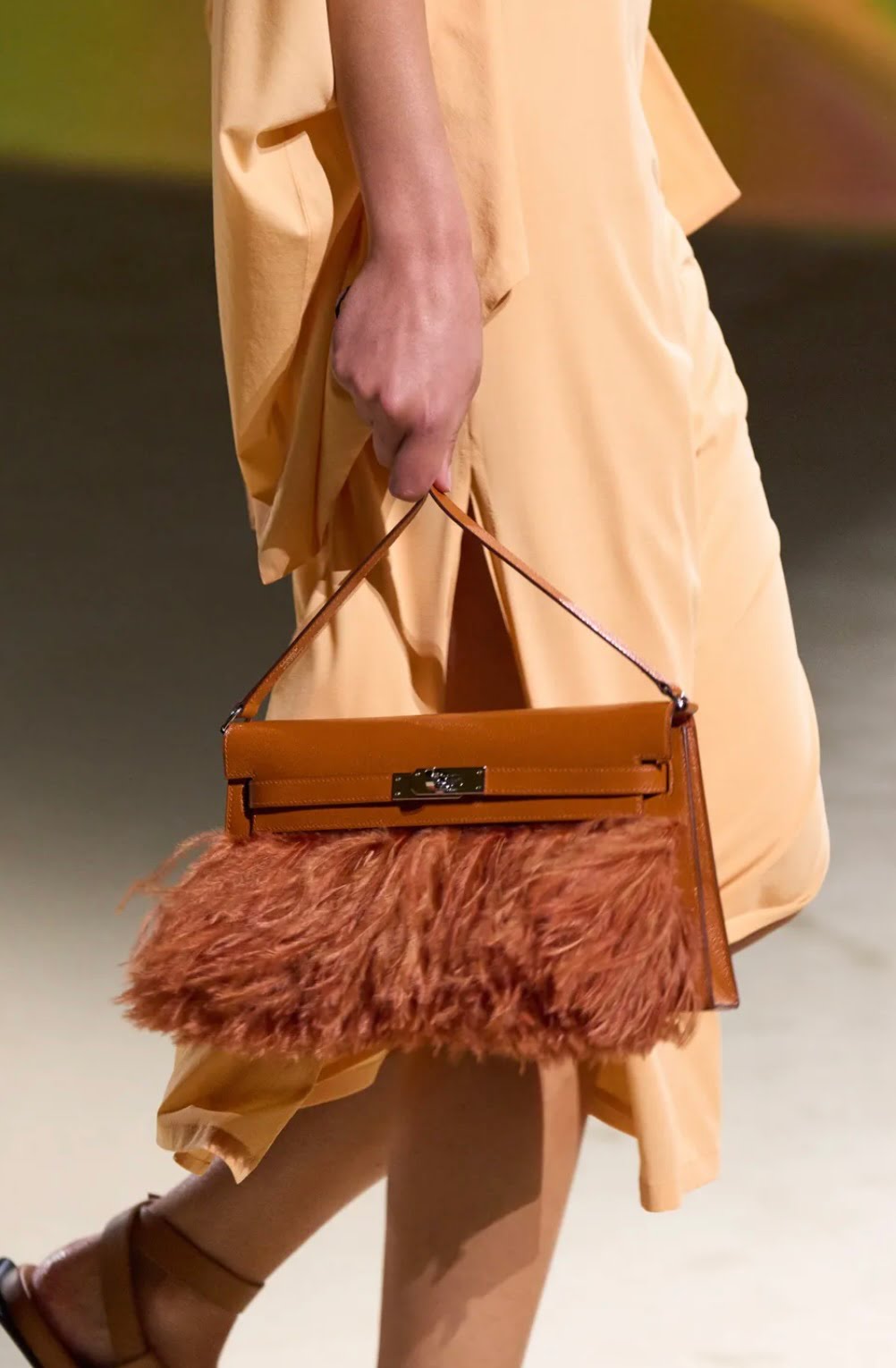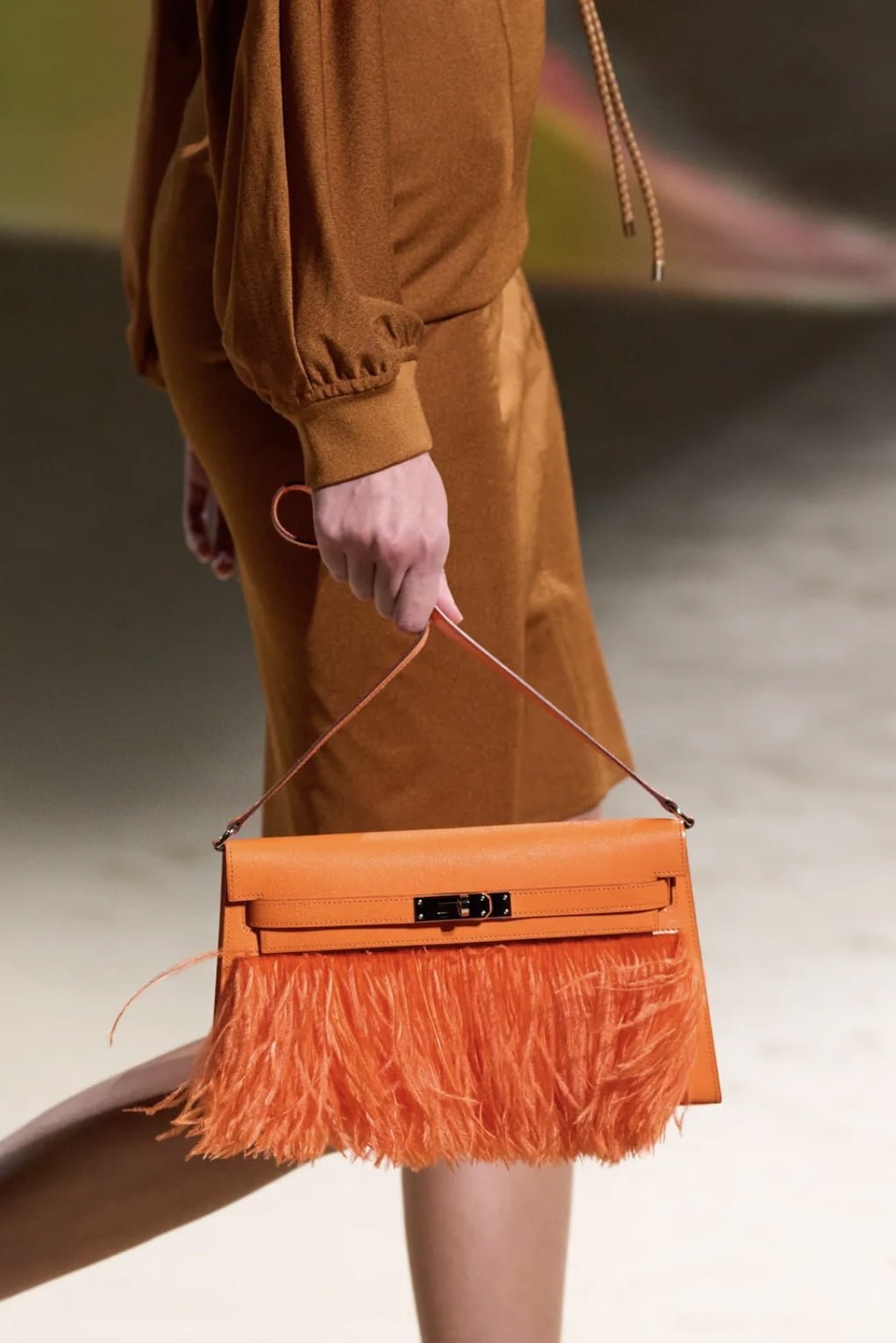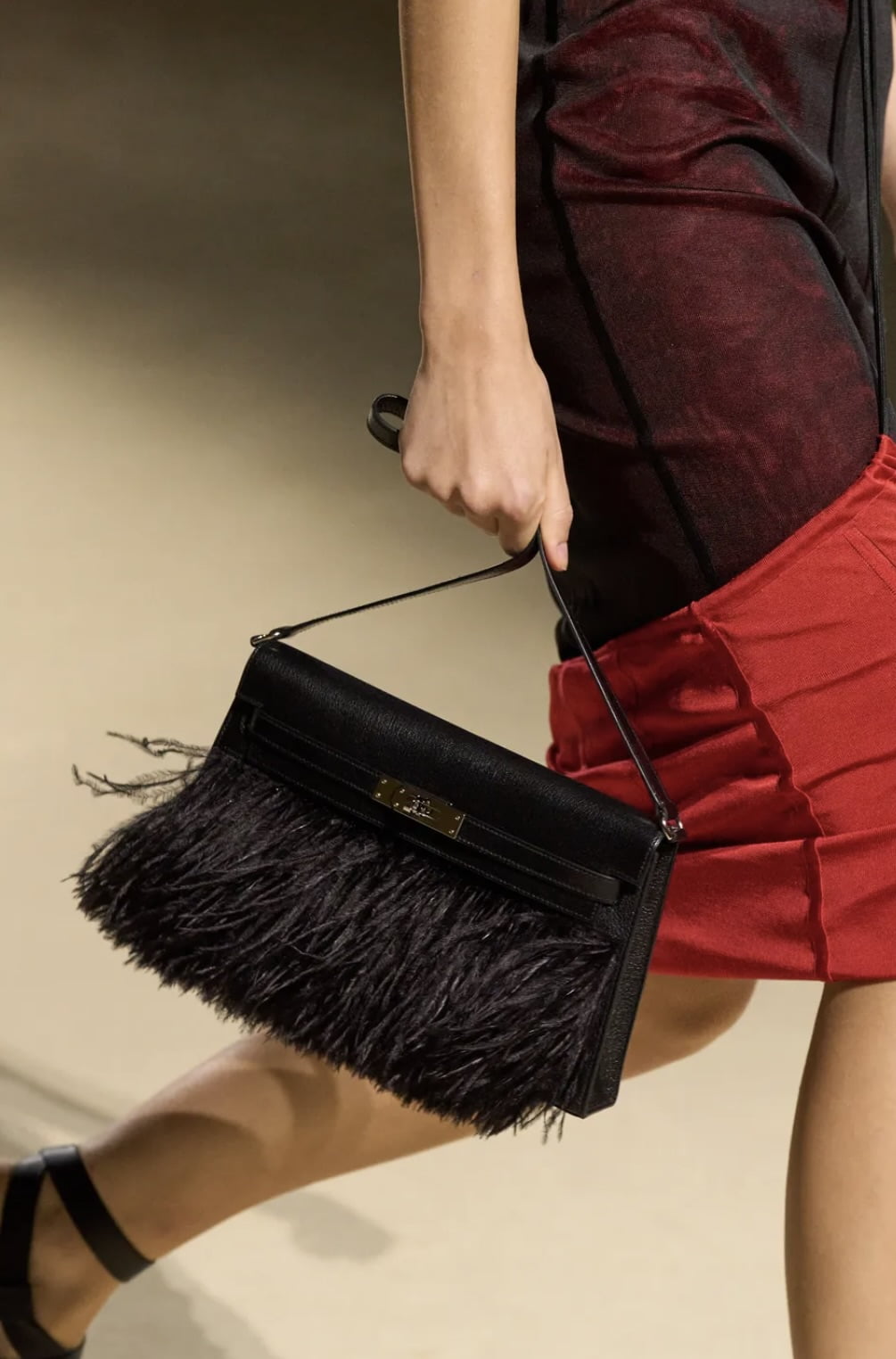 Crescent Moon Shaped Shoulder Bag
Hermès presented a bag with a shape unlike one we have seen  before at Hermès called the Arcon The shape evokes an almost completed crescent moon with a zipper cut out at the top. With an adjustable thick leather shoulder strap, an outside handy zip pocket set diagonally, and a utilitarian Hermès style hook clasp, this bag is ready to go.
It was shown several times in different fabrications. Smooth Barenia leather had contrasting white stitching. In Etoupe Epsom, the stitching was tonal. Added to the mix were options in black leather, canvas, and felt with contrasting leather trim.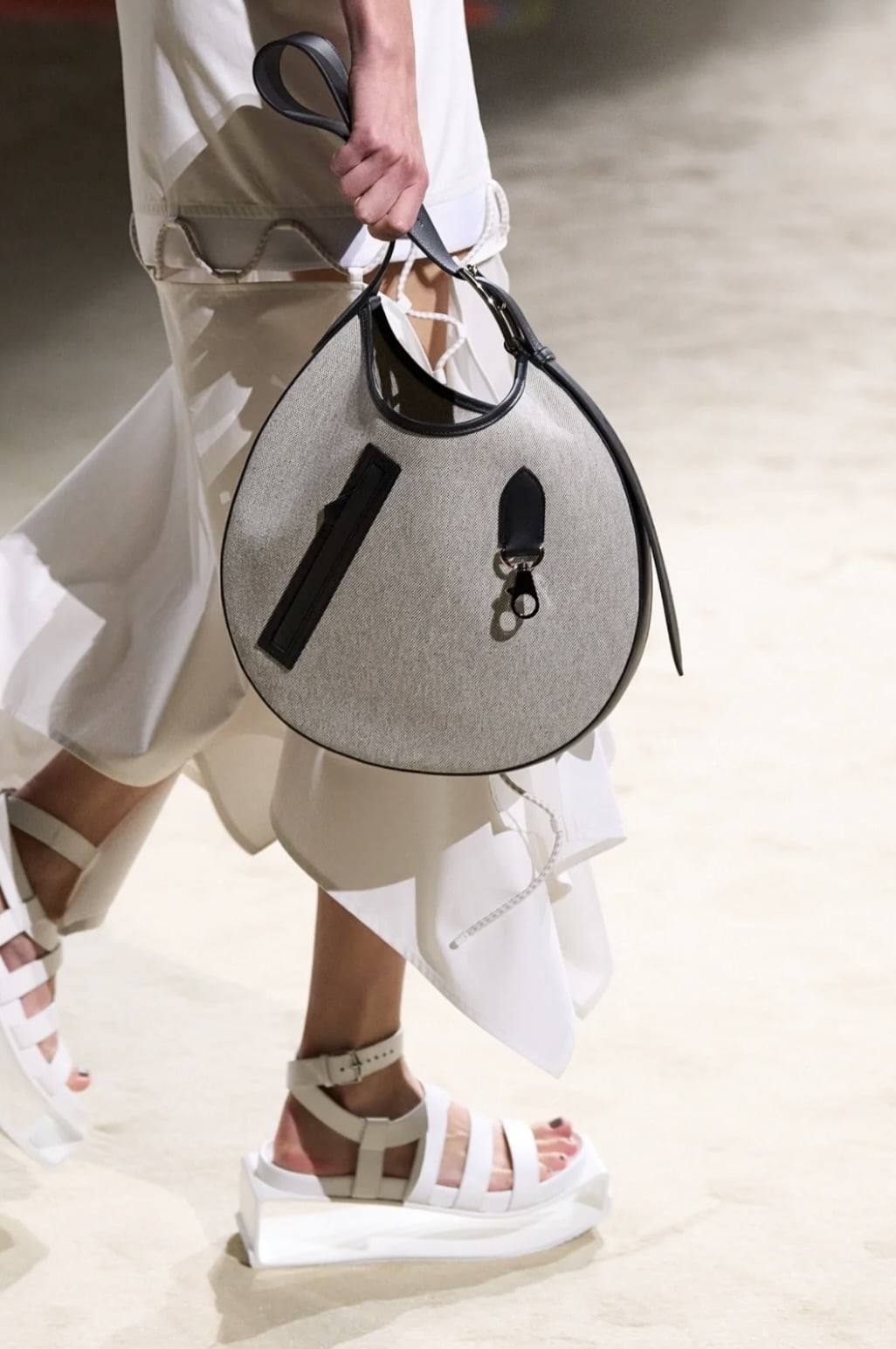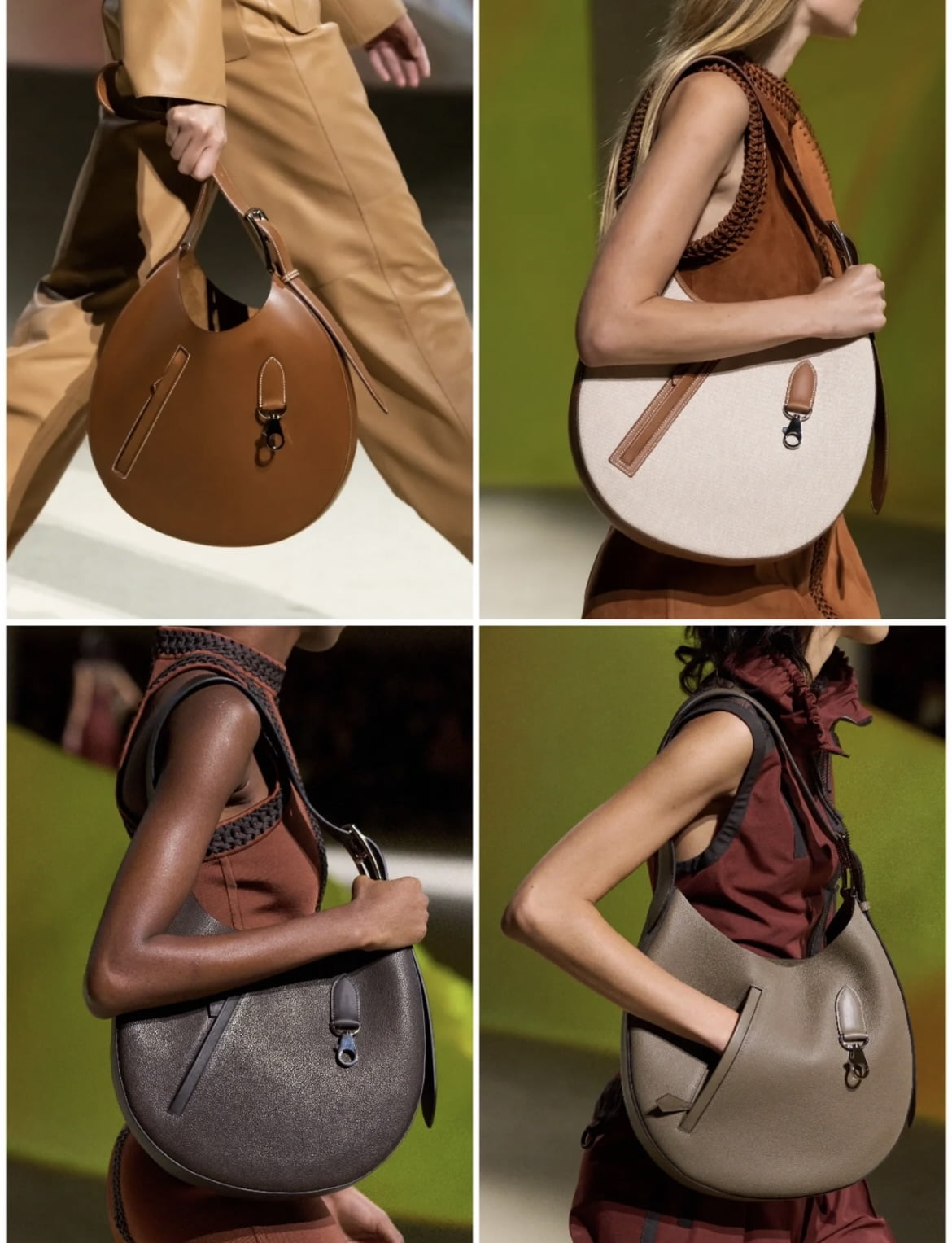 Two Bucket Style Bags with Feathers
There's a new shape in Hermès and it's a cylinder. Not the horizontal one seen in a recent collections, but rather two north-south options. 
The first newbie, is small and feather-adorned. Shown in gorgeous shades of orange, peach, black, and pure white, with matching feathers, the vibe is airy and free. However, despite a leather elongated top handle, the bag's practicality is unclear as the top opening appears small. Probably limited to carrying only the essentials, we wonder whether (or which) cell phone will fit. 
The feathers adorning the outside of the bag elicit a free spirit reminiscent of the flapper dress of the 1920's. We cannot wait to see this bag in person.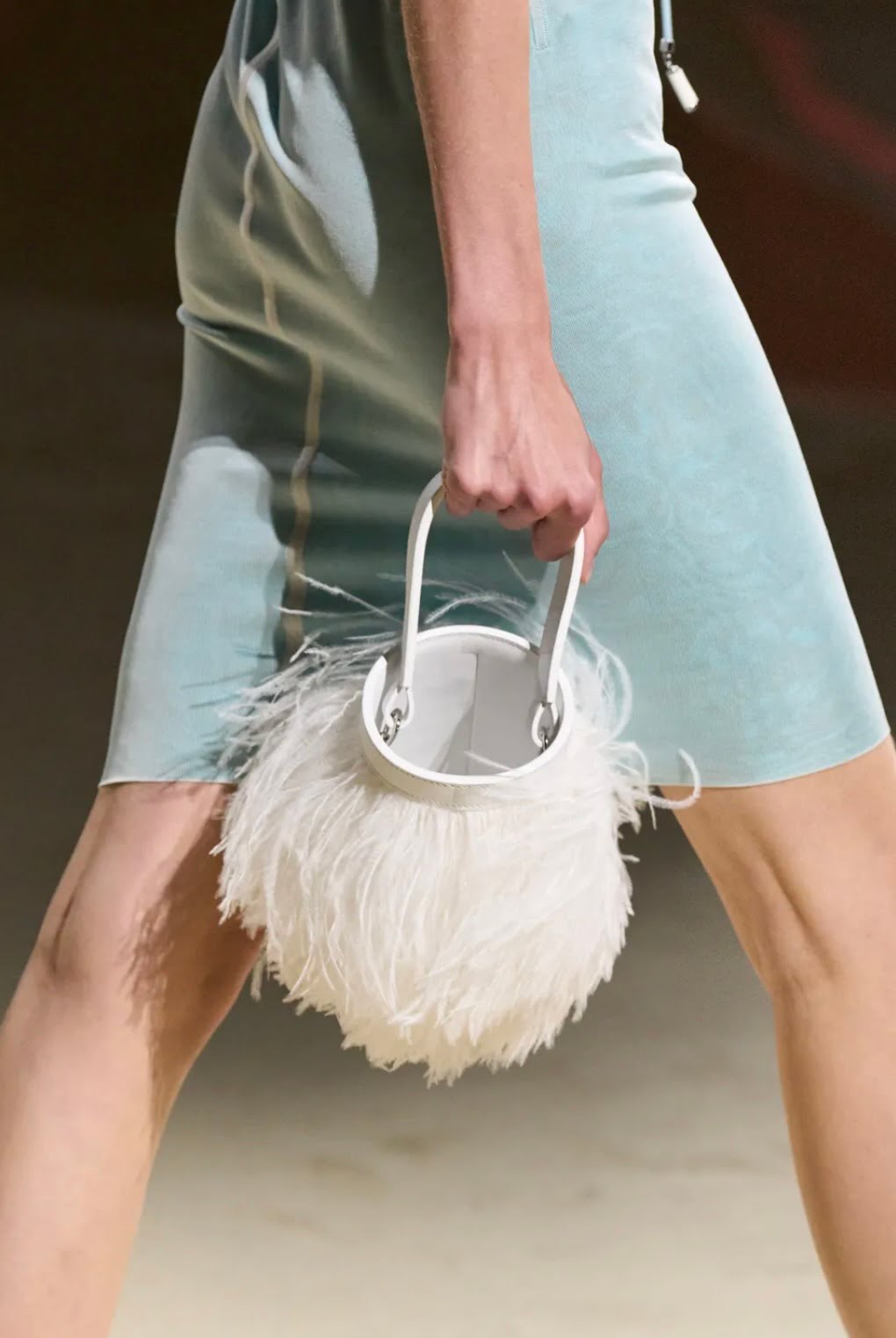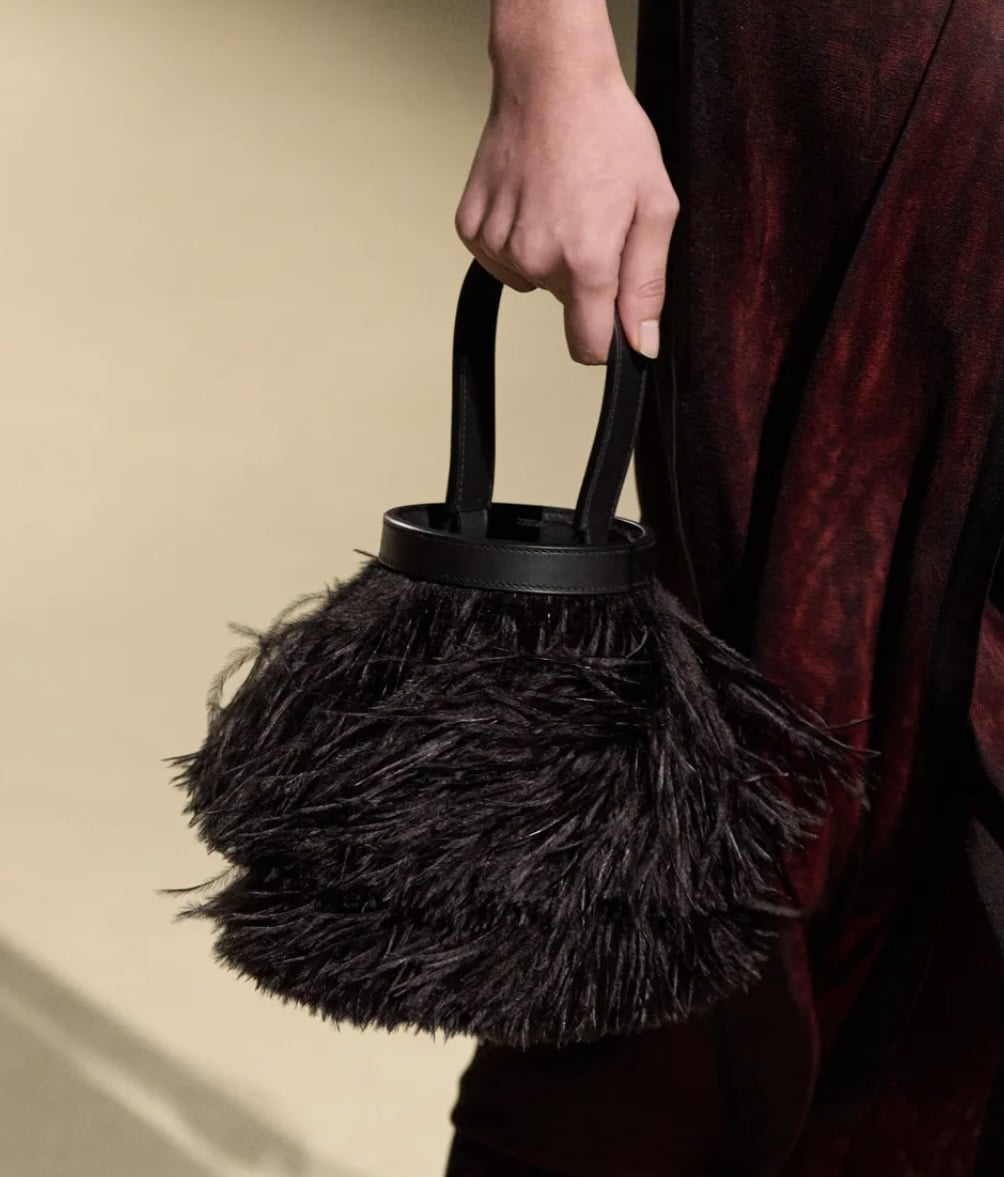 The second cylinder shaped bag appeared to have a wider top opening, a canvas (Evelyne like) removable shoulder strap, and a plume of feathers seemingly attached to one side of the bag near the shoulder strap clasp. This bag debuted in a vibrant red and matching plume, electric blue (possibly Bleu Frida), signature orange with a peach colored plume of feathers, and a rich gold color. This whimsical shoulder bag seems to be a more user friendly design.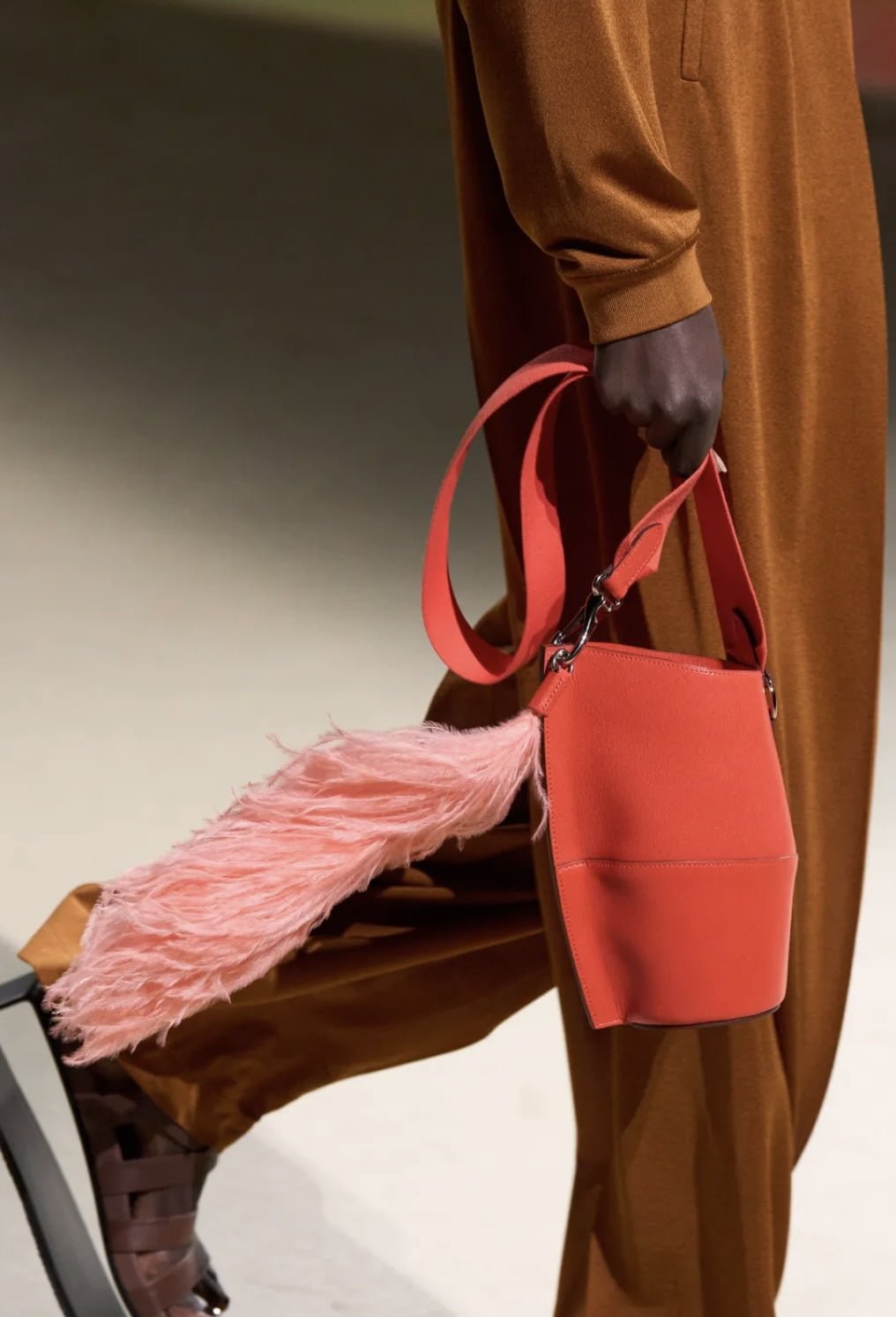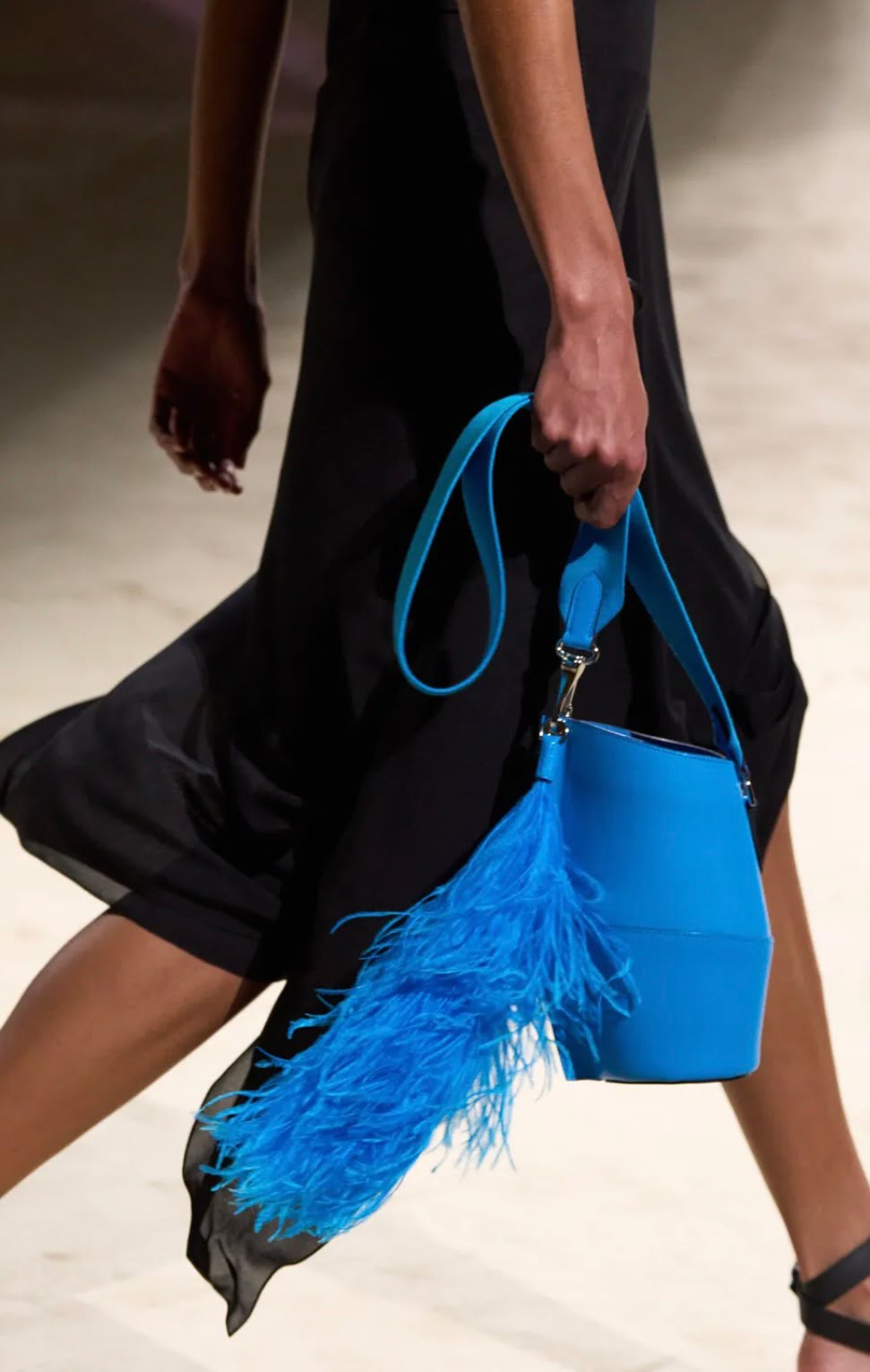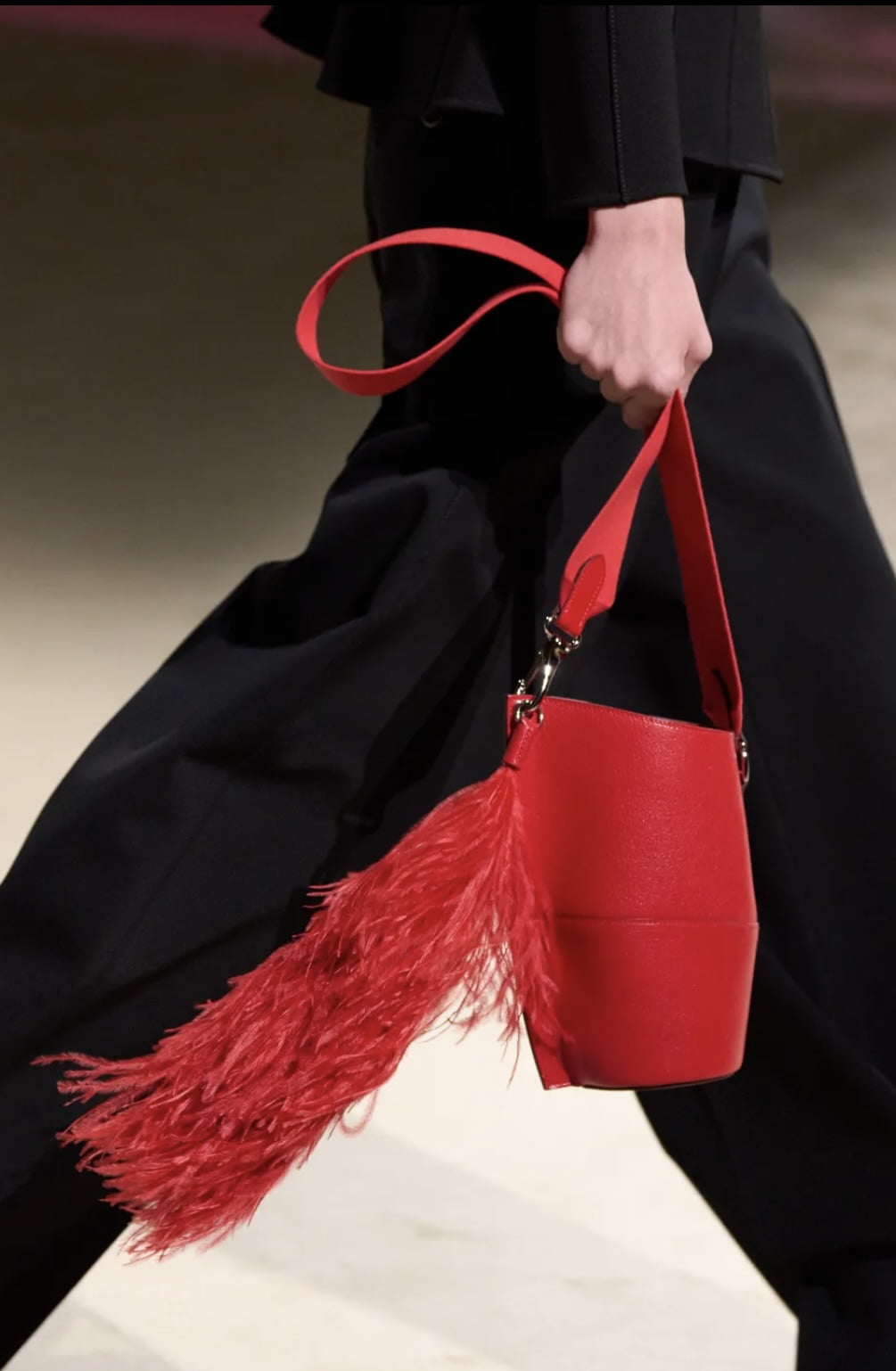 These two modern Hermès bags, although mildly Picotin-like in shape, seem a departure from the equestrian-inspired bags of the past.
Half Moon Shaped Pouch Shoulder Bag
True to its equestrian roots, this bag resembles a half moon shaped pouch reminiscent of a saddle pouch. Although we aren't sure, it may be a waist bag aka 'bum bag'.
Adorned with an adjustable thin shoulder strap, contrast white stitching, and outside zippered pocket, this bag appeared in both Gold and Cuivre smooth leather. Like many fanny packs, this bag could also double as a shoulder bag for its unique design, spacious interior, and ease of use.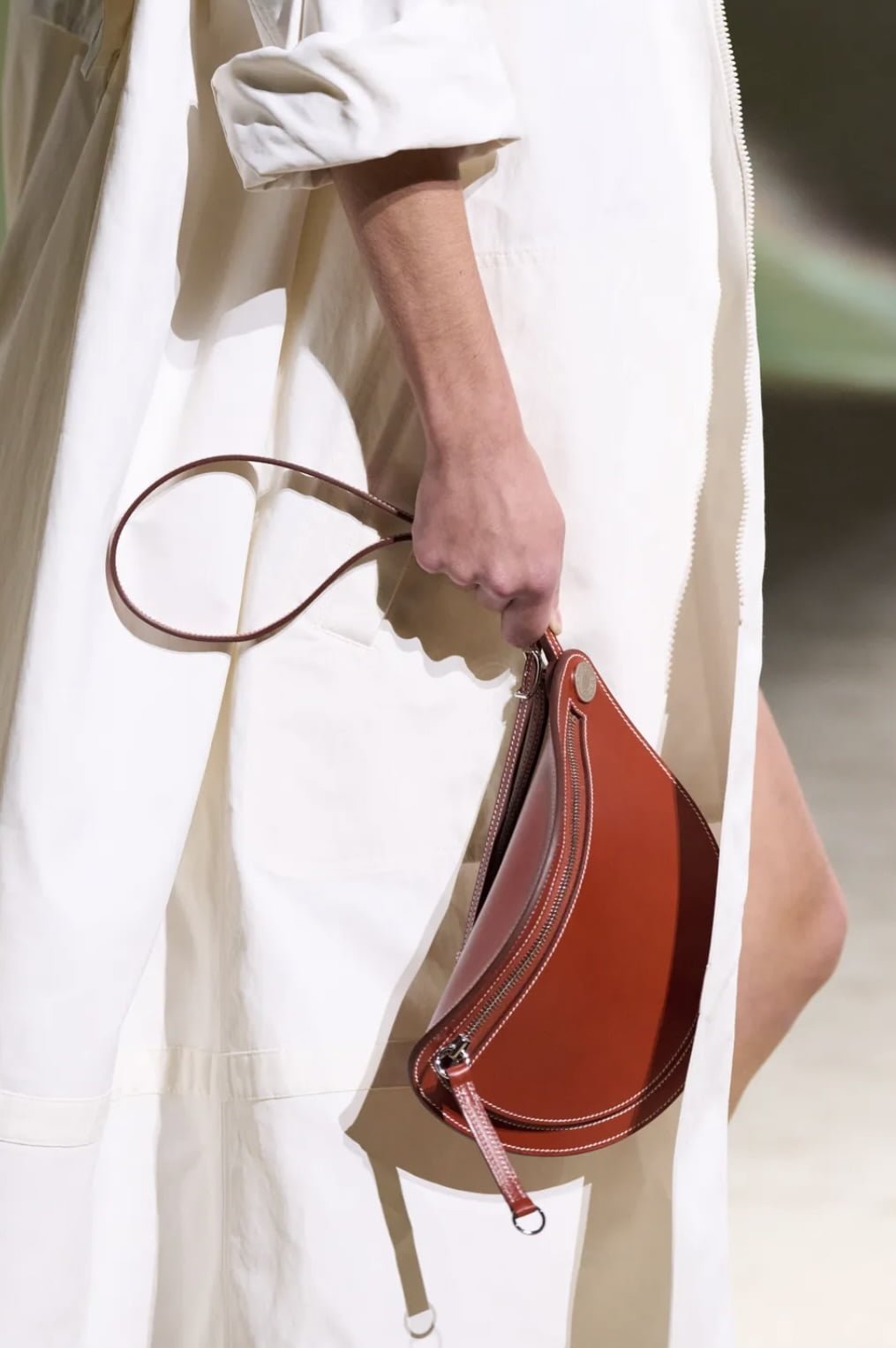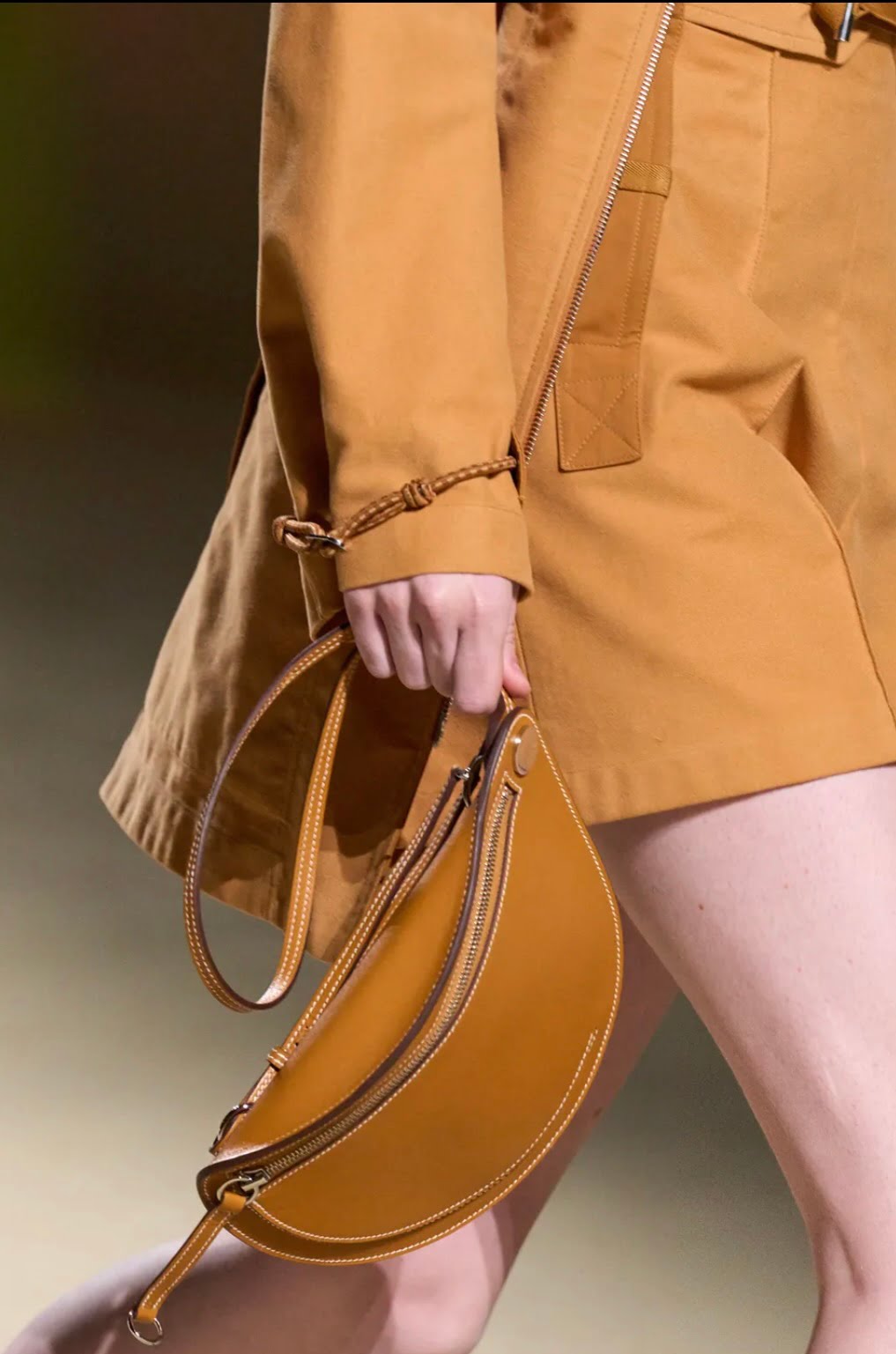 Birkin With Exterior Contrast Geometric Leather Accents
For anyone who's bored with the same old Birkin (as if lol), the runway featured an embellished design. Similar to the HAC Birkins shown for Men's Summer 2023, the front of this Birkin has a contrasting leather geometric design. Call it a Birkin with a twist.
Read:
As if Hermès' picnic designs weren't popular enough, Spring 2023 introduces a new white Birkin Picnic bag. Notice the pattern on the wicker itself. Surely the future will bring more (but not enough) of these in other colors as well. 
The piece de résistance though must be the metallic gold leather Mini Kelly 20. It's an absolute gobsmacker of a piece even for people who don't covet the Mini Kelly. No doubt this regal special edition Mini Kelly will be one of the crowning glory of requested bags of 2023 and beyond.
While we merely dream about it, surely some lucky 'a list celebrity' will be carrying it. Any guesses who will be first? 
More Exciting Bags and Accessories
Here are a few more exciting Kelly bags we can expect to see next year. The new Kelly Cut with chain detail on the sangles is a refreshing addition. And the Kelly Cut Shadow is very modern and cutting edge. We are loving this creative new addition to the classic Kelly Cut design.
The new handle on the Kelly Sellier, as well as the elongated east west version of the new Kelly (without feathers) are sure to be absolute favorites.
Are you getting excited for 2023 yet? We are!
Interchangeable straps for your bags such as the Evelyne tpm and others.