A Peek into a Minimalist's Handbag Collection…
by @kugzz
Instagram fashionista @kugzz has a unique and refreshing handbag philosophy that has helped her curate an amazing collection. Her mantra is: "No more than 10 bags." Intrigued about the 10 bags rule? Read her journey below and get inspired to clean up! Maybe 'more' is not always better…
Why not more than ten bags, you may ask?
First let me say, I love instagram! I browse through so many pics of some beautiful women's closets on IG, and I am glad I have found a community of women that love handbags as much as me. However, sometimes I feel a little overwhelmed. Some fashionistas reveal a bag almost once a week and their collections seem to grow exponentially. Sometimes I think, "OMG! I don't want to end up like these ladies." Please don't get me wrong, I totally admire looking at those wardrobes but the idea of having one myself is just not for me. Allow me to explain..
My initial number was 15. I planned to own only 15  handbags in my whole  lifetime. I am so happy that I was able to streamline my collection. I roughly figured out the colors and styles of bags required to build a capsule collection. It took me a while and few mistakes but I finally got my secret sauce.
Today, I am excited to share my thought process in building my collection of under ten bags. I added my reason of sticking to a few and not many. I hope you enjoy the read…
Bag #1: Chanel, Black reissue 226 distressed skin with gold hardware (LOVE AT FIRST SIGHT)
Love at first sight actually exists. After owning so many bags this one is still a winner. It's under the radar and light as a feather. It's my perfect flap. This one has been places, trust me. For a first bag, black is never a bad idea.
After couple of months, I had the itch to explore and find the next perfect bag. I am sure most of you could relate to this. I went through a few bags.
LV alma – loved and still love the shape of this bag. I never realized that it wouldn't work with my aesthetic.
Chanel Executive tote in a coral color – sold this one. Birkin worked way better.
Chanel boy – I fell into the hype with this one. It just looks so good on some fashionistas. I didn't feel that it belonged in my wardrobe.
Chanel beige caviar – SA suggested, every girl needs this bag. It's a classic blah blah blah. I did love this one for a while. Oh well, turned out to be more of fling than a long-term relationship. I let some people's opinion (plus SA) get into the way of owning a lambskin that I actually wanted. Why did I buy caviar? I wanted a lambskin bag. I don't even like caviar. Hmm.
Prada, Alexandra McQueen, Dior clutches – sold. Seriously, I don't go to that many formal events. Why did I buy these? What was I thinking?
By no means, I am mocking the above-mentioned beautiful bags. They just didn't work with my aesthetic.
Bag #2: Chanel, Black jumbo in lambskin with silver hardware (THE BASIC NECESSITY)
After so many mistakes, I made the right decision of going for the lambskin. NO, it's not that sensitive. It looks and feels so lux, exactly the way a designer bag should feel. Why another black bag? In my defense, it's a different black bag with silver hardware.  I wasn't able to wear gold hardware with blue, red, and other colored outfits. In my head, silver hardware looked much fresher and crisp.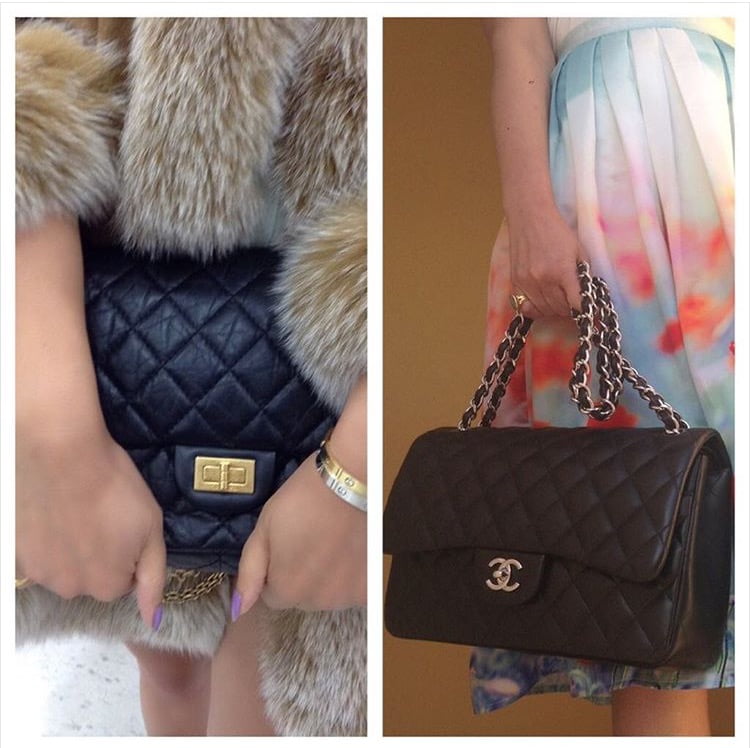 I was ready to acquire the ultimate Birkin. I read so many articles on it. To be really honest, I was terrified to go to the boutique. Until one day I decided what could possible go wrong? My story might sound like an hoax but I was offered an orange Birkin 30 in togo with silver hardware within a week. Thanks, but no thanks. I couldn't work it in with my wardrobe palette. I refused my first Birkin. My friends thought I lost it. Who refuses a Birkin?!  You will never get an offer again. I like to believe that secretly my SA was happy about my decision of sticking to my guns. I received another call a week later, and there it was. Don't take up on an offer just because you feel like it will be the only one. These bags are expensive. Never Settle.
Bag #3: Hermès, Birkin 30 in Epsom, Rouge Casaque with silver hardware (THE POP OF COLOR) – oui, monsieur! Je vais le prendre! (Yes sir! I'll take it!) I eagerly handed over my credit card. Even though, I am a neutral girl, I consider red and blue my favorite pop of colors within my comfort zone. This one by far is my favorite red. If you have the same color palette as me, find your pops of color.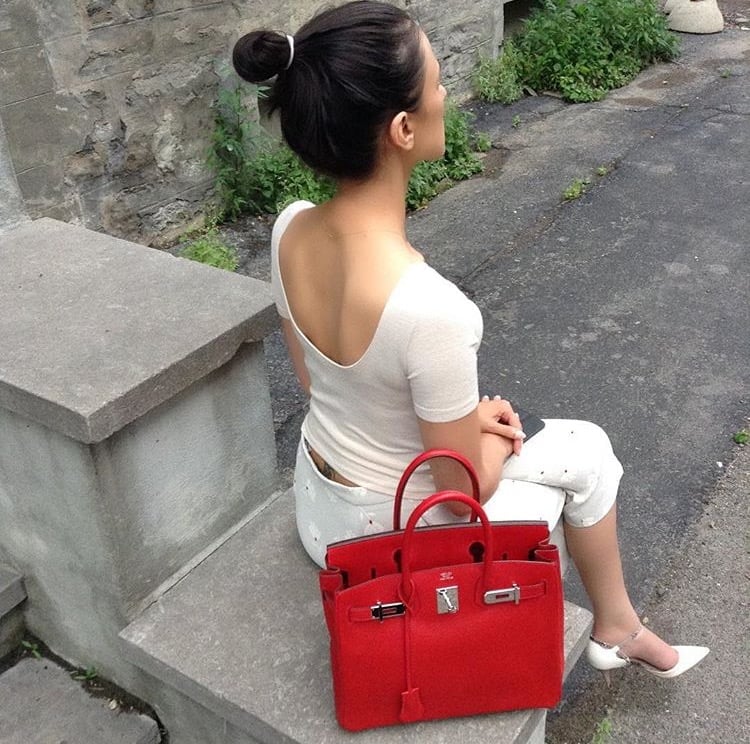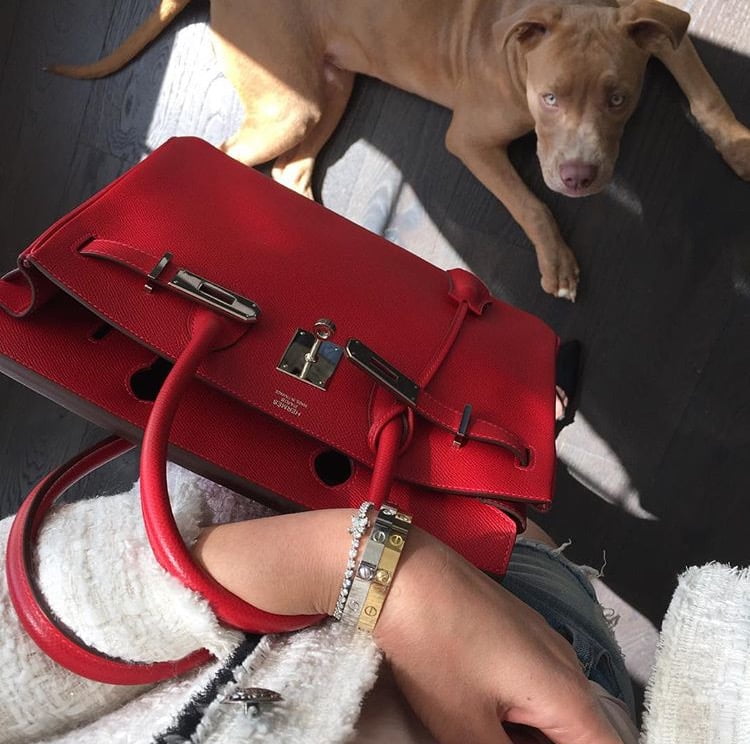 Bag #4: Hermès , Kelly 32 retourne, Gris Tourterelle  in togo with silver hardware (THE GORGEOUS NEUTRAL)
I am a neutral girl! I only saw the handle come out and it was a "yes, I love it". The Kelly makes me feel very ladylike. By the way, I refused my first offer for Kelly. It was a  K32 retourne, bleu atoll with silver hardware. Since I live on a North Pole, I couldn't work that beautiful summer color in my wardrobe.
Bag #5: Chanel mini, sequined silver and blue with silver hardware (FUN BAG)
I have to blame Pursebop 100% for this one. She has amazing set of fun bags. I am an introvert, and this one is a perfect convo starter. Statement piece in my wardrobe. I have taken it to parties, Friday and Saturday nights hang outs, dinners etc; So glad I bought this! You need at least one of these pieces in a lifetime collection. Next up.
Bag #6: Hermès, Birkin 30 in togo, Noir with silver hardware (THE BASIC, CAN'T GO WRONG)
No brainer. Basic necessity in every girls closet.
What's next? Hermes Detour
I scored almost everything I wanted. Now, next up was Constance. My SA pulled so many strings and made it appear during the holiday season. Rouge casaque with gold hardware. At this point, my SA and I had a secret joke of always refusing the first offer on every single Hermes bag. This one didn't make the cut either. You don't need to take every single Hermes bag that has been offered to you. Know the difference between need and want.
The same month I was visiting the beautiful city of San Francisco, and met another awesome SA. He was kind enough to offer me a Constance cartable in Rouge H, Clemence leather with the same color hardware (extremely rare). Gorgeous. Unfortunately, it was too big so it didn't make it to my collection. Sometimes, I wonder if I like the chase more than the actually bag. I haven't figured this one out yet…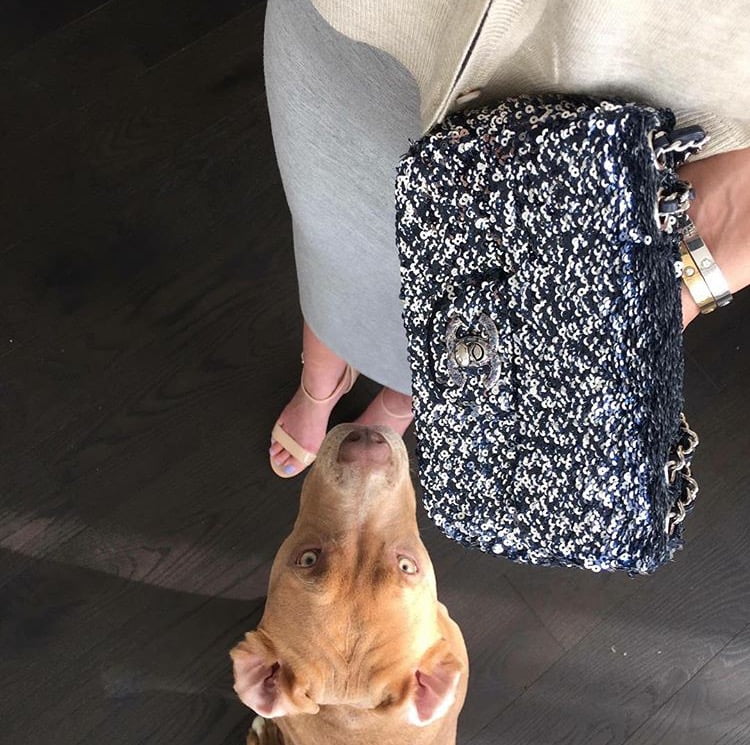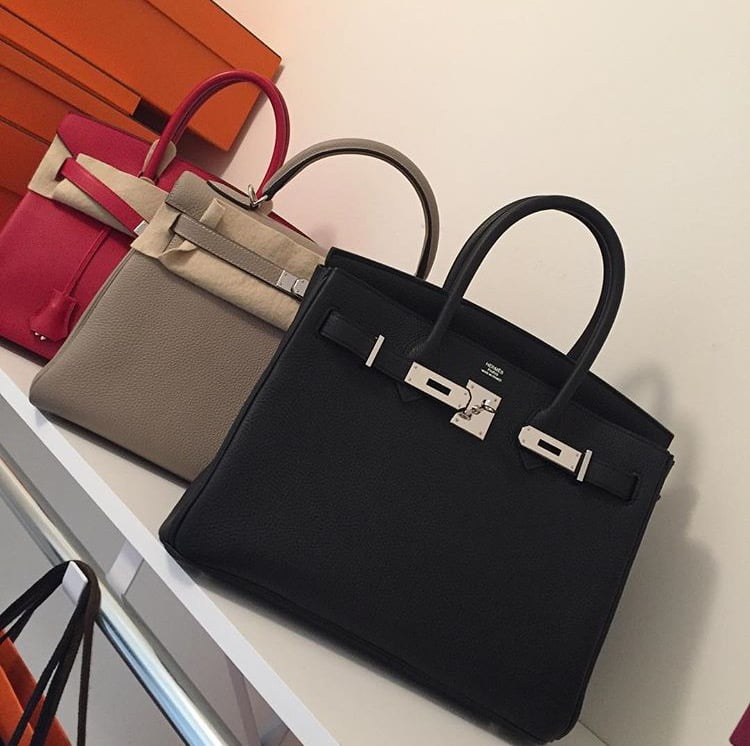 Let's continue…
Bag #7: Chanel square mini, lambskin in blue with silver hardware (POP OF COLOR)
Square minis are my absolute favorite. I bought a black mini in lambskin with ghw. LOVE! LOVE, LOVE! Until I saw this season's blue and asked myself "why do I have 4 black bags? Bought blue and sold black. So happy I did!
Bag #8: Hermès, Jige Elan, Argile in swift leather (EVERY GIRL NEEDS TO CLUTCH)
I have to credit my SA 100% for this one. What an awesome clutch this is. For all the girls who only go to formal events once in a while, you have to consider this one. I reach for it more times than I thought I would. I have worn it to brunches, hanging out with friends etc;
Bag #9: Hermès, Birkin 30 in togo, Gold with gold hardware (THE WARM NEUTRAL )
Someone made a comment about my Gris T Kelly color once, "It's the perfect neutral color. If you added a warm neutral to your collection, you would have it all". For the life of my I don't remember who it was. I'd like to thank you if you are reading this.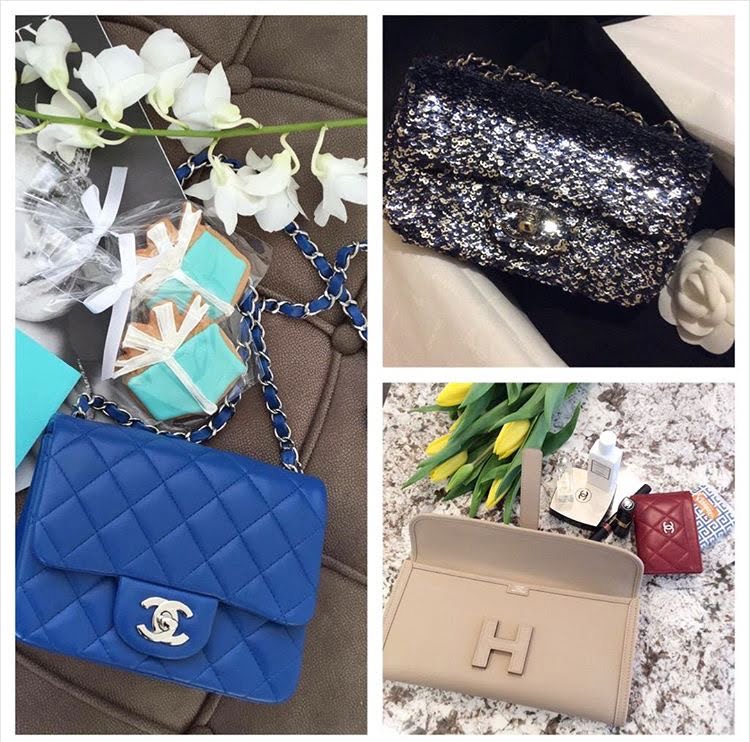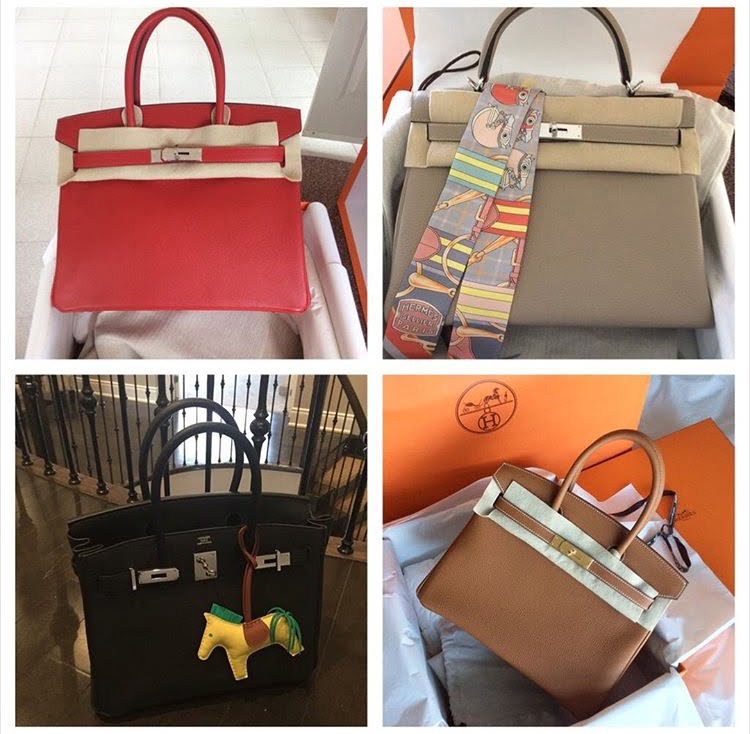 Key takeaways from my journey of building the capsule collection
When it comes to Hermès, always go to see that bag in person. Read reviews, but don't believe them 100% until you try it on. Some ladies don't like epsom, embossed leather, corner wears etc; Nope, not everything is for everyone! With Epsom for me personally though, I have no issues and it takes color like no other leather would and holds that awesome shape.
Before committing to any bag, make sure it works in your wardrobe. I am very visual so I play it in my head and create ideas of how I would wear it. It's a good exercise, I hope it gives me abs LOL!
Add enough variation to your collection. Once you have this figured out, you have your mantra. Don't hold back. Apply it everywhere shoes, clothes, makeup. I tried not to repeat the same style except my three Birkins. This bag in this size works for me! So I have three Red (pop of color), Black (basic need), Gold (warm neutral) to cover everything else that black and red can't.
Never forget your lifestyle. I am in love with Hermes' Kelly cut, but I don't go to that many formal events. Jige is the  perfect clutch for my lifestyle! It is so important to look past the beauty of bags sometimes and consider how they will function in your life.
If you are having second thoughts, just return it.
Resist the temptation. I lusted after so many bags in the process, but never bought them. It's better to marinate with  the idea of owning that specific bag in your head for couple of weeks. You would be surprised to find out when most of the hyped bags don't make it to the second month. Keep your eyes on the prize, at all times.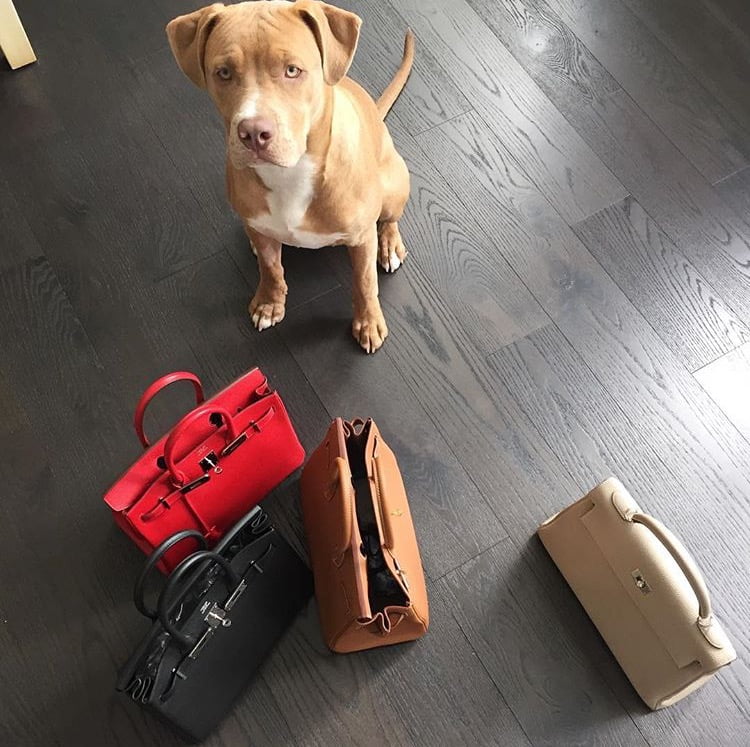 "I have nothing to wear",  sounds familiar? If yes, you bought too many pieces without running a thought through it. A few good pairs of pants, skirts, dresses, tops etc. that fit perfectly and could be paired with almost anything you own in your wardrobe? Hallelujah! There you have it! Be the ultimate clutter free girl.
And seriously, how many bags does one really needs? I am not a celebrity. I am at an extremely sweet spot with staying just under 10 and more than this number will give me more anxiety than joy. I was discussing this issue with one of my friends one day..I'll never forget this "one dog -good, 20 dogs -not so good…. One diamond on a finger -good, diamond rings on all fingers-well, not that easy on the eyes huh!"
Make it your own journey. Have fun along the way. I am on way to my next.
Love,
@kugzz
Updated: July 24th, 2017