Move Over 'SO BLACK'
I really can't get over the fact that an entire year has already gone by since I published one my first lauded Masters posts… what a journey it has been! I wish I could say the same for my golf skills, but thats another story for another day. In any case, I spent one of our very first 'spring like days' hitting some balls (I say 'hitting', because my skill  cannot qualify as real GOLF by any stretch of the imagination)
Inspired to make the Masters a regular feature here at PurseBop.com, I was inspired to create a CHANEL style tournament with some of my favorite new Spring patents. Chanel S/S has been a burst of rainbow colors making it impossible to pick just one, two or even three, LOL! Last years Champion, 'So Black' dominated the leader board but sadly this year he will not be returning. Despite that, the Masters is shaping up to be an incredible tournament again this year.. We have two new qualifiers for the Augusta National that are shaking up the leader board. Competition is going to be fierce, as Pink Power and Orange Thunderbolt have had amazing PGA tour runs, displacing many of our reigning champs. We also have Blue Beauty (13C) and Green Snap(12P) that have shown great 'tournament consistency'.
FORE! From left to right we have Orange ThunderBolt, Pink Power, Green Snap and True Blue.
Get your glove on, lets head over to the TEE box….it's time to PLAY the Masters…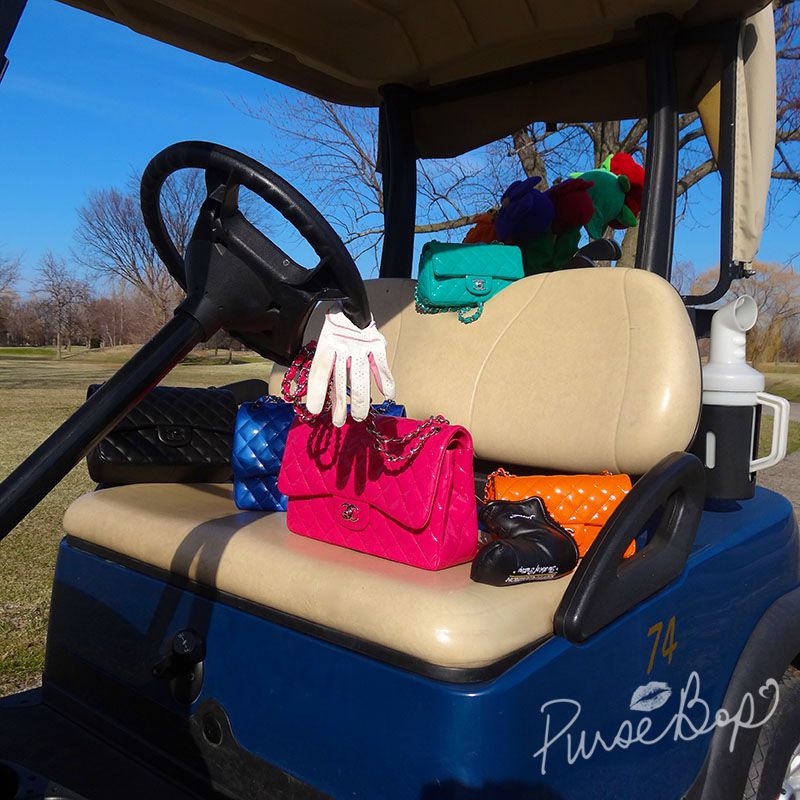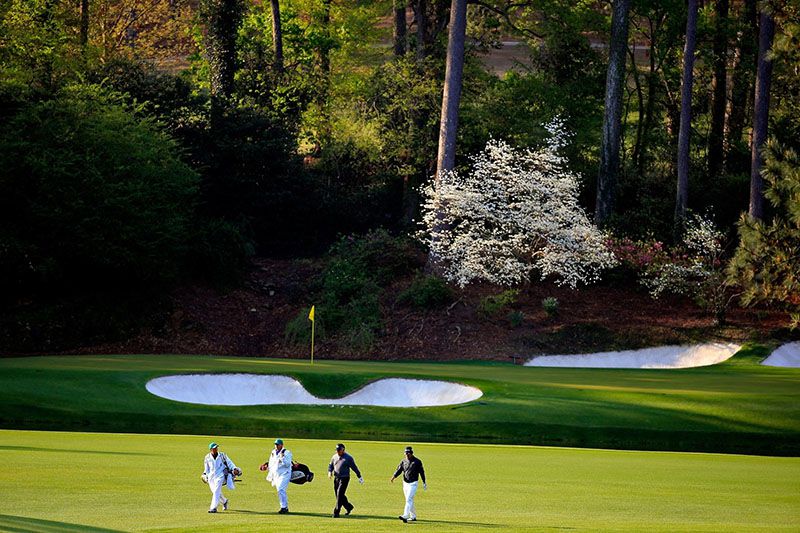 Conditions: Winds out of the west, but a clear sunny day, high today 77 degrees.
Weather at The Masters
On the green…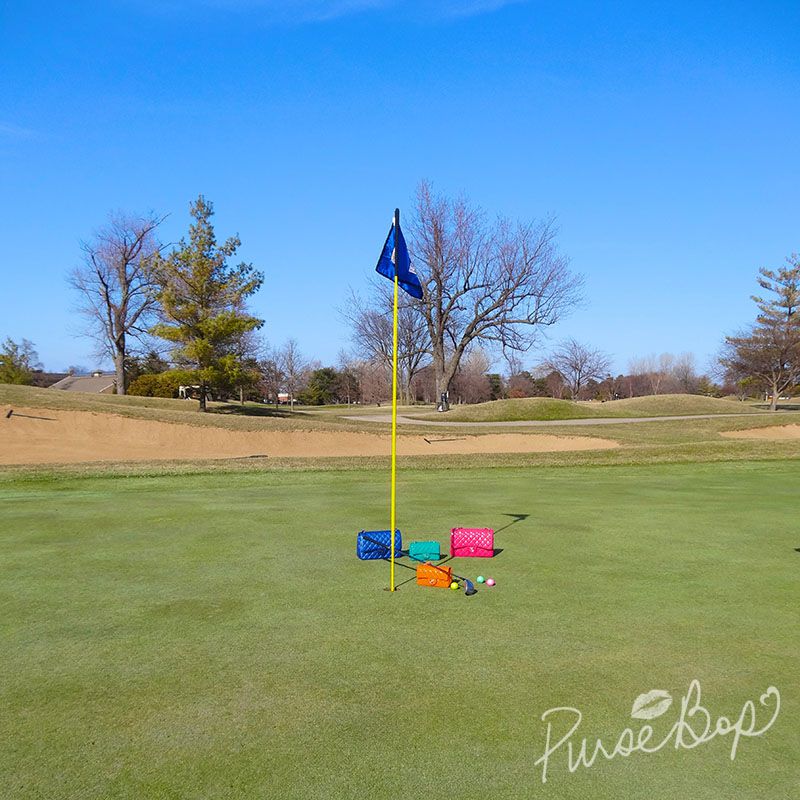 Checking the grain and the slope, and ready to putt…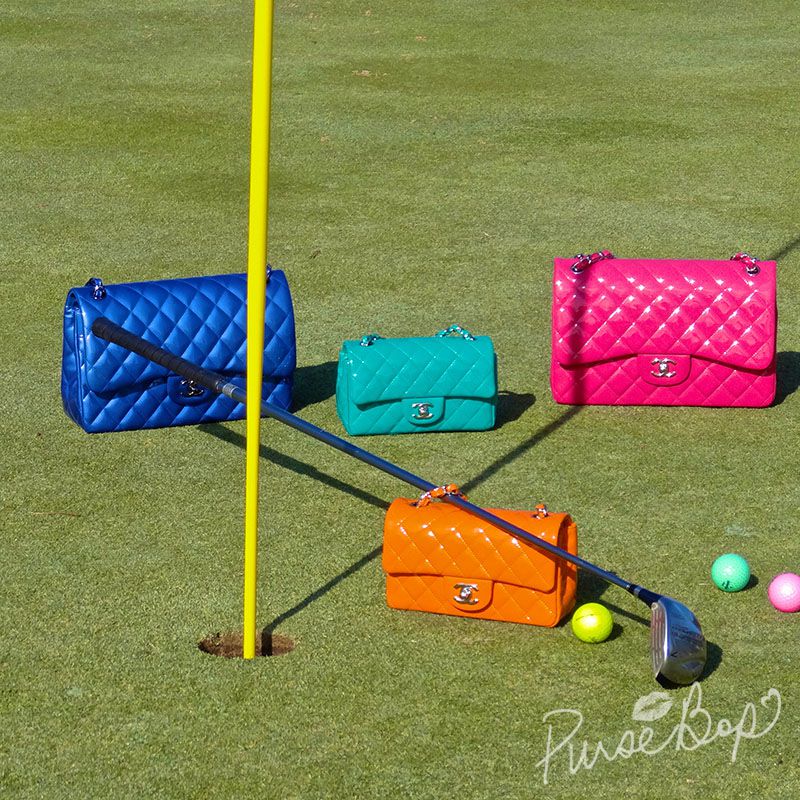 Up first we have Green Snap… he squares the putter and oops, it lips out to the right.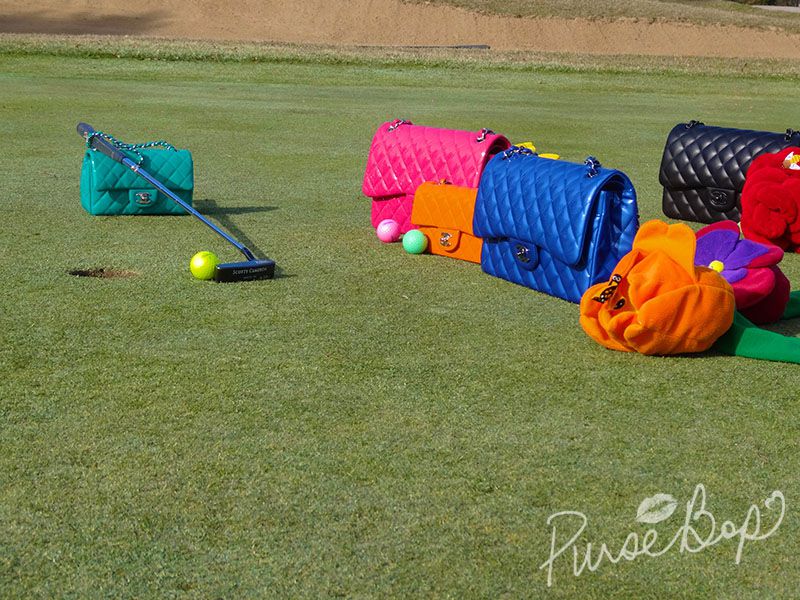 Orange ThunderBolt just putted for birdie and is headed to the par 4 7th, 'PAMPAS'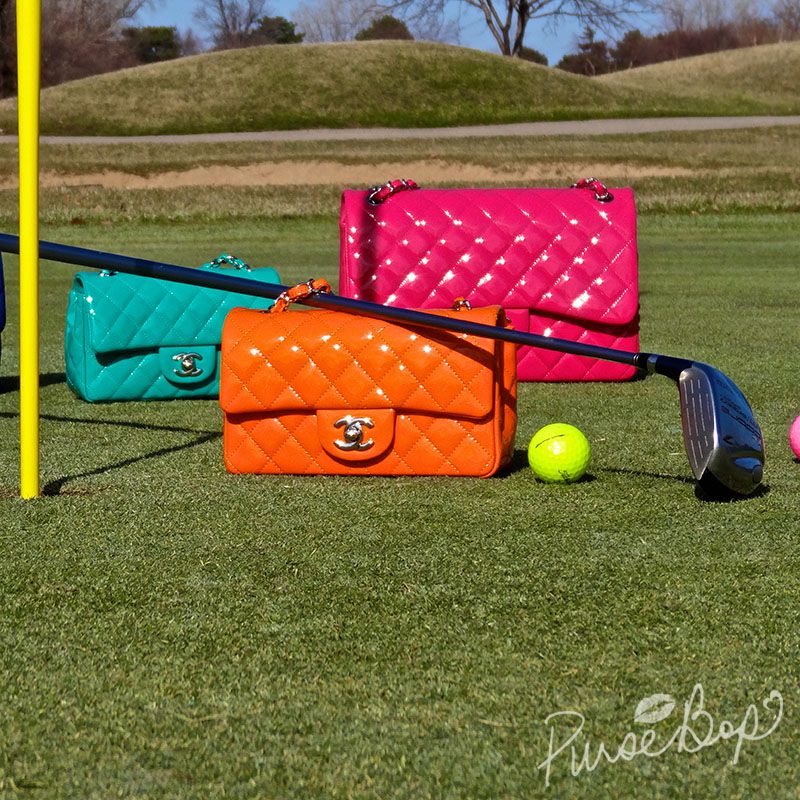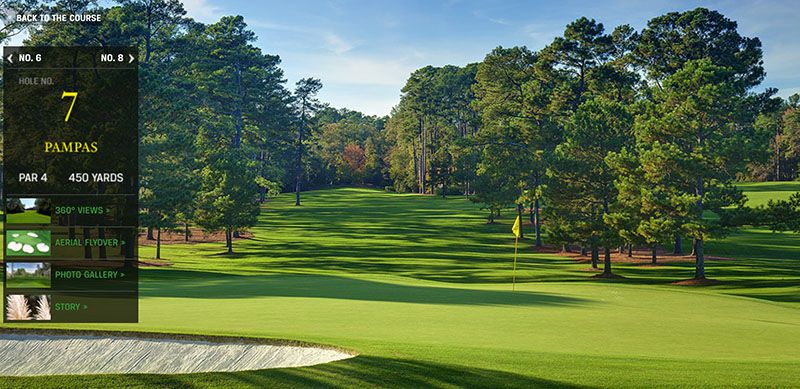 A pensive 'True Blue' takes a moment to play out his strategy on CAMELIA (Par 4, 10th)… whether to draw or to fade, that is the question?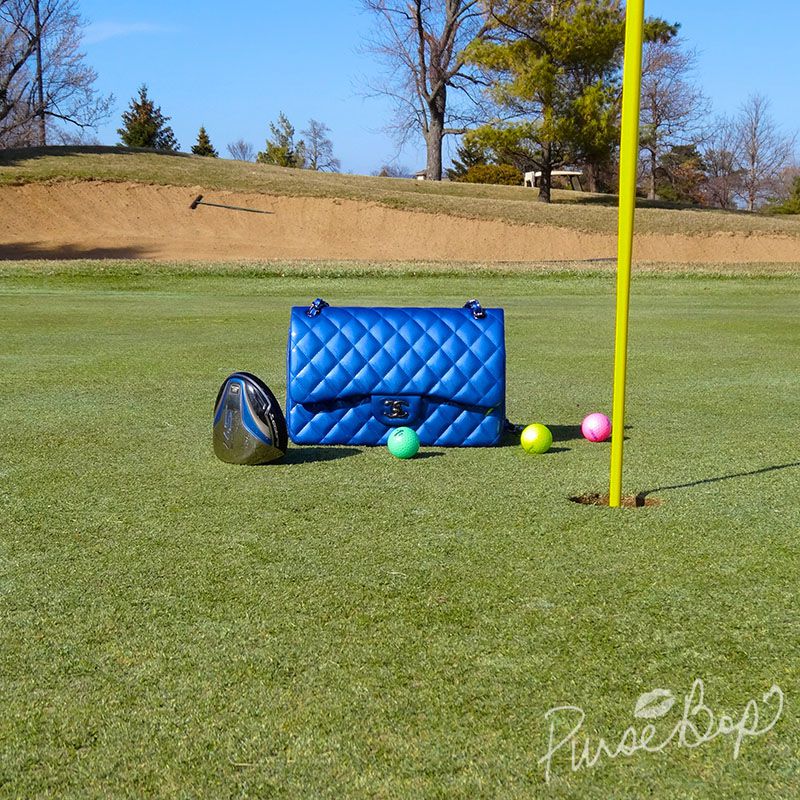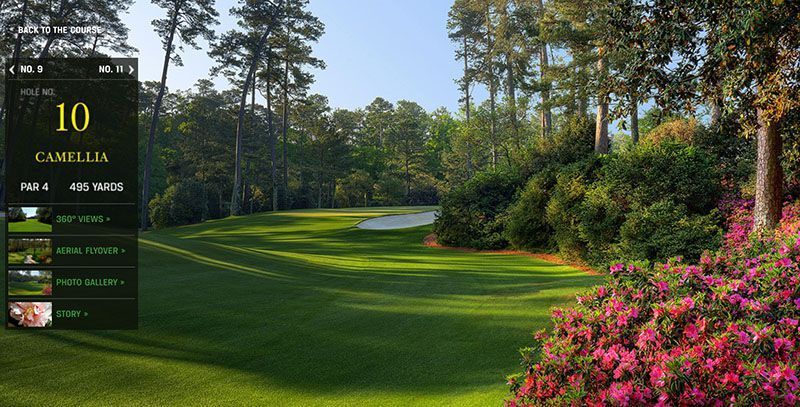 The dreaded RAIN DELAY…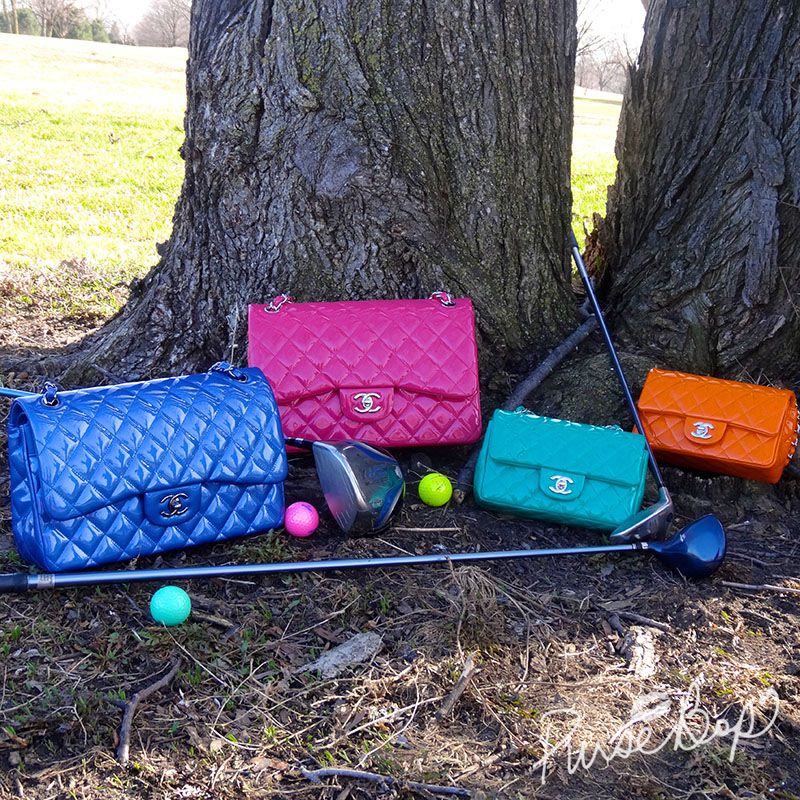 Pink Power uses this time to contemplate strategy maximizing the momentum of the swirling winds. The winds are playing a big factor this year because of the ice storm earlier that tore up the tree landsscape. Sadly even the Eisenhower tree had to be removed from the 17th Hole, a historic landmark. The pines have lost a tremendous amount of branches, leaving holes 11, 12 and 13 much more exposed.
This next hole is crucial for Pink Power to stay on the leaderboard. What effect this extensive rain delay will have on the players is yet to be seen…Conditions are making it difficult to predict the 'plan of action'…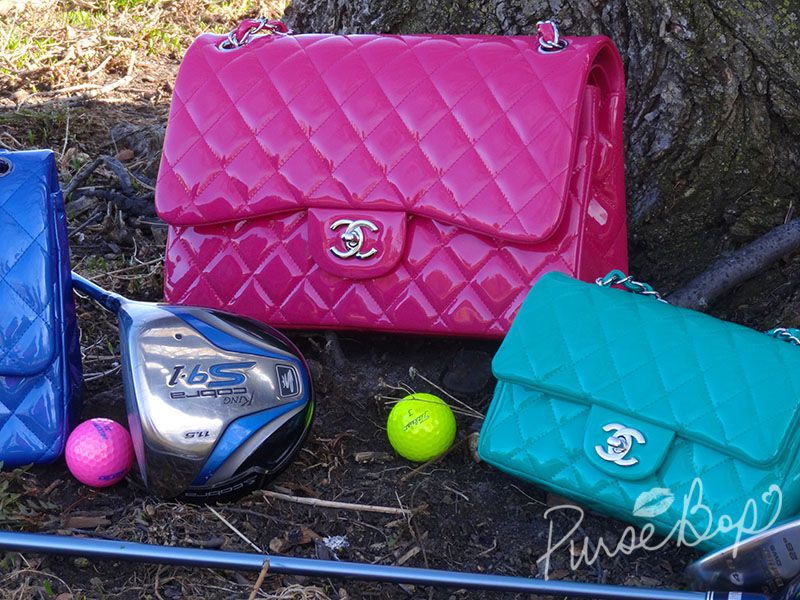 I'll use this rain delay break to give you an official introduction to the infamous patent Pink Power. Introduced this Spring (14S) along with its lambskin counterpart that I featured in the post entitled The Fuchsia Frenzy. These seasonal fuchsias have captivated the designer handbag scene and their limited edition release will leave many pink enthusiasts empty handed… I pose the question of the season to you… "Chanel FUCHSIA PATENT or Chanel FUCHSIA LAMBSKIN???" (or when in doubt, get both, uuggghhh) Karl Lagerfeld really got the pink BUZZ going, and there are discussion forums solely dedicated to the various designer shoes that match these fuchsia beauties (I guess PurseBop will take credit for the Instagram frenzy caused by her picture published 2 days ago that has been reposted …well lets say… many, many times) Check @Pursebop tomorrow to see the full recap. And I do promise to put together a full FUCHSIA feature with reviews in the next week or so.
OK lets get back… the sun is peeking out again!
PurseBop LIVE from Masters, and we are underway from Augusta National…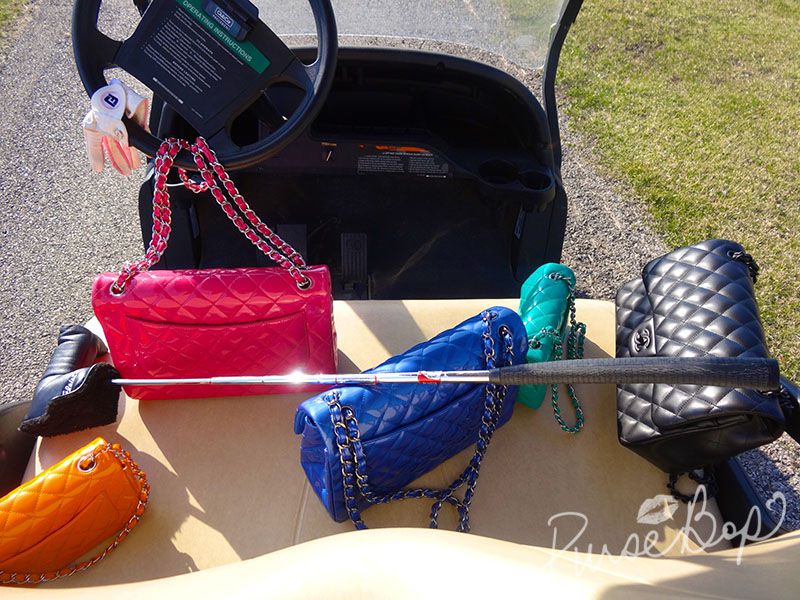 As we know too well, the rain delay will slow them down but the next few strokes are imperative to execute.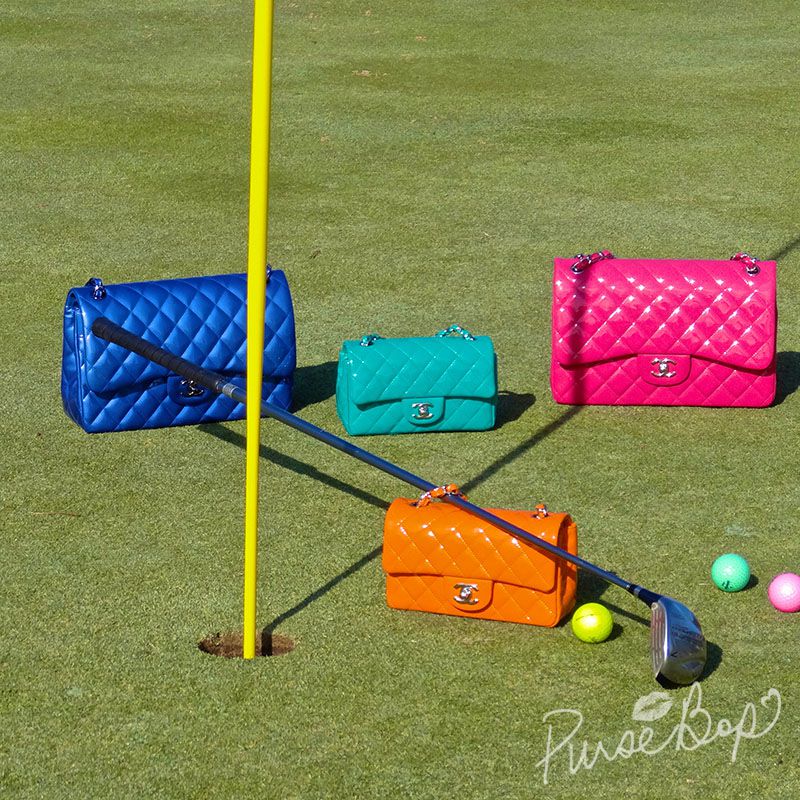 Orange Thunderbolt is having an incredible round and is in the lead standing at the daunting par 5 13th, 'AZALEA', hoping for an eagle.
Player Details: Orange ThunderBolt is another fresh 14S patent release in a true Crayola orange. An unusual shade for Chanel because it is so literal an ORANGE! Despite having recently acquiring the Orange Birkin, I felt compelled (go figure, LOL) to have this small dose of Vitamin C in my collection too, and so opted to go the 'mini' route. I highly doubt Chanel will repeat this shade again for many years to come…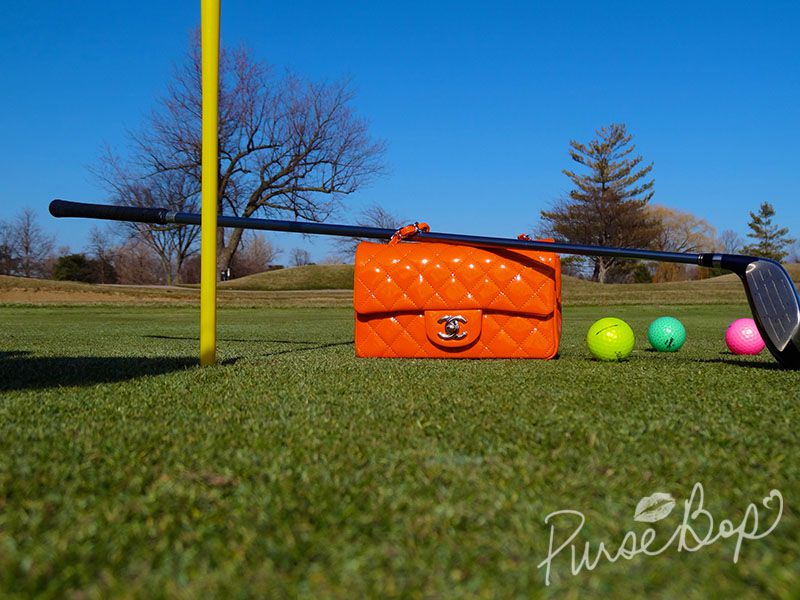 True Blue is hanging his head after a double bogie… seems he may be falling out of contention.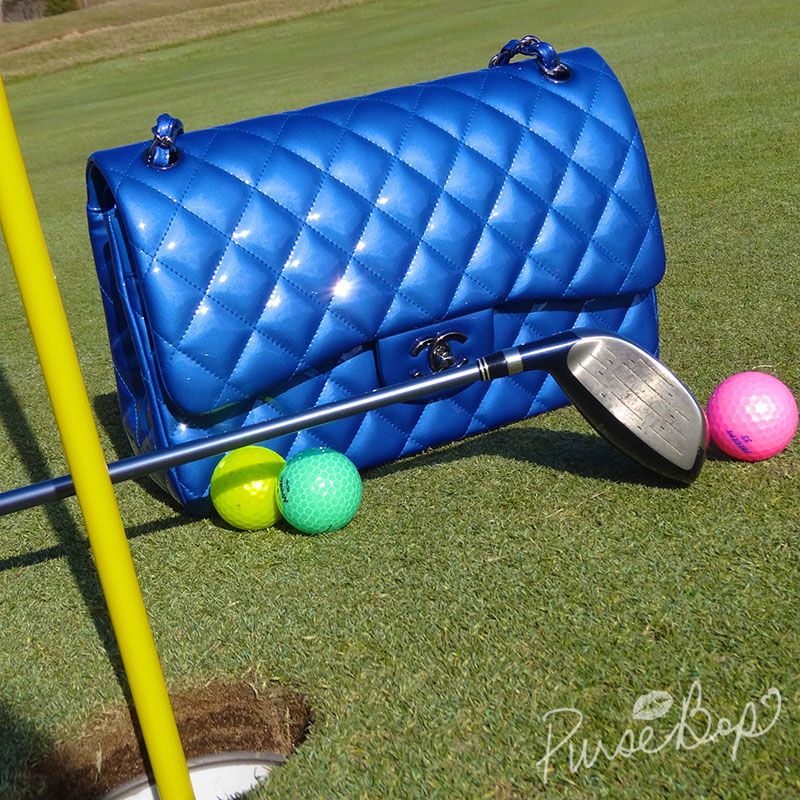 Green Snap 'snaps' out of his lull and finally makes a birdie…to get back into the game…
Green Snap takes a private moment to reflect and  soak it all in…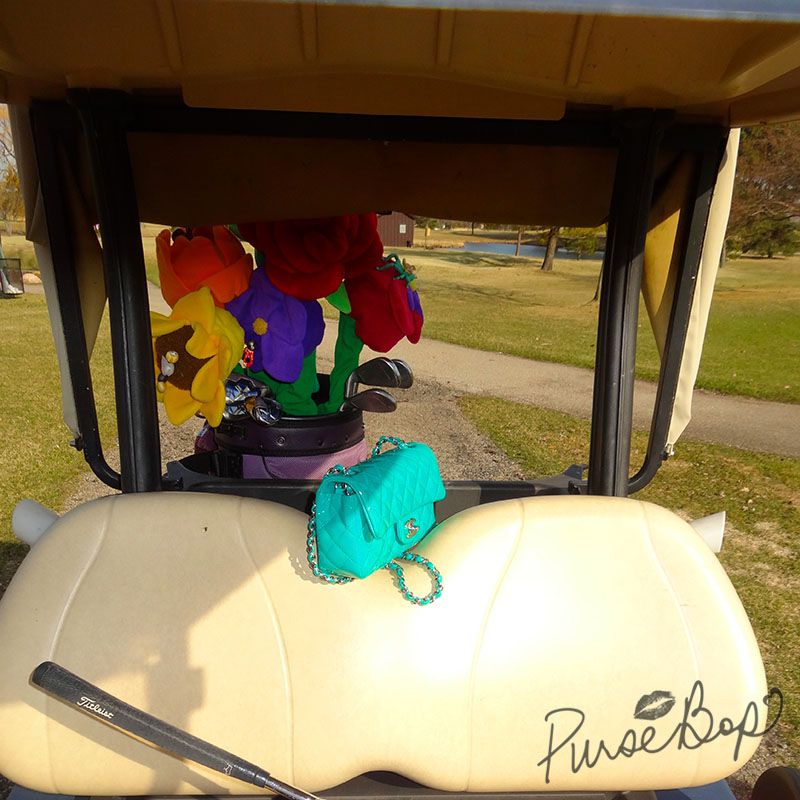 'Making the charge' Day 2 is BUBBA WATSON and PINK POWER
Made the cut, now lets cut the competition tomorrow….
The TOP 8 after the second round is shaping up at the Augusta National something like this:
 Masters 2014 Leader board:
-7    PINK POWER
-7    BUBBA WATSON
-4    ORANGE THUNDERBOLT 
-3    ADAM SCOTT
-3    GREEN SNAP 
-3    JOHN SENDEN
-2    TRU BLUE
-2    JORDAN SPIETH
This brings us to the end of our second round here at AUGUSTA NATIONAL.
As you know our qualifying players will be at it all weekend with the FINAL on Sunday evening. PurseBop Live will continue to give you coverage and update you with the highlights of each day. There are many surprises ahead, so you'll need to 'swing' back frequently to check the Leader Board scores.
Stay tuned to PBL for continuing coverage of The MASTERS 
Love,
PurseBop
XO