Perhaps this is the part of the story that most interests PurseBop readers. For me, the experience I just had in the Garden was so fulfilling that anything else would be icing on the cake.
Our hostess welcomed us back and navigated us to a desk at the top of the landing just as you enter the ladies shoe department. She suggested we would be more comfortable away from the lobby rush. One of her assistants arrived to offer us coffee or champagne during our wait. The latter seemed more appropriate for the occasion and so we sipped in anticipation.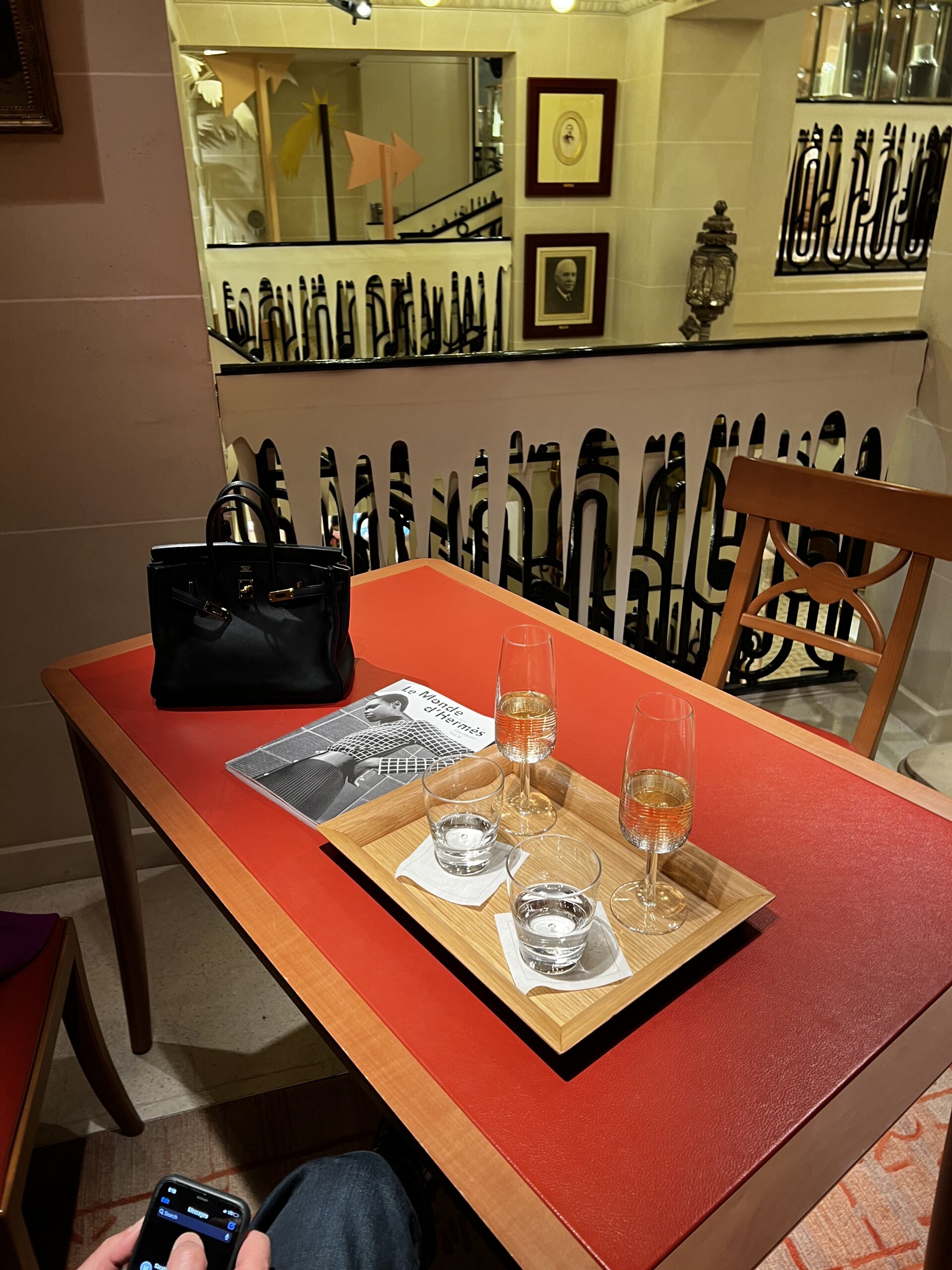 If I remember correctly, we sat for a good 10 to 15 minutes, drinking and reminiscing about the Garden. During that time, the store area was quite busy with associates and shoppers. There were a few other couples seated at desks behind me in the shoe department, also anxiously waiting. I spied a few orange boxes being delivered to them directly at their desks and tried to peek… I think I saw a Gold Picotin and a Rose Sakura "in the loop" bag. It wasn't easy to see and of course I didn't want to seem nosy (though I was). From what I gathered the bags being presented in the shoe department were non-quota bags.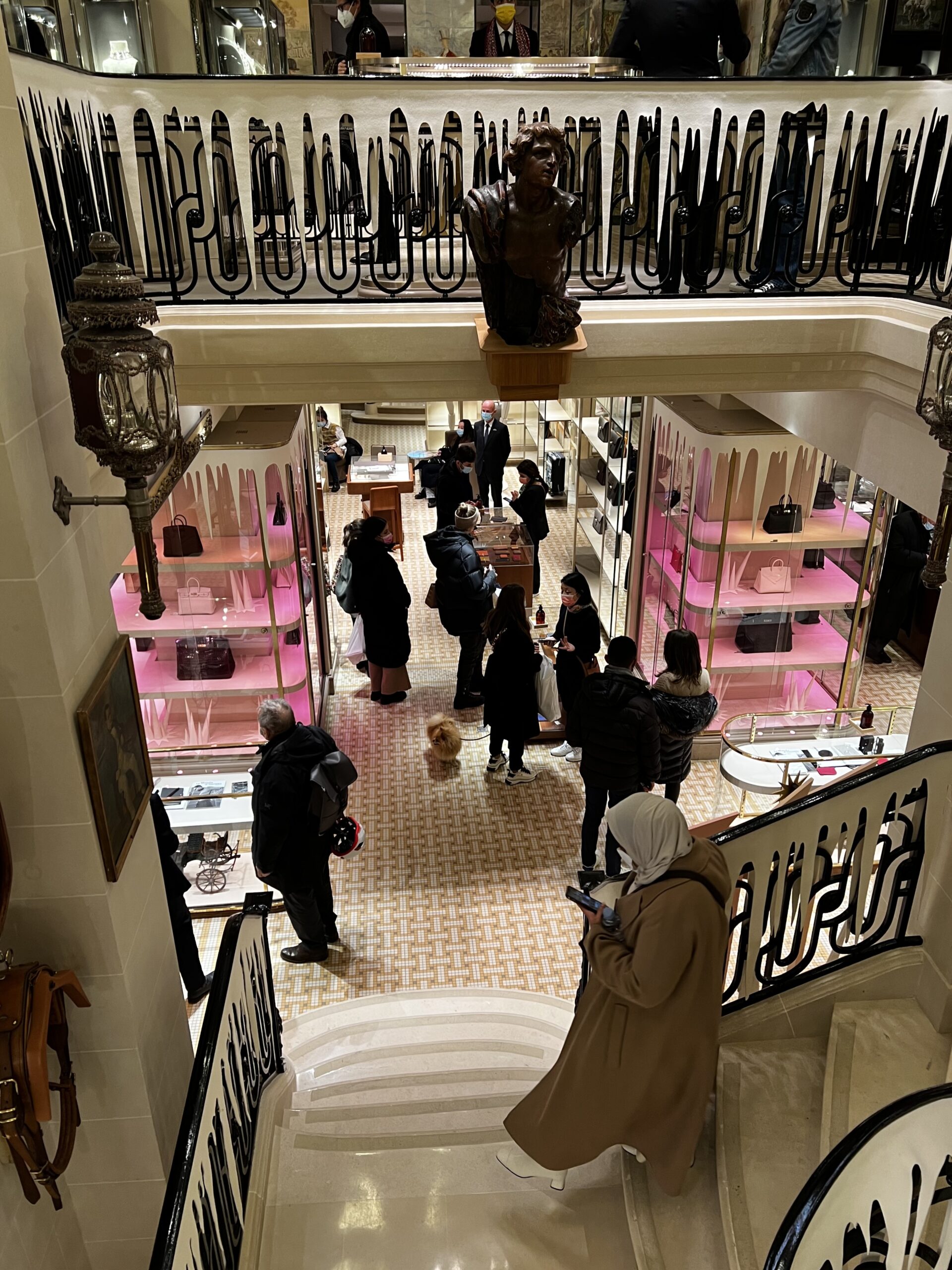 Naturally, I really didn't know what to make of this. Would I be greeted by someone here and then taken to a separate section? Or would the entire process happen right here at the top of the stairs? Although I don't know exactly how long we waited, it was a long time. So long, in fact, that I started to move about the floor to look around and take some photos. Mr. PurseBop, on the other hand, didn't move from his seat. I think he was finally succumbing to jet lag. Our hostess came to check on us and mentioned that our assigned sales associate would be with us shortly.
Our champagne glasses were refilled and the wait continued. By this time it was 5:20pm …approaching two hours since we first arrived at the boutique.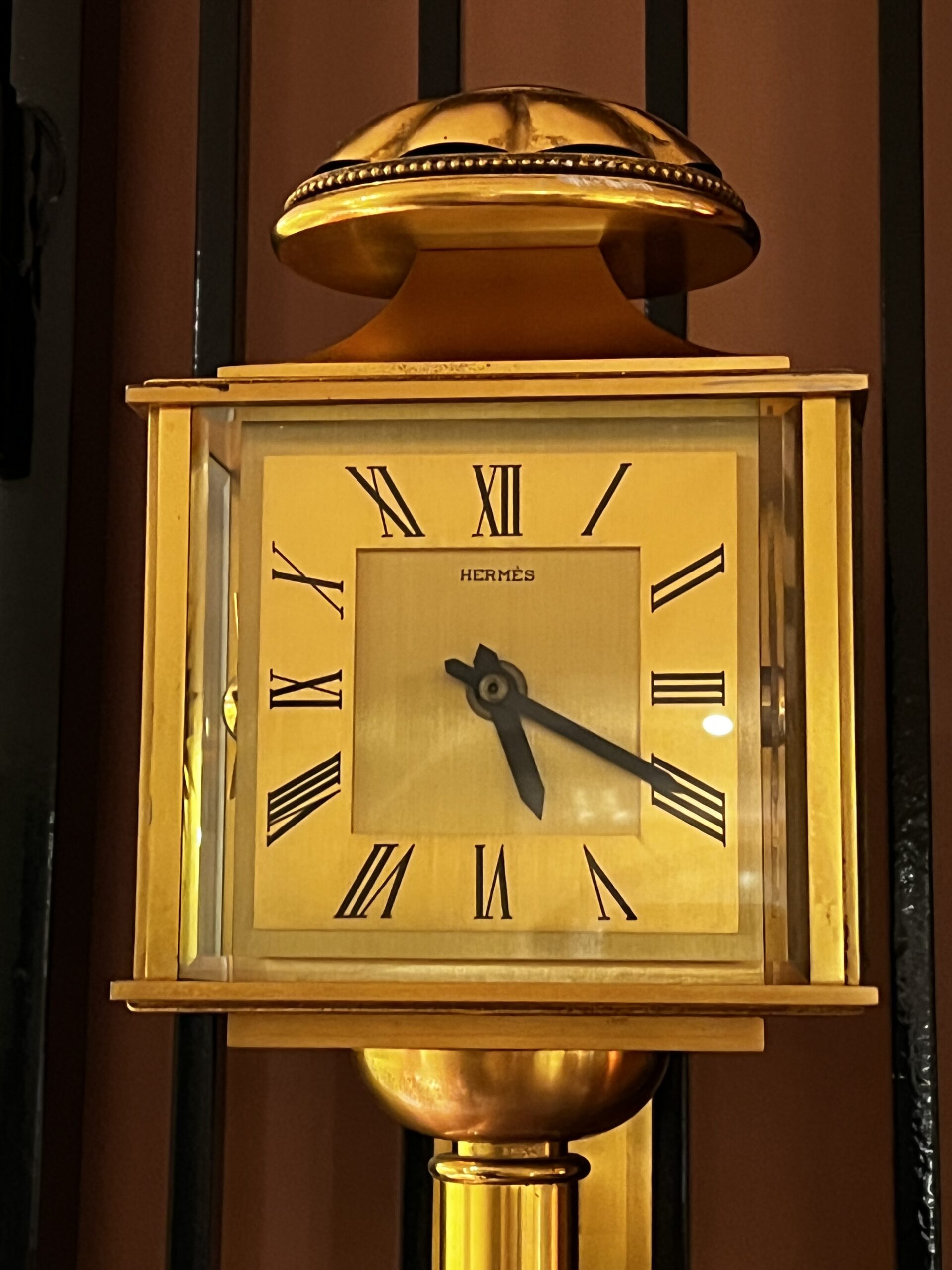 Then out of nowhere, an exuberant and tall woman came to us with a bright and welcoming smile. "It has come to my attention that you are PurseBop. It is such a pleasure to meet you Madame. I wanted to come over and introduce myself." My goodness, this lovely woman was the Store Manager. I can't remember whether I immediately stood up since by then I was feeling the effects of champagne, sleep deprivation, and the Hermès adrenaline rush. We chatted for a bit – I know I was standing at this point  – and then she apologized for the long wait and assured us that someone would be with us shortly. And if there was anything that she could do, we should not hesitate to ask. I was so touched. Although brief, it was a thorough encounter. After she left I thought of a thousand other things I should have asked… but perhaps it was best to keep it social and short. This was an exciting break in our somewhat long wait, giving me and Mr. PurseBop yet another point to discuss and treasure.
Suddenly, coming up the winding staircase was the sales associate assigned to us. She was marvelous; energetic and passionate about our meeting. Of course we shared all the usual pleasantries. She sat at the chair right opposite our desk as we chatted a few minutes before getting to the point: "How can I help you today… Is there something specific that you were looking for?" She opened her pad and began to write…
The million dollar question and one I had rehearsed answering many times. With prepared notes in my phone, this time I was going to be very precise with what I wanted. It's not that I wouldn't accept something else, but I calculated that by being direct I could perhaps make it easier for both of us. 
I decided to discuss style and size first so I shared that the Kelly 25 Sellier is my absolute favorite but that a Retourne style in a pretty color of Swift leather also would be a pleasant option. As a reminder, I do not have a K25 Retourne. Shocking, right? I explained that my second preferred size would be a Kelly 20. Of course here there was no further elaboration needed. To this she responded:
"Madame, a Kelly 20 is very difficult to get before the new year but I will try… What sort of colors are you looking for?" 
Rose Sakura and Mauve Sylvester were at the top of my wishlist. 
"Ahhh I see, again these are very difficult colors Madame but let's see what I can find. As you know we are struggling with very little inventory at the moment… things will improve but right now it's very hard for us. Are there any others that you would like if I cannot find these for you?" 
Of course I had several back up colors in my mind including Craie, Biscuit, Quebracho. And if all else failed, Black was my backup. I have wanted to add another Kelly 25 in Black for quite some time given how much I enjoy my Black Kelly special order. However any new Black K25 would need palladium hardware.
My spirits were not dampened but my expectations were tempered. I was optimistically hopeful that she would find something for me, but I was really hoping for something really special. I didn't want just any Birkin or Kelly (high class problem, I know) to take home as a souvenir from Paris. My dream was a handbag to treasure with memories of this very special day in Paris. 
Off she went, and then the real wait began. Without any idea of how long this would take, we sat patiently. Mr. PurseBop's energy was really waning here. Mine was at an all time adrenaline high. I couldn't sit.. I once again began peering into all pretty bags lined up in cases in the shoe department. There was a lot of pink in the cases, so just maybe my dreams would come true.
I didn't wander far… all the while my eyes peeled on our desk.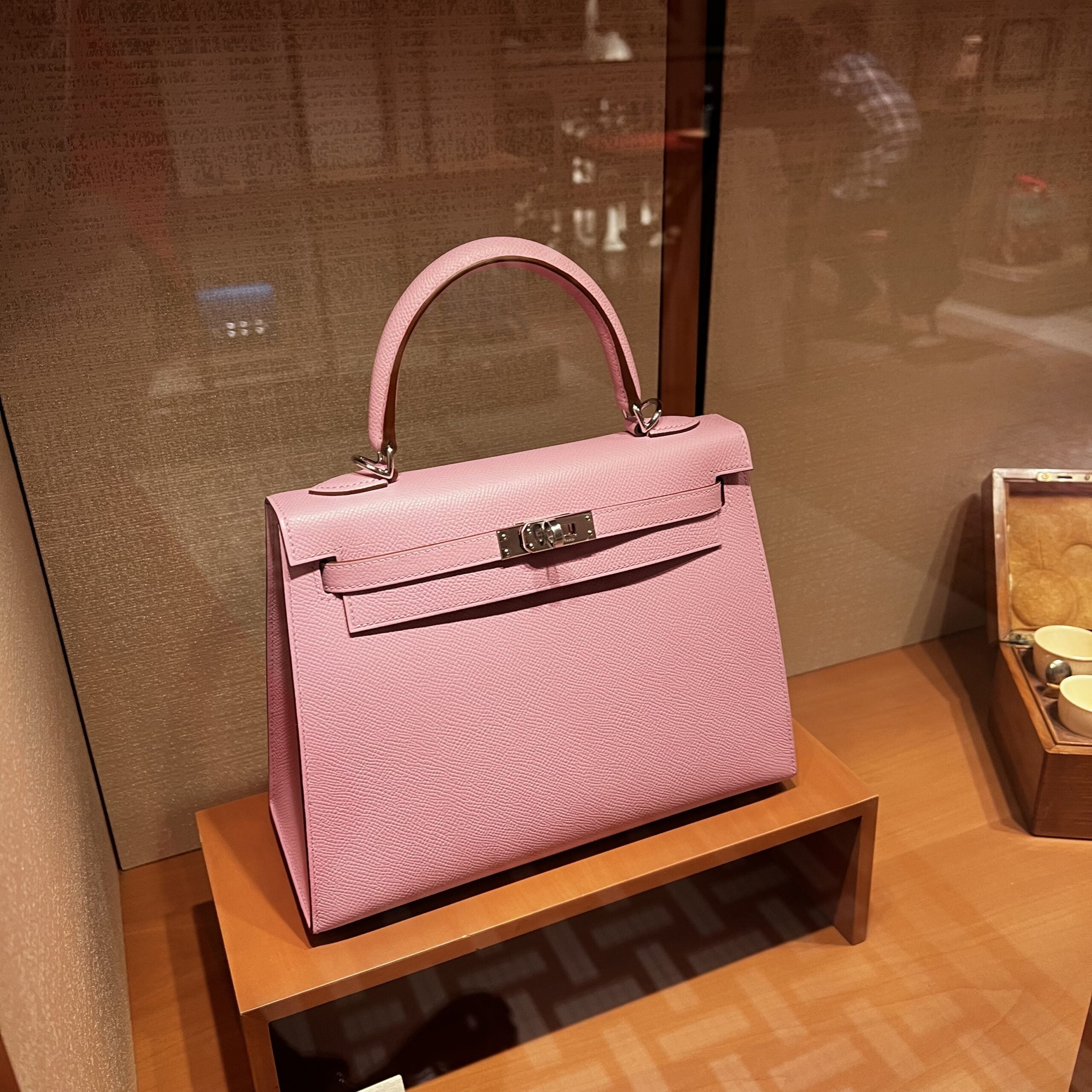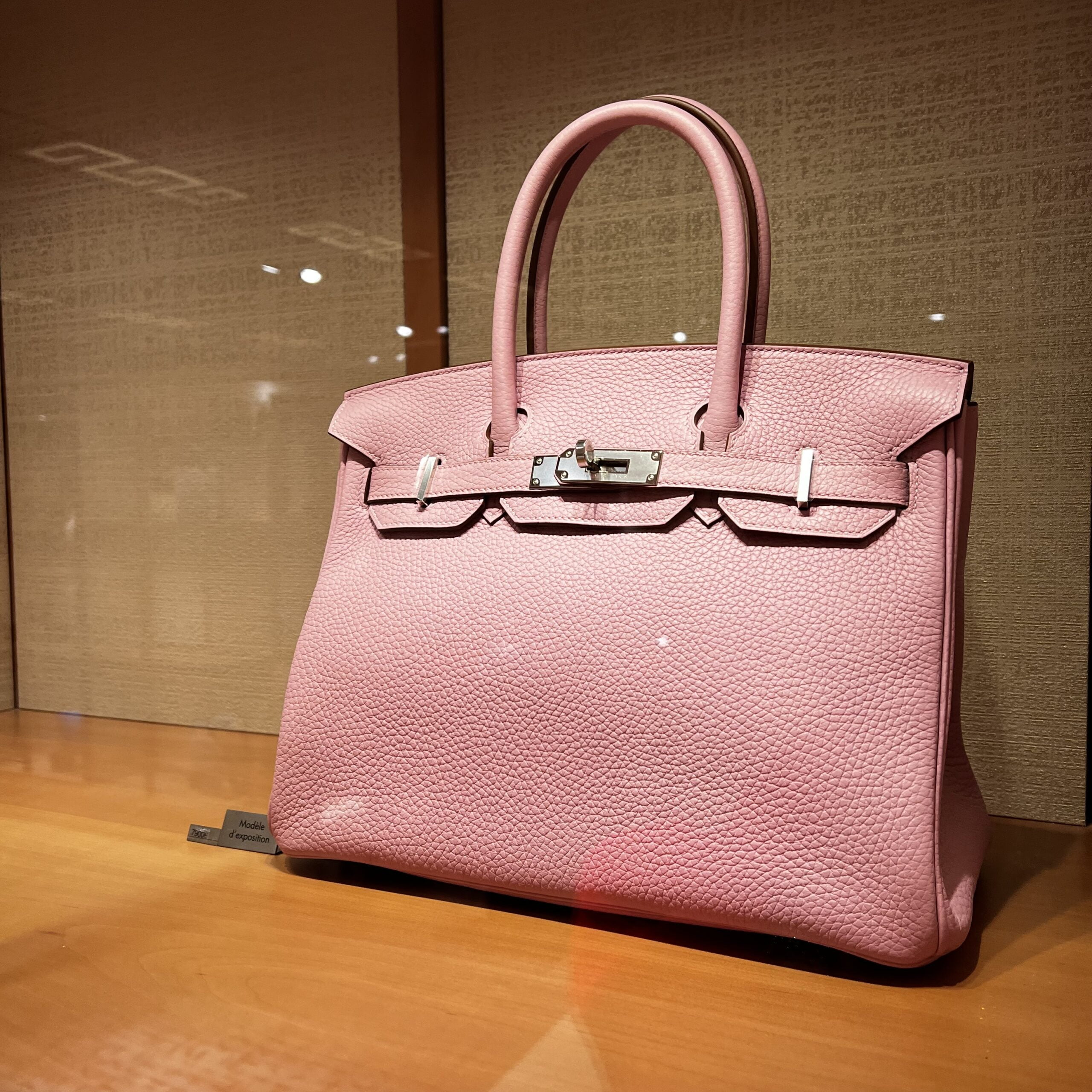 OMG, I see her coming… she's coming up the stairs… oh my goodness… my heart is racing, racing hard… she only has one box in hand. And it's small. Very small. What does this mean? 
Is it a wallet or some other accessory? As she made it to the third or fourth step, someone called to her and she turned and returned to the base of the stairs. Apparently, there was some issue and she was caught up in conversation for what seemed like an eternity, all the time my heart racing. After what seemed like forever she turned back, with a bright smile and said…
"Ladies and gentlemen would you like to follow me…"
This had to be a good sign… it couldn't be a Picotin or an 'in the loop" bag! It surely was something she couldn't reveal in "public". 
I gathered my belongings but couldn't really focus on anything except wondering what could be in the small orange box. Once I pulled myself together, I followed her in close proximity. I presumed Mr. PurseBop was with us but honestly I didn't know. When I glanced back he was carrying both of our champagne glasses and all of his winter paraphernalia. The walk was windy as we were led to a part of the store I had never been before. It was a few steps up.  We passed jewelry showcases as we walked deeper into the back of the store. I paused for one quick photo of what seemed to be a reindeer in winter wonderland. 
Finally she steered us into a festive winter themed room with two desks for special appointments. We assumed that this area was designated for private showings. 
I videoed the room as my sales associate busily unpacked the box. Woah… hold on… let me catch up —this is a monumental moment for PurseBop… We need to capture this on camera… I giggled as I pointed my iPhone in video mode. I had no idea what color we were about to see. This was all happening very quickly now. She was no nonsense…
Judging from the size of the box and the fact that we were in a hidden room it was 99% certain that I was being offered a Mini Kelly 20. I asked her if she had seen it yet. She explained that this bag had not been available earlier when she checked nor had there been any mini Kellys in stock. However, as soon as she saw this, she grabbed it. We would see the color and the bag together.
She continued to unpack … And then, as she was disrobing the handle, I caught a glimpse of the color. Immediately I announced  "Mauve Sylvestre…" Actually, we said it simultaneously as you'll see in the video clip of the unboxing I will share right here soon. I was thrilled. Ecstatic! The color was amazing (and coincidentally) matched my sweater. 
View this post on Instagram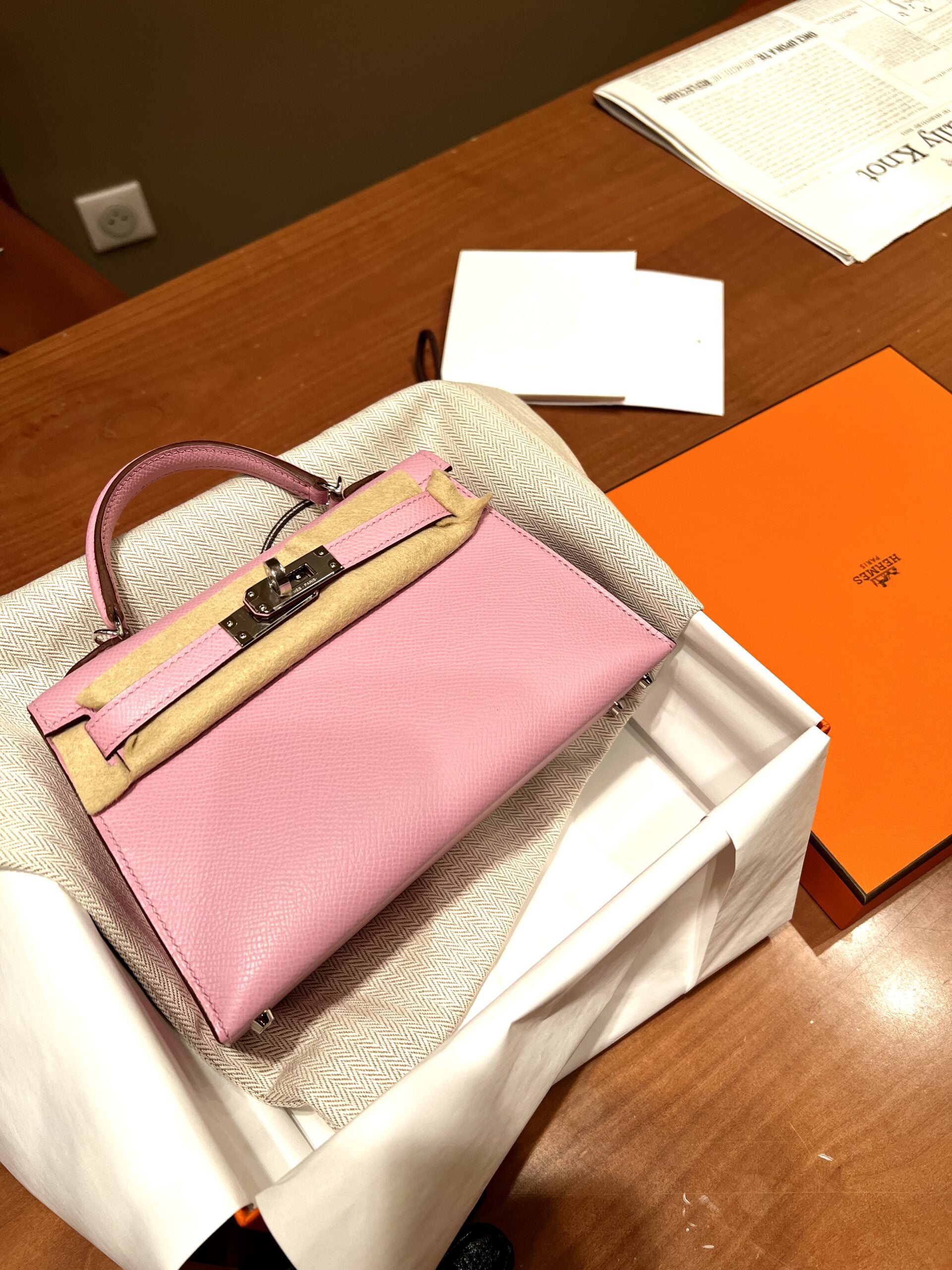 She said:

 "you must be very lucky because I have not seen anything this pretty in several days. It was meant to be."
I admired it from every angle, every inch. She was pristine. The color was more beautiful than I imagined. It might have been the first time I saw the color in real life. I was very content, but… I couldn't resist: "Just out of curiosity, is there any chance this color would be available in a Kelly 25?" Secretly I was thinking about the practicality of a Kelly 25 versus a Kelly 20. 
To which she replied…
"You know Madame the Kelly 20 is much more difficult to get than a 25."
I nodded knowing that all too well and fully acknowledging the beautiful offer that I had just received. And that was it. 
I looked over at Mr. PurseBop and he seemed pleased. He was happy for me and that this story was going to end well. I will confess I gently asked if there would be an opportunity to also purchase… perhaps a pochette under Mr. Pursebop's profile? She very patiently replied that due to the very low inventory, it would not be possible this time. She did step away and make a call, perhaps to check, but came back with the same reply: that it would be difficult on this trip but perhaps in the future we could consider. I completely understood… The subject was closed and I was elated beyond words.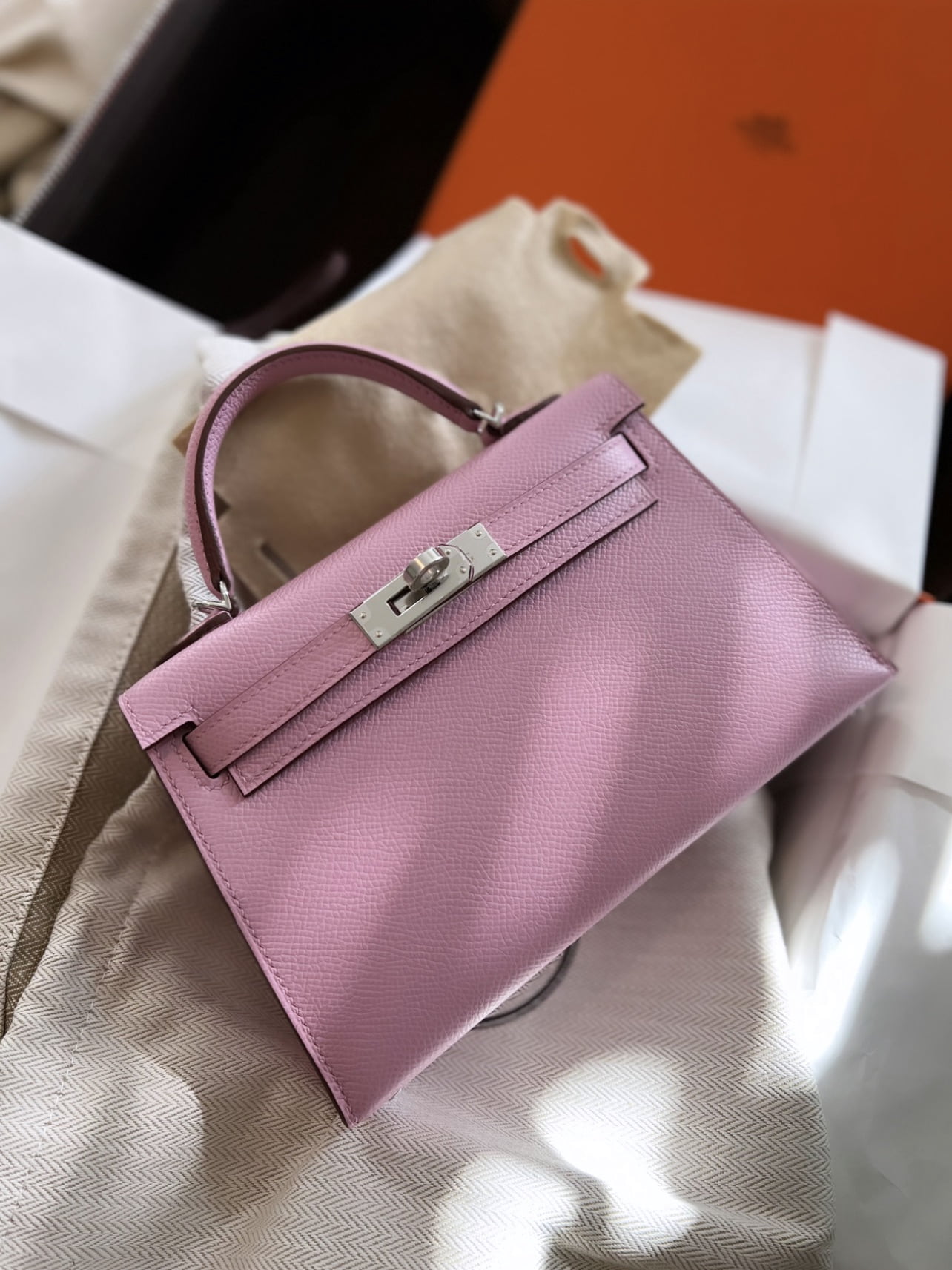 Then came Mr. PurseBop's turn. Our associate was happy to stay and help us. We headed to the shoe department with one quick stop. We had to have a peek at the Hermès holiday themed room. We took a few photos and we were abruptly back on track.
Mr. PB began his selections and I quickly identified the pairs I liked for him… but I was more interested in learning about the luggage collection. So our sales associate requested that one of her colleagues come over to educate me about the newly launched collection. Another surprise… the gentleman that joined us was the sales associate that sold me my first Birkin from Paris many years ago – my Plomb B35 with GHW in Clemence leather. I couldn't believe this! Such a delightful surprise. Of course I shared with him every detail of our first encounter – another amazing afternoon. He was surprised I remembered so much detail. Read: PurseBop's Score at Hermès Faubourg Saint- Honoré
He and I, and my sweet sales associate – the three of us spent a good ten minutes studying the luggage together and I have so much to share but I am going to save my luggage expedition for another article. 
We shopped till our Hermès list was crossed off with holiday gifts and my hubby's extensive shoe wishes. It was all rather efficient. I only wanted the Chypre sandal and that wasn't available in my size… no surprise.  Whatever other shoes I desired could be sought at another time. We were exhausted and satisfied knowing that we could return but didn't need to.
The store was crowded as were all the cashiers but our sales associate navigated us to a quieter area where we could conclude our shopping. There was a seat nearby where we asked Mr. PurseBop to sit and safe guard my Birkin.
I didn't want to say goodbye… I felt… a certain – you know that warm and fuzzy feeling. I really had been so fortunate to meet the most incredible people over the last few hours.
Naturally, for safety reasons, we arranged for our purchases to be delivered to the hotel.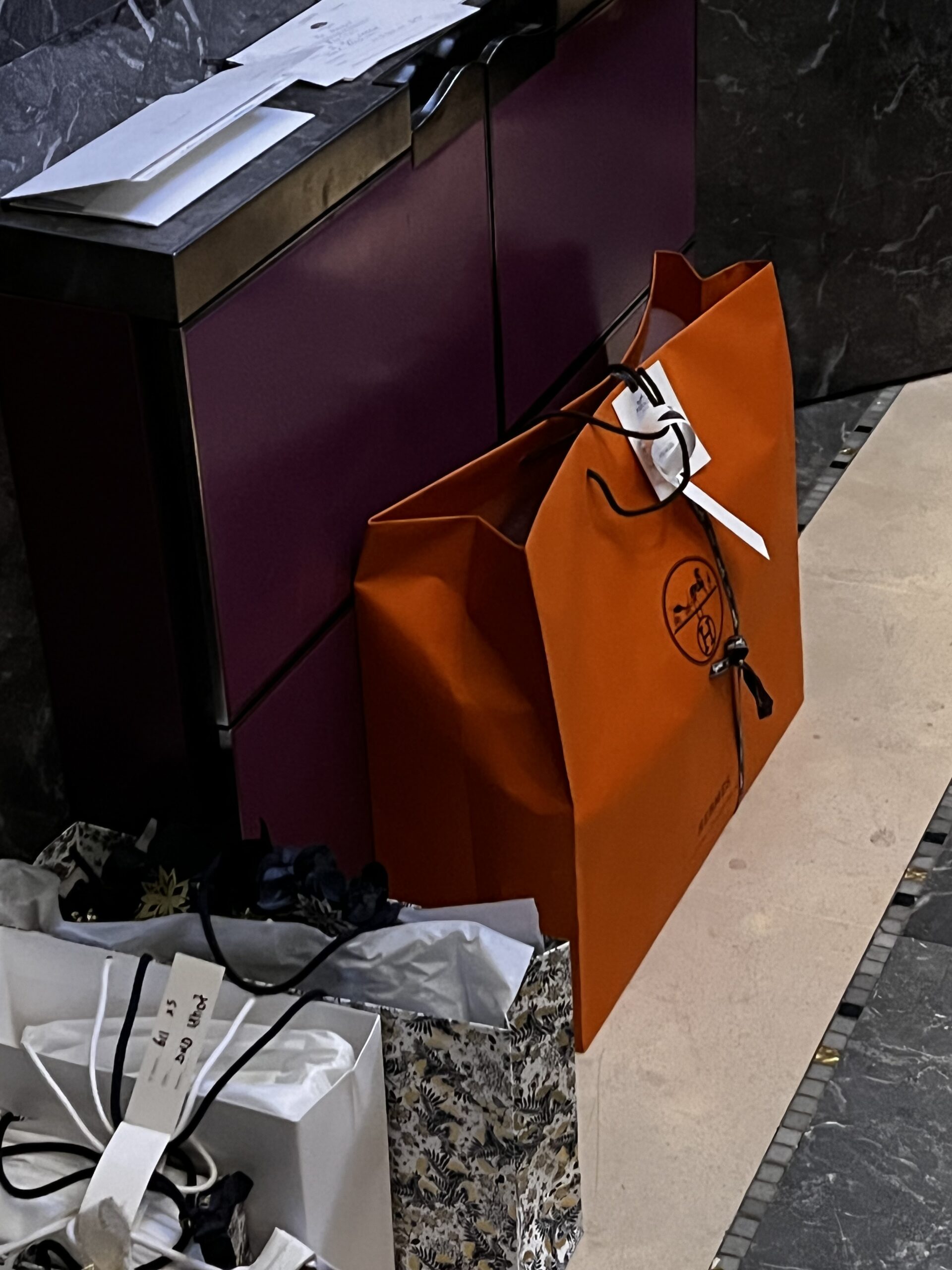 I carried just one very small and light bag to feature in a photo with the Christmas installation outside the store. As we left the boutique nearly three hours after arriving, the sky was dark but alas the lights were not on. We waited a few moments and then Mr. PurseBop went back in to inquire when the lights would be switched on. Store employees were shocked that they were not and appreciative that we let them know. We didn't wait much longer and walked away hand-in-hand, tired but feeling so full. What a wonderful day it had been. I could not have asked for anything more. 
No successful trip to Hermès, let alone when in Paris could go uncelebrated. So after a quick 'freshen up' we head to the bar at Hotel le Crillion for an incredible night of drinks, bites and live music. The voice of the singer is still fresh in my mind, she was magnificent. Who needs sleep in Paris. 
I attempted multiple times over the next few days to plan the perfect setting for the reveal of my sweet treasure. Somehow either we didn't want to carry the bag out or we spontaneously went in a different direction. The last morning before our flight I did insist the driver take us to the Eiffel Tower to take at least one photo with the box to mark the occasion.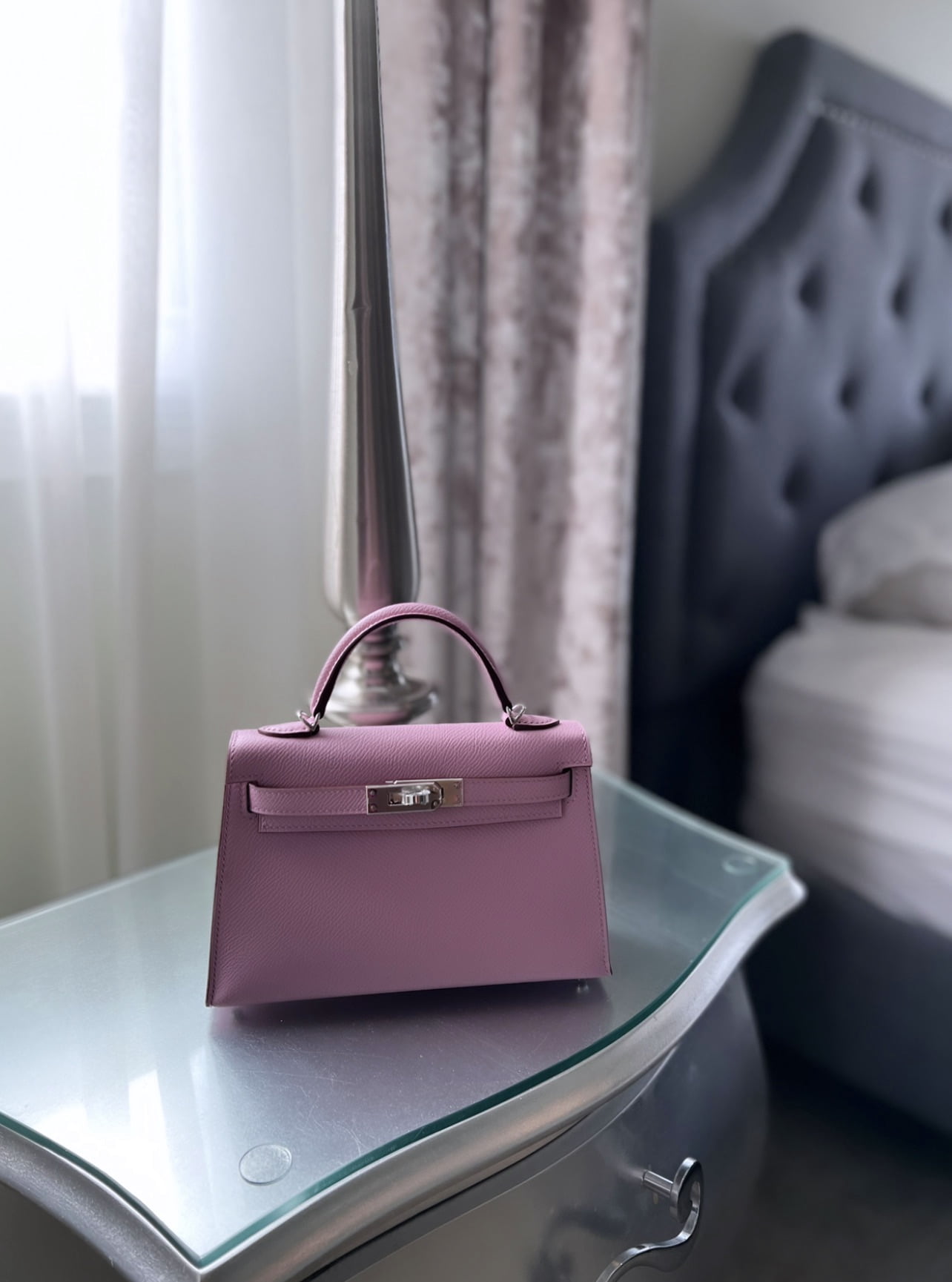 I will share many more photos of Miss Mauve Sylvester in an upcoming article where we will delve into the VAT process and best practices.
Stay tuned to @pursebop for all the exclusive videos I have been saving till today. I am creating a Hermès FSH highlight on my profile page for those catch my stories late.
Signing off, a heartfelt
Love PURSEBOP
Xo