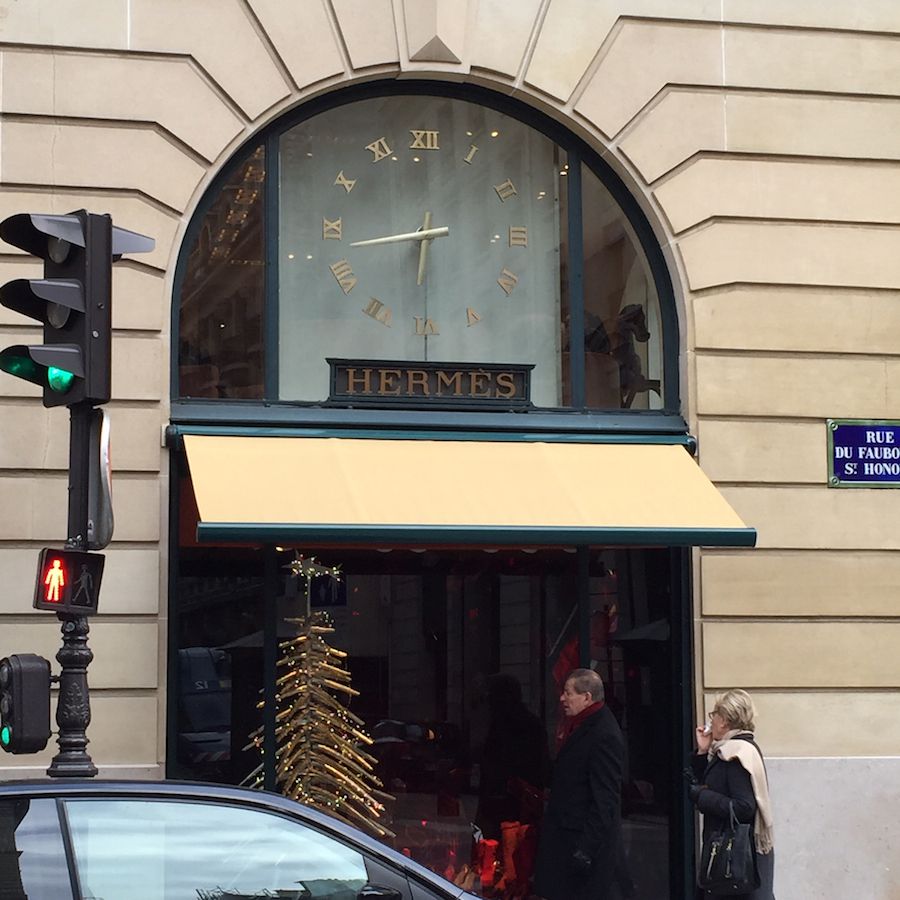 Part III ended with Paris gypsies; I mean Jypsiere, with the purchase of Miss Caroline on the eve of my final Hermes shopping day. I should have been completely content with this practical and gorgeous cross body in the dreamy blue/green Blue Paon I coveted. But I admit I wasn't. I desired a B or K to be complete. I am the first to admit that I have been somewhat (ok, completely) spoiled by the Hermes God's of late, so going home with only a Jypsiere seemed less than satisfactory somehow. I don't want to come off sounding ungrateful (I apologize in advance if I do) but the truth is I really wanted a Birkin or Kelly to mark my first visit to the mothership.
Friday night was a late night of shenanigans so fortunately we decided on somewhat of a late start to the day, but early by Hermes standards. On Saturdays the mothership opens at 10:30 am and I wanted to be there just before opening just as my SA had instructed me. He had an 11am appointment so he would need to wrestle with me first.
The store was just across the street so we decided to leave our hotel at 10:15 sharp. There were already about 15 people ahead of us at the side door entrance. We admired the decorated window displays and drooled over the bags in them. We plotted strategy at Hermes and the chalked out the day's plans. It was our last full day in Paris. It was going to be my last visit to headquarters for this trip.
Attempt 5: the final countdown:
Time of Day: 10:30 am
Duration In Line: I did not wait in line, I went straight to the lady managing the queue and requested her to let my SA know that I was there for my appointment (mutual understanding but unofficial appointment).
I was immediately greeted by my SA; he was like a sight for sore eyes. You would think we were long lost college friends meeting after years. This is how I felt, I am sure he was merely responding to my exuberance and elation to see him. We chatted about my time in Paris, places I ate, shopped etc. and then finally we got down to the real issue at hand. So he said, "did you visit here in my absence? Have you found the pieces you were looking for?" I must have started spouting out all my various attempts and disappointments and my confession of having purchased the Jypsiere in his absence and the reasons why I proceeded to do so. I somehow felt I needed confirmation that in fact there had not been any shipments just as I had been told. I am sure I expressed my slight frustration but simultaneously how delighted I was to finally be united with him. After my rant he said that he had not been in, and had no idea what shipments may have come if anything in his absence but he'd take a look. I felt the need to remind him of my wish list. I no longer needed my Sofitel cheat sheet as it was engrained in my memory by now. He was not at all disappointed I had bought my Jypsiere, in fact seemed relieved that I had managed one and in such an outstanding color as he called it. I confessed I loved the color so much that I would prefer a B or K in it and could settle for a more neutral color for the jypsiere (I was trying to convey as suggestively as I could that if he had a birkin or kelly sitting in any size with any hardware in blue paon… I would gladly take it, LOL) Wishful thinking I know, but I needed him to know.
I was less fixated on my bright colored options at this point, and reminded him how I did not have black or an etoupe'y color in my collection yet either. The separation anxiety began before he even turned to leave. Once again, I dreaded the wait… it is as though each minute passes in slow motion, the complete opposite of the adrenaline feeling you get with the anticipation of the opening of an orange box. He wasn't gone very long at all, in fact back in record time. Was this a good sign, or bad? Oh no, he was empty handed but walking very briskly towards me with a mission like expression on his face. He was stopped twice on his way back to me, once by the lady managing the cue (I was dreading his appointment may have arrived) and once by a man that seemed to be of great authority with a stern look on his face. My gaze never left his eyes.
He stepped into my personal space and in a some what serious tone, more serious than ever before with me, said "I don't have anything… except one Birkin. That's the point at which the Charlie Brown cartoon voice begins in my mind… a sort of murmured sound – blah blah blah, blah blah… please tell me you know what sound I am taking about?
A Birkin? This was great news! But where was it? What color was it? I had a million thoughts racing like orange bullets in my mind. He proceeded " it's a 35, so not small like you requested but in one of my favorite colors of the season, PLOMB". I had no idea what plomb was. "It's a great alternative to black" he said, "a nearly black". It does have the gold hardware as you prefer… would you like to see it? My head was already nodding yes before my lips could utter the word. "Ok, then meet me I the men's department, it's quieter over there." As he was about to walk away I lovingly asked again, "are there any other choices at all?"
He really was a trooper because he turned back towards me and explained, "there were only two bags in the back, one orange B35 and this plomb B35. I thought I remembered you mentioning you already had orange and I knew you did not have a black so I immediately reached for it but still wanted to check before bringing it out. There is very limited inventory today, I am sorry… and my guess is it's because fashion week begins on Monday. I had heard this theory already so knew it was certainly playing a role in the immediate supply and demand. I smiled an understanding sort of grin and graciously gestured that everything was OK. That I understood and despite all was eager to see this PLOMB colored B. I thought I remembered reading somewhere that the color may have had purplish undertones, but I really could not be sure. I walked over to the men's department, which was right behind the side door area and stood by the long vacant table. There really wasn't anyone back here.
He came back quickly carrying the box on his hip. He placed it on the table in front of me. I must say I was really feeling happy to be standing where I was with a big orange box looking up at me. The next few moments went by like a haze. I don't remember what he said or the actual opening.
It was out – this majestic black'ish beauty with gleaming gold hardware saying hello PurseBop! There was something really surreal about this shade of black. It wasn't flat, or dry black, it had depth and a sort of creaminess that I couldn't quite place my finger on yet. Best explained it looked black, but just a different kind of black. He said as I admired her from every angle that the actual color really shows up in natural daylight. In this lighting it will look nearly black to you – indeed it did!
Now a little about myself. I have the gift of hyper-attention to detail. Maybe my years of childhood art lessons and then my many years of design in the fashion industry have trained me to notice even the smallest of fine points. Things most people will never see. My eyes have scanned thousands of items looking for imperfections before big buys were to be delivered to prestigious stores. My reason for sharing this is that I want to point out that I could see the 'off black' color immediately and I could also see a delicious quality to the leather. A richness that I could not explain but could clearly see.
We chatted a little longer and I reiterated my delight being offered this midnight beauty, but I still wanted to be sure there were no other options hiding. He was gracious enough to check the neighboring computer one more time and reassured me that this was it and that the orange B was now gone. The lone Birkin left at FSH was destined to be mine. He then turned my attention to the other items I had mentioned. We walked around together and gathered what we could of my shopping list before his next appointment arrived. Other than the Jypsiere, I left the rest to fate and to my sales associate.
Delivery Update: To this day I have no idea whether this baggie was hiding in the stock room or was part of a shipment that supposedly never arrived. All I know is that PurseBop is a very happy Hermes camper. My only regret is that Mr. PurseBop was not with me to welcome this new addition to our family.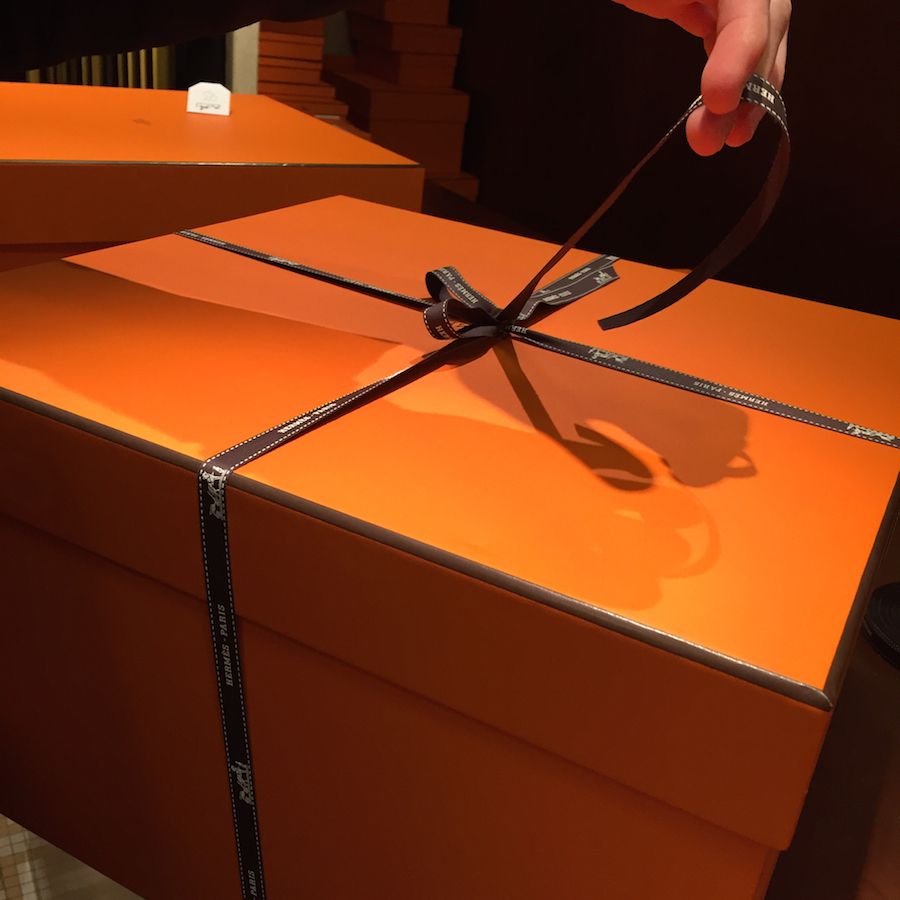 We made our way to the check out area which was much larger than that of any boutique I had visited before. The wrapping station was to the left and my SA handled his own boxes and the auspicious tying of the brown ribbons. I stayed with him throughout and watched every detail intensely. The mothership operations were much busier than other stores. There were people hurriedly moving about everywhere. The store had just opened and it was a Saturday. I bid adieu and was at a bit of a loss as to what to do next. I was alone as my posse had decamped to the other H boutiques in hopes to score.
I captured the moments the best I could on camera to document my journal. But it really wasn't the same without Mr. PurseBop.
I had hoped to do a Parisian style reveal shoot on the streets right outside the store and our hotel, but it was going to be impossible alone. I would have needed one person to guard the treasure while I took my shots.
I turned to take a picture of the Hermes clock to mark my journal with a time stamp of the moment the magic happened. 'The moment' that Miss MVP was adopted from Hermès Faubourg Saint- Honoré, and I couldn't help but chuckle. The clock was stopped to 6:43 and it was near noon now.
We had reservations at Angelina's for lunch at 1:30 & that's when we all finally met back up. The girls were delighted with their scores, although none were of the infamous Hermes baggies. It was a celebration lunch, a celebration of girlfriends together in Paris. Nothing short of champagne and their world famous hot chocolate for dessert.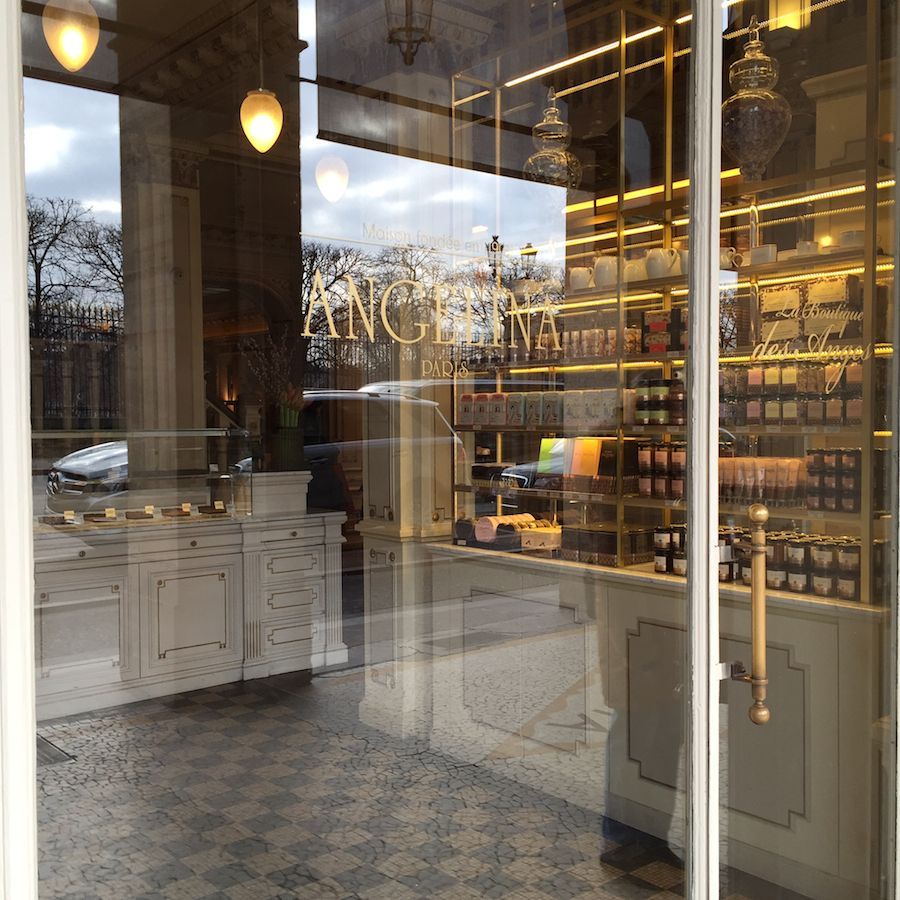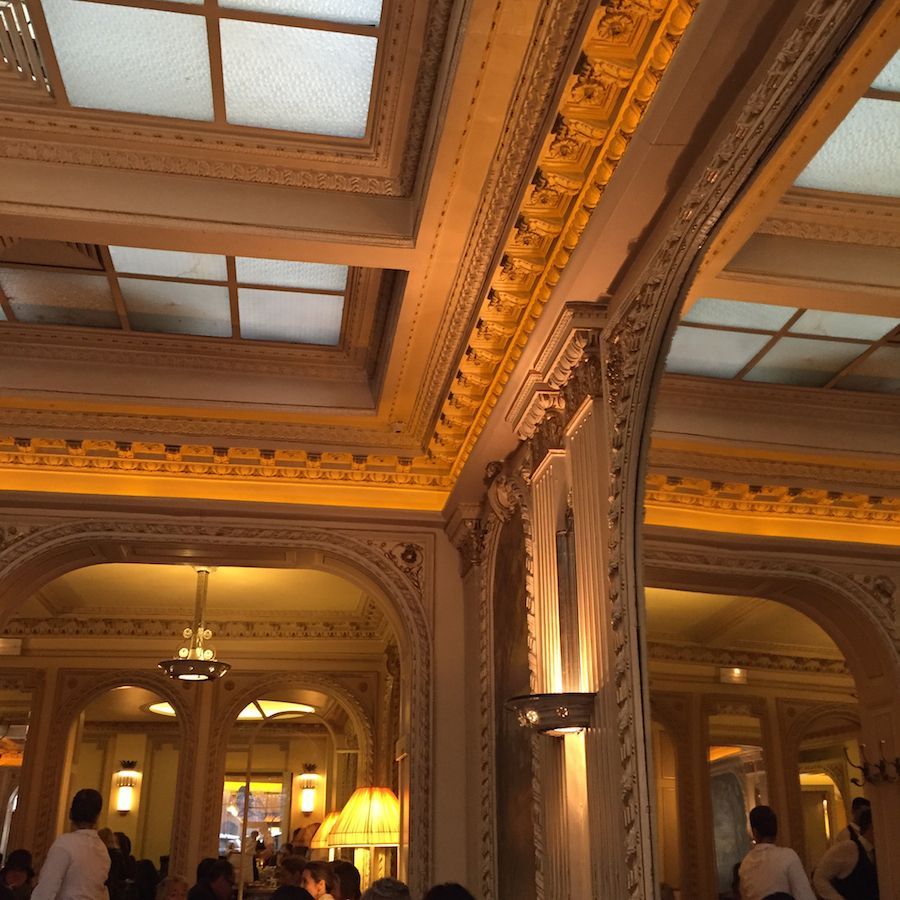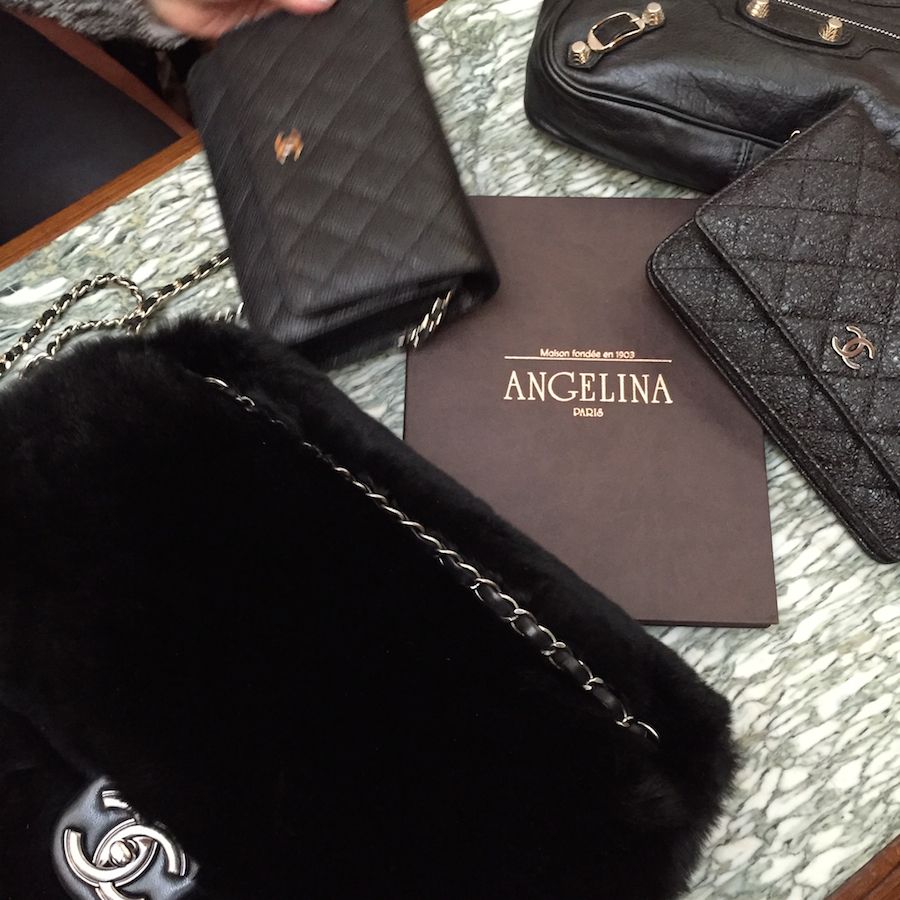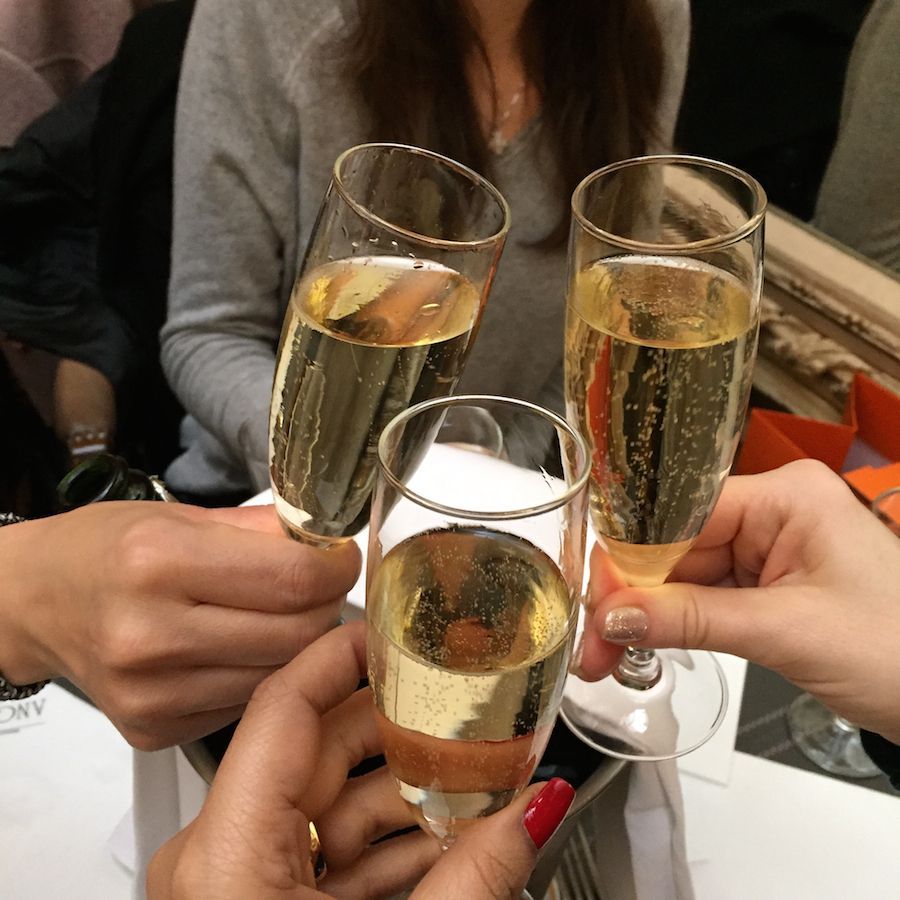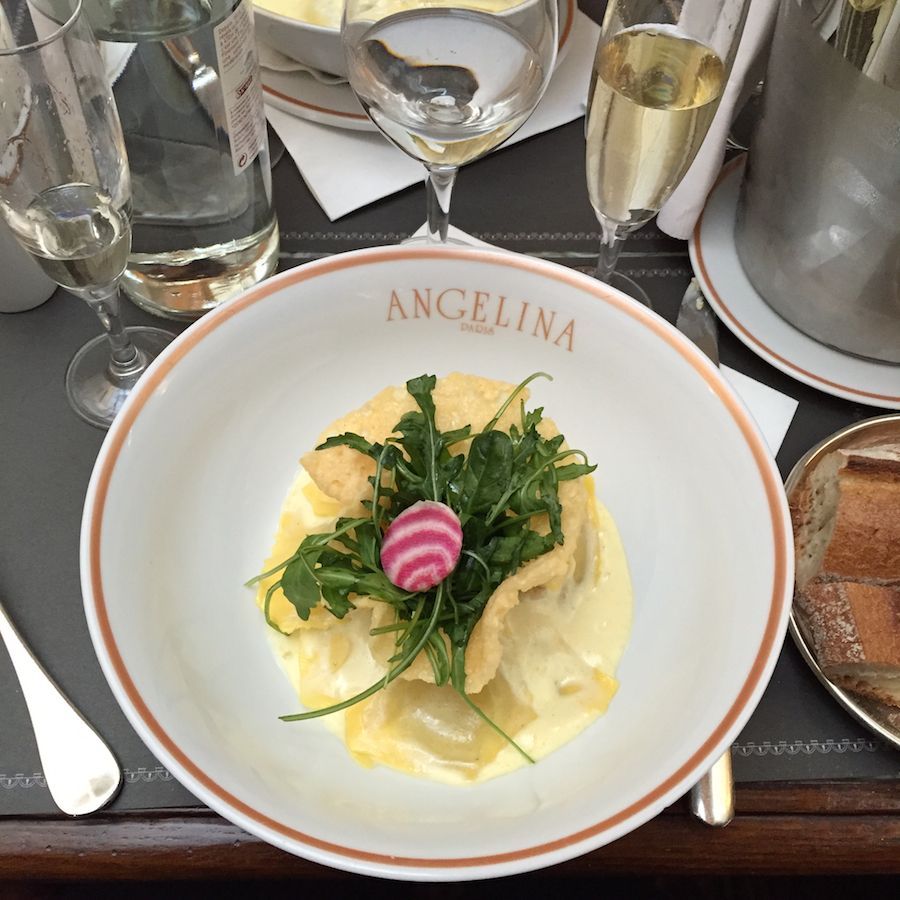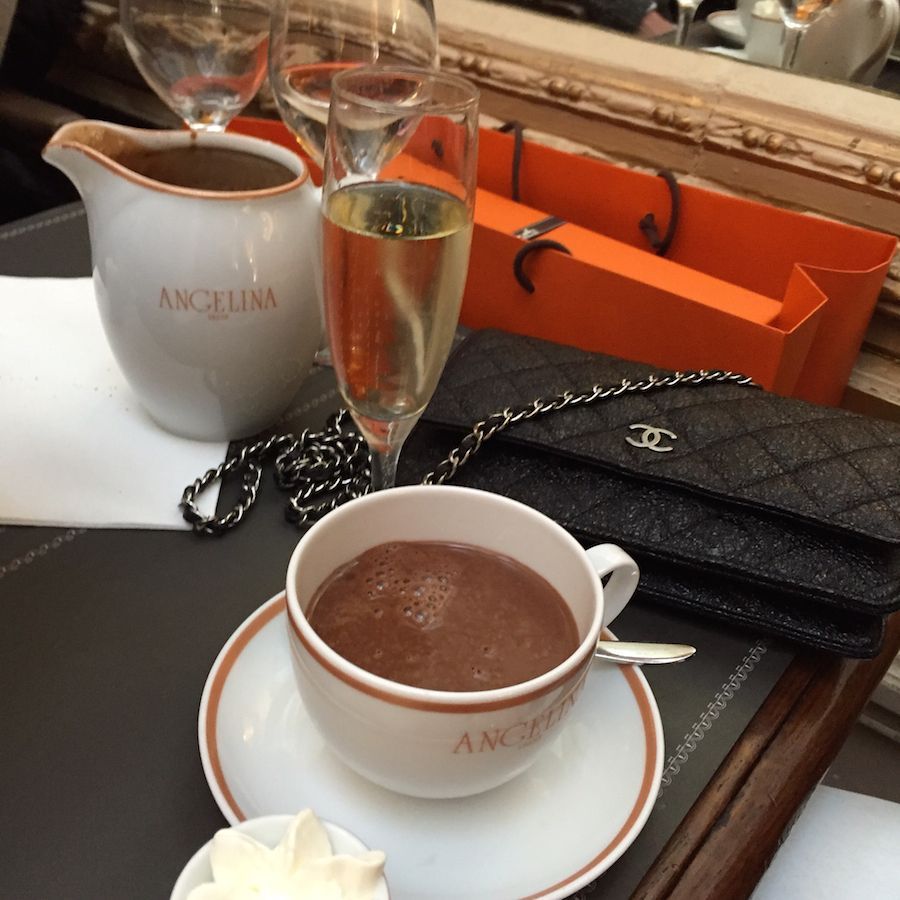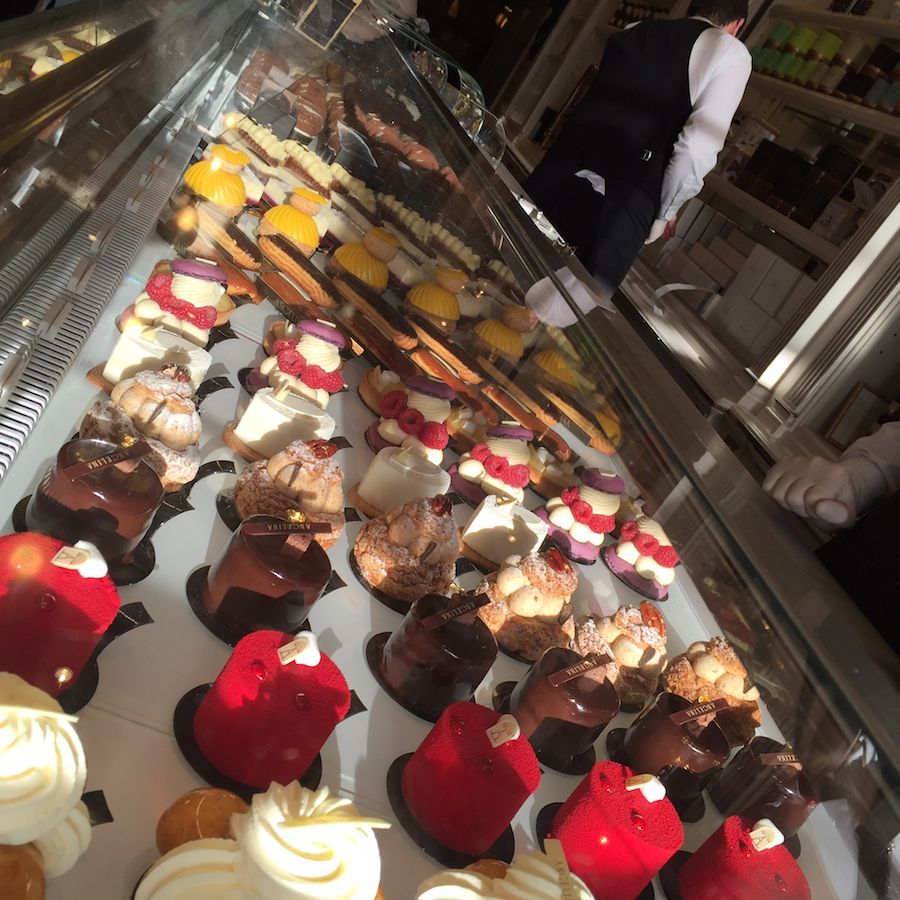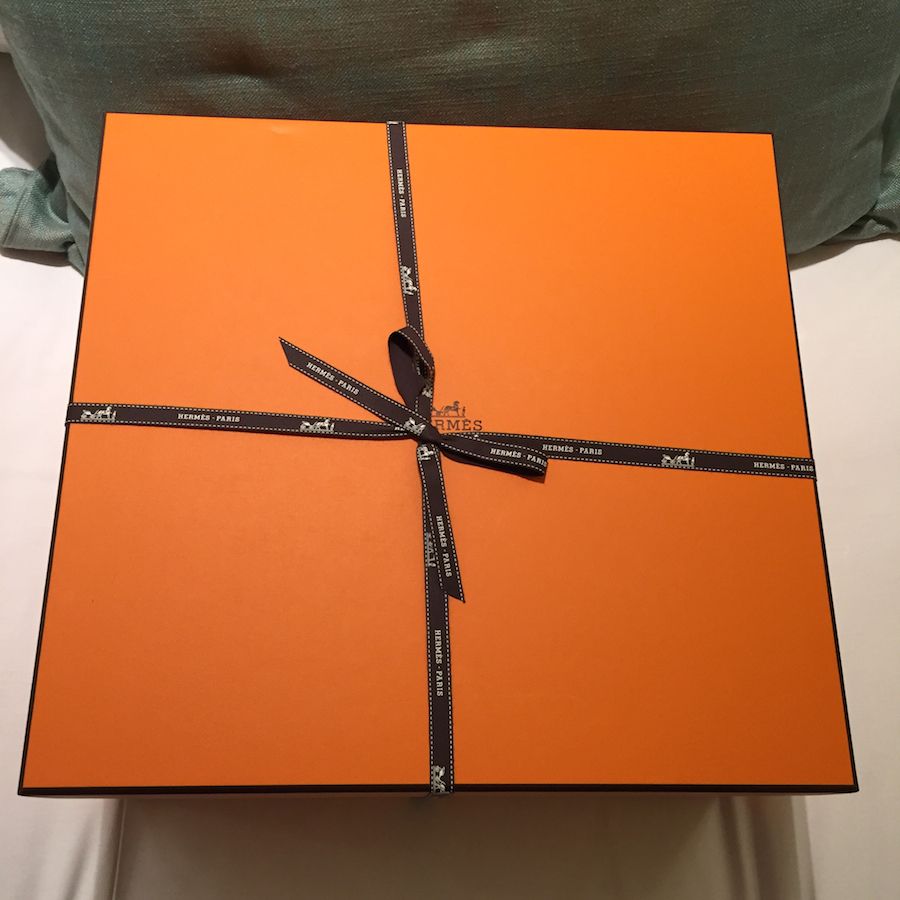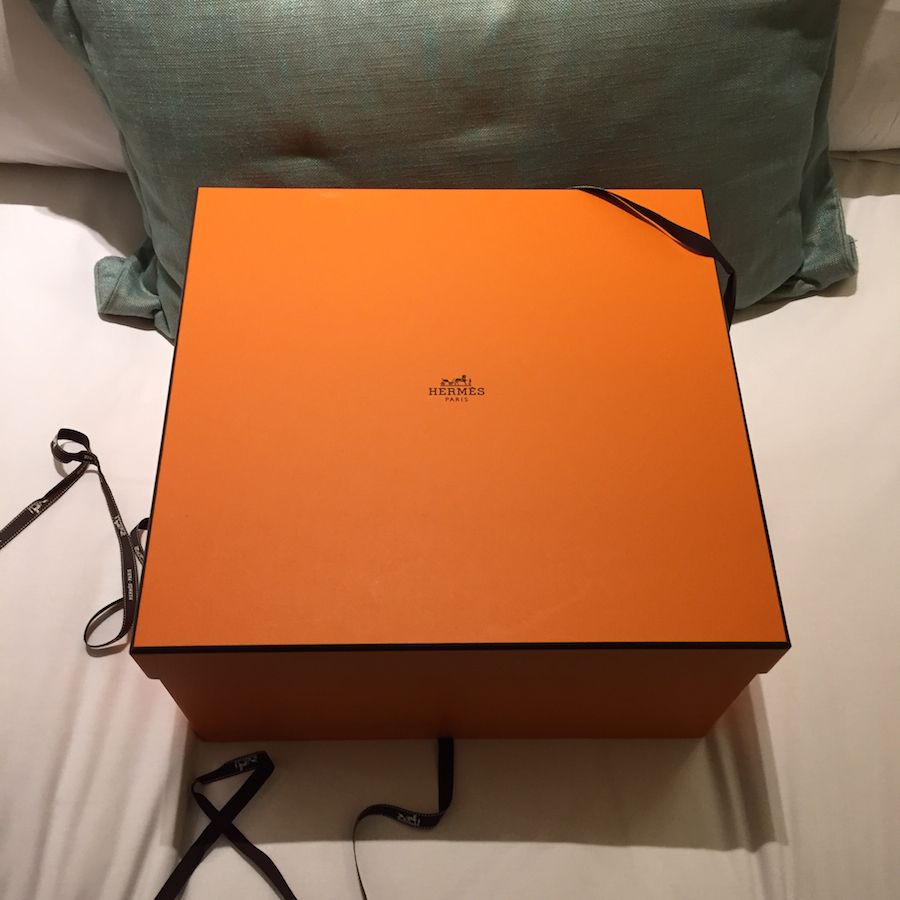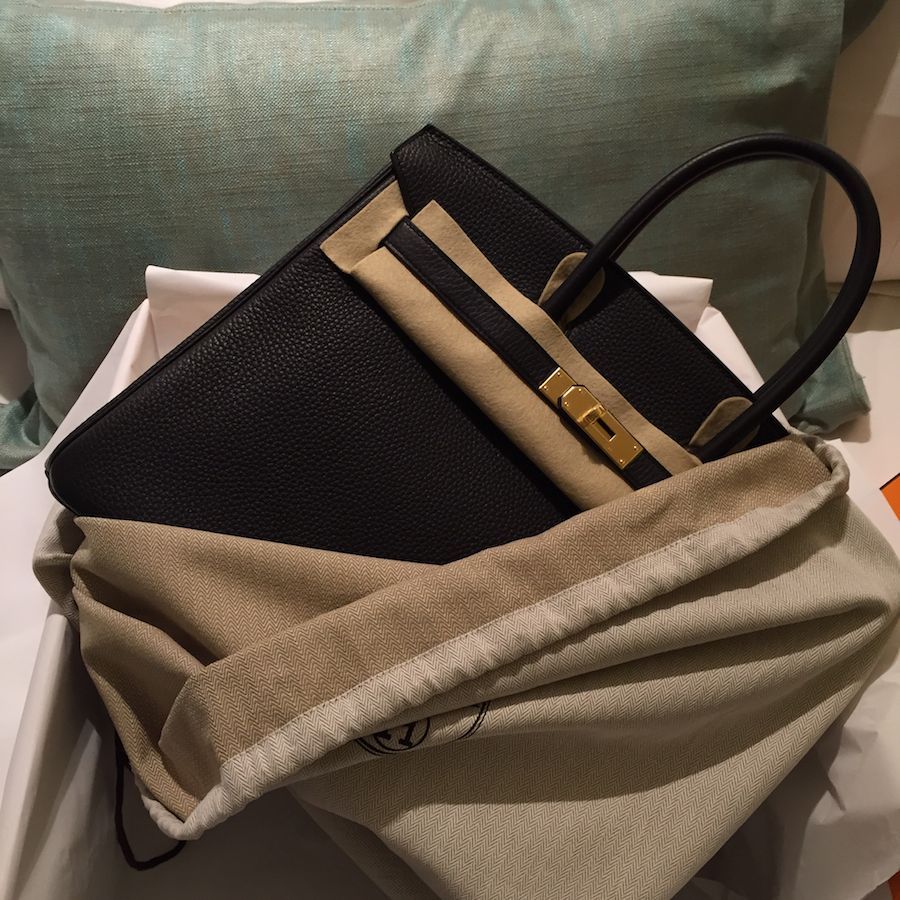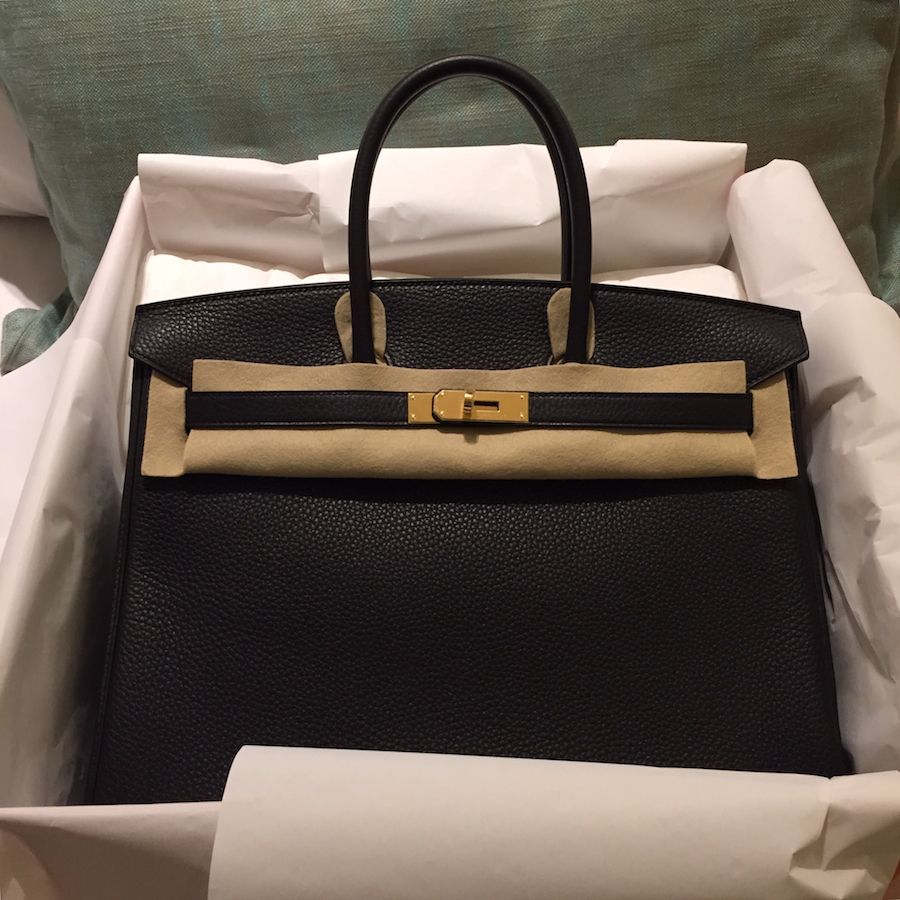 Capturing the daylight hue of the color Plomb, and the rich texture and creaminess of this clemence leather. I formally introduce Miss MVP, aptly named Most Valuable Purse to honor her place of adoption… the mothership.
Still a little ways to go…  I'll guide you through what to expect next:
We have completed:
Stay tuned, my favorite parts (and pictures) are yet to come! Hope you are enjoying…
Love PurseBop
XO