One of the Paris -Dallas moments that will forever be etched into my memory was when maestro Karl Lagerfeld accepted the Neiman Marcus Award For Distinguished Service In The Field of Fashion and opened with this:
"This award is only half mine, half is to the legacy of Chanel, the spirit of Chanel, because we wouldn't be here without that."
It was so humbling to hear him in his warm Parisian accent pay homage and tribute to the very woman who began the House and 'Legend' of Chanel. It ultimately was so fitting that NM presented this award to Karl just as Stanley Marcus presented it to Coco Chanel herself in 1957.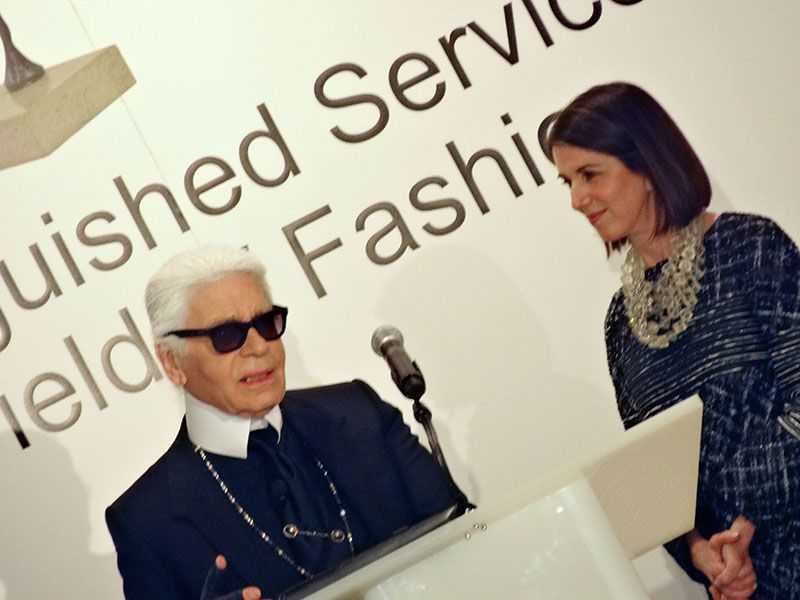 To stand in that space, to see him and hear him say "Cha' nel" was Pursebop's most triumphant moment. If I wasn't a passionate aficionado beforehand, this experience cemented that I will forever be a CC girl. Mr. Lagerfeld keeps that 'romantic connection to Coco' so alive…
I must confess, even in that moment, I caught myself looking down at my Lego brick sitting pretty on my hip with a renewed sense of pride and love, all while snapping up as many pictures as I possibly could to share with you. I wanted to carry these sentiments home to write this post feeling just as I did during these monumental magical minutes of fashion history.
"In 1938, Stanley Marcus, son of the founder of Neiman Marcus instituted the Neiman Marcus Award for Distinguished Service in the Field of Fashion, to bring into public awareness emerging designers from Europe and America. The award is given to those who have made a distinctive contribution to the world of fashion by designing, promoting, or wearing fashion in a way that influences the public…"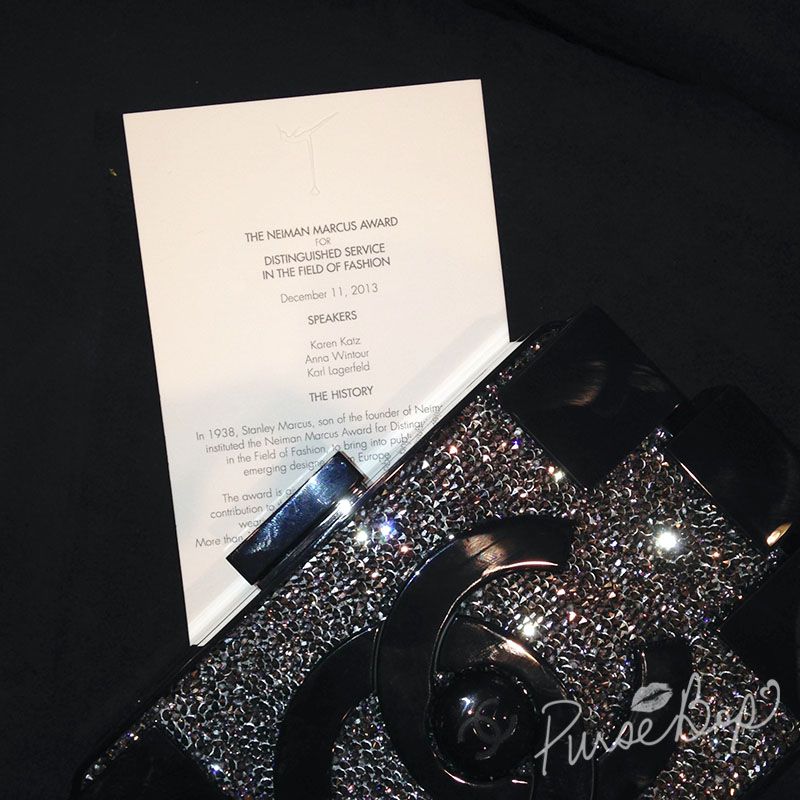 The flagship store cleared out all of it's Christmas decor for this private event and rolled out 'black' carpets in his honor…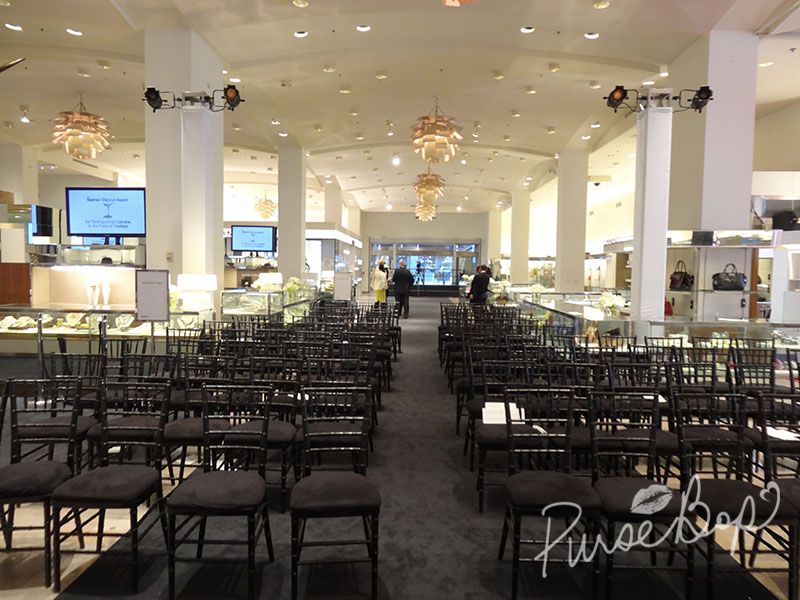 André Leon Talley (center), former US editor-at-large for Vogue magazine, arrives on the scene. Talley has been a front row regular at fashion shows in New York, Paris, London and Milan for more than 25 years.He uses his influence to promote young fashion designers and mentors young talent in other fields.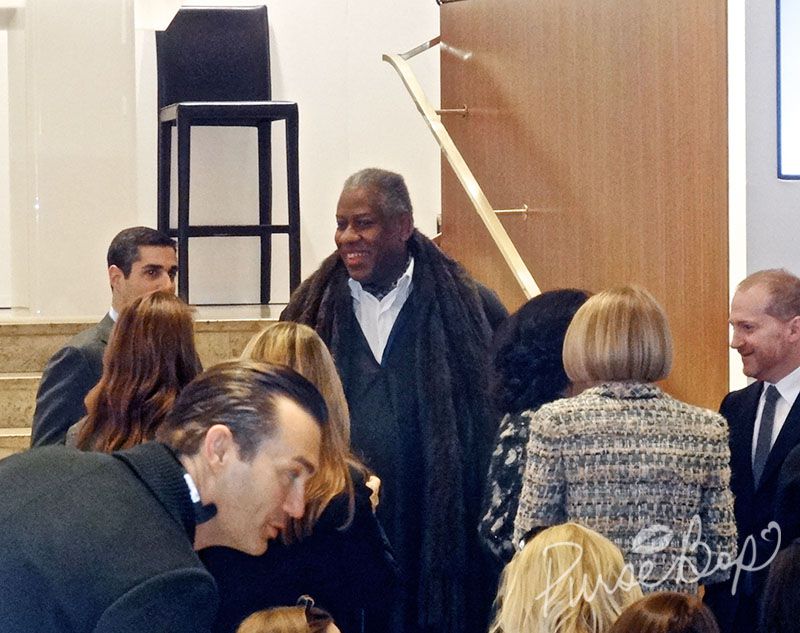 There's Ms. Wintour (center) looking fabulous and chic as always. Ken Downing (fashion director and senior vice president of Neiman Marcus stores) mingles with the crowd (right) as we await Mr. Lagerfeld's arrival.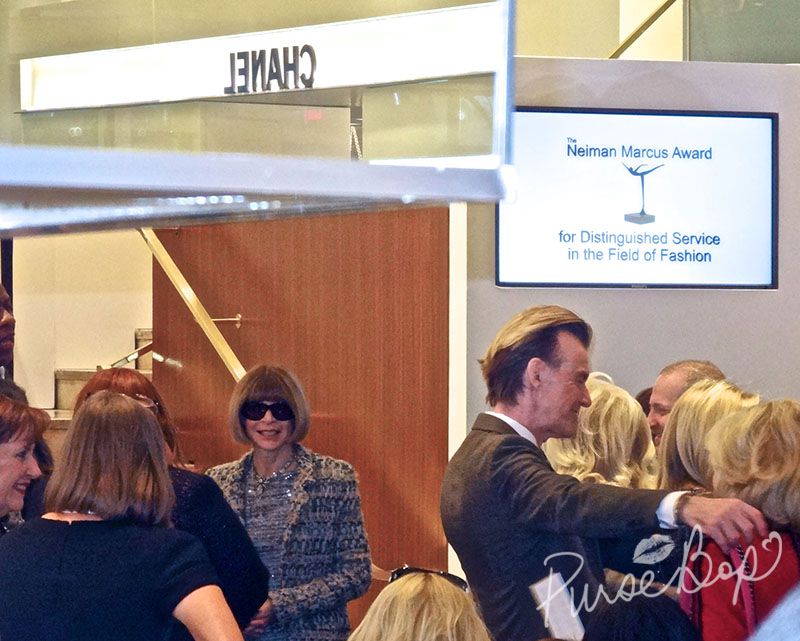 The admiration was palpable in the hush that overcame the room as Karl arrived…we had to pinch ourselves to believe it was actually him.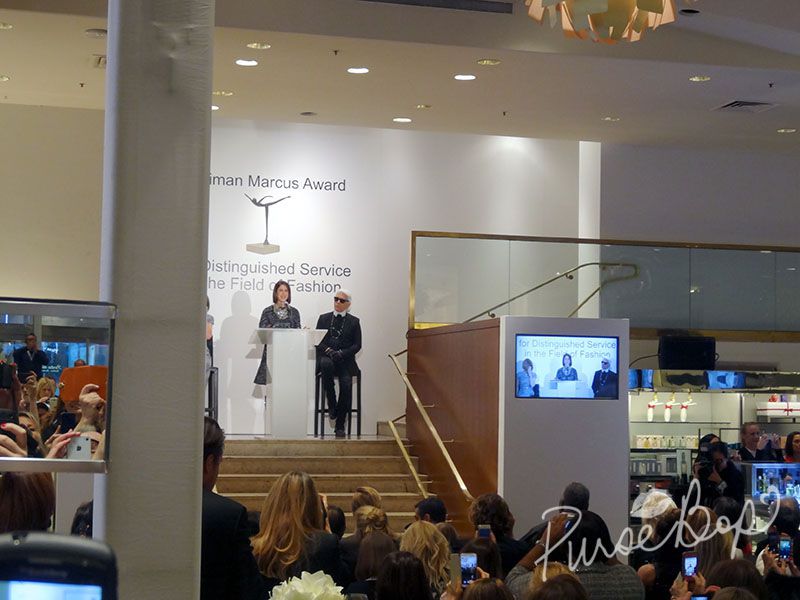 As Karen Katz (CEO and President of Neiman Marcus) spoke eloquently about Karl and his contributions to the fashion industry, my thoughts drifted to the many pieces I had collected over the years; no other brand has captivated my attention to this degree. The man before me was the creator of my beloved CC's and all that Coco Chanel stood for…
Anna Wintour humanized Karl Lagerfeld as she shared details of their friendship over the years. Her voice was warm and shook with emotion, a side I'm sure few get to witness from the fashion powerhouse. She said that in addition to being a fashion designer, that Karl's also "a writer, a photographer, a linguist, a critic, an illustrator, a raconteur, a historian, a critic, a collector, a movie director and even a brilliant ball room dancer…She added that he's a 'genius' at decorating who "changes the look of his sensational homes as often as you and I change our shoes," LOL She said he's "happiest at home with his cat Choupette, surrounded by his vast stacks of books, sketching those beautiful beautiful clothes for all of us to wear."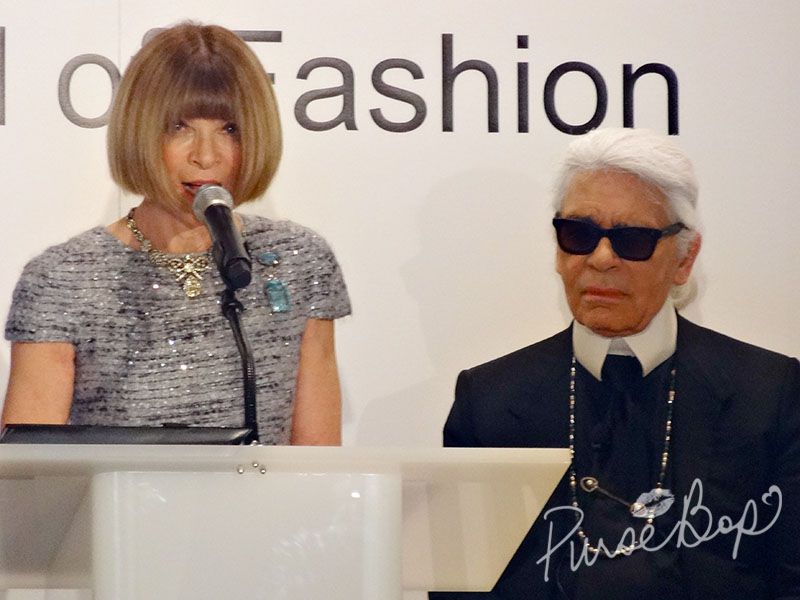 Following the acceptance speech by Mr. Lagerfeld, the crowd parted for him to walk to the newly renovated and endlessly tweaked Chanel boutique. The tireless effort of the Chanel USA Visual team was evident.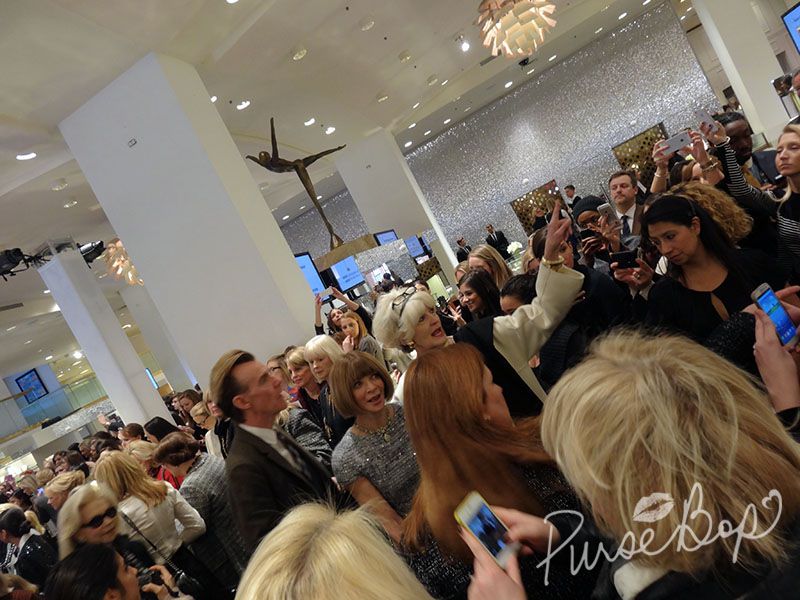 As Anna walked by, all I could remember was a quote of hers pinned to my bulletin board…
"Create your own individual style. I'm not interested in the girl that walks into my office in a head-to-toe label look that's straight off the runway. I'm interested in a girl that puts herself together in an original independent way."
–Anna Wintour
These are words PurseBop truly lives by, in fashion, in my business and now in my blog…
Imagine my honor and delight to see Karl this up close and personal…
I navigated the organized chaos to get a glimpse of the maestro admiring his own collections.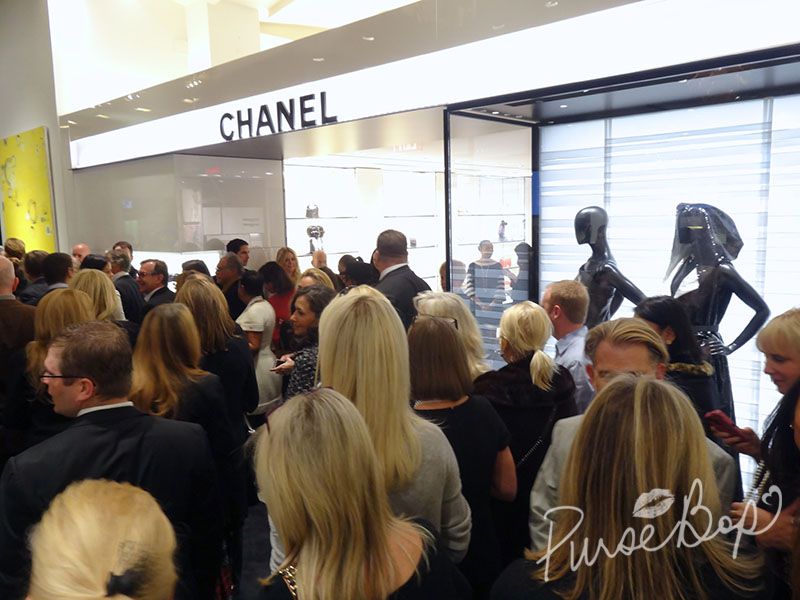 It was an honor to follow with Pursebop's own 'CinderLego' that was bought at this very boutique!(my very own sort of Paris-Dallas souvenir…)
She'll always hold a special place in my heart…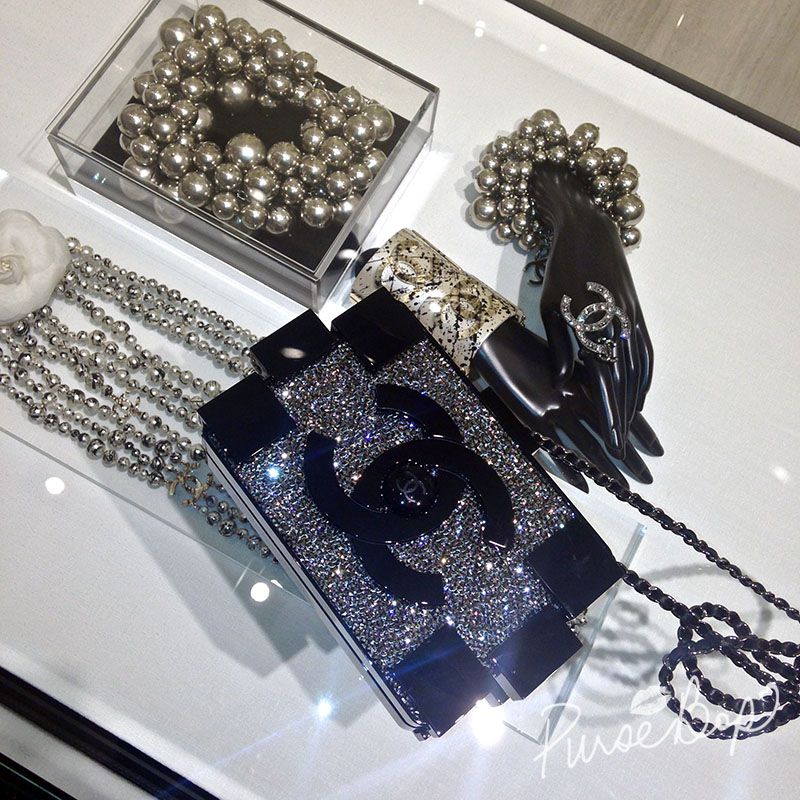 I can remember my longing and anticipation for that first Chanel classic flap bag so vividly…even after all this time, it has yet to wane!
I am living my dream, my Coco dream…
Love,
PurseBop
XO