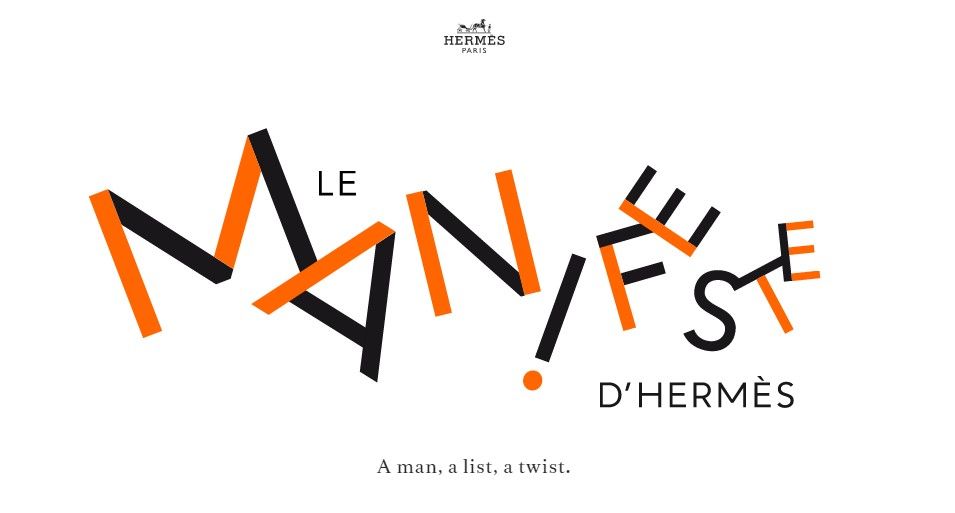 Let's dive straight in:
WHO: 350 people, some longtime VIP customers, but also distinguished guests from the design, architecture and business worlds.
WHAT: Hermes hosted the only exclusive event for special guests to celebrate the international launch of the new men's platform
WHERE: Museum of Contemporary Art Warehouse in Chicago, IL
WHEN: Thursday, September 24, 2015 , 7:30 – midnight
WHY: Le MANifeste d'Hermes is an ambitious new digital project to showcase the company's often under-appreciated menswear offerings. The website is designed to be interactive and engaging – think puzzles, creative videos and product showcased in unique ways.
I was fortunate to be among one of the few to be invited to this fantastic, history-making event and it far exceeded my expectations!
It was shrouded in mystery. After a discreet valet, we walked down a long dark alley with an illuminated sign at the end reading MANifeste d'Hermes. After climbing up an unusual staircase illuminated with bright red lights and dangling neon-lit hangars, we were rewarded for our efforts with champagne.
We then entered a wide-open dimly lit warehouse space creatively divided into interactive zones. These ranged from a video wall made from signature Hermes orange boxes to a life-size hopscotch game designed in a tromp l'oeil style. There were also synchronized dancers on treadmills sporting Hermes athletic ware, a conveyor belt of men's bags going through an x-ray machine, and a live jeopardy-like Hermes gameshow called "From the Horse's Mouth." At every turn there was a new spectacle!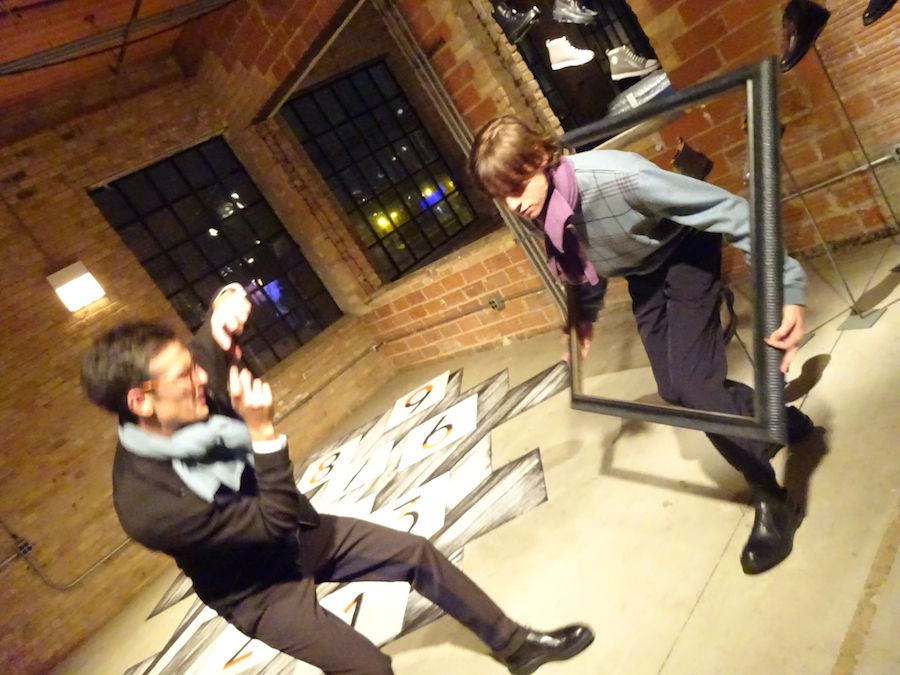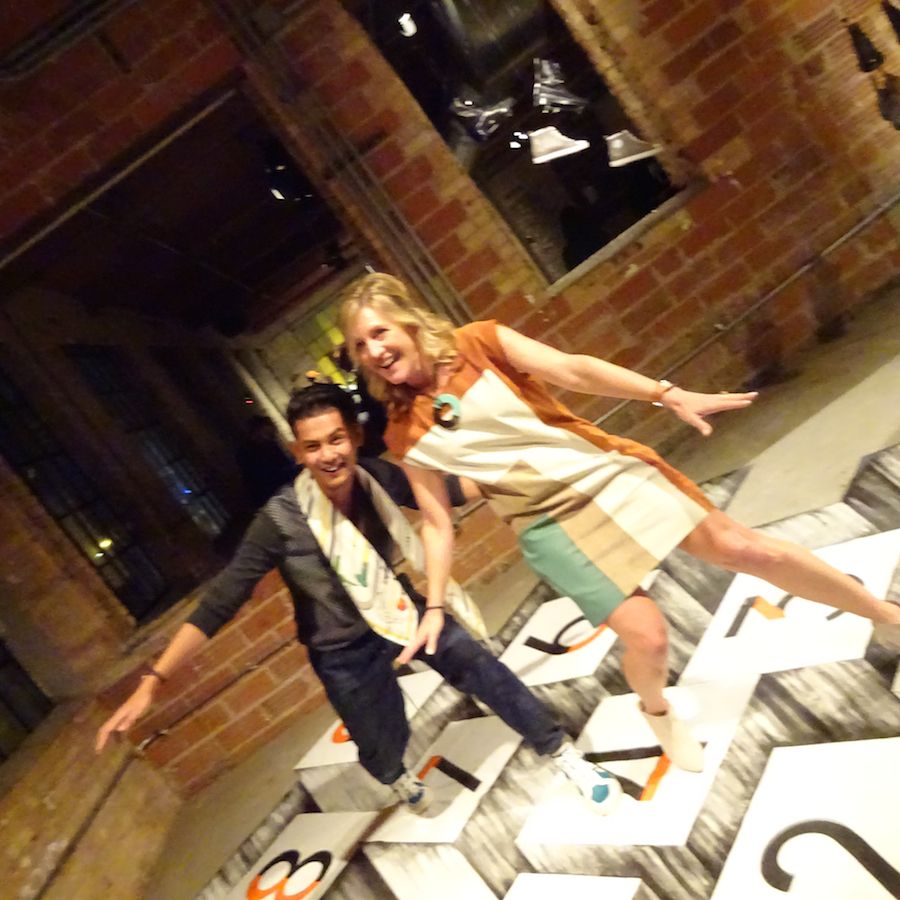 The event celebrated the launch of Hermes's new men's website lemanifestedhermes.com. All of the live interactive elements mirrored elements encountered online. Each segment of the site includes a "featured products" section and links to the main Hermes e-commerce platform.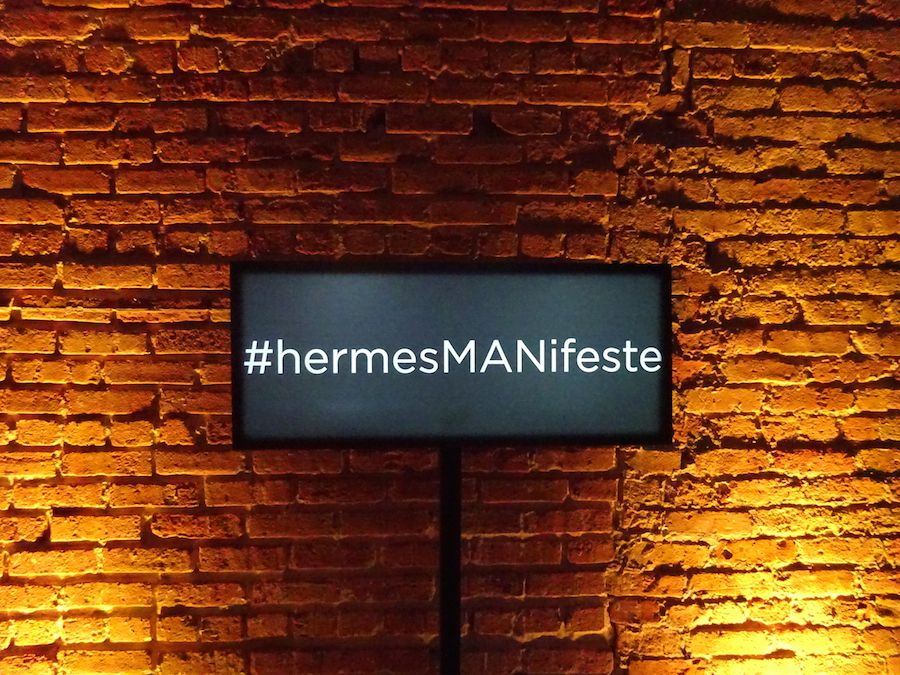 The night closed with a set by DJ Mike Nouveau where Hermes USA CEO Robert Chavez was seen on the floor. There was no shortage of stylish women or Birkins.
PurseBop's Exclusive Video Coverage
When I asked the managing director for Chicago's store  why the event was held exclusively in Chicago, she replied, " For a simple reason: it's one of Veronique Nichanian's (head designer for the menswear line) favorite cities in the world."
For the next week, the second floor of the Hermes boutique downtown will be dedicated to their menswear offerings. If you're in the area, check it out, Mr. Pursebop and I surely will! I've convinced the 'Mr' he needs a made to measure jacket lined with two 90 cm Hermes scarves of his choosing. How cool is that!
Stay tuned for more on the new website and this season's menswear line.
I'm also sharing my video coverage from the event on youtube and @pursebop IG.
For more information on what Le MANifeste is, visit the conversation here on BopTalk.
Special thanks to the fabulous Chicago based Hermes family that made our evening so special. Bravo!
Love PurseBop
XO