That magical September weekend of the NYC Hermès Madison opening had one more exciting episode for us that looked something like this.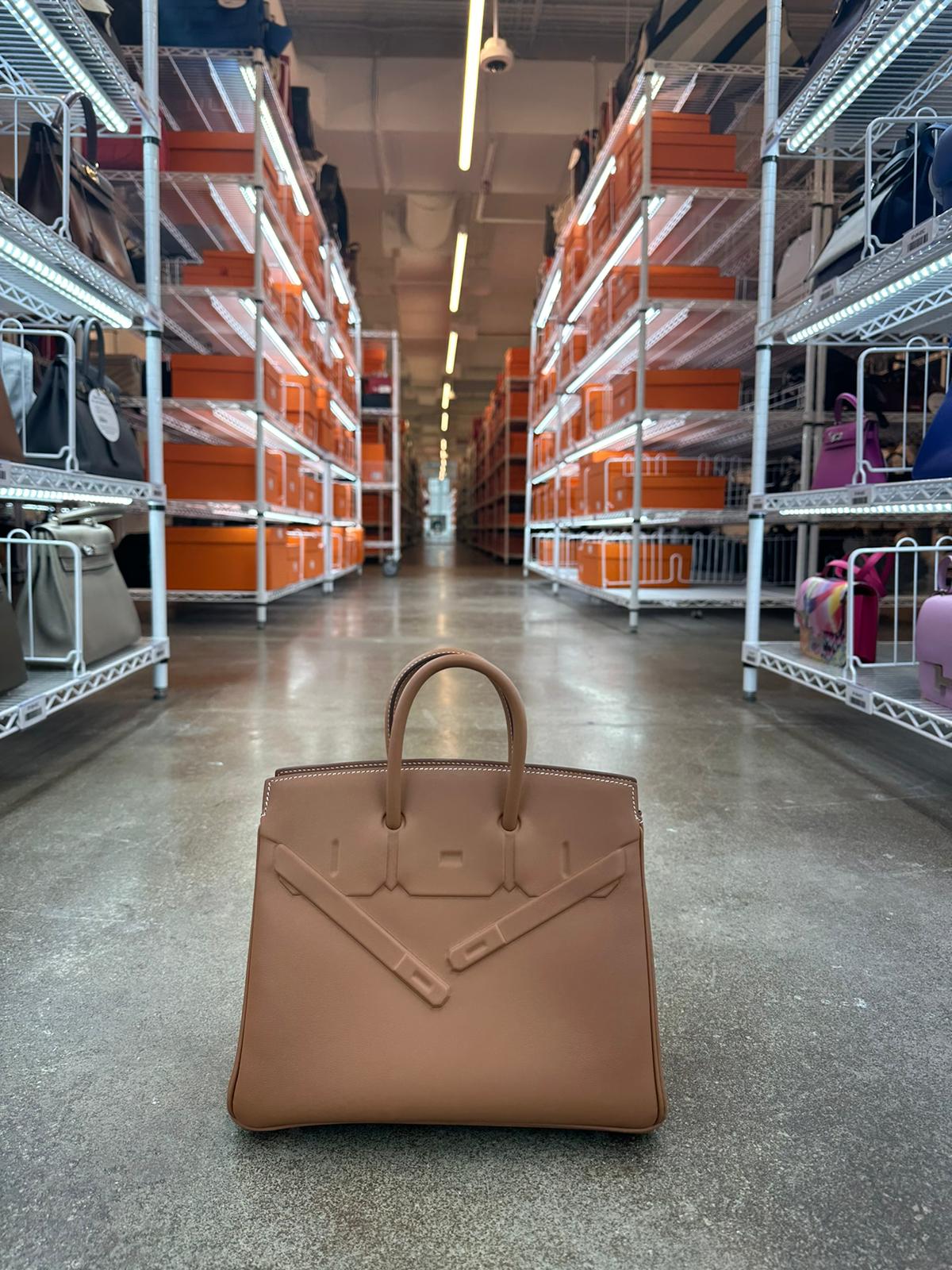 Amazing, right? Where are we? Is that what your mind is thinking right now? Where are these rows and rows of orange boxes carrying the handbags that most only dream of? No Kar-Jenner closet or vault comes close to the magnitude of magnificence here.
So where is this magical place?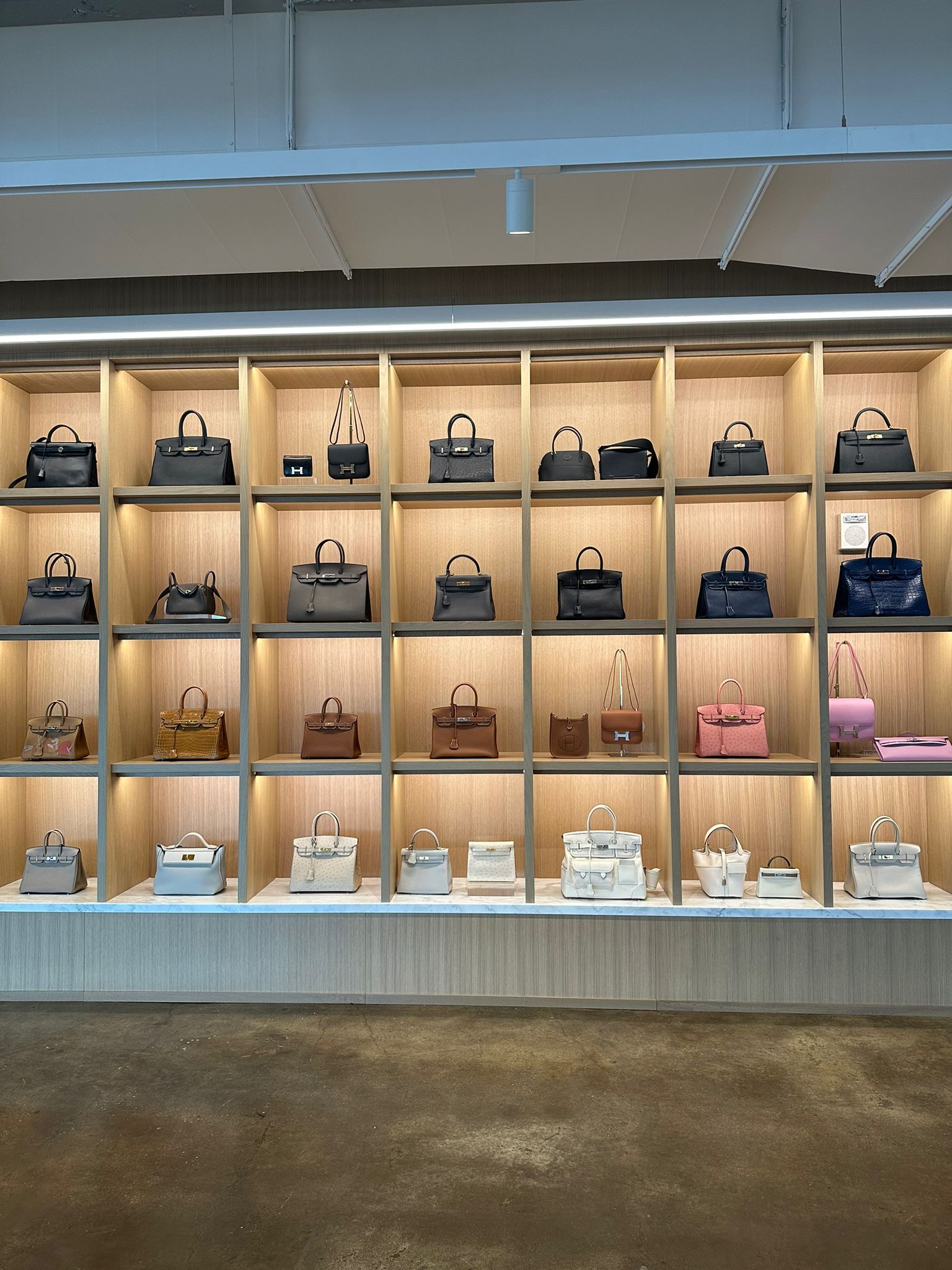 It's the New York FASHIONPHILE headquarters, located in the Starrett-Lehigh Building on 601 West 26th Street, Suite 400B. Armed with coffees in hand, a sprinkle of a Hermès hangover, the PurseBop team made its way there on Friday morning Sept 30th for a private tour. Or, perhaps it's more aptly described as a visit to the most desired handbags in your wildest of dreams.
Because of its growing clientele in New York, it made sense for FASHIONPHILE's Carlsbad, CA office to expand to the east coast. Instead of a two week process of shipping and authentication from the West Coast, New Yorkers can buy and sell within days.
A candy store of handbags from every color in the rainbow and beyond, we were ready to pull out sleeping bags and stay the night. With over 25,000 items, there's something for every handbag lover.
Immediately upon entering we were greeted in the lobby, first by two young ladies behind the desk. Then, there was a special welcome from a Prada robot, a foreshadowing of the multitude of luxury items to be seen in the office. Our Hermès bags of the day made themselves comfortable, just like our matching Hermès Chypres sandals.
To the left are cubicles set up for customer appointments. Here, clients meet with representatives to either start or learn more about the consignment process and perhaps receive a quote while they wait.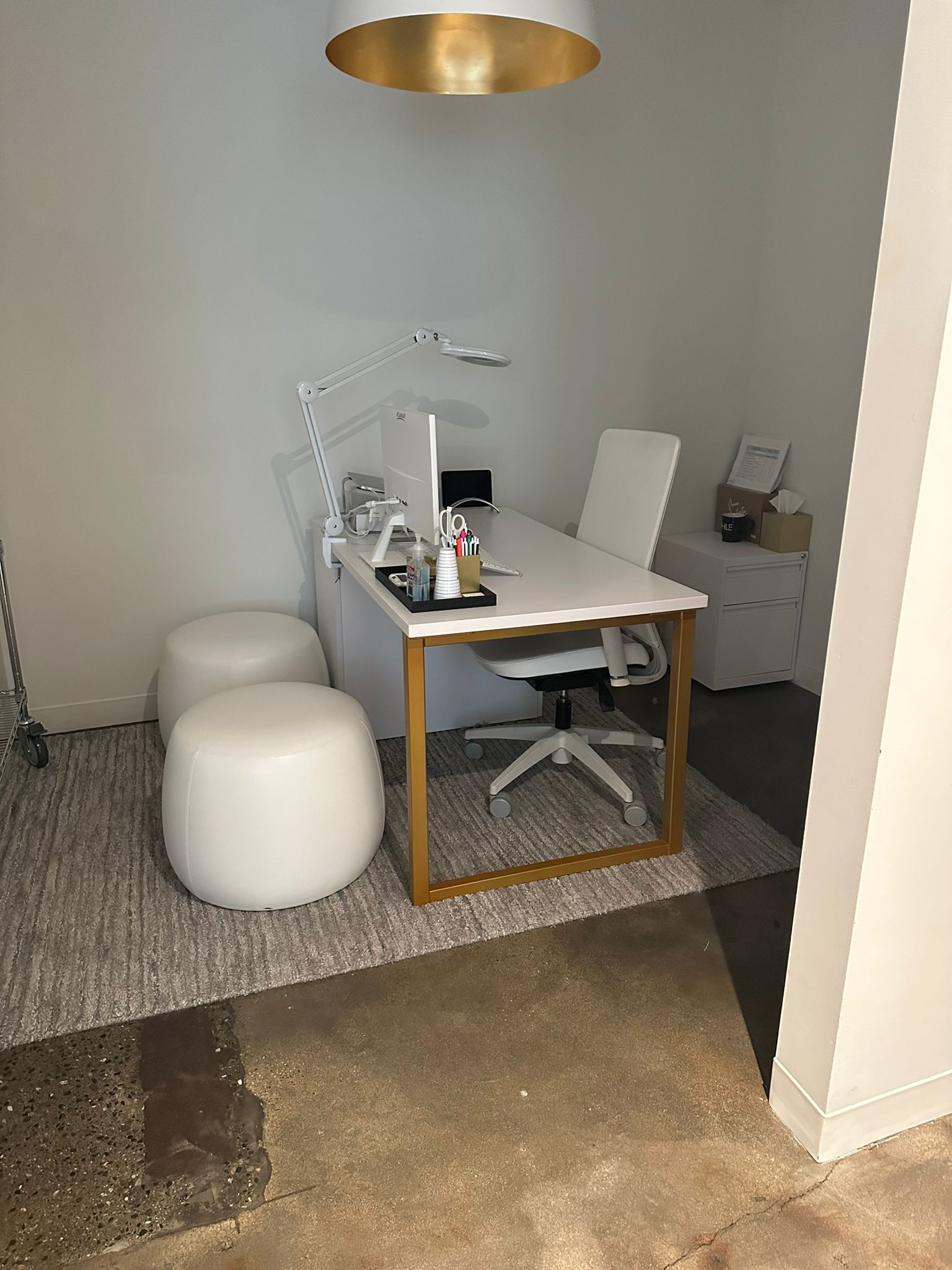 The real highlight was spending the morning with FASHIONPHILE founder, Sarah Davis. We have chatted about all things bags for years but this was our first face-to-face meeting. For those that may not know Sarah, she founded FASHIONPHILE in 1999 as a law school student, with a vision for it to become the biggest resale platform for buying and selling ultra-luxury, pre-owned accessories including Chanel, Hermès, Gucci and Louis Vuitton.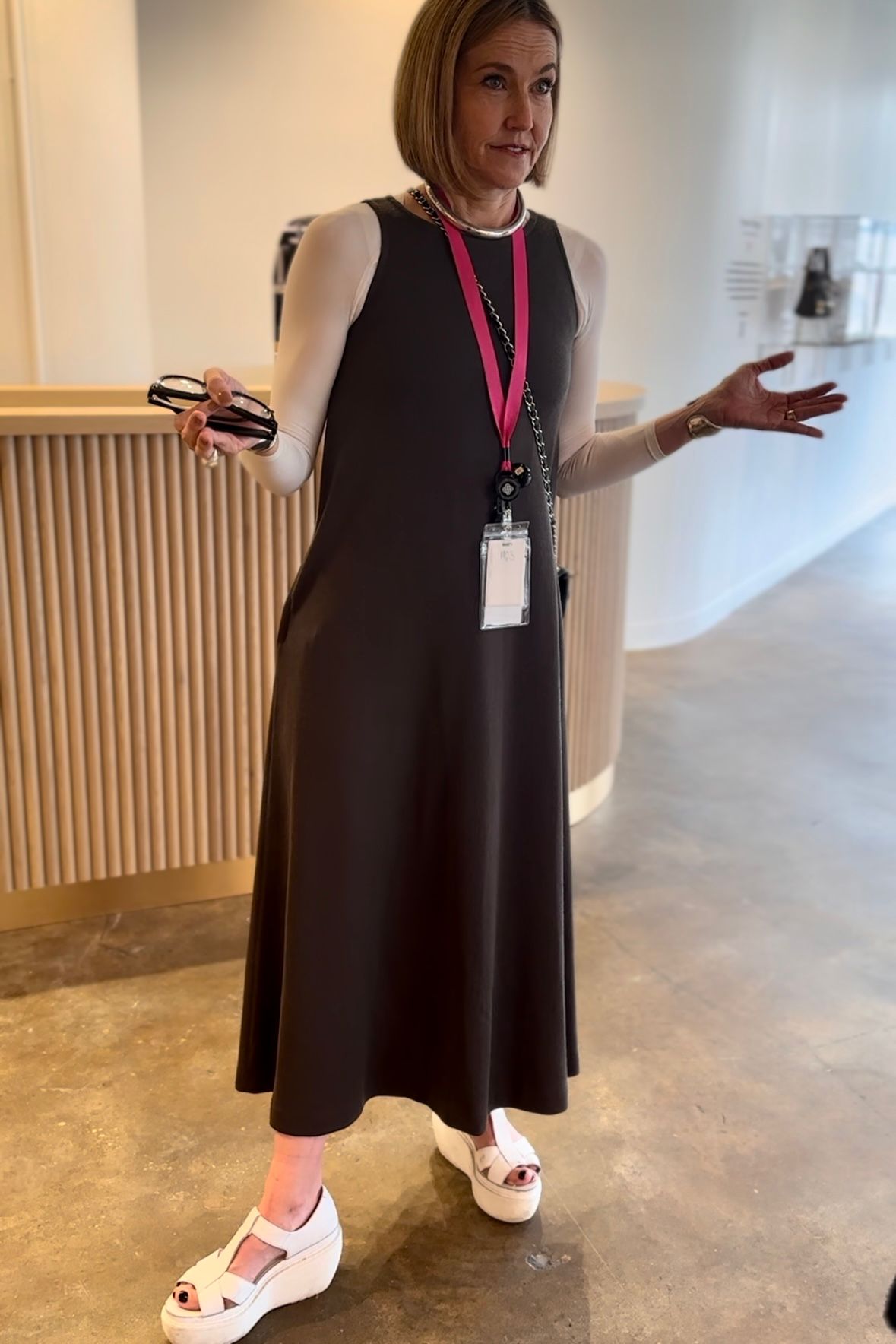 Sarah is a visionary entrepreneur. Recognizing that luxury brands never had sales or discounts, she brought the "sale" right to consumers' doorsteps… or their computers, that is. Over the years, Davis grew FASHIONPHILE by word of mouth and building client relationships, on both the buy and sell sides.
"60% of the time you come to sell something, you end up buying something," according to Davis. And we could totally see why after walking through what seemed like miles of designer bags, shoes, and accessories.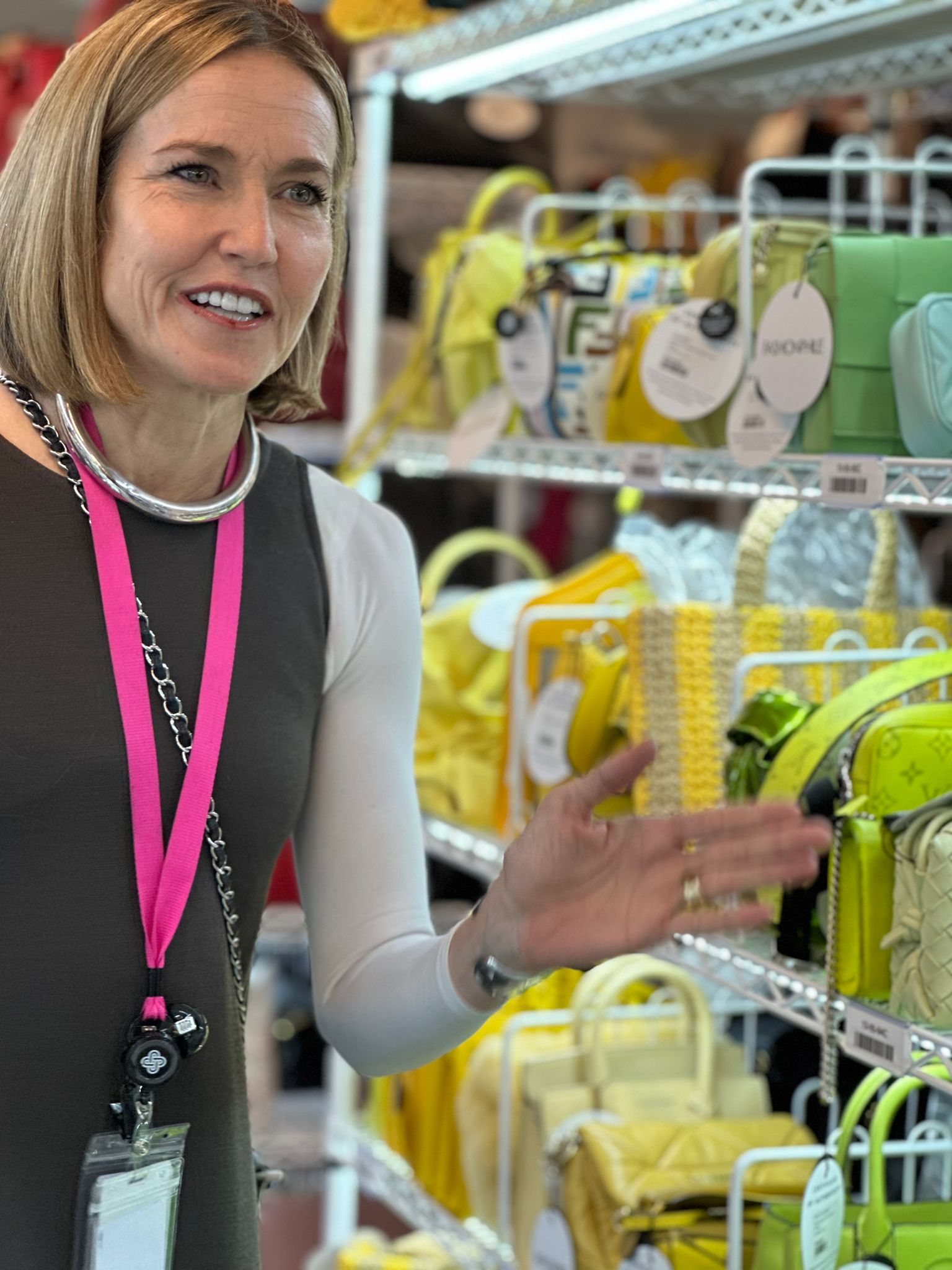 Passing the massive shelves of designer shoes, Sarah discussed the "ick-factor" in the resale market, and how she has worked to eliminate it. No one, for example, wants to wear a dirty, used shoe, let alone purchase it. "We are really particular about the shoes we buy. We only take them if they are in really great condition and then they are put in a sanitation process." True to its mission, Fashionphile has its own spa where, for each item, it cleans, vacuums, wipes, and conditions the leather/skin.
Clearly our favorite sections were the Hermès and Chanel bags.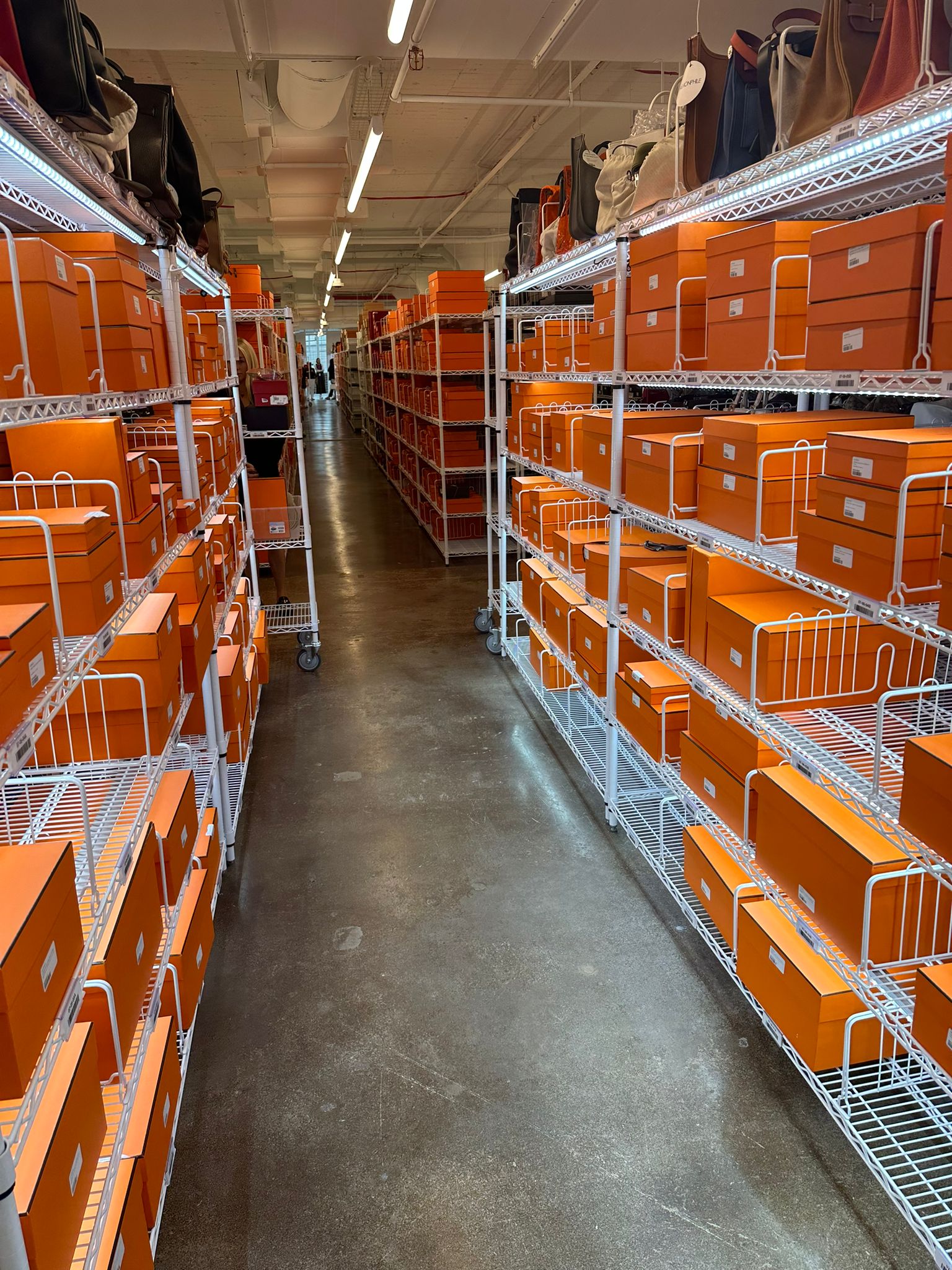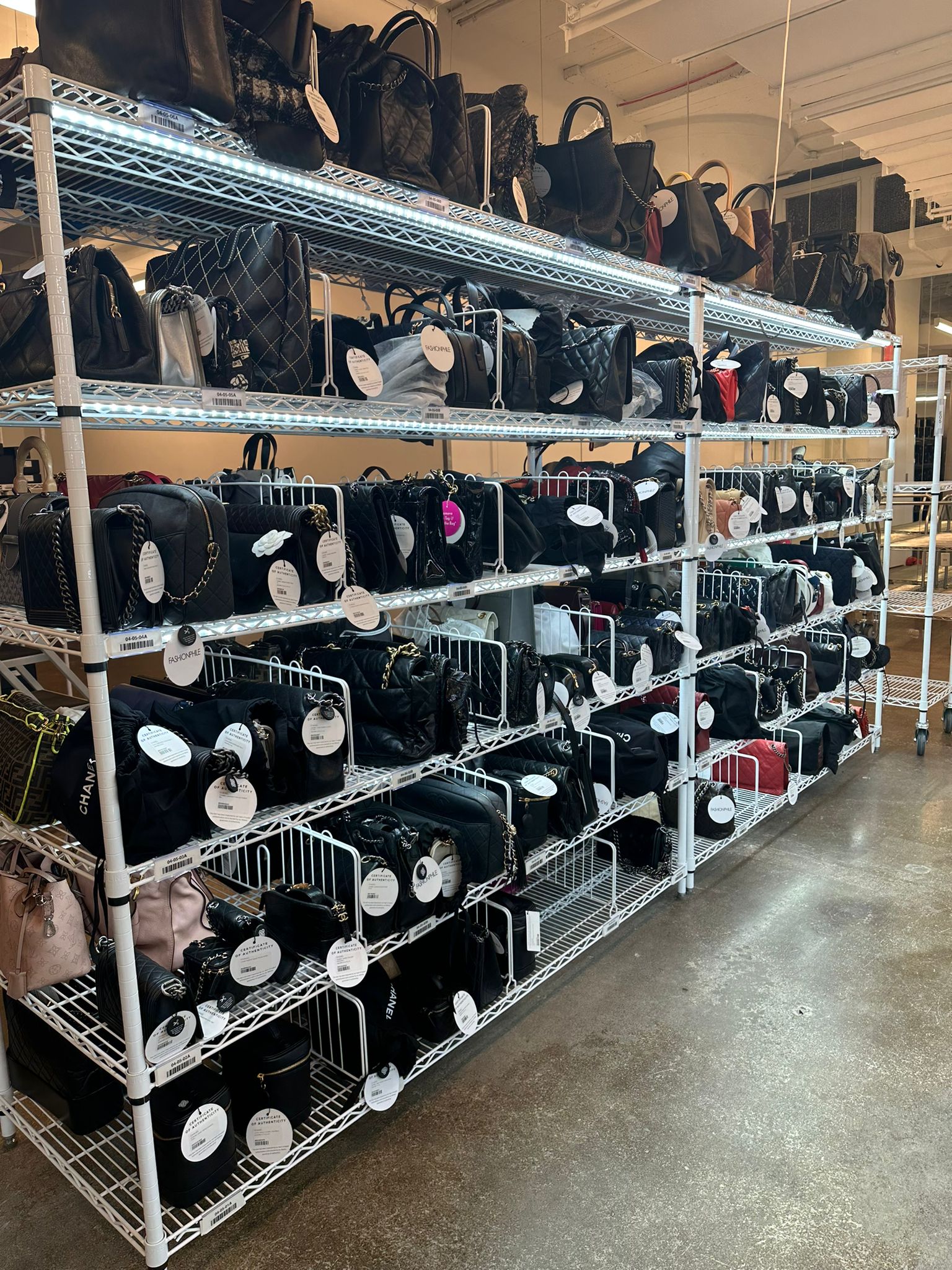 However, the real show-stopping shelves contain the color-organized "trendy" bags. It was a display to make Marie Kondo proud.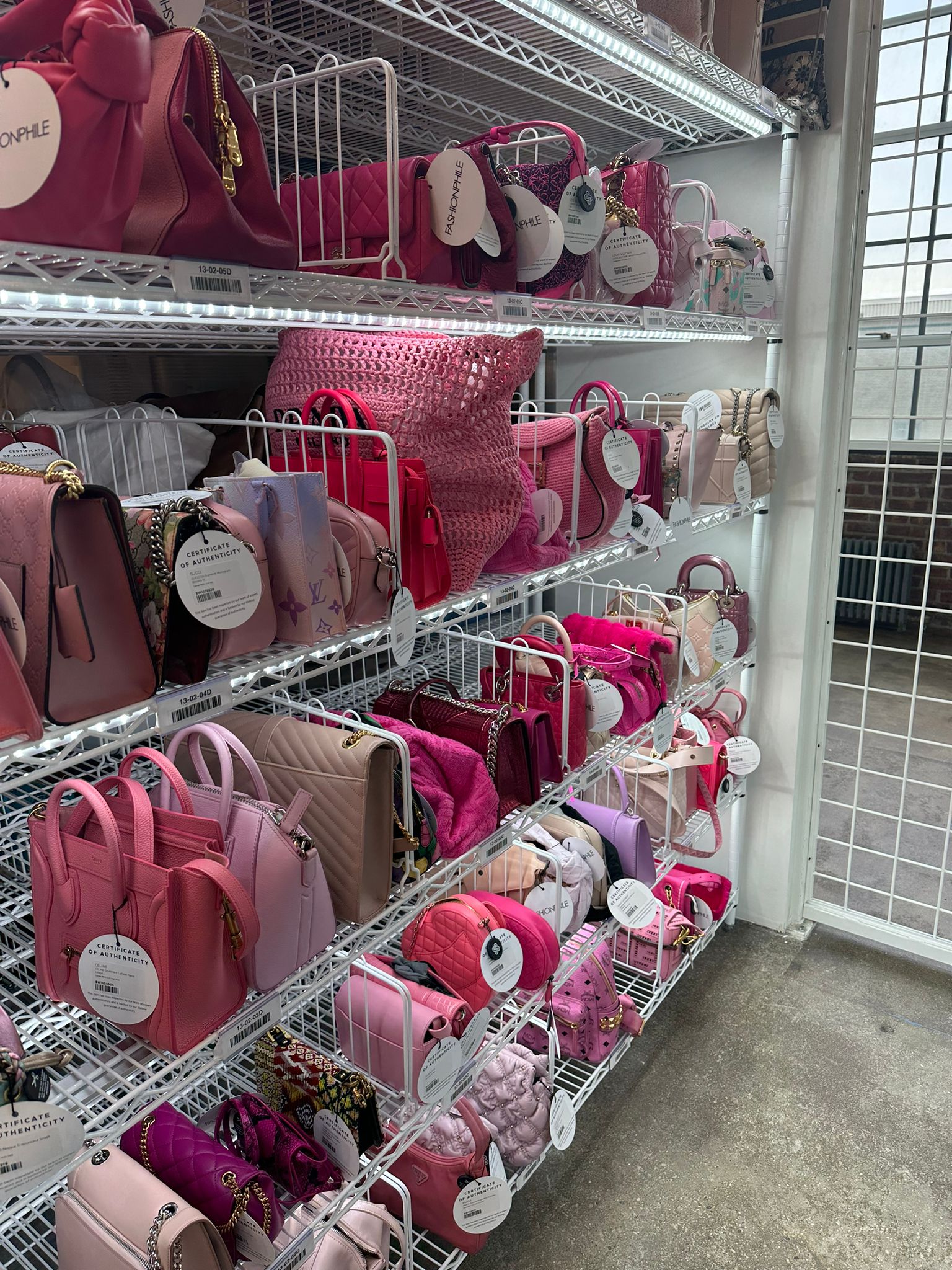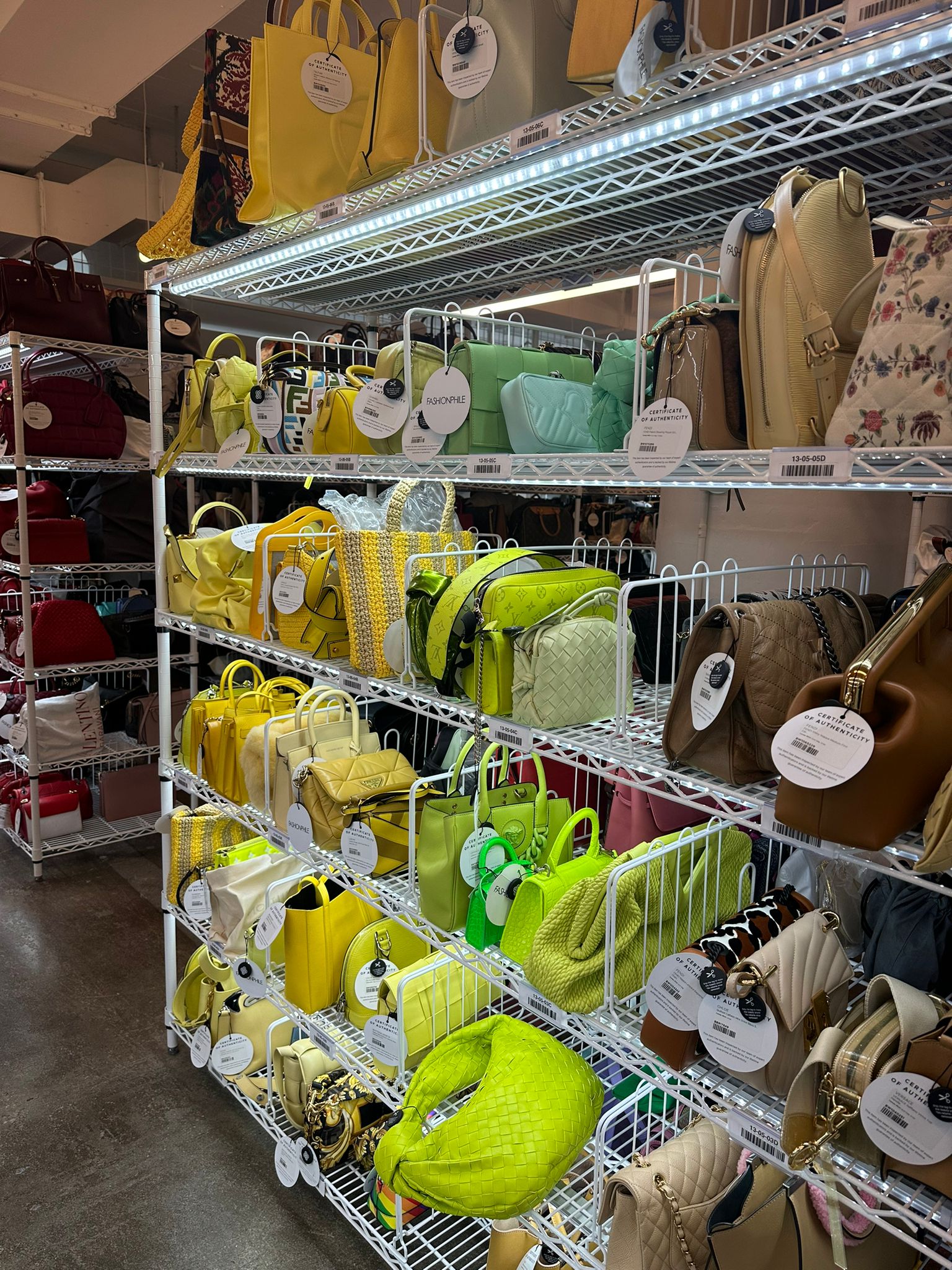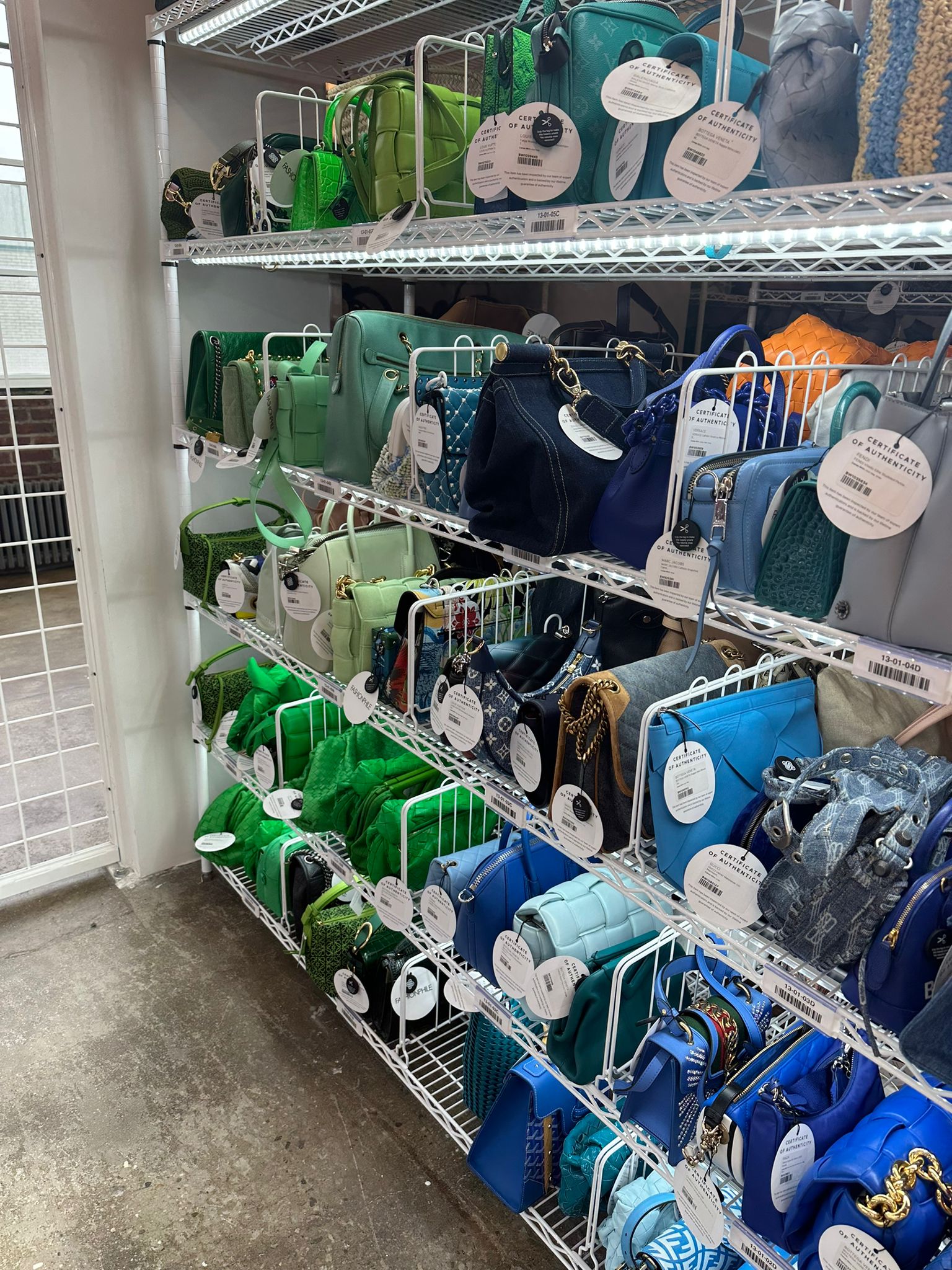 Quite honestly, the best part of the visit was the opportunity to view and experience so many styles we've only seen in pictures. Having personally visited the New York facility, we can undoubtedly confirm that it's a phenomenal resource for any handbag lover.
Whether you are there to buy or sell, it's a place to plan your next purchase. Where else can you try on all sizes of a Birkin or Kelly? Or compare Hermès Magnolia to Rose Pourpre on different leathers. We saw styles new to our eyes like the padded Kelly 25, the Shadow Birkin 25, and even an In and Out Birkin 25. 
Likewise, it's great for anyone looking for their first (or next) Chanel bag. Let's say you want to try on a Chanel medium versus small classic flap or a Coco Handle in the extra mini size. It's unlikely that your local Chanel boutique will have the stock in store to try. FASHIONPHILE is a playground of bags to touch, see, try and plan your next acquisition.We'll share photos because we know you want to see exactly what we're talking about.
So we just had to ask "what's the hottest bag in store"? Sarah's answer is probably no surprise. "The littles are hard to keep on the shelves," she said.
The FASHIONPHILE Showroom is available for in-person shopping, by appointment only, at 601 W 26th St, Suite 400, Floor 4, New York, NY. When you arrive, you'll be handed an iPad to shop the inventory with a dedicated sales associate for 1.5 hours. To visit the Chelsea Showroom, call (332) 330-6133 to make an appointment from 10am-4:30pm.
Let us know when you visit and do share the goodies you drooled over or brought home with you…
Updated: November 14th, 2022