We've covered some of the downward trends in the Chinese economy over the past few months and outlined what effects they might have on the global luxury market but it appears things might not be so grim. While spending inside China remains problematic, according to a new report by Fung Business Intelligence Centre (FBIC) and consulting firm China Luxury Advisors, Chinese luxury consumers are still spending more money than ever around the world. Spending by Chinese tourists is expected to jump 23% this year to $229 billion, surpassing $200 billion for the first time. The same report projects that tourist spending will reach a whopping $422 billion by 2020. In that year 234 million Chinese are projected to travel around the world, and to further locales like the US and Europe.
This could prove to be a boon for struggling retailers in the west who are experiencing continued declining sales from their domestic bases. Overall, watches and jewelry is the strongest category, with global tourism spending up 35.6% since August driven by a 43.1% increase in Chinese spending. Leather is up 34.2% while fashion and clothing is up 21.7%. These figures could help turn around the balance sheets of some luxury brands struggling in Europe and bolster the already strong Hermes's of the world.
Deborah Weinswig, executive director of FBIC, notes in a recent WWD article that department stores like Saks, Bloomingdales and Macy's are actively tailoring their retail strategies towards drawing in the Chinese consumer.
"Some retailers have been incredibly innovative attracting them. We've seen kind of an outreach and those retailers have been rewarded for it. We are seeing a lot of the department stores…becoming very forward-thinking. If you go to Saks, especially on the main floor, you've got beauty consultants who can speak Chinese. Also from a payment perspective, more and more retailers are making it easier."
Hong Kong is still the most popular destination for Chinese tourists, but by 2020, we should expect to see many more here in the US. Even with the rising strength of the dollar, Weinswag anticipates US spending will continue to grow. "This idea of authentic American brands is so important right now."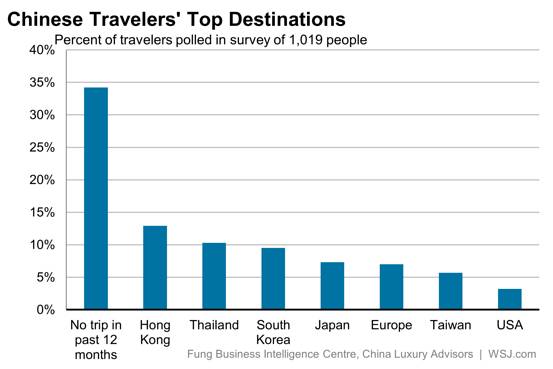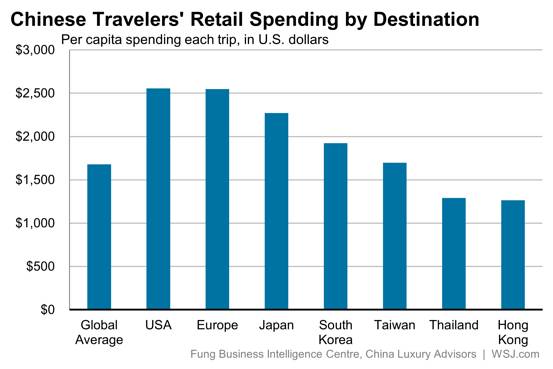 Retail spending by destination: "While a majority of Chinese tourists still travel within Asia, their rate of spending when they make it to the U.S. and Europe is significantly higher."
Updated: May 28th, 2017