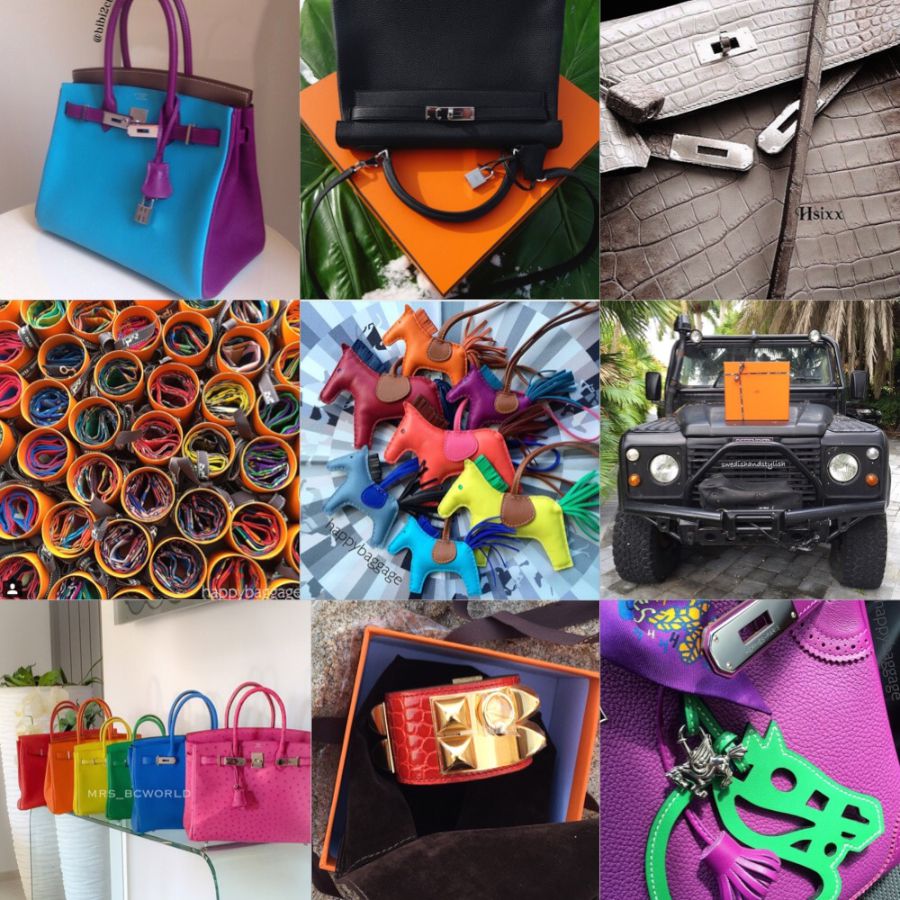 Pictures from IG @PurseBopPicks, from top left to right: @bibi2couri @pursebop @hsixx @happybaggage @happybaggage @swedishandstylish @mrs_bcworld @pursebop @happybaggage
Recently, the BBC's Sally Bundock joined Hermes CEO Axel Dumas at the newly renovated New Bond Street boutique in London to discuss developments in the luxury market and what keeps him up at night. While the company has seen it's face of challenges, including a covert takeover attempt from rival LVMH, in recent years, Dumas, a sixth generation descendent of the original Hermes family, seems increasingly confident in its trajectory.
As he sees it, Hermes, under control of his family, will always "stand for authenticity", and he acknowledges he has a unique responsibility to guard the brand's value. This starts with keeping the clientele happy. The company's recent decision to hold prices steady in the face of dramatic currency swings, as opposed to Chanel, and continued expansion into high-quality, but more financially accessible, accessories like ties and scarves reflects this stewardship.
See Pursebop's stories on the luxury industry's reaction to shifts in global financial markets here:
Hermes Declines to Follow Chanel's Lead
Read the full transcript below and find the full video of the interview here.
Axel Dumas on BBC 'Business Live' marking the refurbishment of the 40 year old New Bond Street Hermes boutique in London:
Sally Bundock (BBC): London is a very important part of your business. You've invested heavily in this store.
Axel Dumas: Well we've been very faithful to our London clientele for 40 years now and London has always been a very cosmopolitan clientele. It's kind of the capital of the world right now. Also there is a lot of competition. You need to be relevant in London if you want to be relevant in the rest of the world.
BBC: Just looking in this street there are many of your competitors here. LVMH is in this street and of course you had a fierce battle with them finishing 15 months ago. You won, you've remained independent, fiercely independent, family run. Are you still worried that that threat may emerge, not just from LVMH, but other competitors out there.
AD: When you are one of the only few independent companies remaining you probably get a lot of attention. So you always need to remain cautious. Having said that the family is totally committed to the company. They create a trust where they put all of their shares, (making them) unsellable for 20 years. That was a big token of commitment to the family.
BBC: You're sixth generation Hermes family. For a short period there was a CEO that was not a family member, just prior to you taking over in 2013. How important is that in the Hermes brand? It's a family business, it goes back for generations, back to when you were making saddles. How?
AD: What matters is not actually the family, its Hermes by itself. You need someone, family or not family, who is respecting the value of the company, and who is going to have a long term view about them and cherish them. And I think the family has been great as a guardian of this value. They don't really care about financial results. They don't really care about short-term success. What they want is that we keep Hermes with their own creativity and craftsmanship for the long-run.
BBC: So profits have been coming in. They have been going up, despite the financial crisis, despite crack down on corruption in China, all the other issues that have been hitting luxury brands.
AD: We should always stay humble. We are thankful to all our clientele that keep coming. There is a lot of authenticity within Hermes. With the financial bubble, where there was all this talk about toxic assets, where they were AAA and actually not worth anything, I think that Hermes stands for authenticity and true craftsmanship, and we were a bit of a haven for people who see risk and have confidence.
BBC: It's about the super-rich isn't it, as well?
AD: I would say that our role is to gather not just an elitist clientele but the elitist part of any of you. And I'm very proud to do ties that aren't very expensive, I'm very proud to do perfume, and very proud to do silverware also. What is true is that when we do it we try to do it in the best possible way. It's true our bag is done in France by one craftsman for 15 hours of handwork and that has a price. I would say our products are pricey to make.
BBC: Now you didn't initially go into the family business, did you? You were in banking, you were based in China for a while and elsewhere. Then you were asked by your uncle to get on board, were you keen, is that something you wanted to do eventually?
AD: I never thought about it to be honest. But when he asked me I said yes in a snap of a second. I think there was maybe a psychological issue there.
BBC: What keeps you awake at night? What are you concerned about when it comes to the company?
AD: We are focusing quite heavily on what is going on in Asia, not only corruption,  but the consumption, the rate of the economy and volatility of the currency. The second one is we need to think about digital in another way, so far we've been at the forefront of the digital, we opened our first e-commerce store in 2001. I think at the time we were the first luxury company to open it. I think we need to do better at it now and rethink that.
Let's talk: What has Hermes done to garner your loyalty? Share your experiences at BopTalk.
Love PurseBop
XO