Just when you thought an Hermès Birkin couldn't get pricier, feast your eyes on this truly one of a kind platinum-plated Birkin! Yes, you read that right, a fully platinum plated Birkin, albeit in sculptural form. Although the platinum aspect of this remarkable piece is enough to take one's breath away, it not the only thing that's got people buzzing. The figure also features 8,000 diamonds, a 3 carat heart shaped emerald charm (also lined with diamonds, of course) and a jewel encrusted NFT tag hanging from a handle. The price tag? A cool £500,000 (roughly $680,000 USD).
You're probably wondering who the proud owner of such a unique Birkin is. Well, how about this for added allure- the buyer is anonymous. What we do know, though, is that the individual (from the Chelsea area of London, England) purchased this one of a kind Birkin as a Valentine's Day gift for his girlfriend (aww).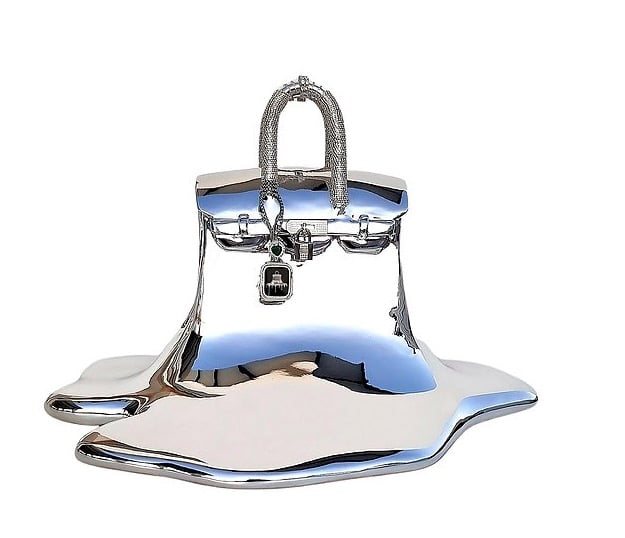 Image Credit: World's Most Expensive
The artist who created this piece of platinum perfection is Debbie Wingham. She drew widespread acclaim last year when she threw a multi million-dollar virtual party for an affluent birthday girl- complete with a fully bejeweled dress valued with a price tag of £20,000,000 (approximately $27,000,000 USD- wow!).
On top of the platinum, diamonds and emerald, the buyer wanted to make one more addition to the sculpture for an extra touch of grandeur. The blinged-out clochette on the Birkin features a unique NFT which is a GIF (which stands for Graphics Interchange Format that, in of itself is a looped animation without sound) of a dripping Birkin bag melting away- aptly titled "The Drip Bag."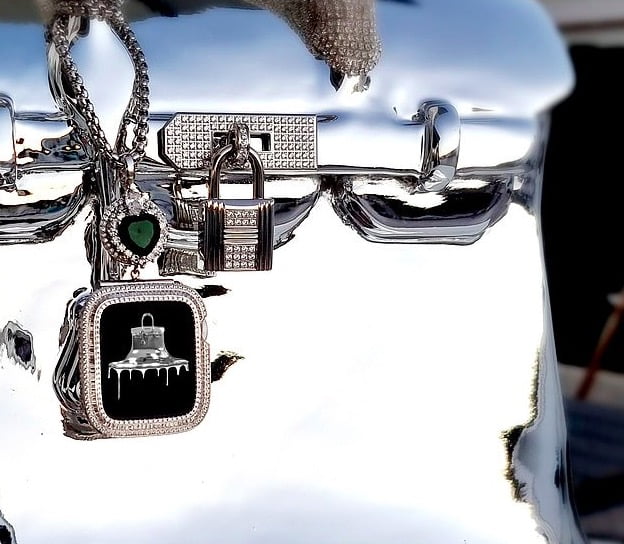 Image Credit: World's Most Expensive
NFT- now that rings a bell, doesn't it? Well, you'll recall that recently, Hermès has been embroiled in a rather intense legal showdown with an artist by the name of Mason Rothschild. Rothschild is the creator of the "furry Birkin" NFT (non-fungible token) that has got the French luxury house up in arms over copyright infringement of its most iconic handbag. Rothschild has defended himself saying that his creations are works of art- no different than any other painting or drawing. NFTs have been gaining an increasing amount of popularity these days, with the Metaverse heating up. In fact, pieces like Rothschild's Birkin have sold for hundreds of thousands of dollars.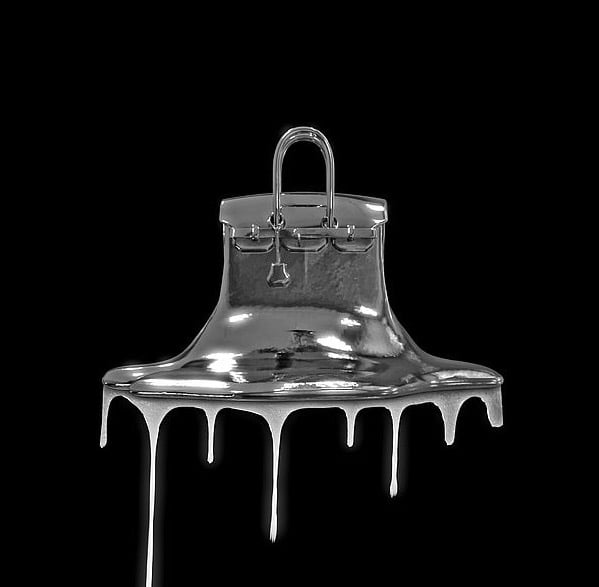 Image Credit: World's Most Expensive
All this begs the question- could the platinum Birkin be next on Hermès' hit list? One could argue that any reproduction of a copyrighted tangible good is fair game for the luxury house, but seeing as this may be a one-off production by Wingham, perhaps the orange box brand will let it slide? Such is the wild, wild west of NFTs and the Metaverse. With no real precedence yet set, it's anyone's game, and what Hermès will do next? That's anyone's guess…
What are your thoughts on the platinum Birkin? Are you totally in love or not the biggest fan? Do you think Hermès will set its sights on this artist next, and seek to stop her from producing Birkin art? We want to hear from you! Be sure to share your thoughts with us…
Read Related Articles:
https://www.pursebop.com/boptalk/topic/not-too-pleased-with-nft-hermes-upset-with-birkin-creator
https://www.pursebop.com/boptalk/topic/go-geta-hermes-bag
https://www.pursebop.com/boptalk/topic/could-ego-play-a-role-in-why-we-buy-luxury
https://www.pursebop.com/boptalk/topic/auction-houses-usher-in-a-new-era-for-luxury-buyers