The COVID19 pandemic saw industries, across many sectors, heavily impacted on all fronts. This includes the luxury goods business- however not quite in the way one would have imagined. Perhaps surprisingly, luxury brands have thrived. In fact, this phenomenon continues to play out in a part of the world that was the main driver of growth for brands like Hermès and luxury conglomerate LVMH- China. Yes, it seems that it's business as usual for Chinese consumers, particularly affluent Chinese consumers, as their spending habits on luxe goods have not faltered.
What has changed is how and where these shoppers are purchasing. Clearly, e-commerce by necessity grew during the global health crisis with repeated and recurring lockdowns and restrictions. But there's change beyond that: domestic shopping. No longer able to travel internationally, shoppers in China bought in China.
However, it is interesting to note something of a shift to the "lesser" cities, much like brands are increasing their presence in U.S. suburban locales.  For example, right now, Chanel and Louis Vuitton are not aiming to grow their presence in capital cities like Beijing, Shanghai and the like. Rather, it's the smaller cities outside these metropolises that are attracting brands with their citizens' spending power.
A recent article by the South China Morning Post details how a newly opened Hermès boutique in Zhengzhou, for example, attracted waves of eager shoppers who queued for hours outside the storefront. But why are luxury brands opting to move to the suburbs rather than mainstay city-center locations? The simple answer really comes down to two things- rent and number of stores.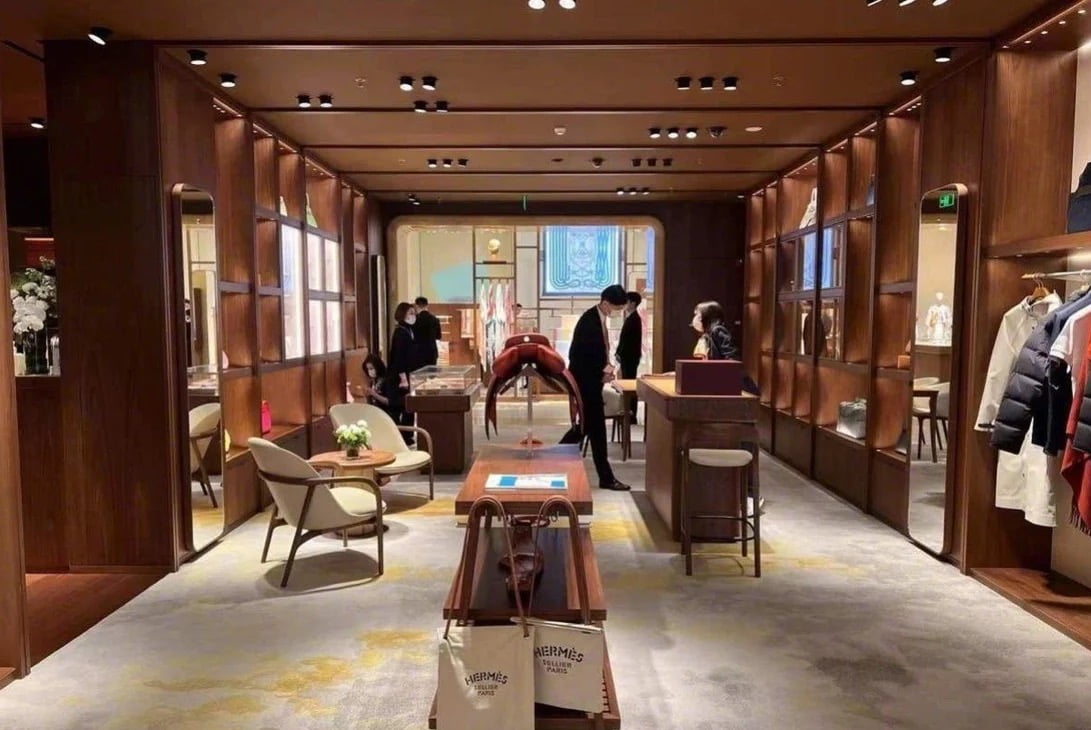 Hermès boutique in Zhengzhou, Image Credit: Weibo
In mainland China, for instance, capital cities are already a huge commercial hub. Added to that the frequency of tourists (both foreign and domestic) flocking to the area, and one can imagine just how many luxury goods stores are found from one block to the next. There is essentially an over saturation of boutiques to be able to maintain profitability. Factoring rent into the equation only makes the cost of doing business higher. And so, rather than have consumers from neighbouring cities come to them, luxury brands have decided to instead move closer to potential new customers.
Read: https://www.pursebop.com/birkins-in-the-burbs/
The retail frenzy exemplified through the Zhengzhou Hermès opening is further impetus for brands to tap into these "outside markets." According to Michael Cheng, a consumer markets analyst with PwC Hong Kong, suburban cities in China are the place to be. "People in cities like Zhengzhou, so-called lower-tier cities, are still very wealthy and they've not really spent that much in the last 18 or 24 months, so they have huge consumption power," he says.
Per global consulting firm Bain & Company, "domestic purchases of luxury goods in China last year were already valued at $74 billion USD, having totalled $120 billion USD in 2019 for both domestic and international sales". Overseas purchases have dwindled to practical obscurity over the past two years, according to Bain, while duty free shopping increased almost 80%.
The buying patterns exhibited by Chinese consumers have put the country on track to be the largest luxury goods market by 2025- only a few short years away (and maybe even sooner than that if things keep moving at the pace they are currently). Bruno Lannes, partner at Bain & Co, goes even so far as to say that the effects of future travel on this matter are practically immaterial. Whether allowed to travel or not, he believes Chinese consumers will continue to satisfy their desire for luxury goods- handbags, clothes, shoes and all.
On the other hand, as discussed in a recent article, economists and brands are concerned about a major growth slowdown in China. Moreover, President Xi's Common Prosperity Policy and a shift in younger consumer desires, may downshift the luxury goods appetite and market in China.
Read:  Luxury Brands Look to the United States for Growth. Maybe.
Tell us what you think…
For the full SCMP article visit this link: https://www.scmp.com/economy/china-economy/article/3172762/chinese-consumers-splurge-luxury-goods-covid-hasnt-changed
Read Also:
https://www.pursebop.com/boptalk/topic/is-this-the-beginning-of-the-end-of-luxury-duty-free-shopping
https://www.pursebop.com/boptalk/topic/no-more-mr-nice-guy-chanel-bans-bulk-buyers-in-south-korea