Update:
Now here's something interesting. Just when you thought Queen B's diss of the Hermès B might prove damaging, it actually had the opposite effect (what we're calling the Beyopposite Effect- pun intended *wink*). In news shared by Vogue Business, Beyoncé's Birkin lyric boosted searches of the highly sought after handbag on resale sites across the board. Recent stats show that, although the singer's preferred brand, Telfar, did see an increase in search engine hits, views of the Hermès Birkin rose by solid increments. Luxury resale site ReBag said that searches for the high luxury bag went up by 33% over a 3-day period, while searches for Telfar rose at a slightly lower rate of 28% over an earlier 3-day period.
Despite Bey's declaration, perhaps we're not over Birkins as much as we thought. Afterall, Hermès recently reported stellar financial results driven by its highly coveted handbag business. Long live the Birkin? Only time will tell, but for now, it's safe to say that our obsession with the orange-box brand isn't going anywhere- sorry Queen Bey.
Read: "Exceptional" Hermès Financial Results for First Half of 2022
For the full Vogue Business article, follow this link. 
_____________________________________________________________________________________________________________________________________________________________________
The Queen has spoken- Queen B that is. Earlier this week, Beyoncé's long awaited and hotly anticipated seventh album, RENAISSANCE, finally dropped. Social media was buzzing- and we don't just mean the beehive. Apart from fangirling over Ms. Carter's homage to disco, users caught onto a certain 'burn' dropped by the singer. The target? Hermès Birkins *gasp*.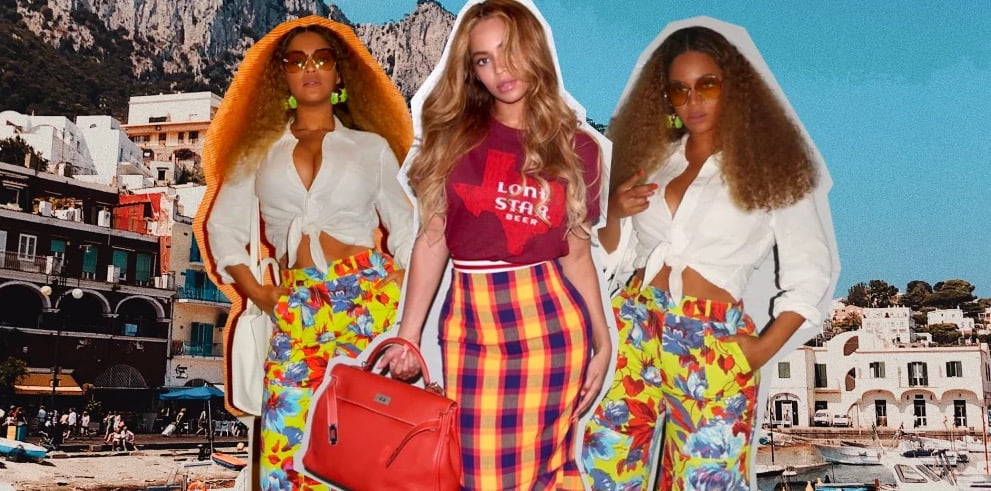 Image Credit: Stylist.fr, Clément Laré
From Twitter to Reddit, Instagram and TikTok, a lyric from the singer's last track, "Summer Renaissance," has got everyone talking as it seemingly takes a dig at luxury's most coveted handbag. "A verse so sharp it already has journalists claiming the Birkin has been annihilated," says Variety.com. "Our condolences to the Birkin Bag," proclaims The Cut. So what exactly did Queen B have to say about the Big B? Well, here's the lyric for your viewing pleasure-
"This Telfar bag imported
Birkins, them sh*ts in storage"
Open to interpretation, of course, but many have taken this as Beyoncé's signal that Birkins… are basically over. Instead, she praises another brand that has been a personal favorite. The singer has been spotted multiple times rocking Telfar bags in all shapes and sizes. Born in New York City in 2005, Telfar has slowly but surely rocketed in terms of popularity, and deservedly so. Effortlessly cool, stylish and affordable, the brand's staple totes come in three sizes and range in price from $150 to $257- a stark difference in comparison to the Hermès Birkin.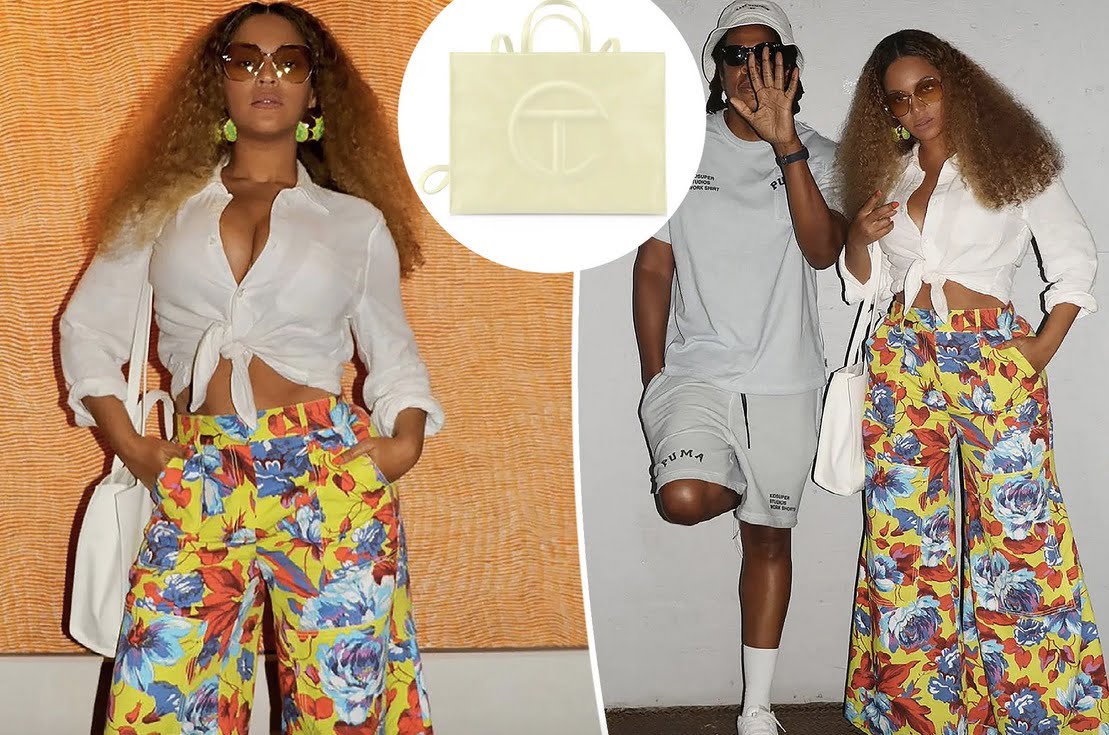 Image Credit: Beyoncé, Telfar
Twitter (as Twitter often does) had a field day with Bey's name drop, with many even poking fun at how this may actually affect Hermès. "Not her singlehandedly bringing down Hermès stock," said one Twitter user, @RowanSBP. "Per the Beyoncé effect, Telfar's website is already sold out," noted another, @krekelmonster.
Fun and games aside, might Beyoncé's words affect Hermès' pristinely cultivated image? After all, when she sang in her first single, Break My Soul, to "quit [your] job," people actually DID. Such is the power of Beyoncé, and in fact many celebrity and public figures' influence these days.
Read: https://www.buzzfeednews.com/article/davidmack/beyonce-break-my-soul-quit-job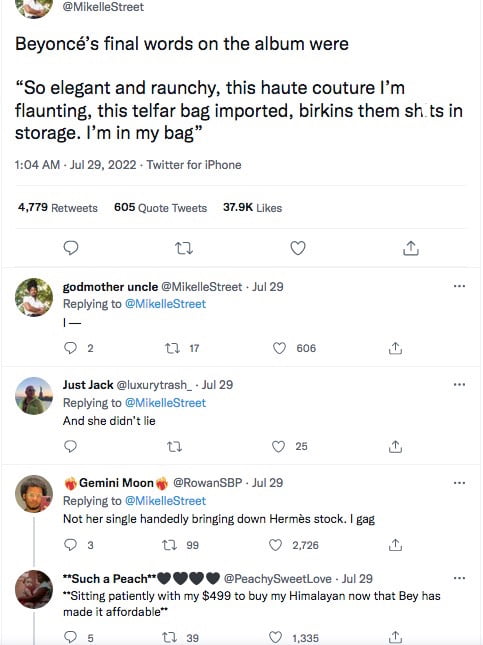 Image Credit: Twitter
What are your thoughts on this? Is Queen Bey right? Do you think anything will happen to the Birkin's appeal and Hermès as a whole? Let us know- we'd love to hear what you think about this one…
Read Related Articles:
https://www.pursebop.com/boptalk/topic/is-the-birkin-basic
https://www.pursebop.com/boptalk/topic/hermes-birkin-not-atop-the-luxury-investment-index-what
https://www.pursebop.com/boptalk/topic/peta-vs-hermes-animal-rights-group-accuses-luxury-brand-of-cruelty-malpractice-yet-again