In a move that is making waves throughout the world of luxury shopping, it has been confirmed that haute European fashion house Chanel is, indeed, restricting the sale of its goods to Russian nationals abroad. Earlier today, a report from the Business of Fashion stated that the brand is one of many luxury retailers to enact such rules as a result of sanctions placed on the Russian Federation amidst the ongoing situation in Ukraine. This, of course, is in addition to Chanel closing all of its boutiques in the country.
BoF detailed one shopper's experience in Dubai. While attempting to purchase a Chanel handbag at a boutique in Dubai's Mall of the Emirates, Russian influencer and interior designer, Lisa Litvin, was asked to sign a document affirming that not only was her primary residence outside of Russia, but that she would also not take her purchases back to the country. "They asked for my ID details…and said that starting [today], they were selling to Russians only if they sign an agreement not to wear their items in Russia," states Litvin.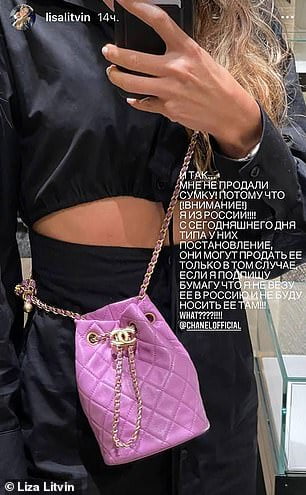 "I went to a Chanel boutique in the Mall of the Emirates…They didn't sell me the bag because (attention!) I am from Russia!!! Chanel has a new order that they only sell after I sign a piece of paper saying that I won't wear this bag in Russia, What?!"
Image Credit: @lizalitvin, Daily Mail
This is just one account of such practices being carried out at Chanel boutiques in foreign countries. Numerous other Russian shoppers have also been asked to fill out a similar declaration, while others have simply been denied upfront. Singer Anna Kalashnikova claims she was plainly refused by Chanel when attempting to purchase jewelry and a handbag in Dubai. "We know you are a Russian celebrity. We know that you'll be taking your purchases to Russia, so we cannot sell our brand's items to you," she says the store manager told her.
The move does not come without reason, nor unprovoked. In a statement to BoF, Chanel stated that the brand is simple "complying with trade sanction laws." Elsewhere, Chanel explained that the new policy was "forced upon them because of EU and Swiss Sanctions on luxury items."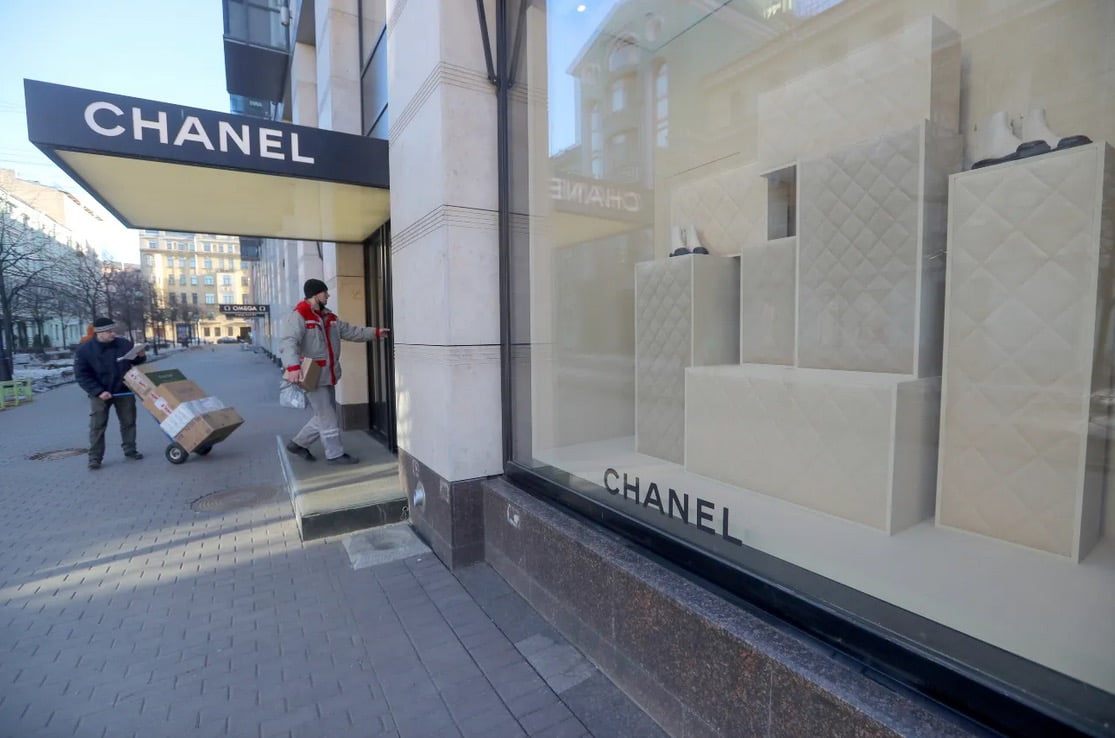 A shuttered Russian Chanel boutique, Image Credit: Igor Russak/picture-alliance/dpa/AP Images
Recognizing the frustration this raises with shoppers, Chanel has also shared that it is currently reviewing alternatives to comply with current sanctions. A representative for the luxury house stated that "[they] (Chanel), recognize that this process of walking through the law has caused disappointment to some of our clients… we apologize for any misunderstanding this may have caused, as welcoming all our clients, regardless of where they come from, is a priority for Chanel."
Despite this initial step towards complying with resolute sanctions from countless EU nations against Russia, one might ponder how Chanel might enforce, or rather monitor, its new policy. Indeed, a shopper may agree not to take their purchases back to Moscow, but if they did, how would Chanel come to know? Could there have been a better way to approach the broader issue at play here? On the flip side, might this damage Chanel's brand image, or cause customers, whether Russian or not, to sever ties with the luxury house in favor of others not implementing such processes? We would love to hear from you on this, be sure to share your thoughts with us…
For the full Business of Fashion article, follow this link. 
Read also: Wealthy Russian socialites enraged as Chanel blocks them from shopping
Read Related Articles:
https://www.pursebop.com/boptalk/topic/chinese-shoppers-splurge-on-luxury-unfazed-by-pandemic
https://www.pursebop.com/boptalk/topic/no-more-mr-nice-guy-chanel-bans-bulk-buyers-in-south-korea
https://www.pursebop.com/luxury-brands-look-to-the-united-states-for-growth-maybe/%5Bcaption id="attachment_71142″ align="alignnone" width="300″]<img src=