Uh-oh. It appears that the world's biggest luxury conglomerate, LVMH, is in hot water again. Just days after we reported on the brand having to pay an independent artist in a copyright infringement case, another lawsuit has been launched. This time, LVMH has been accused of stealing individual's facial data when using their virtual try-on application for the brand's sunglass and glasses line. The news comes just as the group reported a stellar start to the year with strong Q1 financial results.
Read: Louis Vuitton Revenues Continue to Grow in 2022


Image Credit: Louis Vuitton
The suit specifically zeroes in on the Americas division of LVMH- narrowing in further on the US market. It is alleged that in allowing customers to virtually try on glasses via Louis Vuitton's website, the brand's technology utilizes facial recognition intelligence, as well as collecting other biometric data. However, not only are users not made aware of this process, they are not asked for their permission to do so. While most websites present consumers with the choice to provide access to their data (such as cookies, demographic information, etc.), Louis Vuitton fails to present the same option.
In a report shared by Bloomberg Business, the practise breaches privacy laws in Illinois specifically, a state which has some of the nation's most stringent biodata laws. Known as BIPA (Biometric Information Privacy act), breaching regulations in place to protect consumers' biodata can result in fines of approximately $5,000 USD per offence. This may amount to a sizable sum for LVMH depending on the number of times customers opted to use the tool. According to the suit, Louis Vuitton violates this act "each and every time a website visitor based in Illinois uses the Virtual Try-On tool… because it doesn't receive informed consent from shoppers."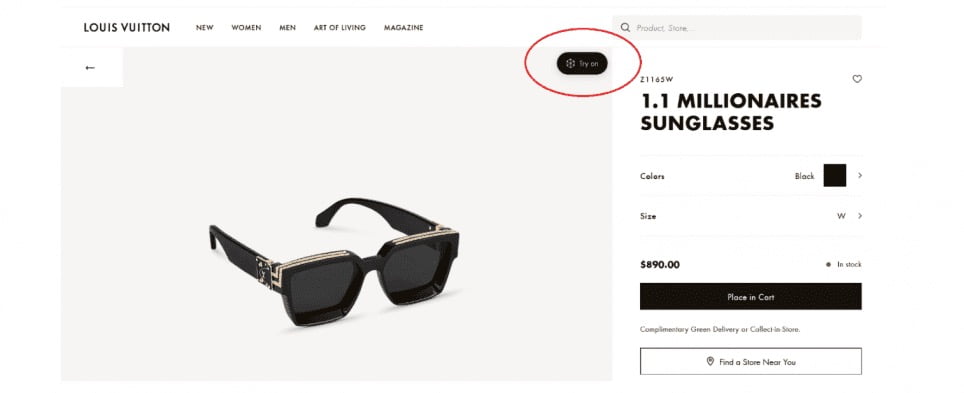 The try-on feature when viewing sunglasses on LV's website, Image Credit: Louis Vuitton, TheFashionLaw.com
LVMH has yet to respond or comment on the suit.
More on this as the story evolves but what are your thoughts on LV's alleged disingenuous behaviour? If you ever used this tool, were you concerned about your privacy and how your information would be used by the brand? We'd love to hear from you!
For the full article: LVMH Eyewear Virtual 'Try-on' Tool Draws Biometric Privacy Suit
Read Related Articles:
BREAKING NEWS: Louis Vuitton Loses Copyright Infringement Case, Ordered to Pay $1 Million USD
News: Louis Vuitton Workers Stage Walkout, Demand Better Wages, Hours