I remember so clearly when I decided to save up for my first Chanel bag. I was six or so months away from turning 25, and I thought it would be a really great way to commemorate a quarter of a century! I knew I wanted a classic flap bag to begin my Chanel collection, but honestly had no idea what size would look best on my curvy frame (at the time size 12).
I was living in the heart of San Francisco, so going into a boutique was an option, but also very intimidating. My experience in the actual store was limited. I had truly only been inside a few times, and up until that point, had not purchased anything. Add to that that I was pretty positive I wanted to go the pre-loved route in order to not to spend quite as much. Resultantly, I was worried SAs would be horrified at me trying on bags with no intention of actually purchasing them.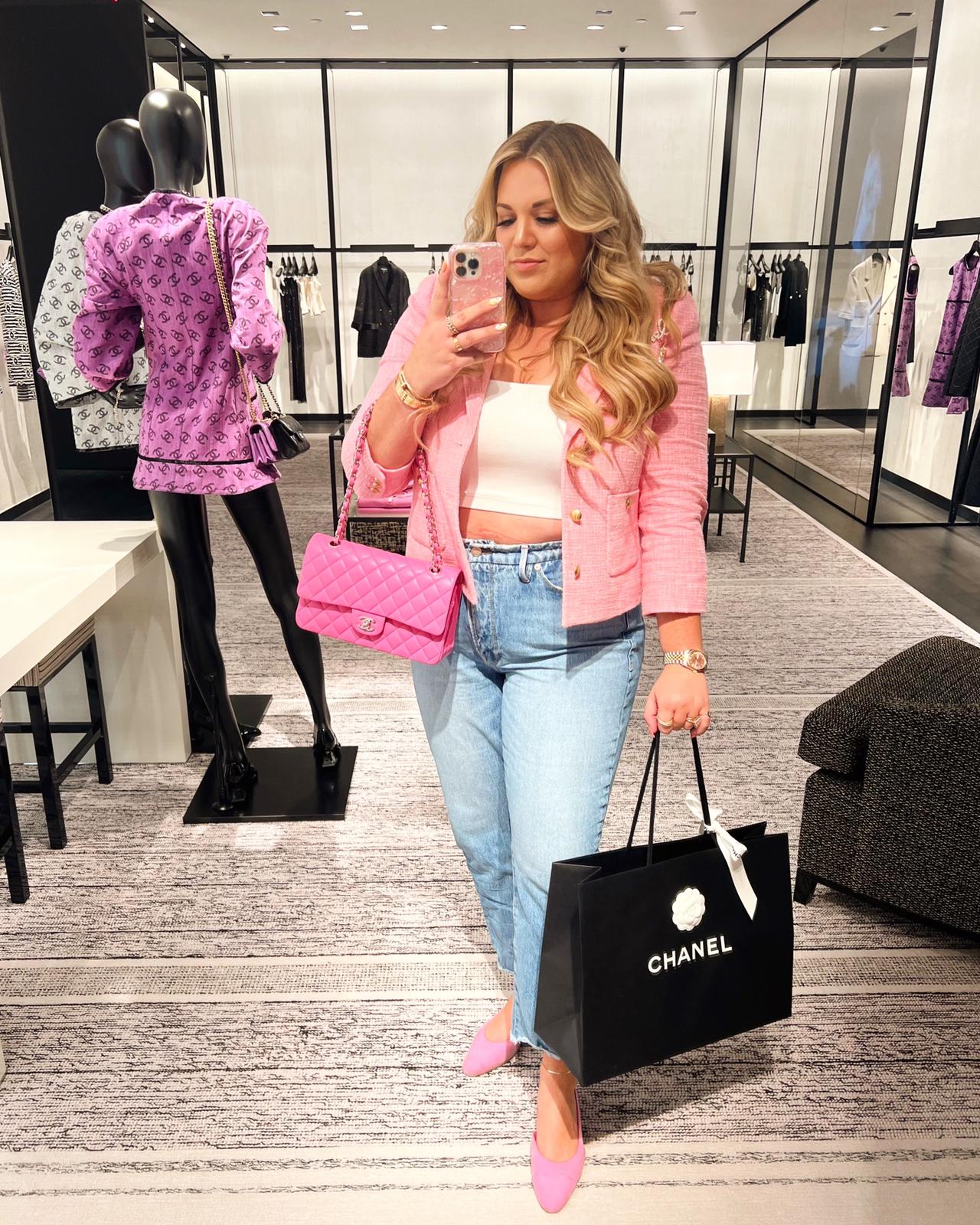 Ultimately, after working up the courage, I did pop into the boutique for a "try-on." I promptly decided that I wanted the jumbo, although I also considered the maxi size. However, it seemed the jumbo might be better for everyday use. I loved that it worked well as a crossbody bag on curves and was a substantial size. Being able to use the bag daily was important as I wanted to get my money's worth!
Next, I needed to decide on a color. Most choose black or beige as their first Chanel, but I am a color gal. To this day I only own one black Chanel bag, and you'll hardly see black in my entire wardrobe. When thinking about it, I felt strongly that my preloved jumbo should be red. Not orange-red or brick red, but a true red that leaned a bit blue.
Of course, I had to find the right red. At the time, I knew nothing about specific collection colors, so I used photos online to look for the perfect hue. I ended up finding one on a legitimate secondhand site and purchased it days before my 25th birthday. The bag arrived the morning of my first ever trip to Paris, so I decided to bring her with me, and her debut photos were in front of the Eiffel Tower. So dreamy!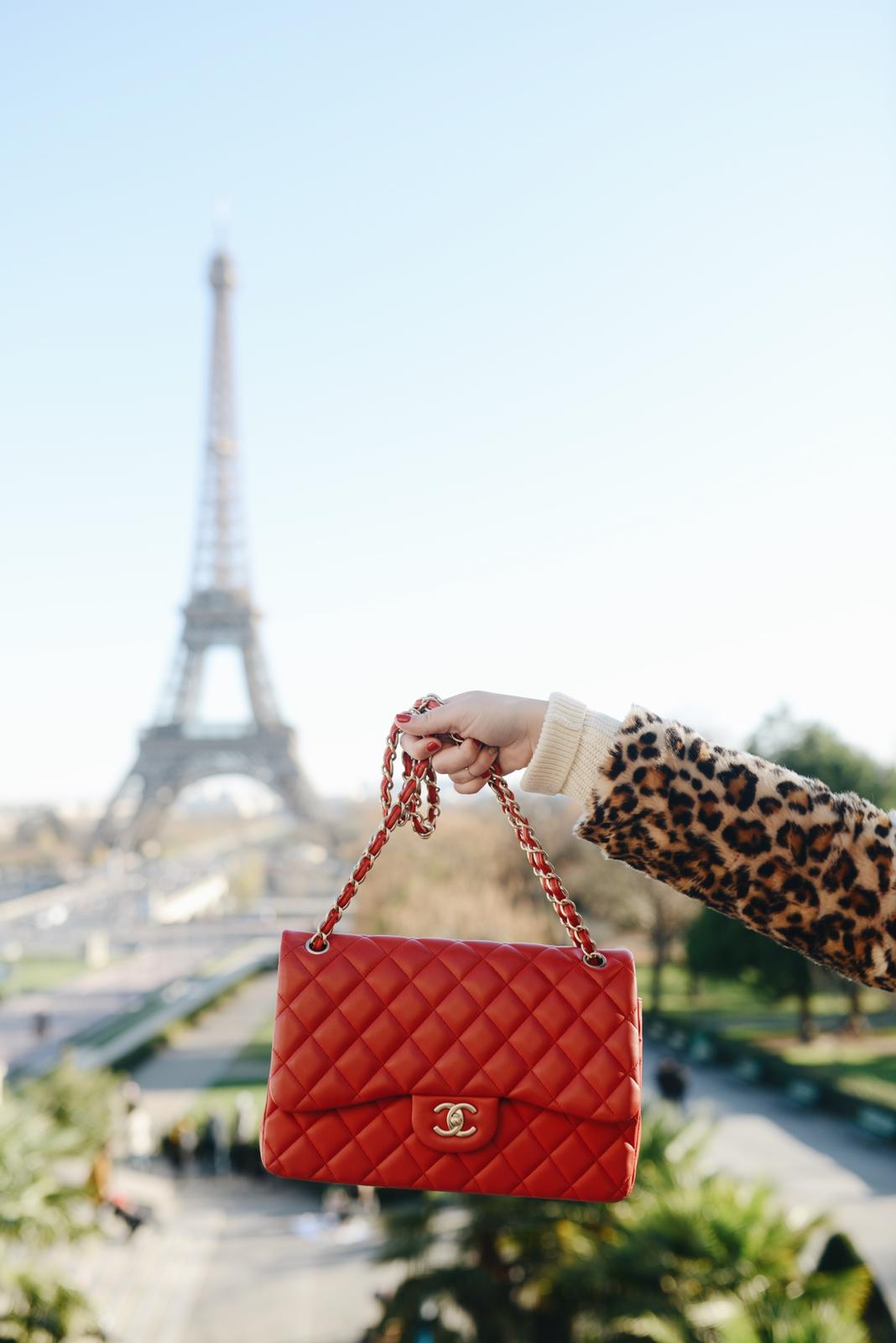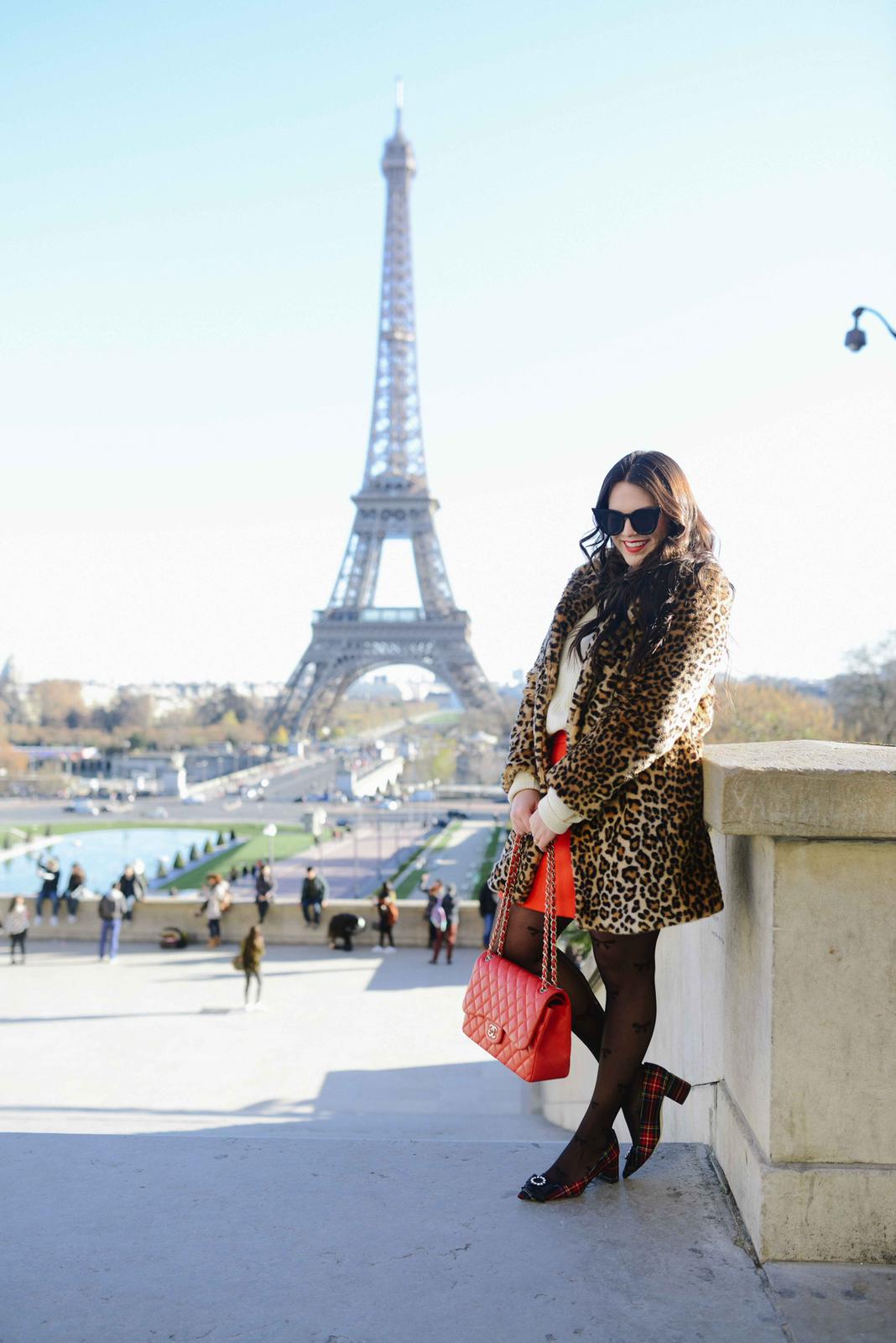 A point to mention- my flap cost around $4,500 pre-loved in 2016. Today, I believe a new jumbo from Chanel will run you $9,500 + tax, and even more on the secondhand market. But that's neither here nor there for this article.
There are definitely more resources on the internet now than before about sizing. Youtube, TikTok, Instagram Reels, etc. all make it easier to see different Chanel sizes on different bodies.
However, there's still little visibility in the curvy/plus size luxury world, and that's where I come in. I want to help you ladies see different sizes of classic flaps on my own curvy frame! Although I, and many others, love the luxury world- there's still not many of us curvy gals being represented (although yes, many curvy/plus-size ladies wear and love designer, including Chanel).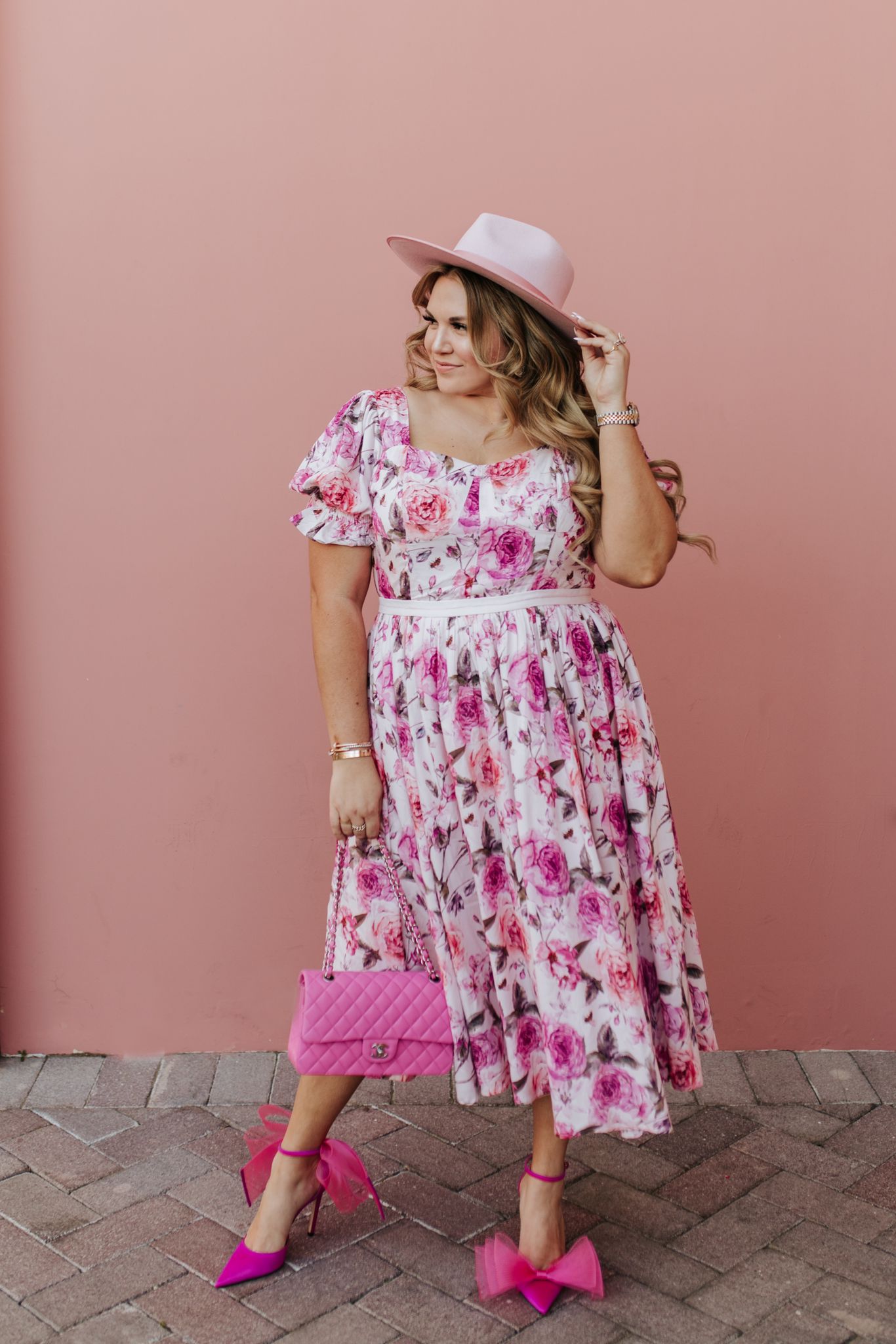 Without further adieu, I'm so excited to share with all of you my Chanel Classic Flap Size Comparison on Curves!
To give you an idea of my body type, I am a size 14 and 5'5 tall. Specifically, I wear a 32 in denim, XL in tops, and 14 in dresses. I hope this information is helpful as you make your decision on which size Chanel bag will compliment your own curves best!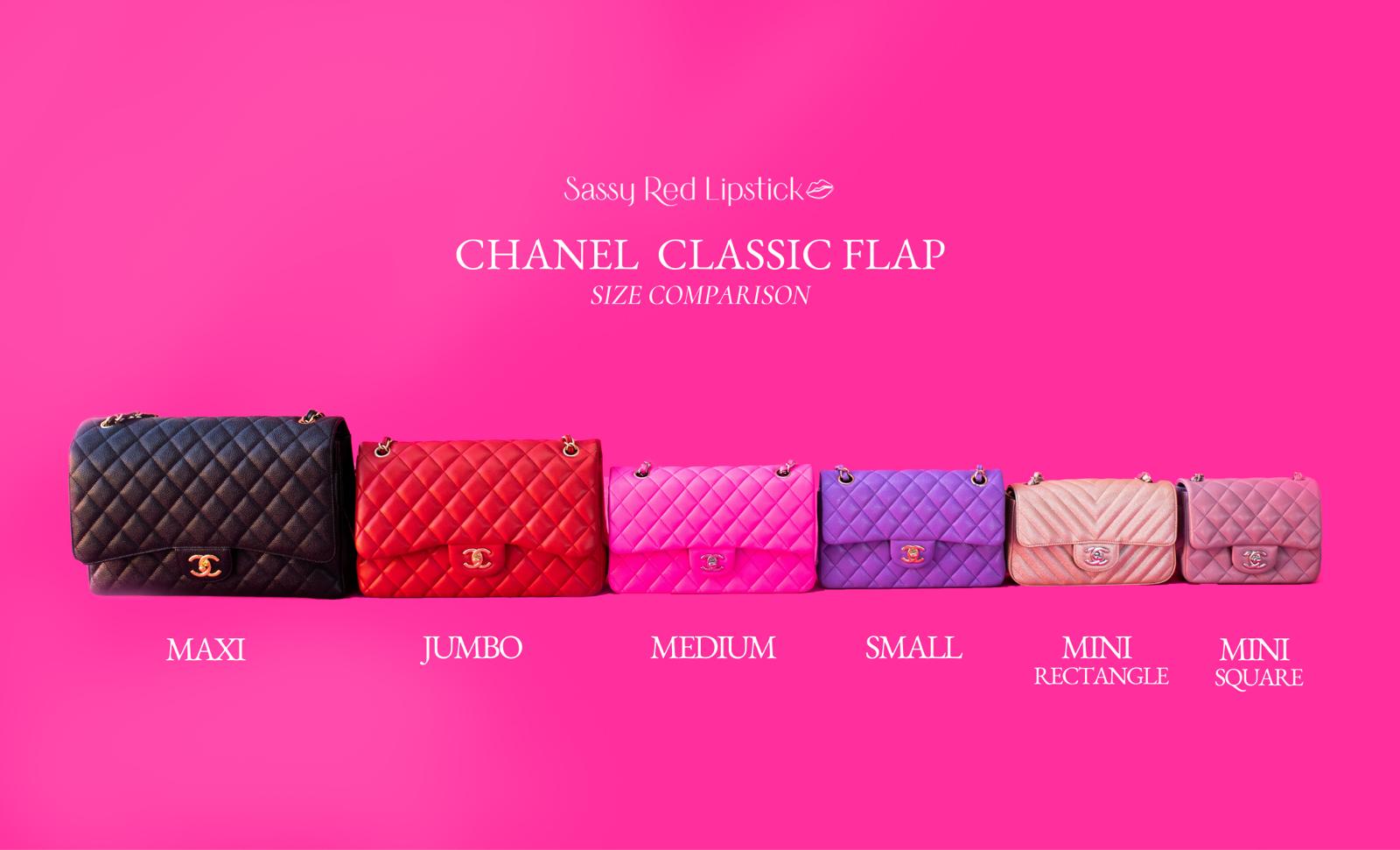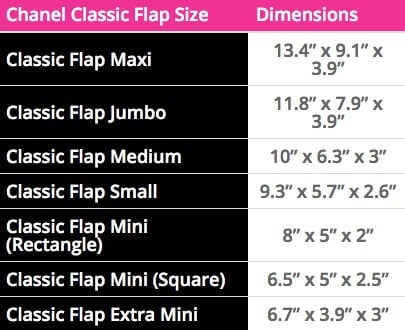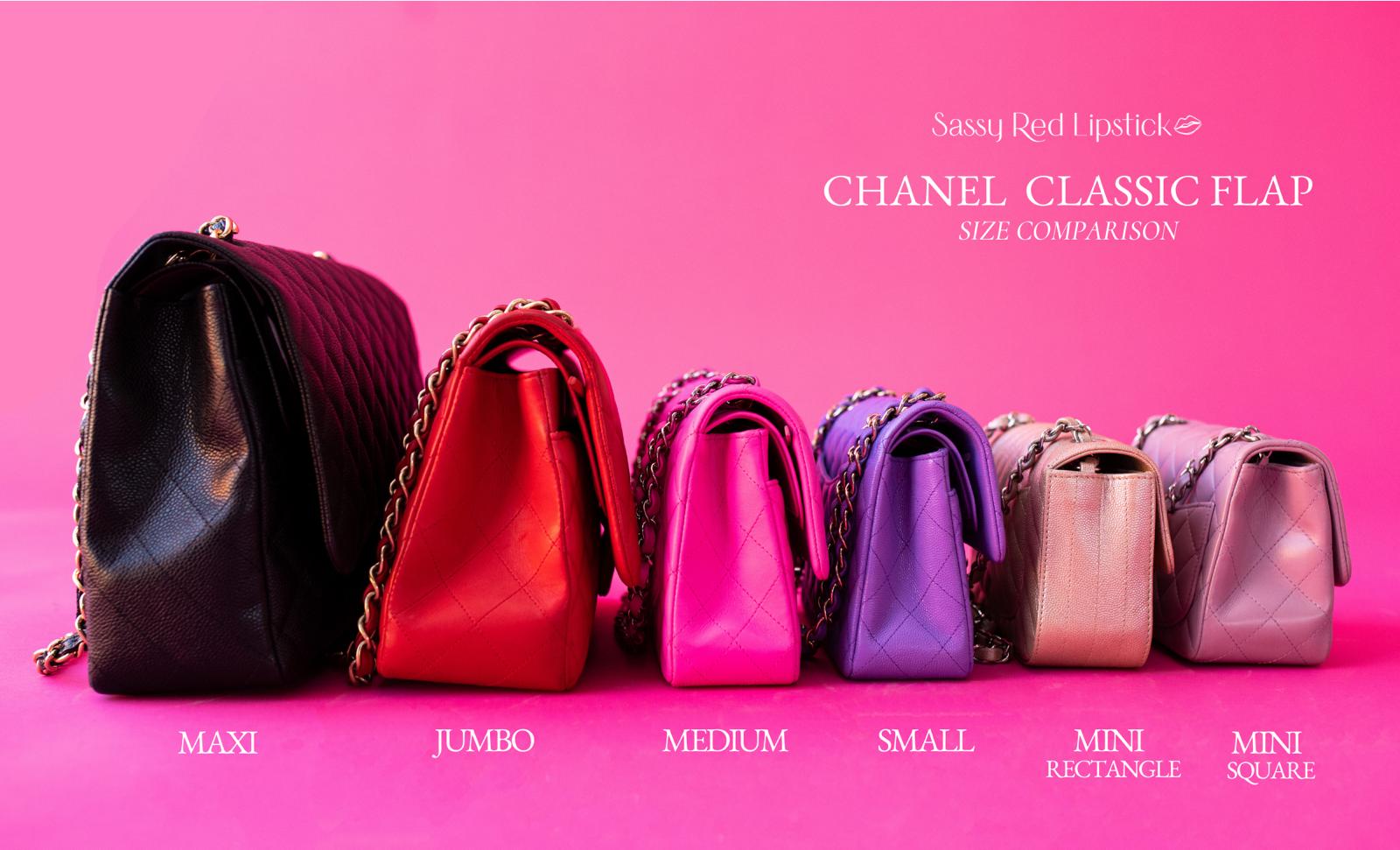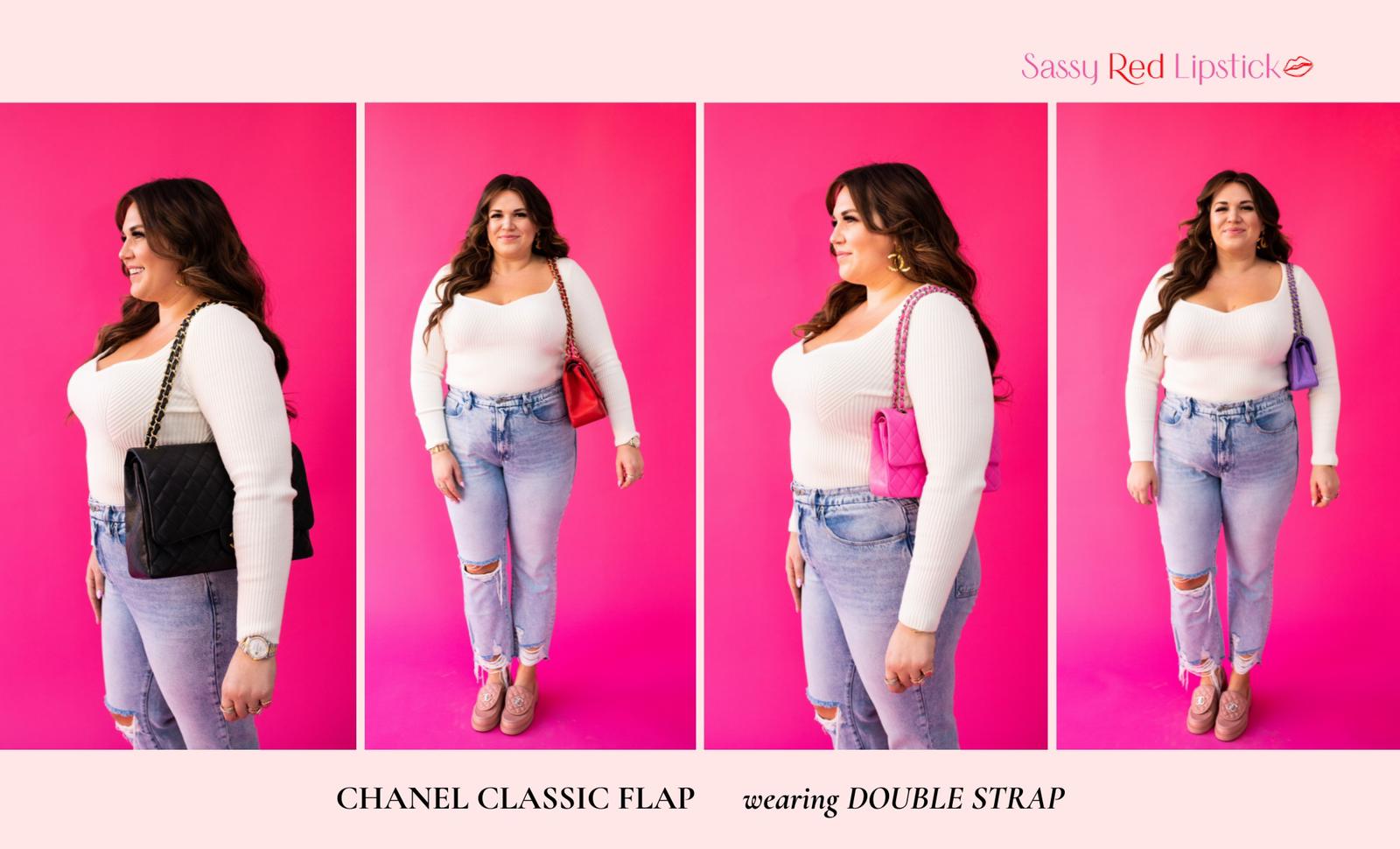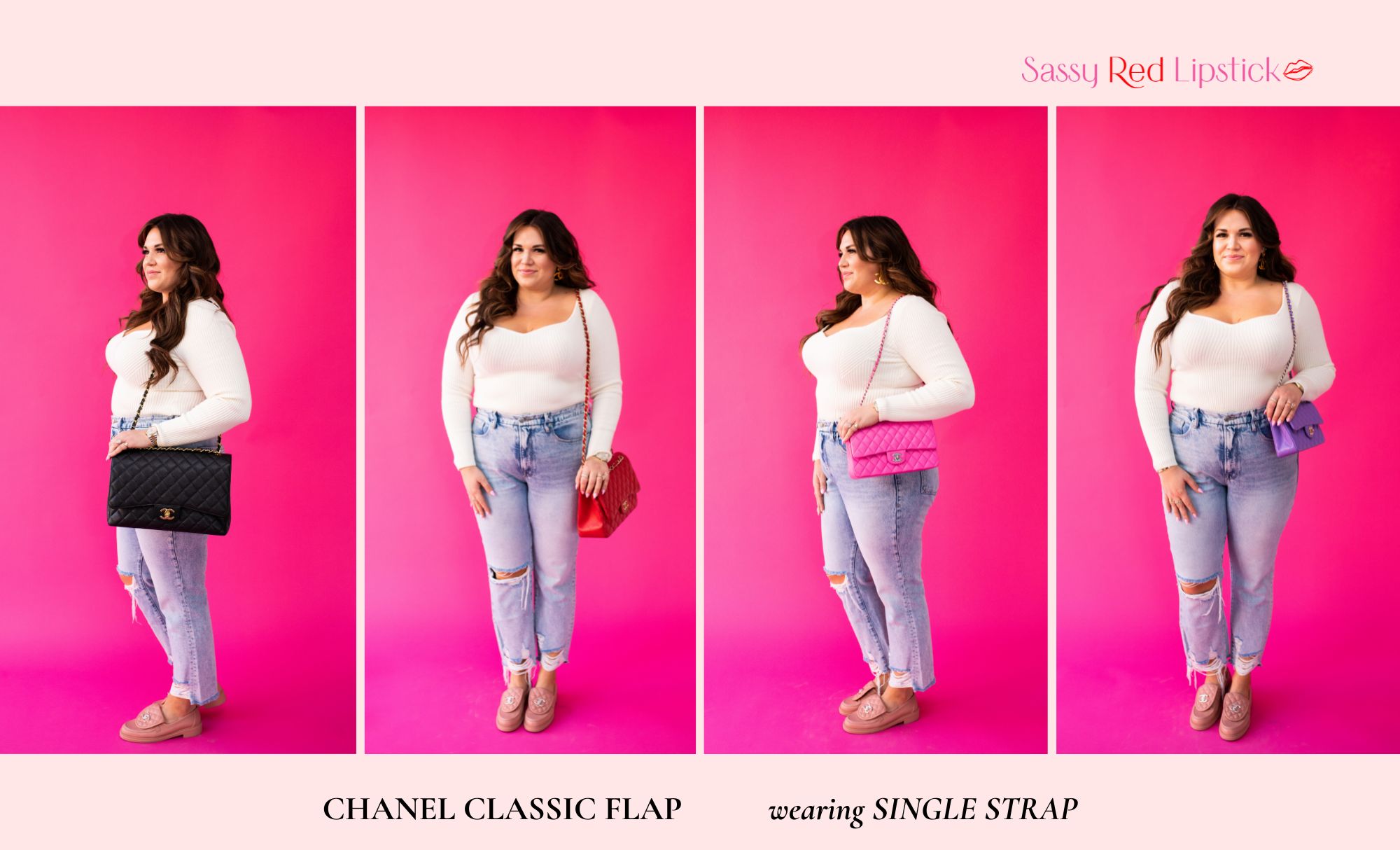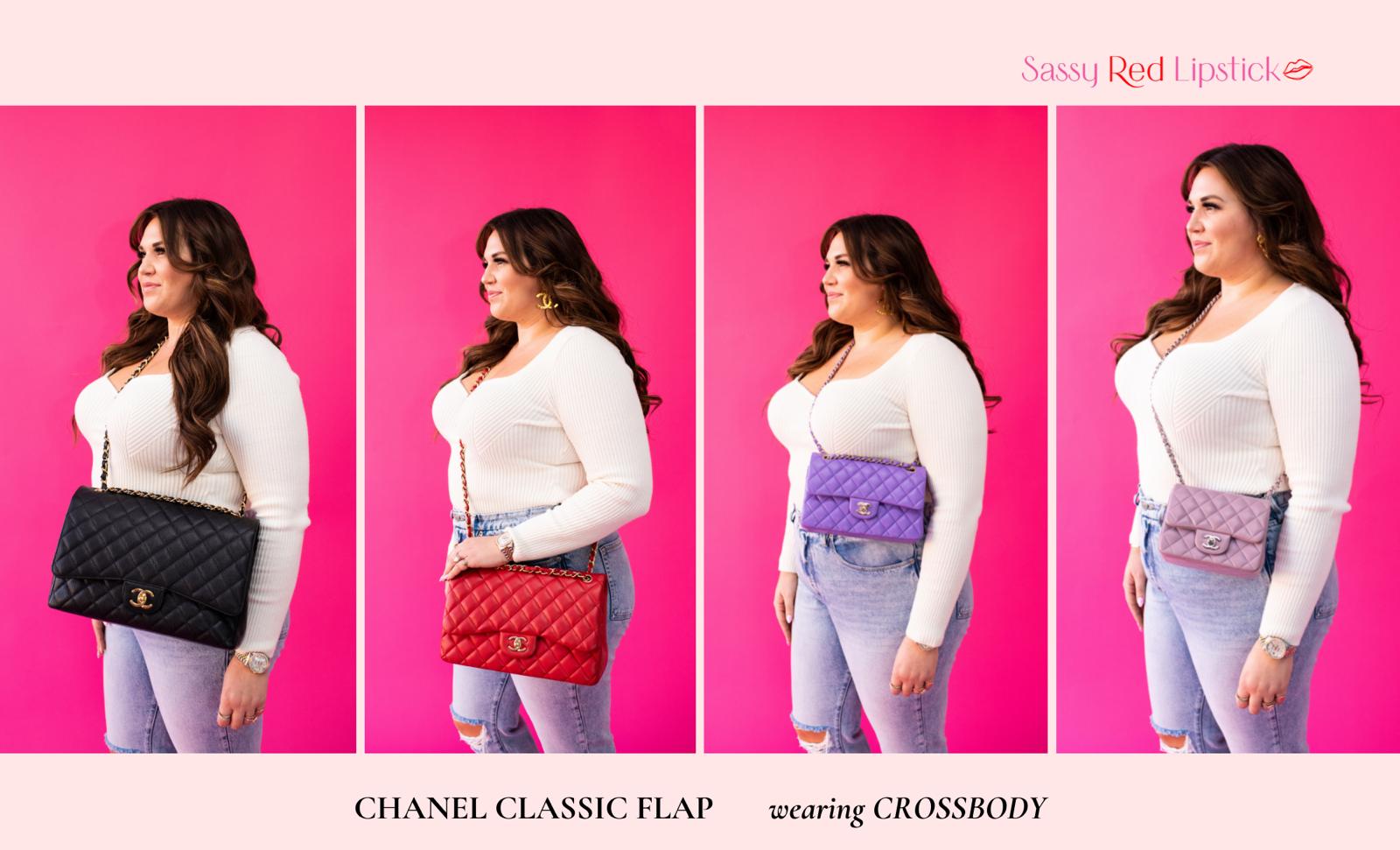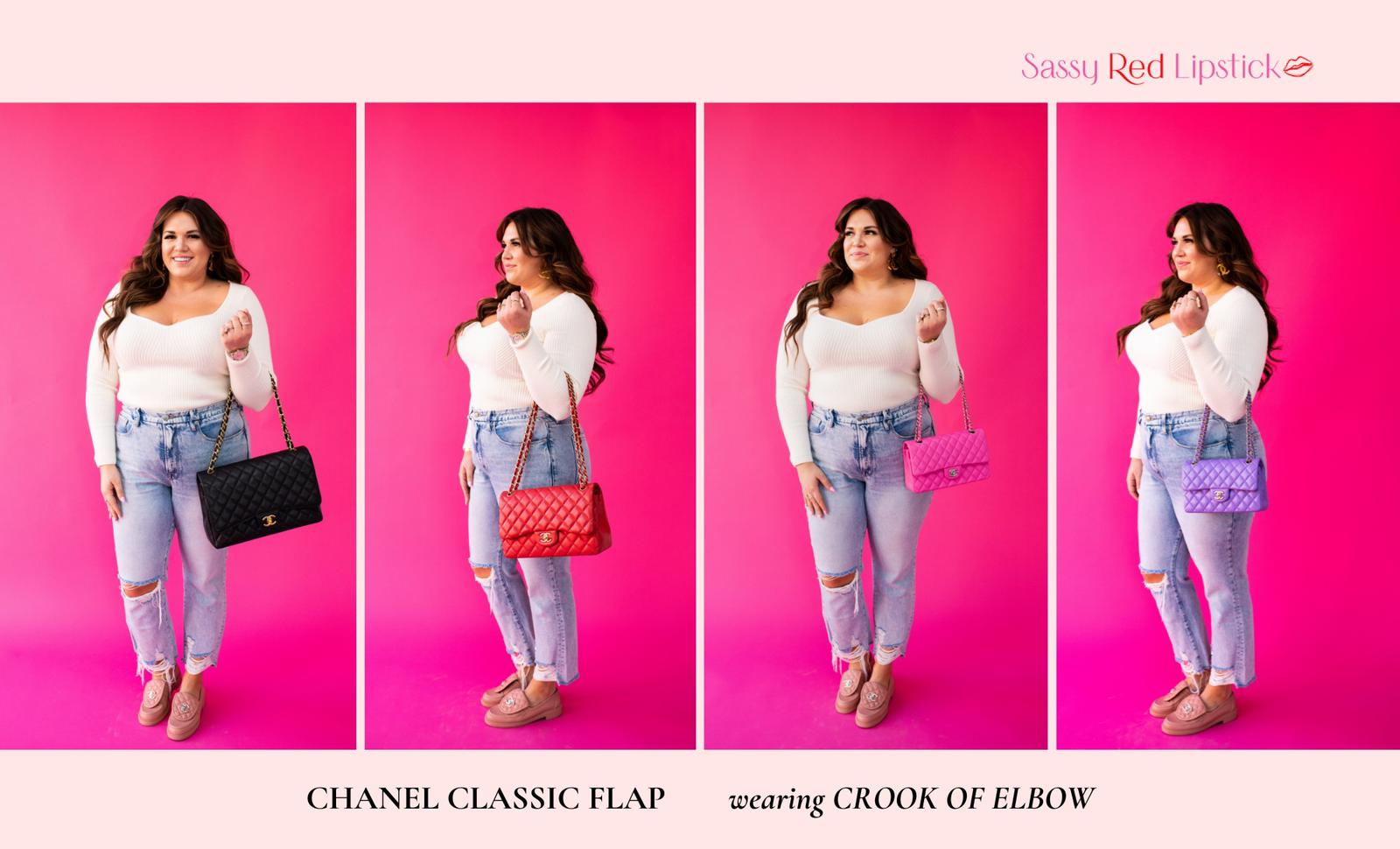 Pros & Cons: Best Uses of Each Size
While I hope the information and pictures help you, at the end of the day, it likely doesn't truly matter. The size I like best will probably be different than the size you like best. Plus, all of our bodies are different shapes and sizes (and all beautiful!), so bags will fit everyone differently.
For example, the jumbo would arguably be best for taller gals, as the chain is so long (even longer than the maxi!). I'm curvy, but my favorite size is either a mini or medium. If I were to do things over again, I probably would have purchased one of those as my first Chanel bag.
Truthfully, I don't get much use out of my jumbo these days besides holiday photos, as it's just so big and heavy. I will never sell it though, because it was my first. However, this bag is proof of just how much an investment Chanel bags are- I bought it for $4,500 and could sell it for over $10,000 now! That being said, take the below with a grain of salt, but it might be helpful for some.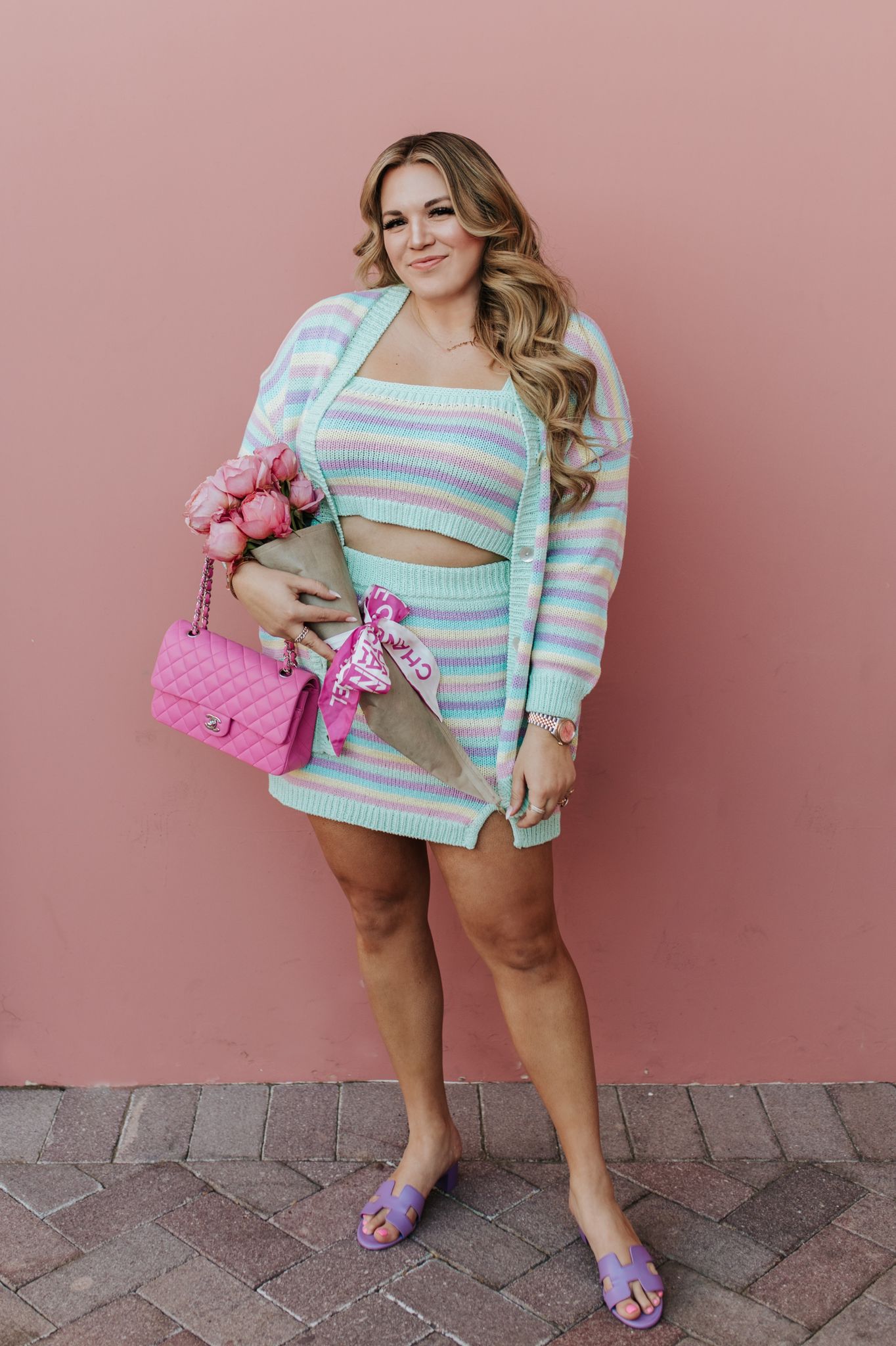 Pro: a great travel bag since you can fit in so much
Con: a heavy bag, as so much leather is used to make it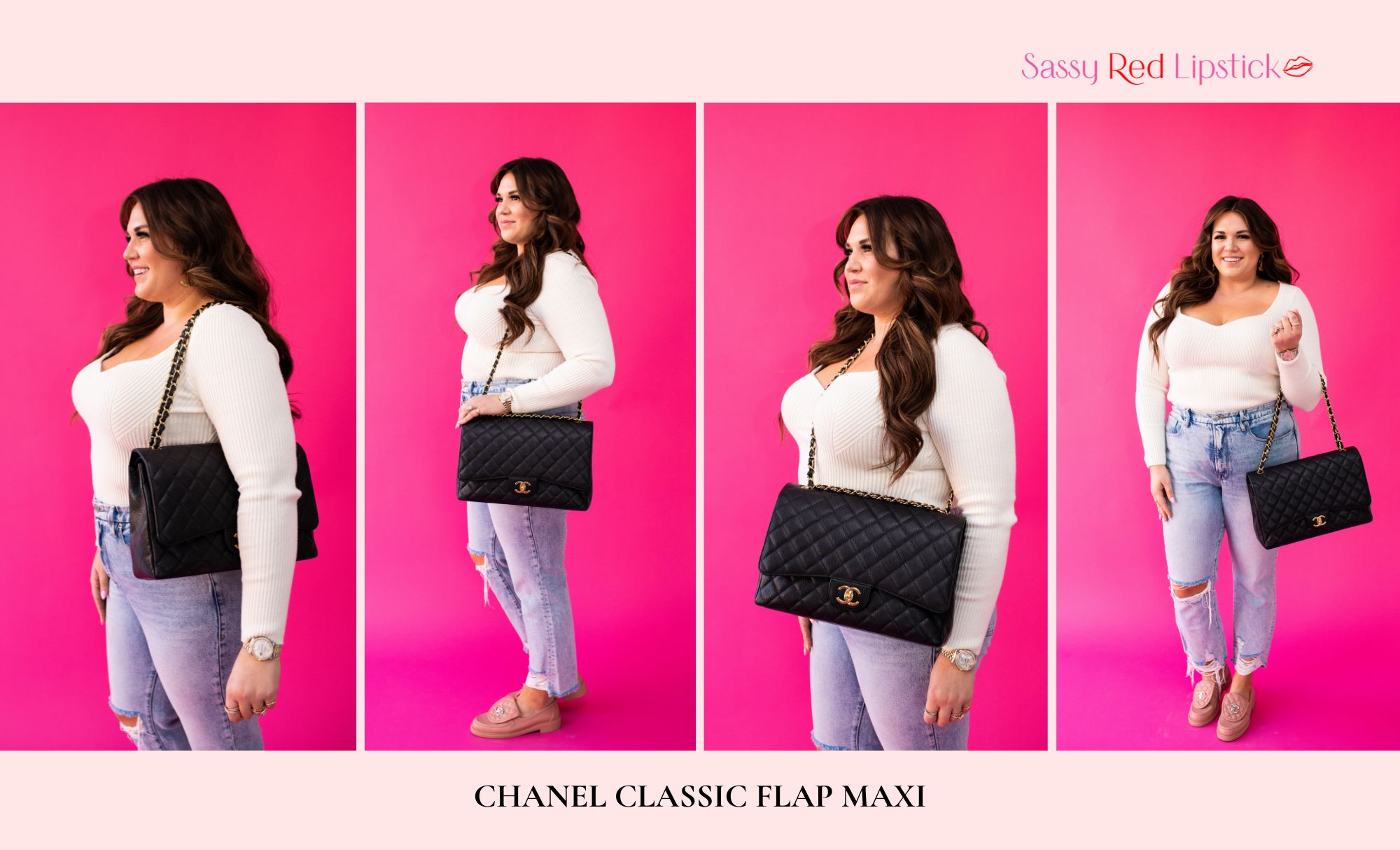 Chanel Classic Flap Jumbo
Pro: longest chain out of all the Classic Flaps, so best suited for tall and/or curvy and plus-size
Con: also a heavy bag, not ideal for every day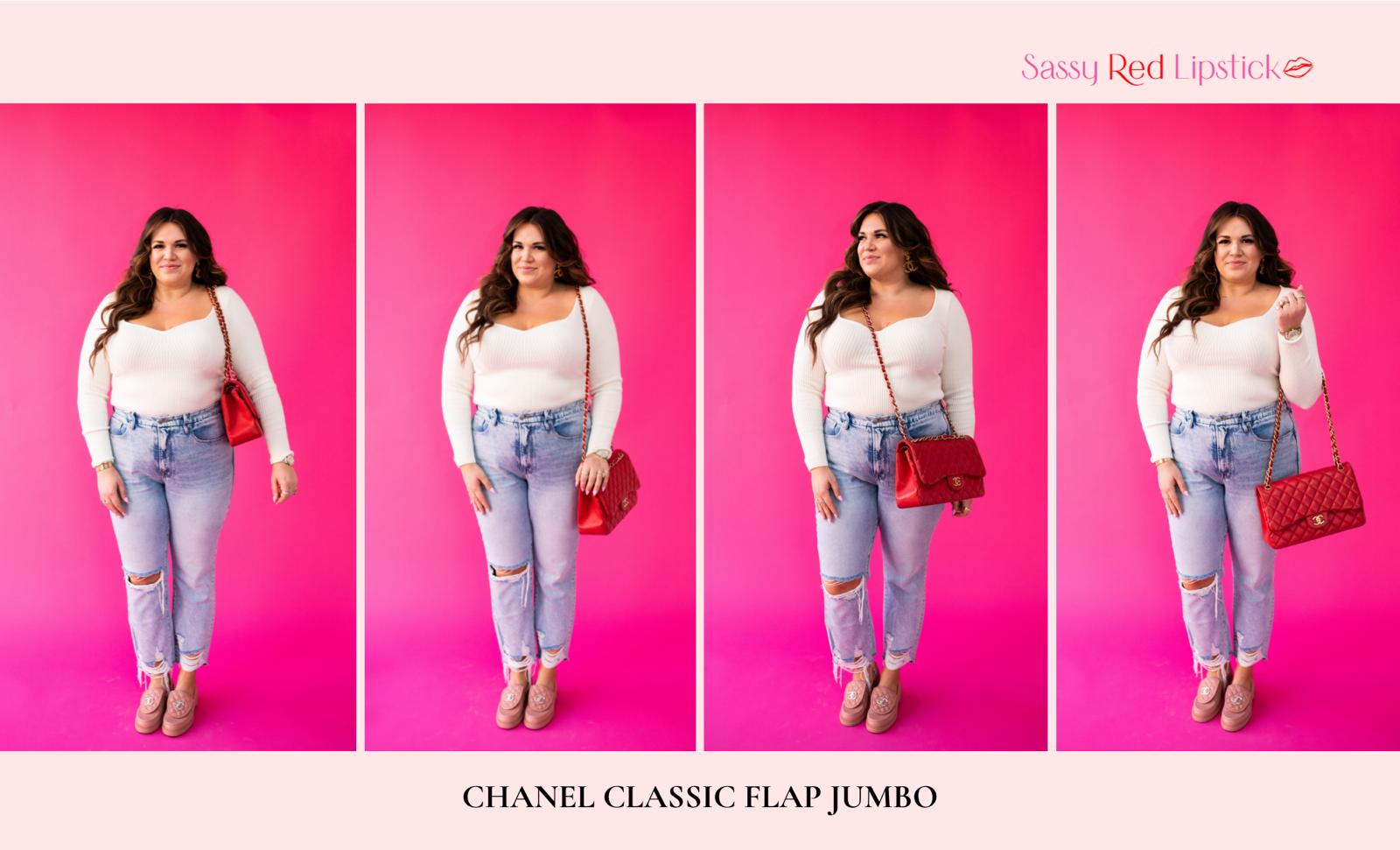 Chanel Classic Flap Medium
Pro: can easily be used during the day and as a going-out bag
Con: does not cross-body comfortably on curves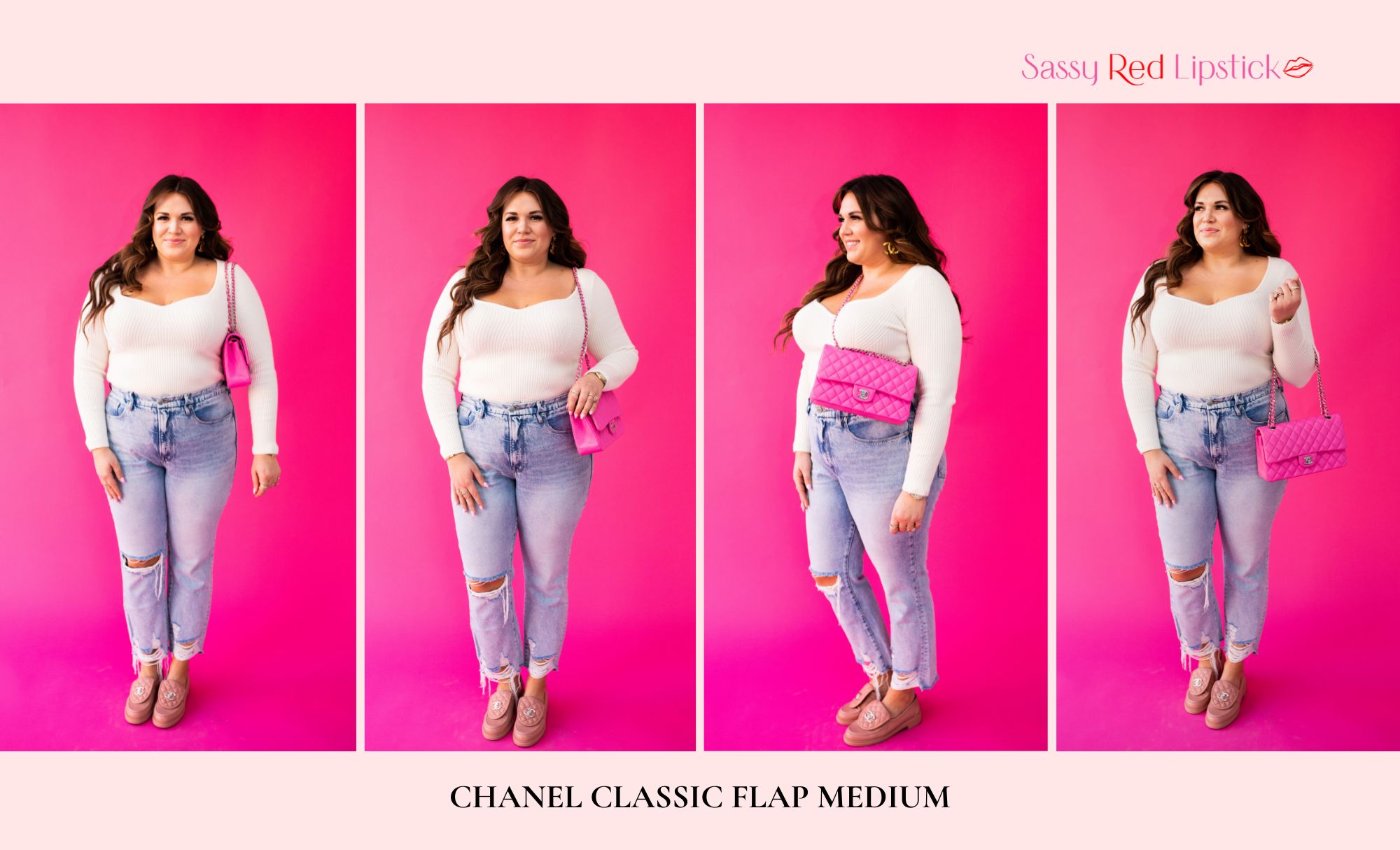 Chanel Classic Flap Small
Pro: not much smaller than the medium, so also very versatile
Con: does not cross-body comfortably on curves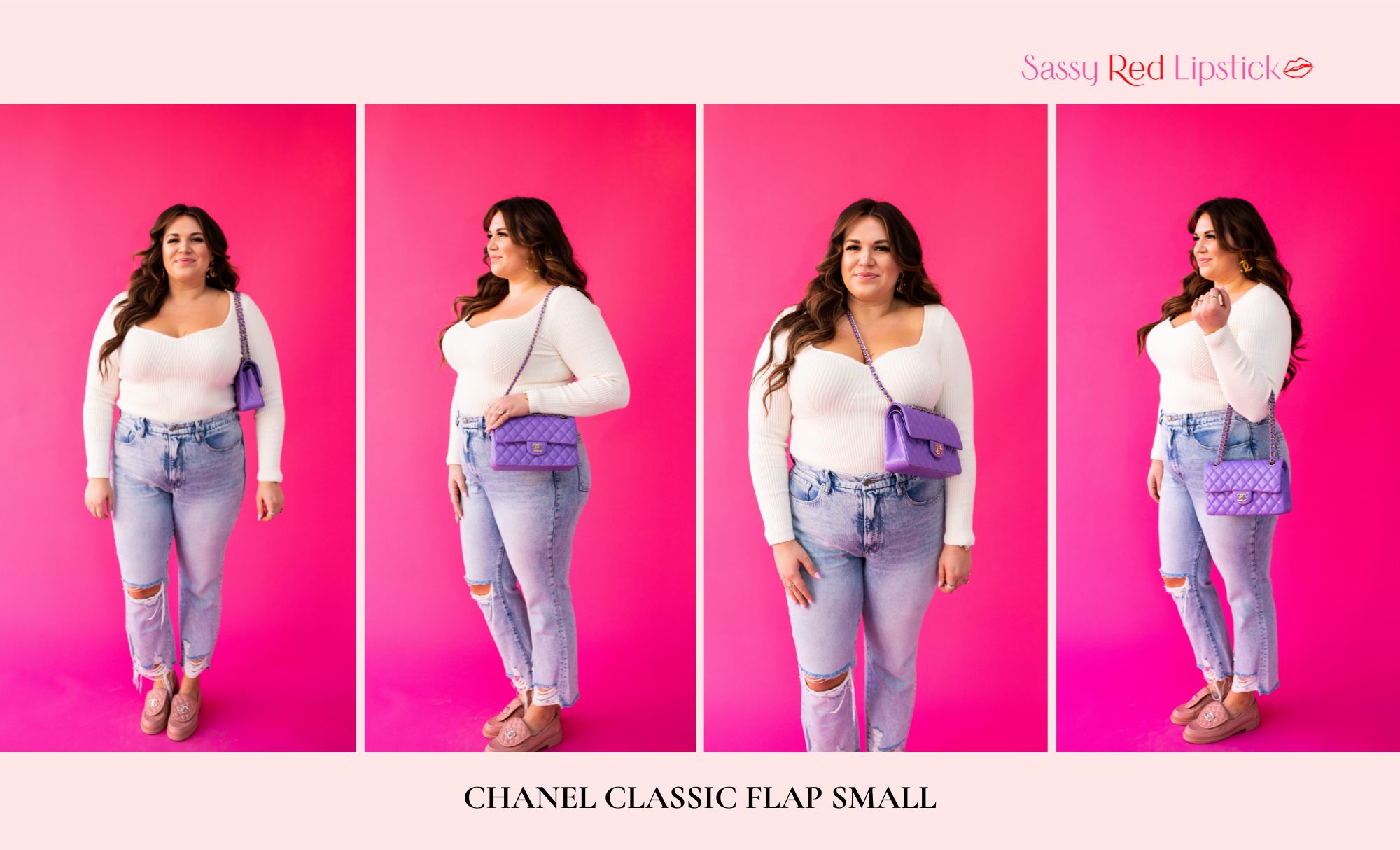 Chanel Classic Flap Mini Rectangle
Pros: can easily be worn cross body on curves, dressed up or down
Con: can only be worn as single chain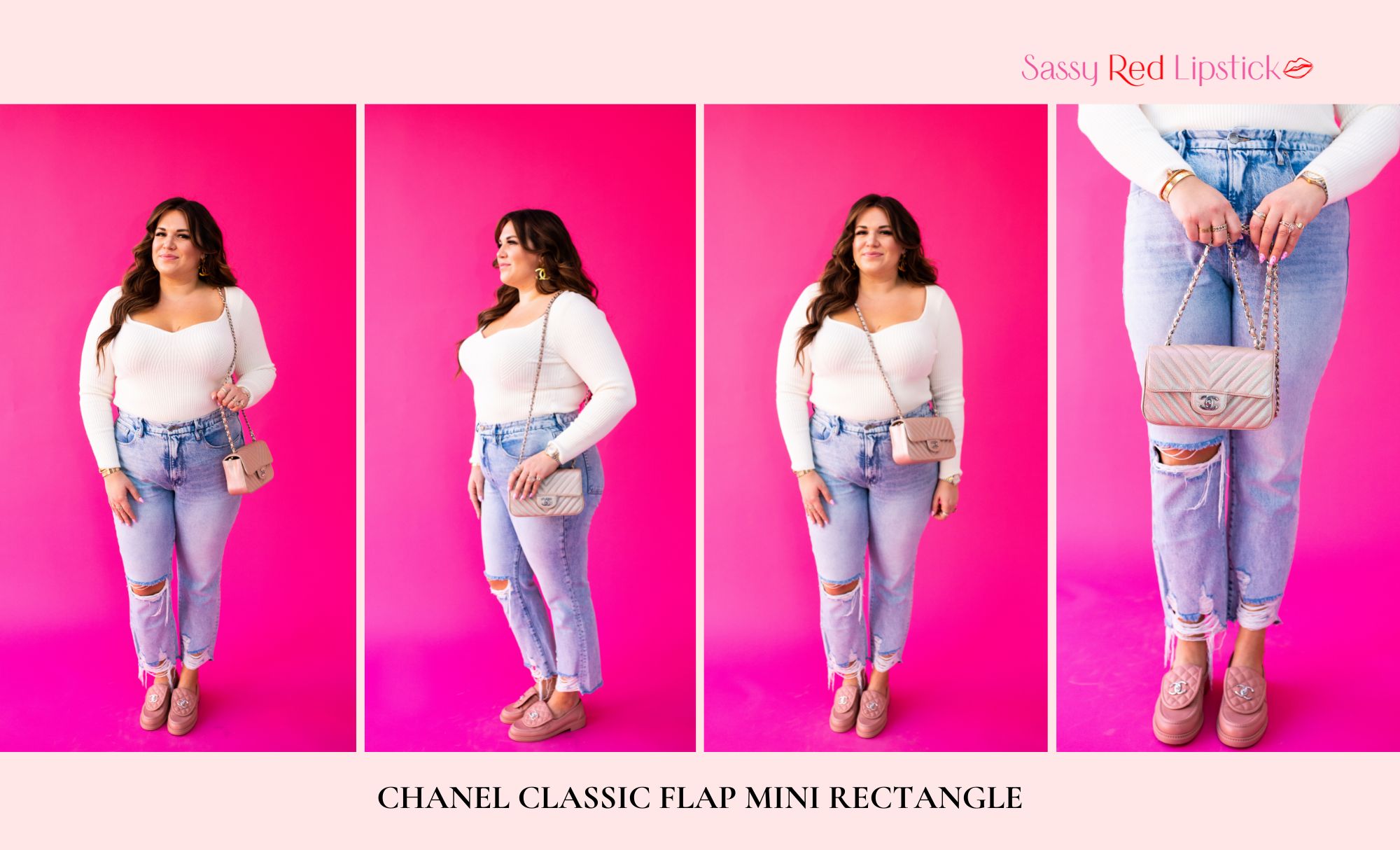 Chanel Classic Flap Mini Square
Pro: this size can be worn cross body as well
Con: can only be worn as single chain