When Mr. PurseBop learned that a Chanel raincoat had been purchased to protect "our" Hermes bags, he quite certainly pictured a Birkin being cloaked by a tweed-trimmed trench coat.  Never did he suspect that this raincoat fit only a handbag.
Meet the newest accessory in PurseBop's closet: the Chanel bag raincoat.
As ridiculous as it sounds, I just had to have this whimsical and utterly unnecessary plastic design. Funny how I would hesitate to buy an actual umbrella for $650, but jumped at the chance for this raincoat. Maybe I heard that there were only 50 in the US Chanel stores. Or maybe it was just too cute. I'm quite sure it was the latter. I immediately began conjuring up scenes of springtime shopping strolls in Paris, hand in hand walks to dinner on a misty night with Mr. PB, cafes and croissants at Angelina's… all with my dressed Kelly (or maybe Birkin) at the crook of my arm. My imagination really does run wild or perhaps I really need a trip to Paris.
The coat is emblazoned with the classic double CCs and camellias in a quilted pattern and it is further adorned with little Chanel buttons and leather trim.  If it came in my size, I'd happily wear it.
Instead, my Hermes Birkins and Kellys will sport this mac. Yes, I'm sure it looks great on Chanel bags too, but I like to think of this as a mixed marriage of sorts. It's a major upgrade from the free bag raincoat (clear garbage bag) that accompanies the purchase of five-figure Bs and Ks. This is fashion for my fashion passion. It is not perfect protection though: the handle (or Kelly straps) remain uncovered and there is a gap at the top of the bag. But somehow I don't invision any of us using this in rain forest style torrential downpours, I think we'll be ok.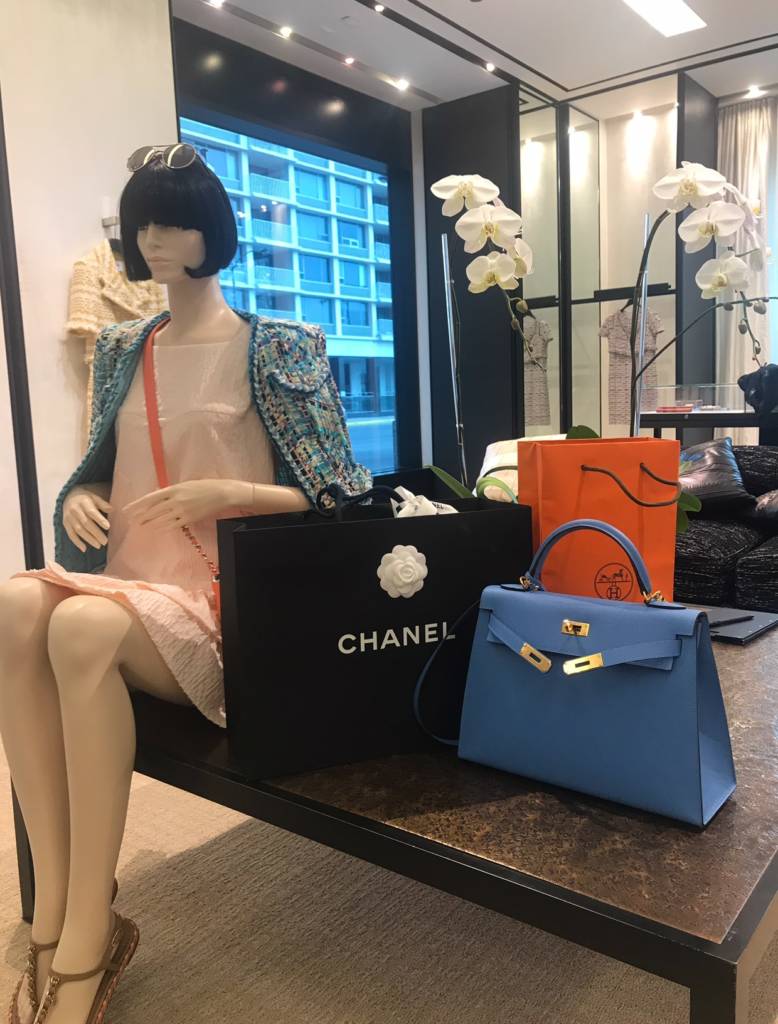 Updated: January 13th, 2019