The Hermès Sale Paris
Hermès is the quintessential luxury brand, seen as having the most exclusive and desirable goods on the market, naturally their sale should be no different.  
 The Hermès Sale in Paris is held twice a year.  Once in the winter in January and once in the summer in July.
It is held at Le Palais de Congress Paris for three consecutive days. This year it was from January 13th – 15th.  People come from around the world to attend the orange box markdowns. 
 Quite honestly we did not know what to expect, nor was there anywhere one could really inquire or ask for the particulars. There has been very little information shared. I hope that by sharing our experience, others will have a better perspective of what to expect and what to do. We attended the sale on the third and final day.  
 The sale begins at 9am and we had decided the night before that we would leave at 8am sharp. Home for us while in Paris was the Sofitel Hotel, Rue du Faubourg St. Honoré. We took a cab from our hotel directly to the Palais du Congress.
We arrived at 8:25. There were Hermes signs on the tv monitors at the entrance to direct us. Despite the instructions, it took us a few minutes to navigate through the monstrous lobby with what seemed like escalators heading in every direction. The congress center was bustling with people arriving to work. We managed our way to the designated area and were in line by approximately 8:35. The huge hall was roped much like the entrance to a Disney line.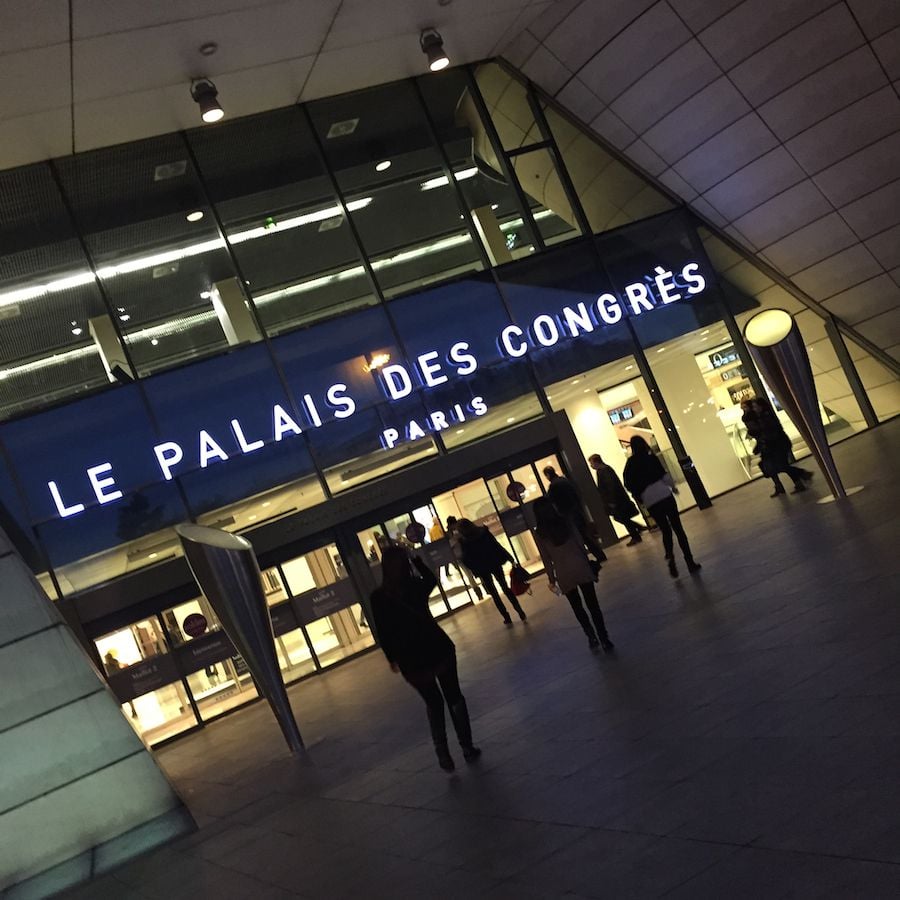 I am estimating there might have been approximately 100 people in line before us. The way the roped lines were draped back and forth led us to believe that provisions for many hundreds must have been made on the first days of the sale.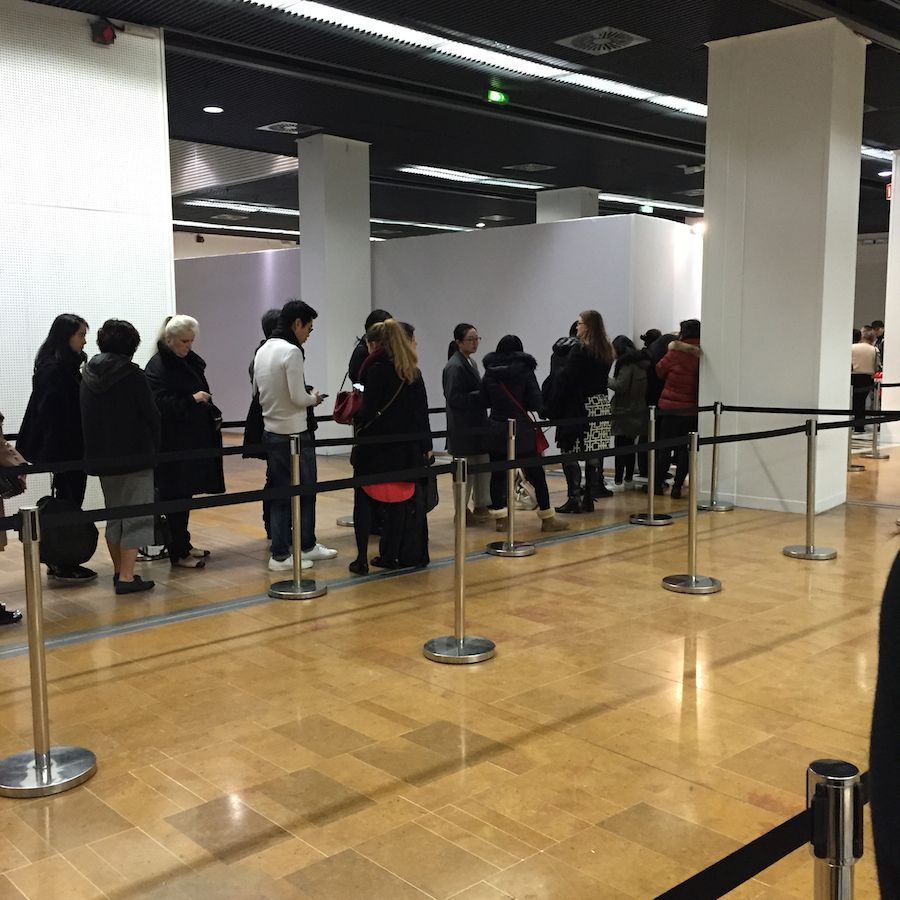 Someone had given us a tip not to wear coats as they would need to be checked and cause further delay both in entering and departing. This was great advice and a tip I would highly recommend. At approx. 8:50 we started to see Hermes sales associates arriving and entering the designated area. The line began to move at 9am sharp.  By  9:10 we approached the front of the line and were able to bypass the coat check. At the entrance we were asked to open our handbags for inspection. Once clearing this check point, we were directed to a spot where uniformed security men stood with a clipboard. He filled out our name and we were asked to specify if we were in possession of any Hermes items entering the sale. If any, they were to be listed on this form. Fortunately none of us had any. The marked slip with our name was handed to us and we were directed down a long hallway and told to take a clear large bag for our finds.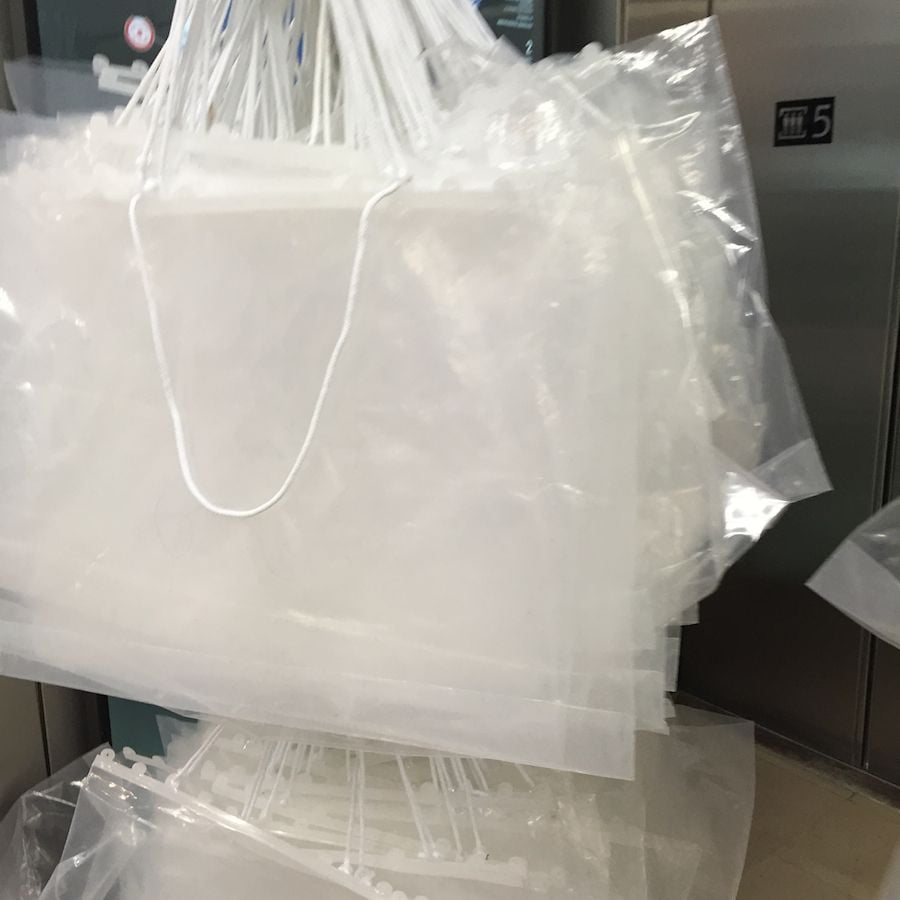 We navigated through the hallways to an open space cued off with ropes with hung signs that displayed the sections below: Jewelry, scarves & shawls, hats & gloves, housewares, etc. There was a separate line for all of them except for RTW.
We waited nearly 20 minutes in the jewelry line where the enamel cuffs were being offered. The lines were extremely well managed and security guards were posted at every possible juncture. The security looked like a scene from Homeland. People were granted access to the jewelry counter one by one. Once you made it to the front of the line you were clearly instructed that your selections needed to be completed within 10 minutes. These windows were very seriously enforced, I received two firm warnings during my time there. Once complete, the sheet in our clear bag was handed over to the SA where certain details and notes were added. We were instructed to pick up our selected pieces at check-out.
At the counter, the SA's were very friendly and would quickly try to ascertain what it was we were looking for and the desired size. The SA would step away and reach into big boxes organized size and style wise (e.g. enamels and click clacs were in separate boxes and further broken down by size). Each bangle was in an all clear ziplock bag with a stapled white slip with all the details.  Once your selections were completed, notes were made to your original sheet you carried with you. The sheet was returned to you to place in the bag and you were directed out of the ropes to the next area.
The collections were very spread out and on the final day the lines were not extensive in all departments.  Some of items were handed to you to place in your clear bag instead of noted to your sheet. I was handed my cashmere scarf and hat to carry in my bag.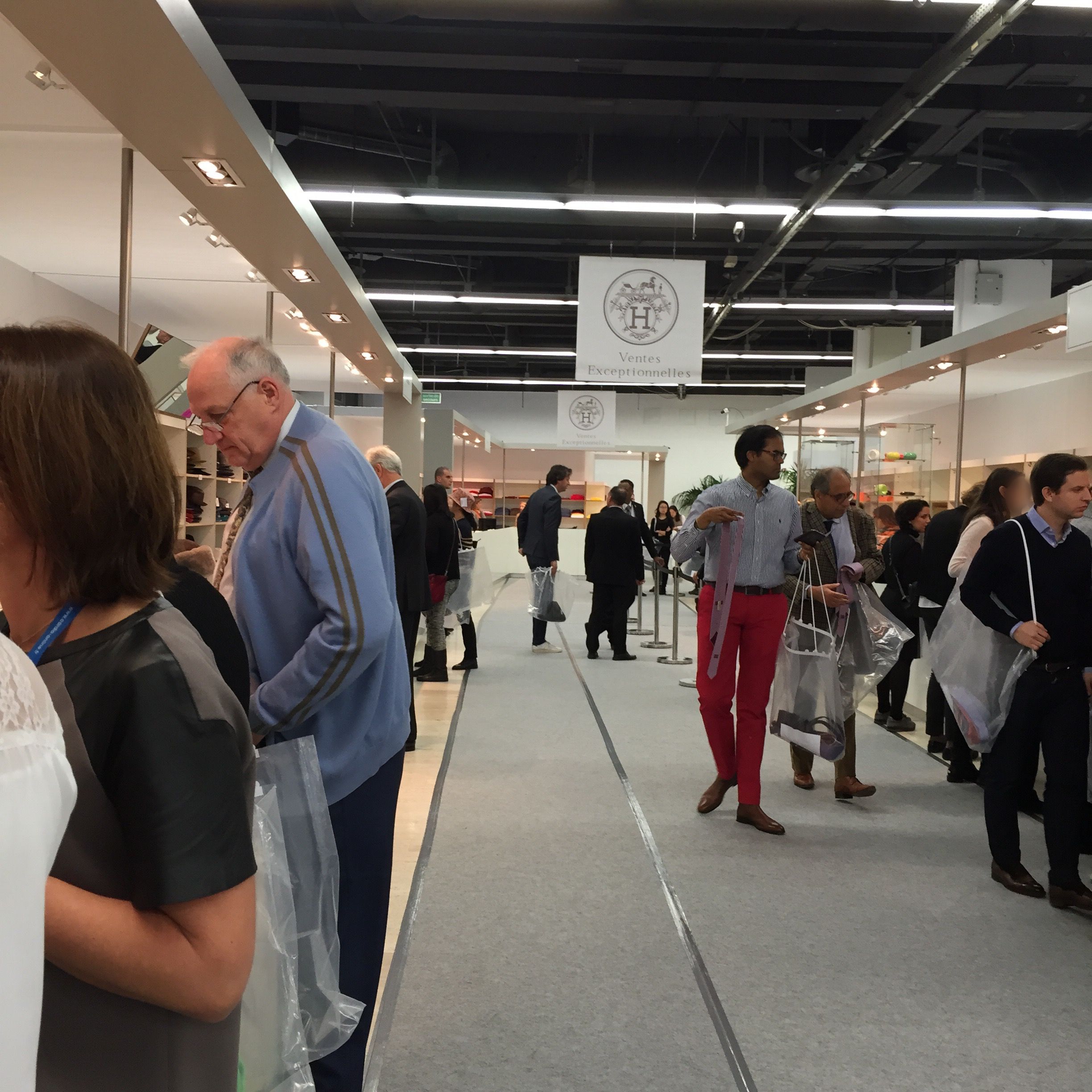 We admired the highly organized flow of traffic. The space was bright, clean and totally Hermes inspired, but still had that convention hall feel to the space.
The check out process was highly organized. Once you were sure you were done you cued in an area manned by multiple security guards. You were directed to a particular check out desk much like at TSA . Your bag was emptied and the sheet reviewed. I must say the staff was very pleasant, smiling and helpful. Payment method was selected and we were reminded VAT was not refundable on sale items. This was also made clear on signs outside the sale. The sale bags were heavy white stock and the complete sale receipt was stapled to the outside of the bag. Once you leave, you are advised to not come back again (that day). There were manned checkpoints at the exits.
Waiting in lines provided us plenty of time to get to know and hear the experiences of others that had attended the sale in previous years. I took this time to ask questions and jot down quotes from the others waiting in line to share with you others' perspectives and thoughts:
"On Wednesday there were lots of shoes, RTW, blankets, enamel bangles and scarf rings. It was a so-so sale compared to some I have been to but I still managed to buy gloves, scarves and shawls. I saw some lovely RTW. But don't get me wrong, they had some luscious stuff… from socks to overcoats and everything in between.  Sable bordered shawls, beaded and/or embroidered mousseline shawls, leather bound or fringed cashmere Loro Piana type heavy cashmere ponchos and capes, boots, sandals, some stuff for the house, towels…"
"The stock was almost identical when I went at this time last year. There was almost nothing new available. Of course, that didn't stop us finding things to buy but we had to make more of an effort. Most of us were done with the sale very quickly. Overall, the prices were the same as last year. One of the sales assistants said that there was not enough new stock to come to the sale because it was all sold/needed in the shops. I wonder if this means future sales will also be disappointing"
"Lines were similar to last year, but with a few more tourists from China compared to last year. The lines are always well-managed, although a few people manage to cut the line regardless"
"As far as I could tell, there was nothing new on sale in terms of the type of merchandise. There were the various formats of men's and ladies scarves, ties, ready to wear, swimwear and skiwear, housewares, hats, gloves, shoes and bangles/bracelets"
"I've had a lot of fun hanging out with the ladies and gents in the line, Everyone is so friendly with an Hermes story to share. Be it their sale experiences here or their woes at the mothership"
(*note: opinions expressed are of those of others, and not a representation of our views here at PurseBop.com, nor do they necessarily represent the Hermès sale experience entirely)
Stay tuned for Part II. We'll share details of our complete sale shopping haul and do the 'handbag math' for our purchases.
Want to ask questions, come visit us on BopTalk…
Reporting from Paris,
PurseBop…