Even blessings bestowed by the 'God of wealth', a.k.a. Hermès himself, may not be enough to help you get your hands on the much coveted Birkin and Kelly bags.

There are plenty of theories on how to get these quota bags, whether your first or fifteenth. But all essentially start with getting to really know the brand. Read up on its history and get a deeper understanding on what makes Hermès so special and oh so valuable. Curiosity is encouraged and rewarded where Hermès is concerned!
To really get familiar with what makes Hermès, HERMÈS, nothing beats a visit to the Paris mothership on Rue Faubourg Saint-Honoré. See where the magic began, over two centuries ago. It's an experience with or without a bag shopping appointment. And, in Paris, you never know … you just might score that special piece.
There are other valuable tips that we have covered a few times before. If you follow the rules carefully, you may even score more than your "allocated" share of Hermès quota bags!
More than knowledge, though, is creating a relationship with your boutique, your Sales Associate, maybe even the Sales Manager. Yes, it may involve purchasing other items. But which and how? What about loyalty? Friendliness? And more importantly, enjoying your journey down the orange brick road.
Build a Relationship with Your Sales Associate and Store
Always, the top advice for getting a HGB (Holy Grail Bag) from Hermès is building a stellar relationship with an Hermès Sales Associate (SA)! Of course, we occasionally hear stories of folks just waltzing in to a boutique and getting a Birkin or Kelly, but that tends to be the exception rather than the rule. Usually, you buy from the sales person who has helped you over time.
Why? Because the SA is your first beacon of hope, the genie who can make the dream of owning your first (or tenth) Birkin/ Kelly a gleaming reality. A great SA is the one who can help you place your Special Order after all!
This relationship isn't something that develops overnight! It gets nurtured over time. It may involve frequent store visits…. or a few. Some purchases along the way… or many. If you really love Hermès, shopping there will be delightful. And, yes, purchasing matters – but it's not always a direct line to a bag.
Also consider your relationship with the store itself. Get to know the Store Manager or the Director. It even helps to have other associates recognize you as a regular customer of their colleague.
Be Loyal When Building a Purchase History
As long as you're shopping at Hermès it pays to be loyal. Not just to your Sales Associate but to your boutique(s) generally. This is not the time to "spread the wealth." It is not helpful to buy some items online and a bit at store x and more at store y. Instead, try to direct your purchases to a specific location. And despite, Hermès' ever-growing digital presence and the ease of these online purchases, for relationship purposes, you're better off buying in a boutique. Otherwise, you risk diluting your spending profile at each location.
That said, there's no need to ignore vacation shopping opportunities. Just recognize, it may not help you in the long run.
Buy What You Will Use
As long as you're committed to purchasing Hermès items, make those acquisitions matter… to you. We don't advise random buying of things you don't like, won't use or will resent.
Instead, take a hard look at your existing wardrobe and answer two questions:
– What is missing or what can you use more of?
– What are the accessories or pieces of clothing that you wear most often?

The answers will guide you on future Hermès purchases. If it is a handbag you want, the Birkin and Kelly aren't your only options. The Evelyne and Garden Party make for great entry level bags. Hermès also offers a beautiful range of ready to wear and accessories; which have us all lusting after them, season after fashion season. The brand's elegant aesthetic resonates across all their products- meaning, no matter what you get, it is likely to always stay in vogue. 

What You Buy Matters
This may seem an odd concept, but not all dollars (or Euros or Yen) spent equally affect your profile. Beyond handbags, preferred categories include Ready-to-Wear and Jewelry. During the pandemic, home goods hit a real high!
Another approach is to show true appreciation of the brand by purchasing in several different metiérs, like a smorgasbord of home goods, clothing, jewelry, silks, shoes, maybe even lipsticks and of course leather goods.
Buy Products That Have Resale Value
We're not saying that you only think of a product's resale value at the time of purchase, but it is wise to bear in mind that someday you might want to sell it for an upgrade or to declutter. In the burgeoning and ever-growing luxury resale market, Hermès items remain in demand, commanding impressive resale prices. We recommend taking care of your purchases and keeping them in good condition, should you ever want to sell them. Some folks even calculate the potential resale value of the product considered before making the purchase.
Avoid buyer's remorse at all costs! In the long run, it is actually detrimental to building that deep and loyal customer-brand relationship. A great way of ensuring this is in knowing the intrinsic value of your purchase. Educating yourself on the brand's heritage will help you in understanding the product's true value.
But while remembering your goal of buying a quota bag or placing a special order and the need to build a 'purchase history' for it, don't settle for just anything that fits the budget. Get something you will truly love, even if it is an unusual color or design that you may not get to wear that often! Remember, if you love it, you will find use for it!
So go ahead and indulge in those pair of shoes that you've been eyeing or that tenth enamel bracelet that will go perfectly with your new dress. Take a note out of Monika's Instagram, who recently unveiled the most gorgeous set of clogs (straight off the runway too!) from her favorite brand.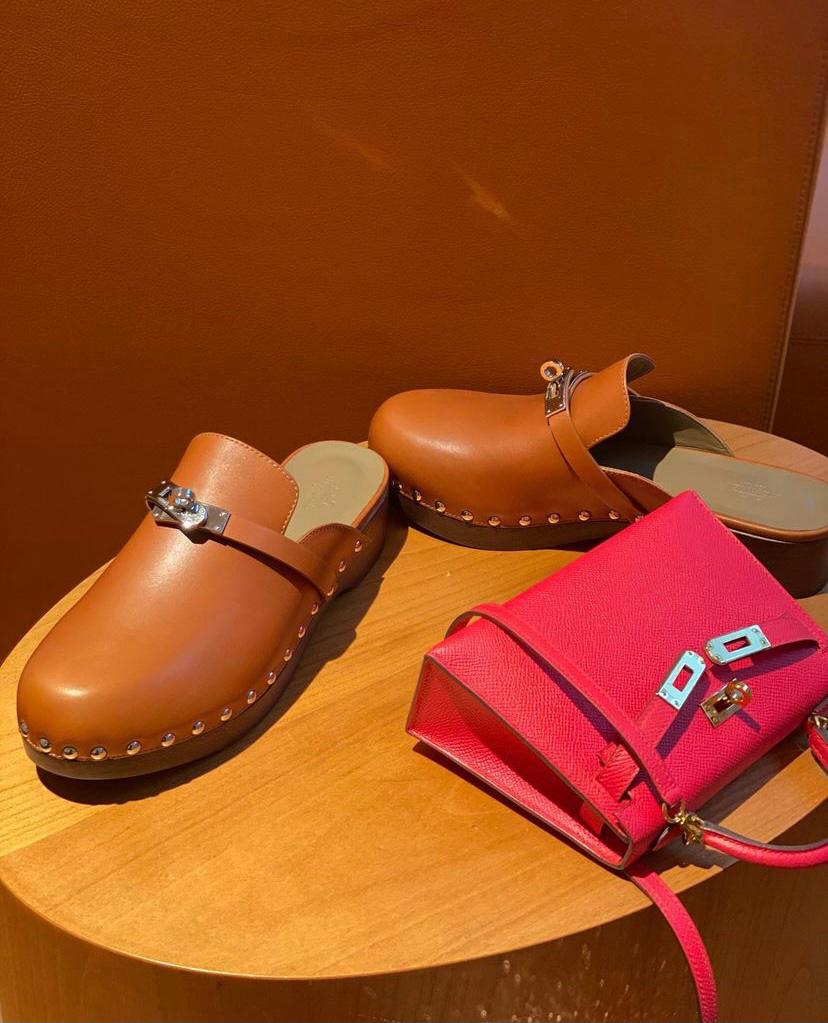 Buy Gifts For Family and Friends
You can easily create a purchase history, while checking off your Christmas and occasion shopping list. And let's face it -who doesn't love a gift from Hermès!?! You'll be aunt/friend/mother/relative of the year if you indulge your relatives and friends with gifts from Hermès! Hermès houses some seriously delicious fragrances and alluring gift sets for every budget.
Make Your Spouse a Loyalist too!
Get your spouse to love the brand you endear so much. Perhaps indulge in a 'his and her' watch set or get your better half addicted to Hermès fragrances. A suit and tie ensemble is next level with an Hermès tie and pocket scarf.
The excitement of achieving your end goal of a HGB is multiplied (and easier!) when you have a partner rooting for you. If your partner isn't quite the luxury aficionado like yourself, perhaps educate him on what an investment buying an Hermès bag is, and how the prices are ever increasing.That should get him on board!
Hope these tips help make your Hermès journey as special as that all desirable HGB!