Dior is currently previewing their Fall/Winter 2020 collection at a swanky pop-up shop located in the Exhibition Windows of Harrods, London. The pop-up is open between 1st – 30th August ahead of the collection's worldwide release later this year.
Our British correspondent takes us on a tour for an up close and personal virtual experience. Check out our thoughts on the bags from creative director Maria Grazia Chiuri's most recent collections – note that our personal favorites include some wintry twists on the house's beloved classics!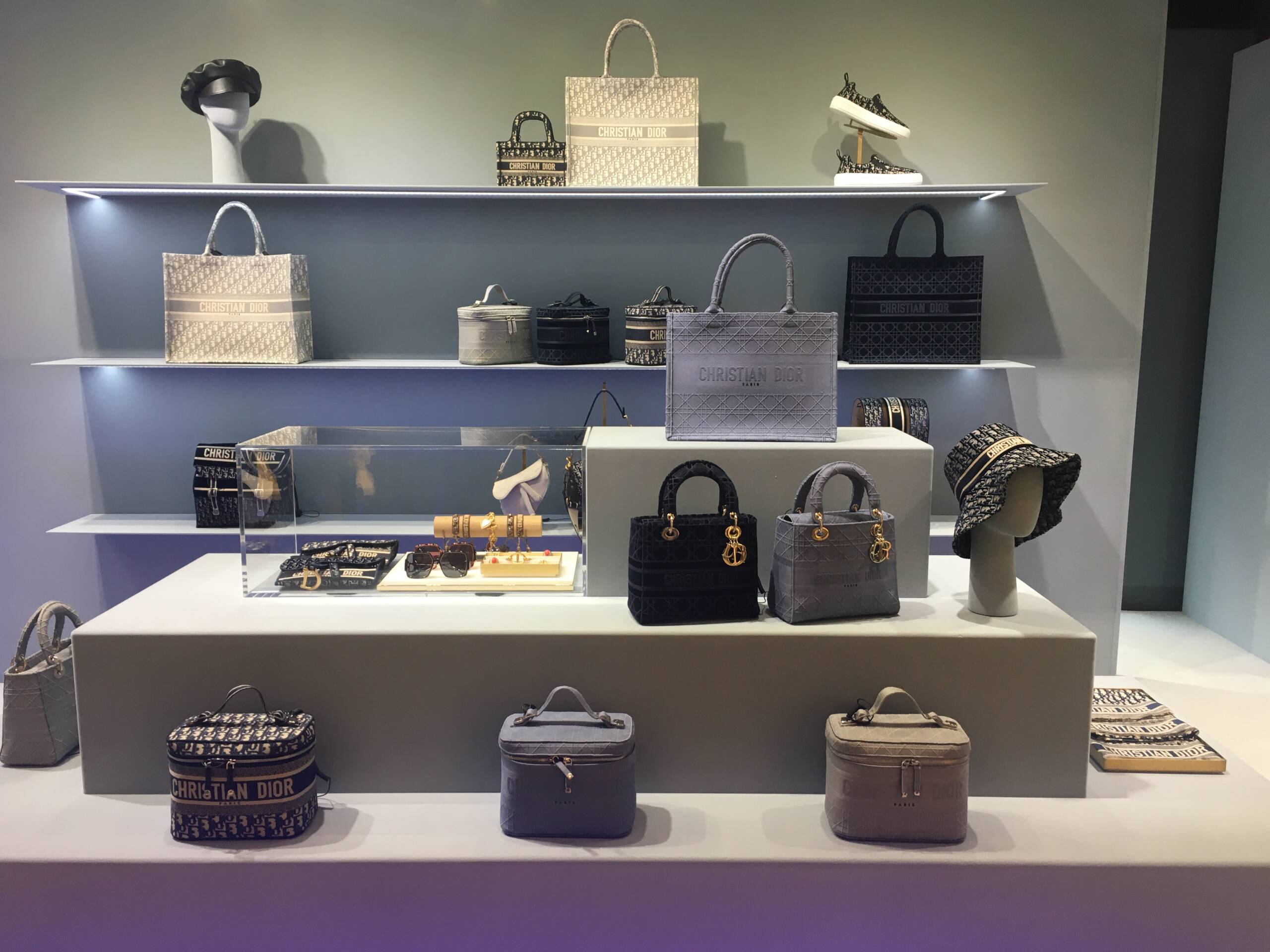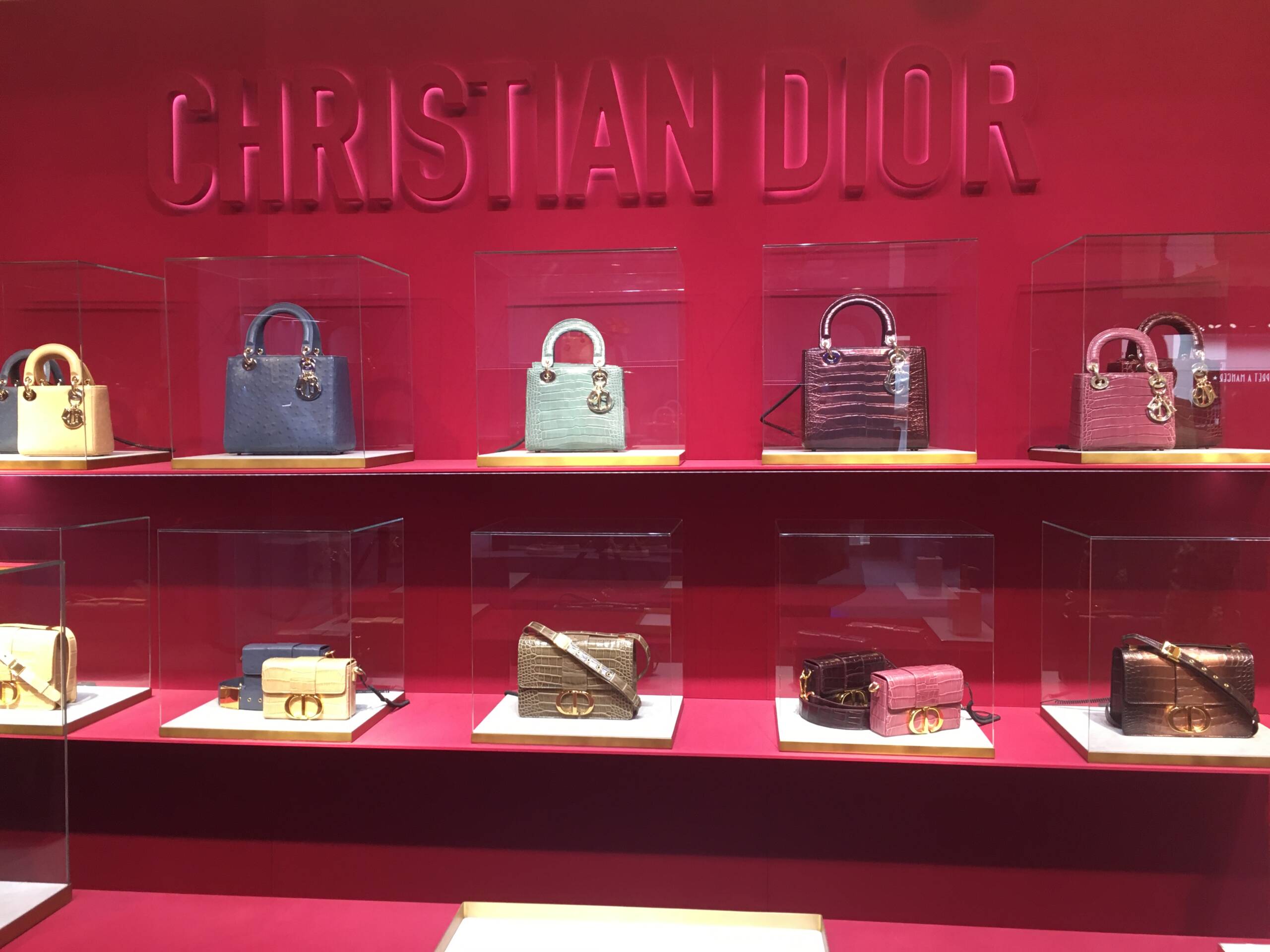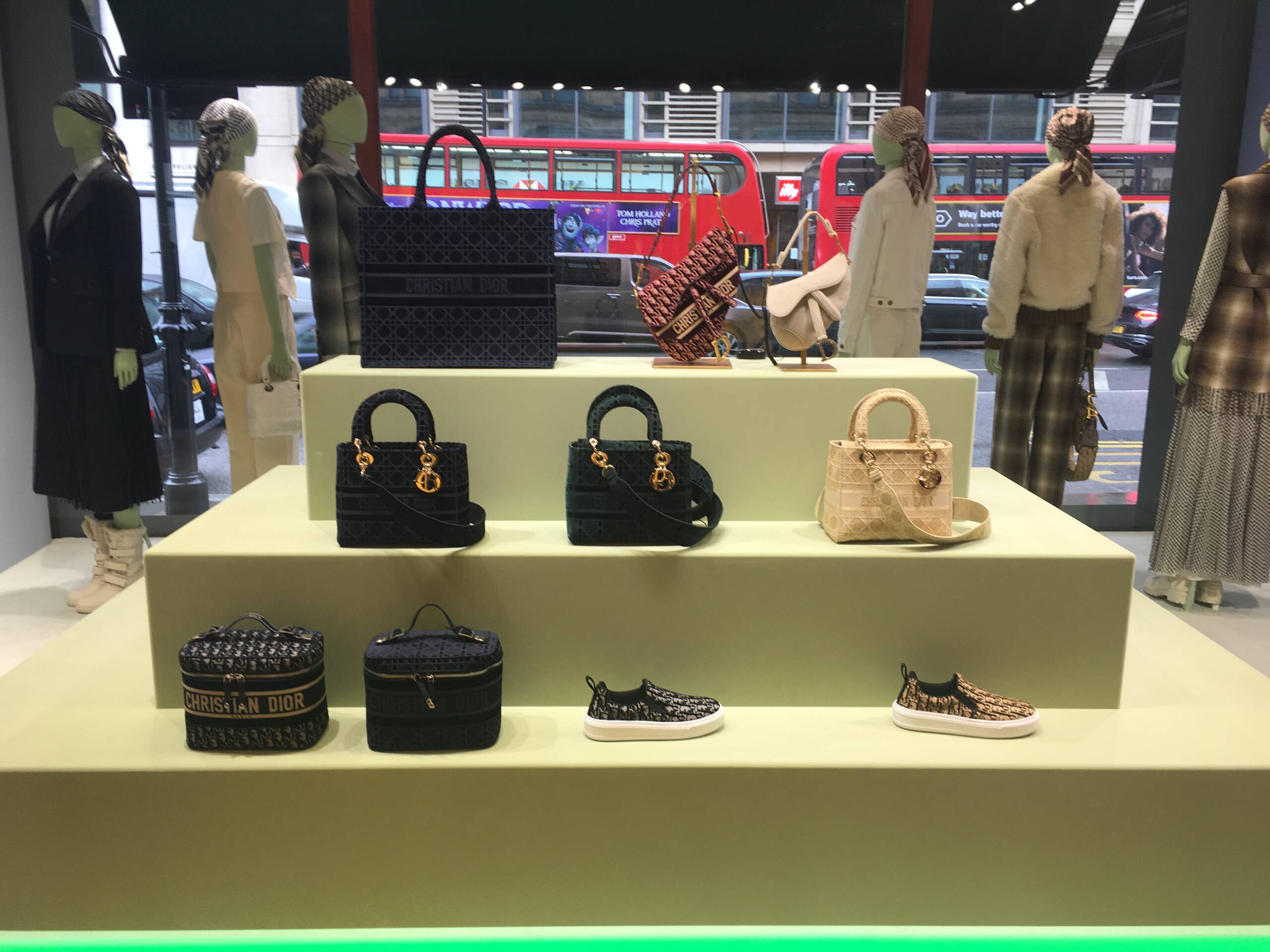 This collection centres around the concept of playful opulence. Rich, luxurious velvet fabrics transform the house's classic bags to create new and interesting color palettes fit for a winter wonderland.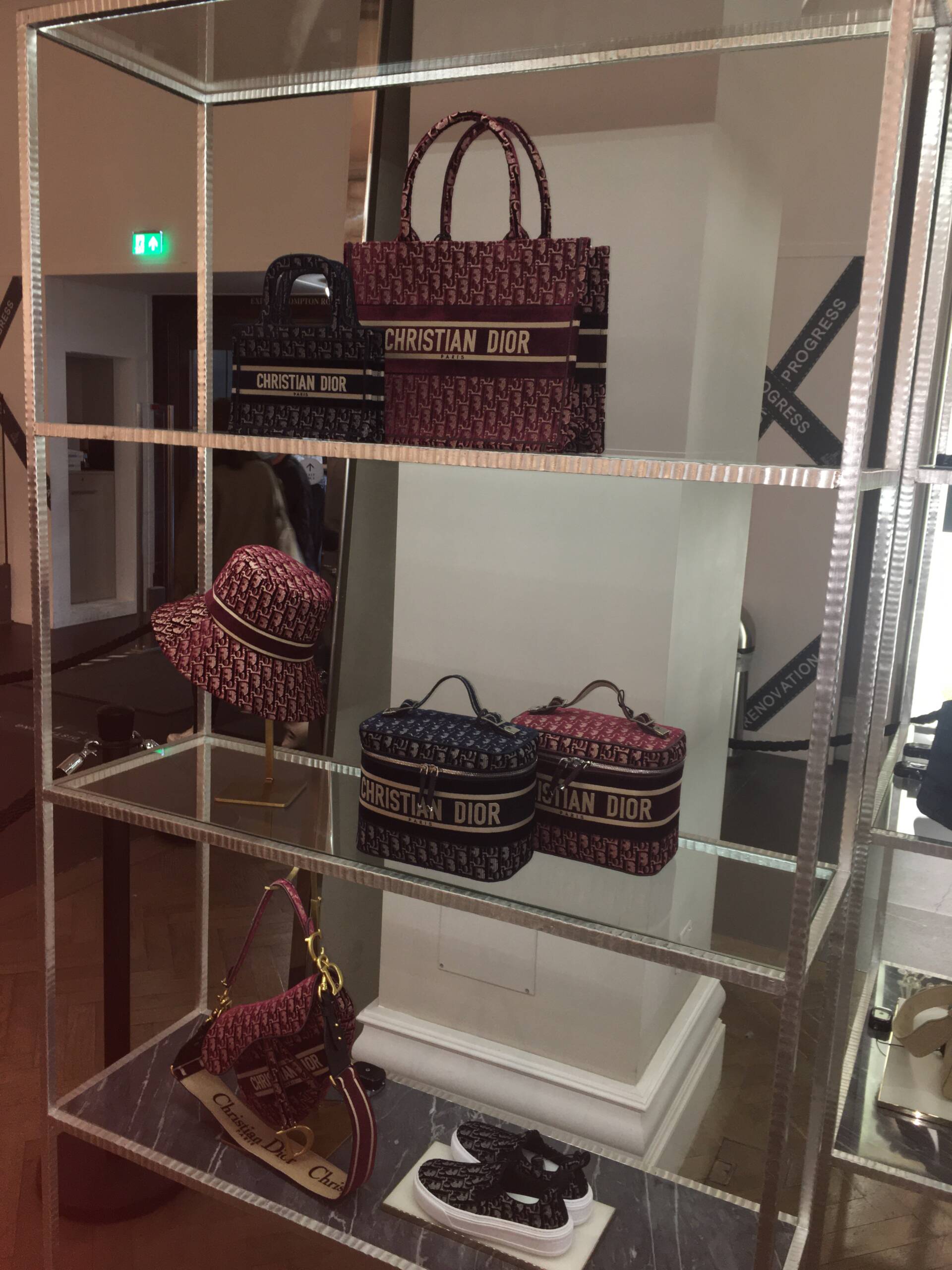 The house's time-honored Cannage and Dior Oblique motifs are reinterpreted in both velvet and a structured canvas material in varying hues ranging from deep burgundy and emerald to off white. The Lady D-Lite, Book Tote and Saddle Bag have all been reimagined for Fall/Winter 2020.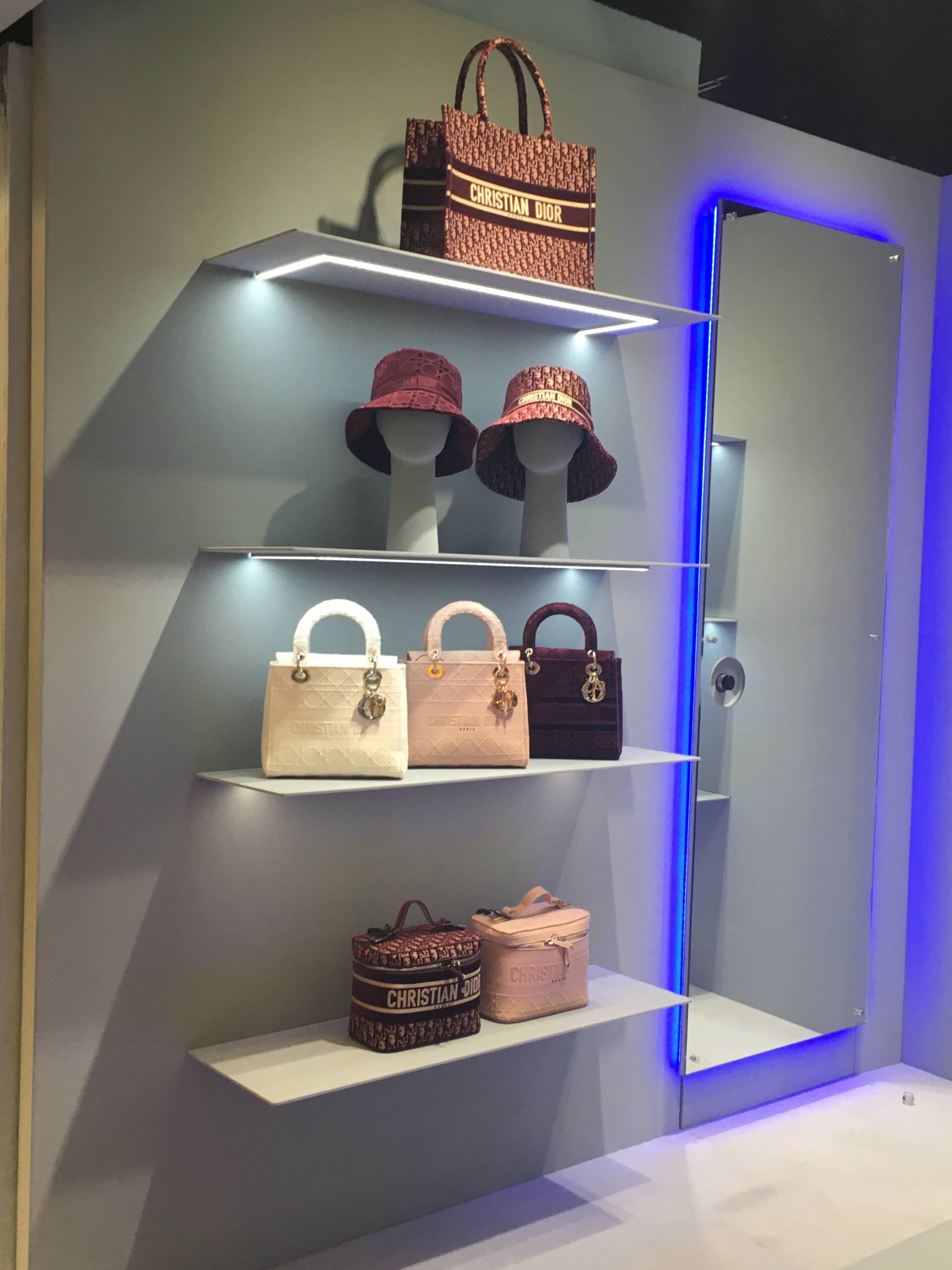 A standout piece from this collection and a clear favorite of ours is the Lady D-Lite available in both lavish velvet and structured canvas. This medium Lady Dior style purse is available in Denim Blue, Beige, Gray, Rosewood and White in the house's new rigid canvas as well as a pale gold hue created using metallic thread embroidery. The material provides the structured shape which the style is known for in addition to a uniquely textured finish. 
The new canvas style of the bag is priced at £3,350 and the metallic thread edition costs an extra £100.
*Note that all prices mentioned in this article are given in pound sterling as the US prices are not yet available.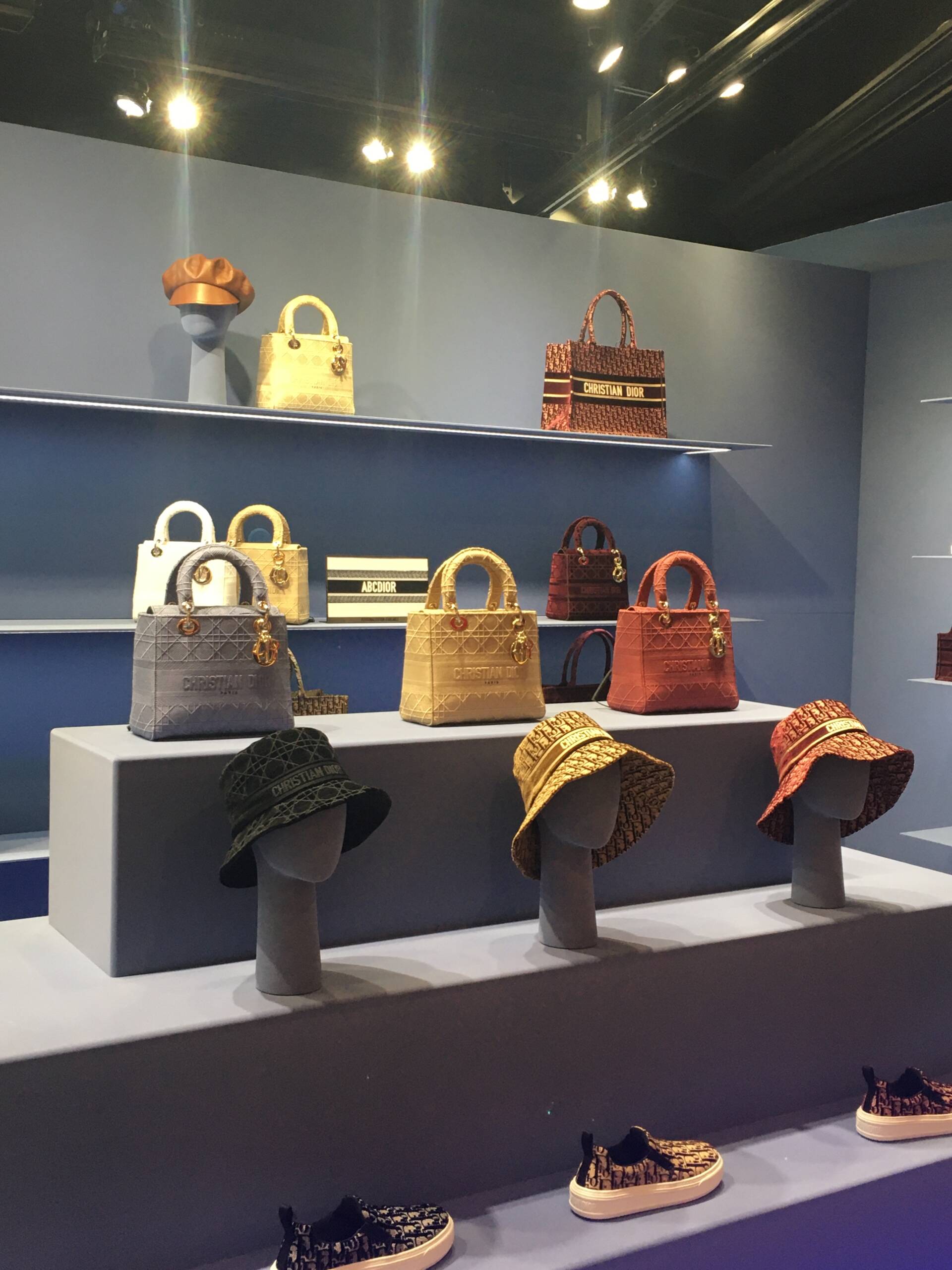 This collection also offers the Lady D-Lite in velvet – oh so decadent! Commonly associated with royal attire, it is no surprise Dior has chosen to launch one of their most popular bags in deluxe velvet. This fabric is available in Blue (dark navy), Green (emerald) and Bordeaux (burgundy) and will set you back slightly more than its canvas counterpart, priced at £3,600.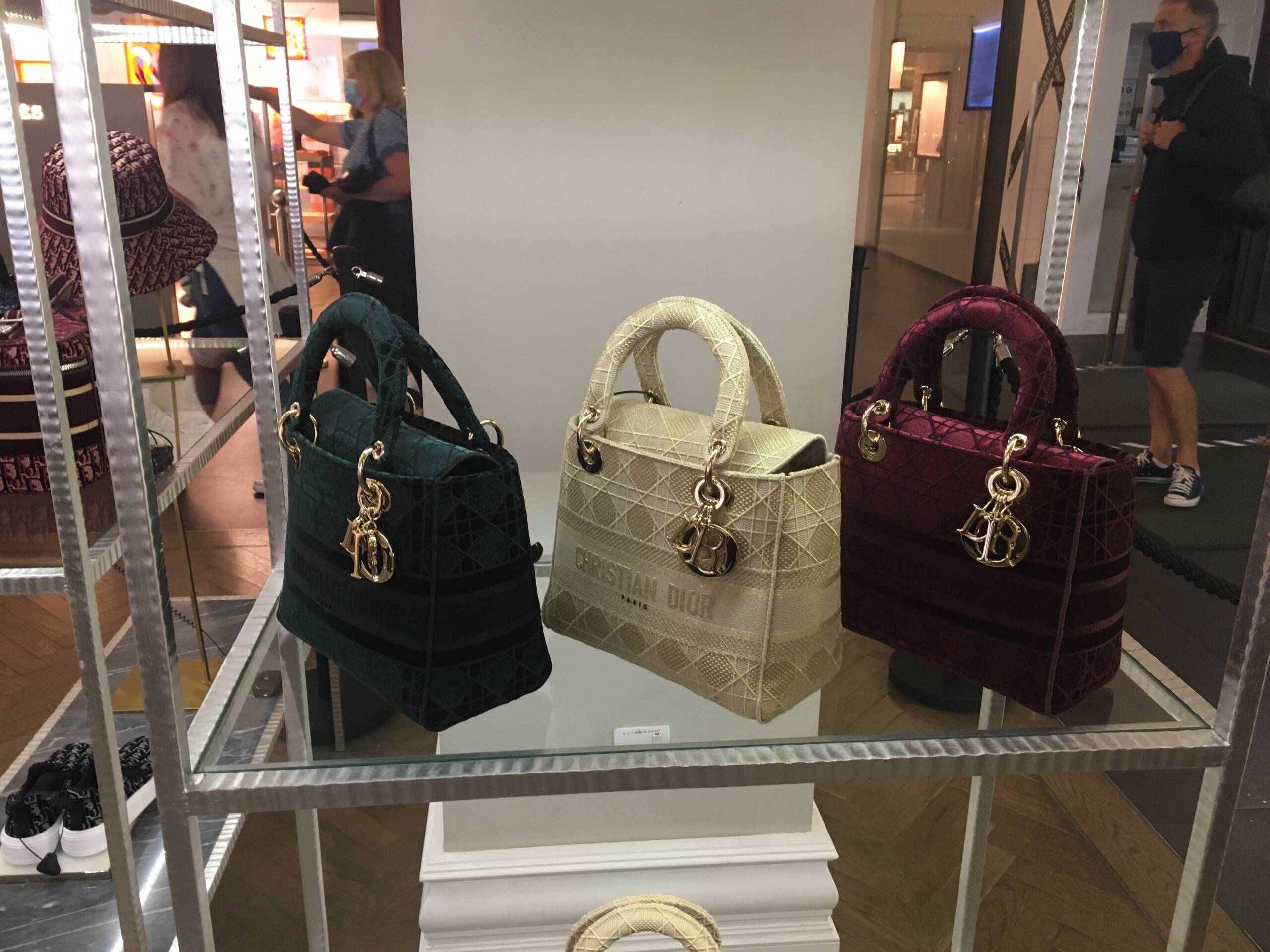 Another of Dior's beloved classics has been revamped for this upcoming collection. The Dior Book Tote is known for its functionality… but who says functionality can't be ostentatious too! Both the Cannage and Dior Oblique monogram patterns are offered in velvet in differing shades – Blue (dark navy), Green (emerald) and Bordeaux (burgundy) in Cannage and Blue, Bordeaux (burgundy), Brown in the house's signature monogram.
Or if you're looking for something more sturdy this practical tote is also available in Cannage and monogrammed canvas in similar hues with the addition of Gray. This popular style is available in the mini, small, medium and large sizes with prices ranging from £1,750 to £2,450.
Far from being perceived as a retro piece, the Dior Saddle Bag has become a staple of the house in recent years. Beloved for its versatility and collectability, velvet seems like the perfect fabric to add to this style's options. For Fall/Winter 2020 snap up a velvet version in Blue, Bordeaux (burgundy) or Brown for £3,000 or go compact with the Saddle Pouch in Blue velvet for £1,350.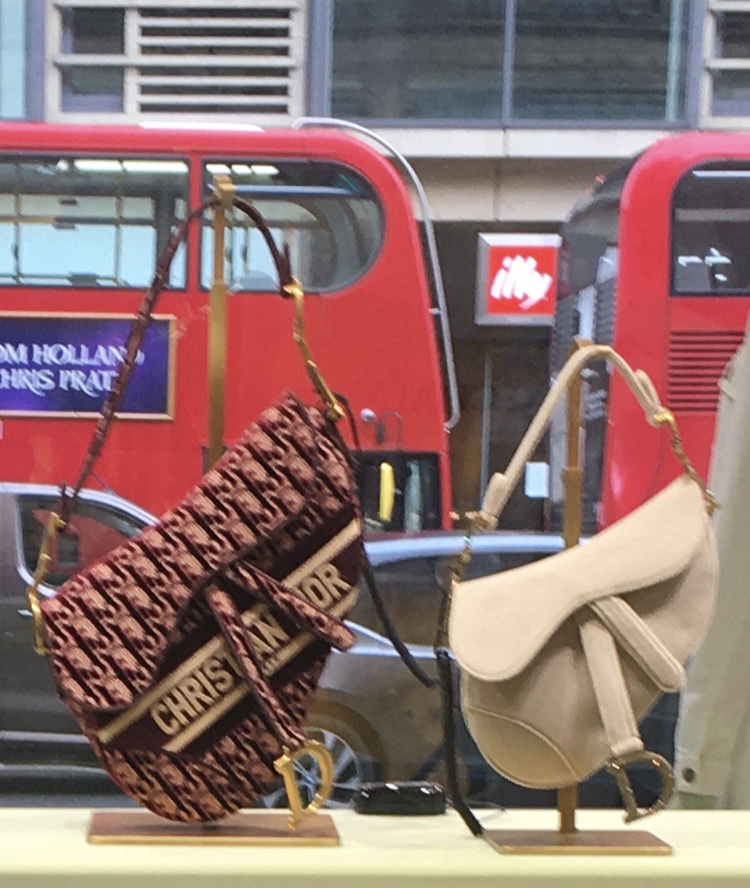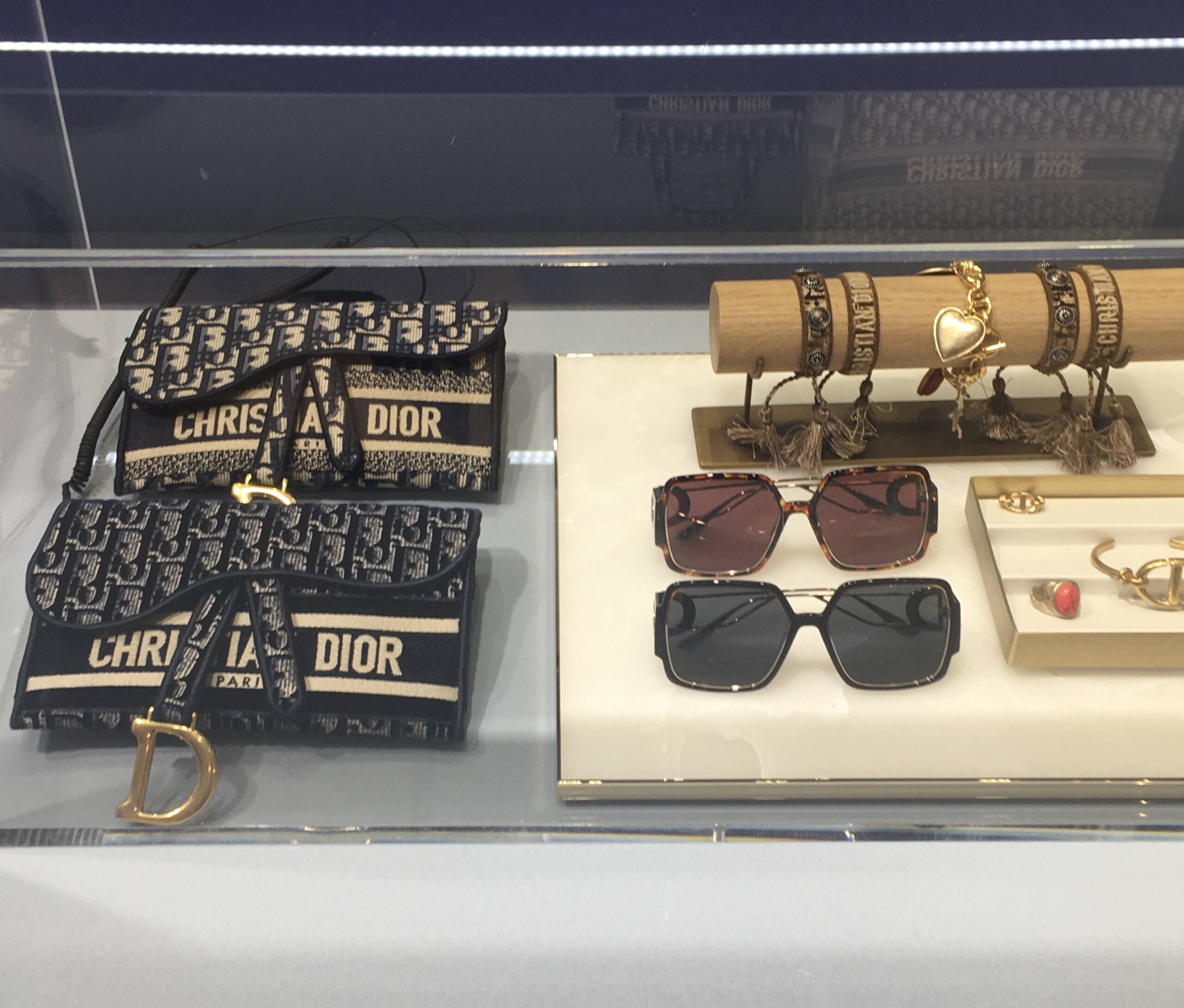 Embracing this collection's playfulness, the ultra practical and adventure-friendly DiorCamp bag is offered in soft Blue velvet. Priced at £2,650, this velvet variation costs a few hundred pounds more than the canvas option. While velvet may not be the first fabric that comes to mind when thinking of camping trips, this messenger style bag can make any excursion feel like a glamorous vacation.
Akin to other luxury brands, Dior has caught on to the allure of the vanity case and its quirkiness and surprising versatility. Available in Cannage patterned canvas in addition to velvet Dior Oblique monogram and monogrammed canvas, why not opt to invest in several variations of the piece? Choose from the following options – Gray, Rosewood and Denim Blue in Cannage canvas; Blue Cannage velvet; Blue and Bordeaux (burgundy) monogram velvet; Blue and Gray monogram canvas. 
This vanity case is perfect for storing toiletries or can alternatively be carried as a top handle bag. Canvas options are priced at £1,450 and velvet variations at £1,750.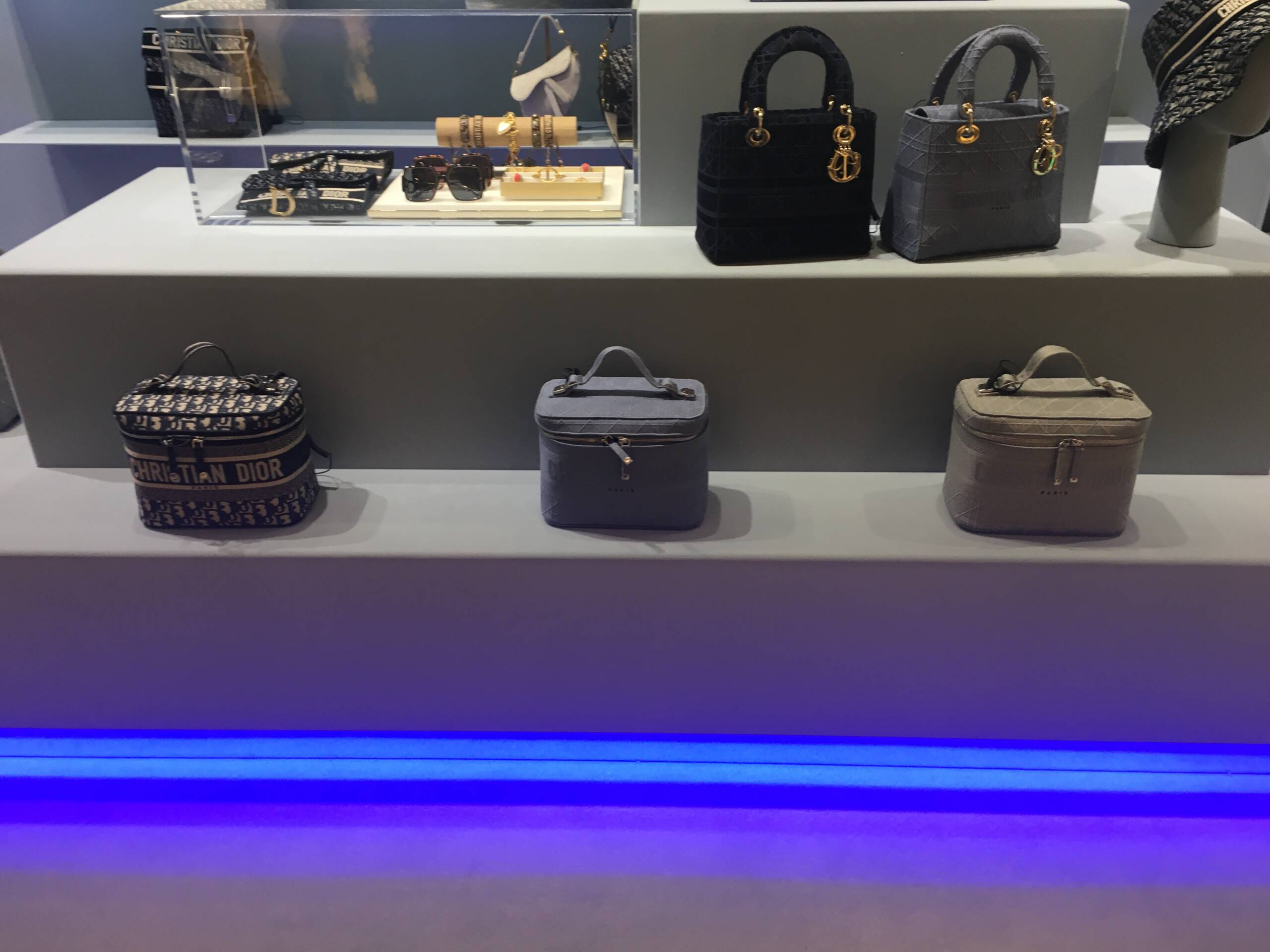 This collection is all about having fun, a message which is clear to see from the collection's personalization options. A selection of velvet straps are available in the Dior Oblique pattern in Blue and Brown along with Blue and Bordeaux (burgundy) colored straps embossed with 'CHRISTIAN DIOR'. Feel free to mix and match the straps between bags to create a look that's uniquely you. All options are finished with antique gold hardware and priced at £760.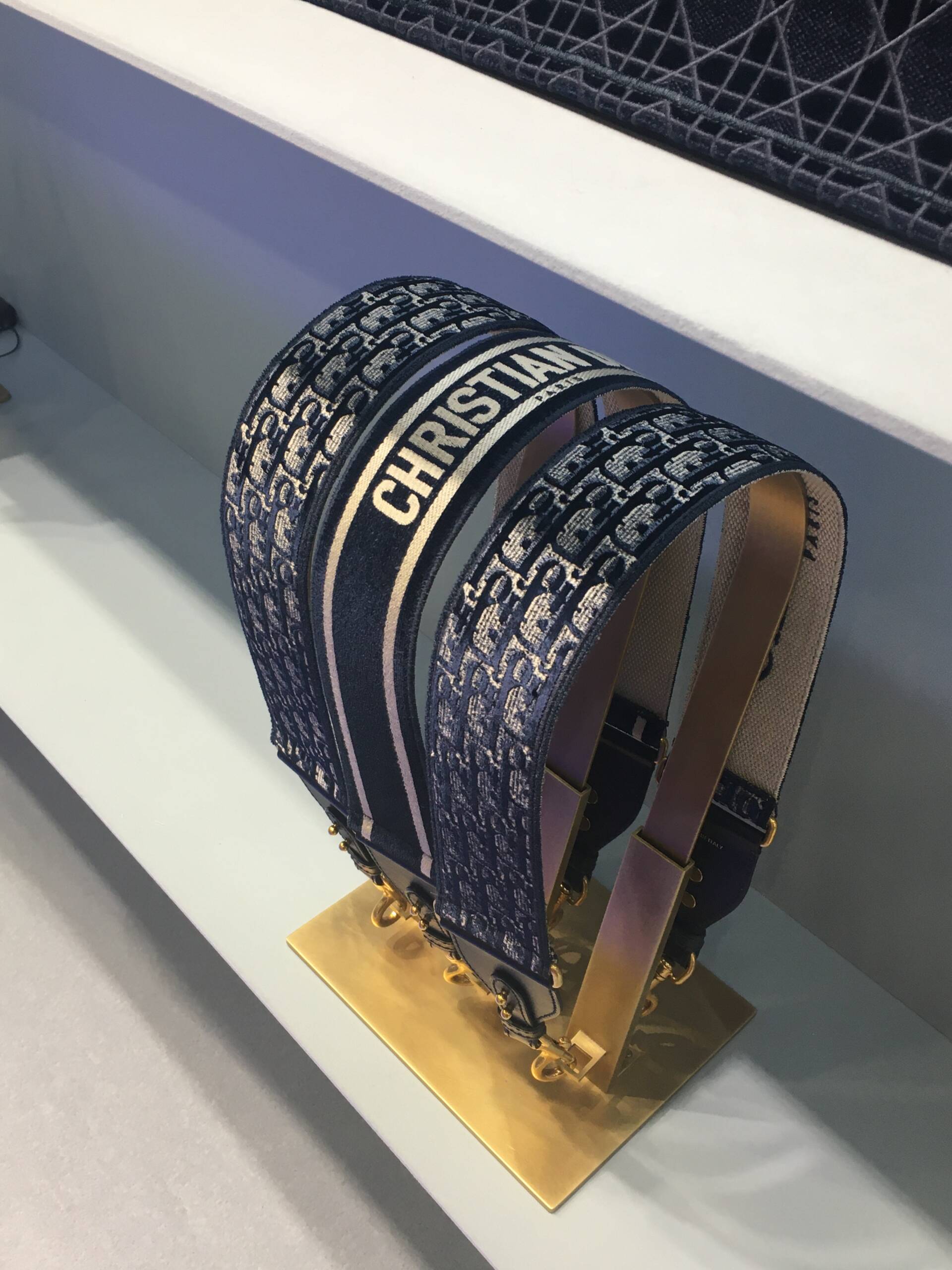 Owing to the huge success of Dior's Book Tote personalization options, this Fall/Winter you can personalize even more of the house's pieces thanks to the new ABCDior service! Items available for personalization include Lady D-Lite, Saddle Bag, DiorCamp, DiorTravel Vanity Case, 'CHRISTIAN DIOR' embossed shoulder strap and, of course, the Book Tote (including the Mini size). The number of characters available for each product varies depending on size and the price of personalization ranges from £90 to £180.
Products can currently be personalized at the Dior pop-up in Harrods until 30th August.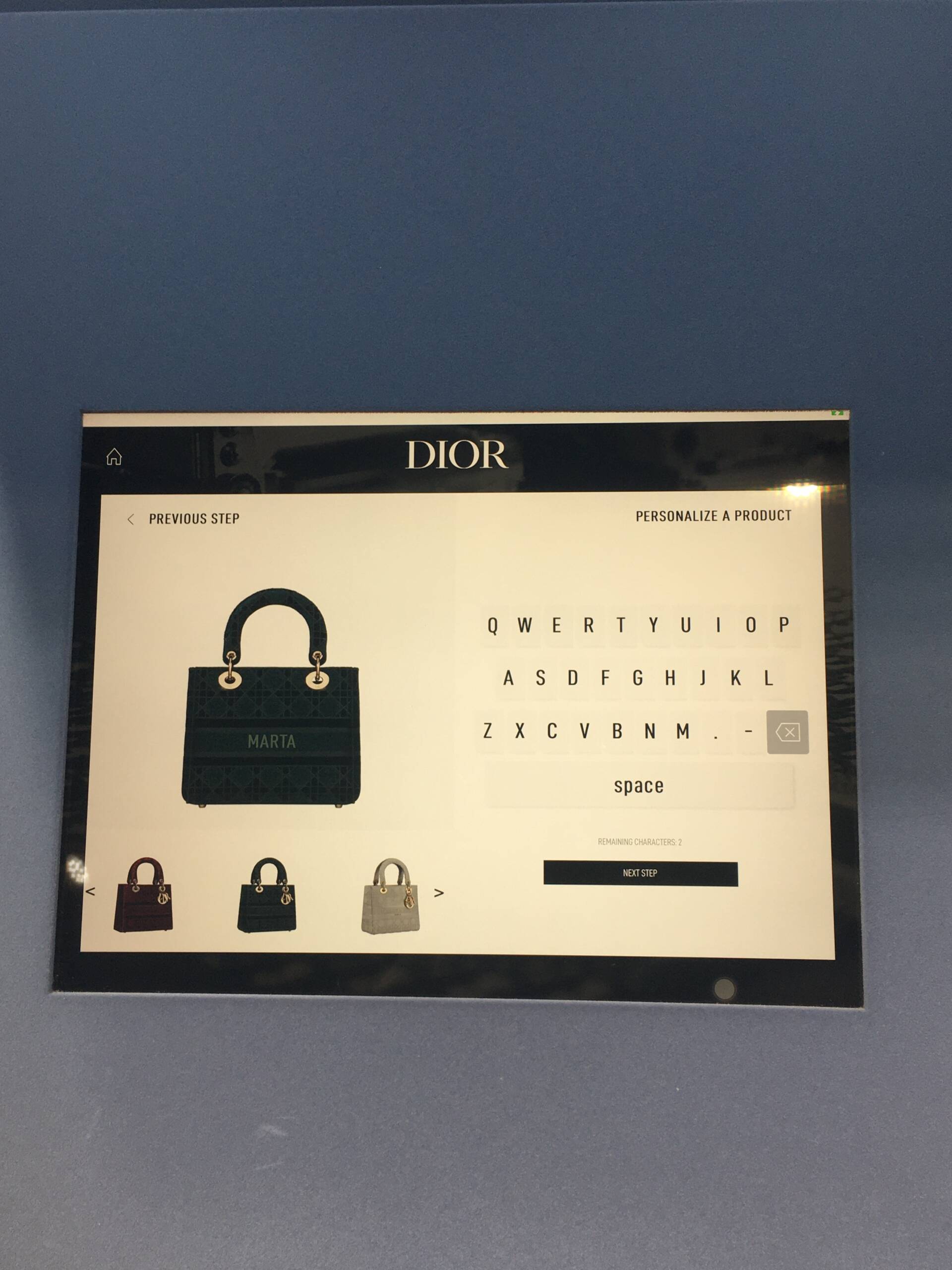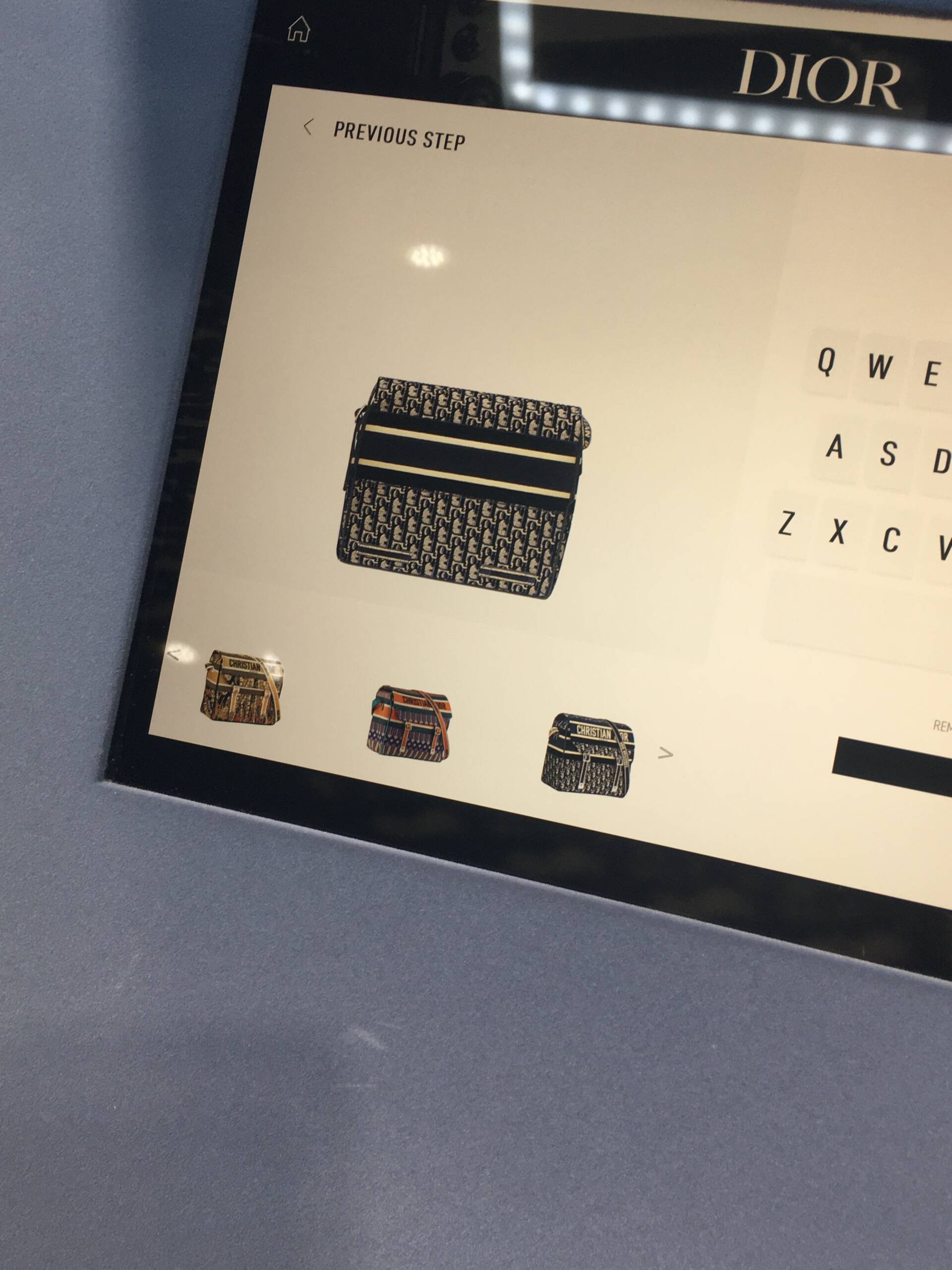 With all the festivities that winter brings, what better time to indulge yourself?! Chiuri certainly understands the need for some extravagance around this time. This new collection boasts a large assemblage of exotic leathers including Ostrich, Lizard, Alligator and Python. These materials are available in the following styles – Lady Dior, Saddle Bag, Montaigne and the smaller 30 Montaigne.
Prices start from £3,000 for the Lizard material and go into the tens of thousands for Alligator.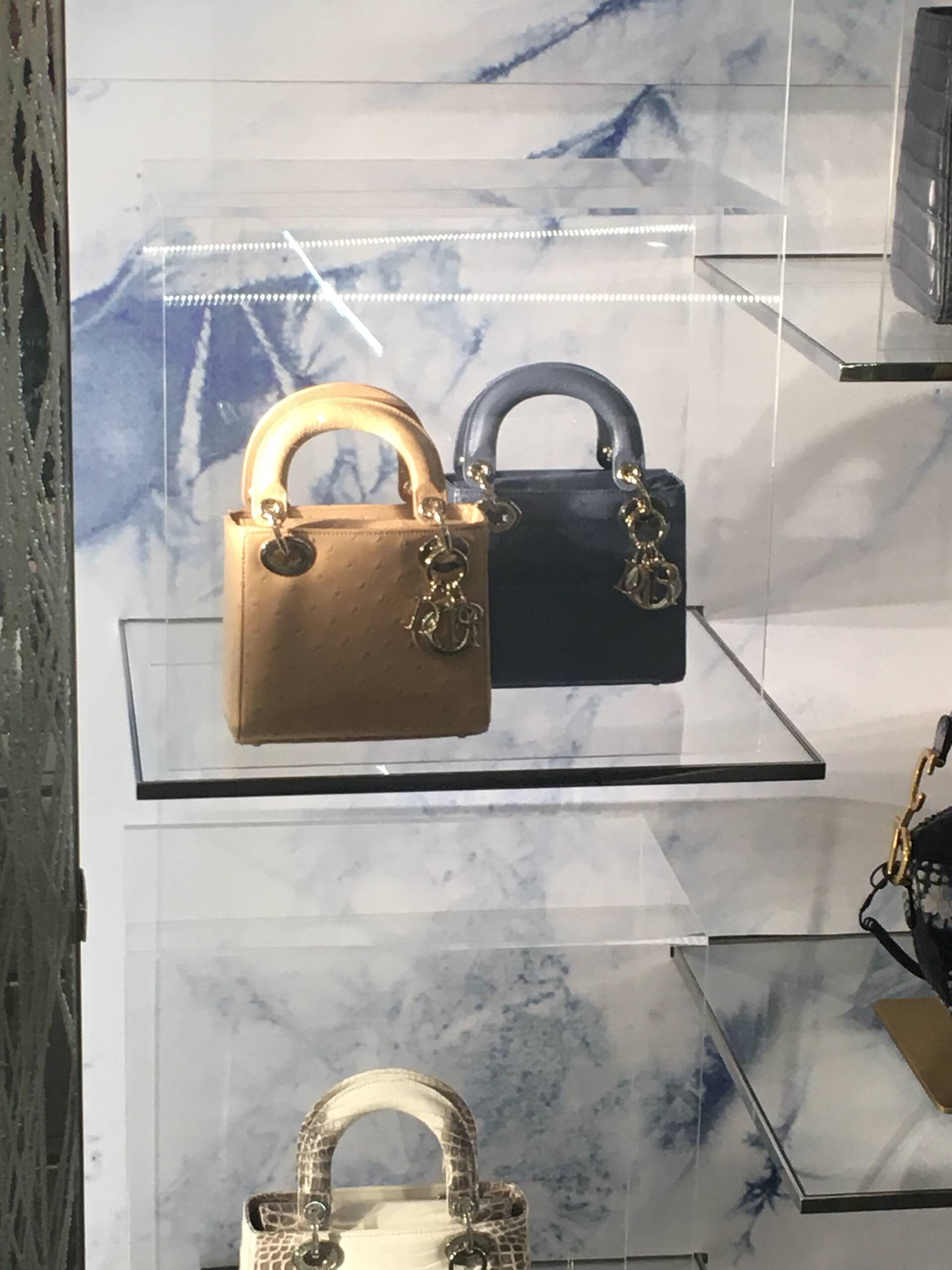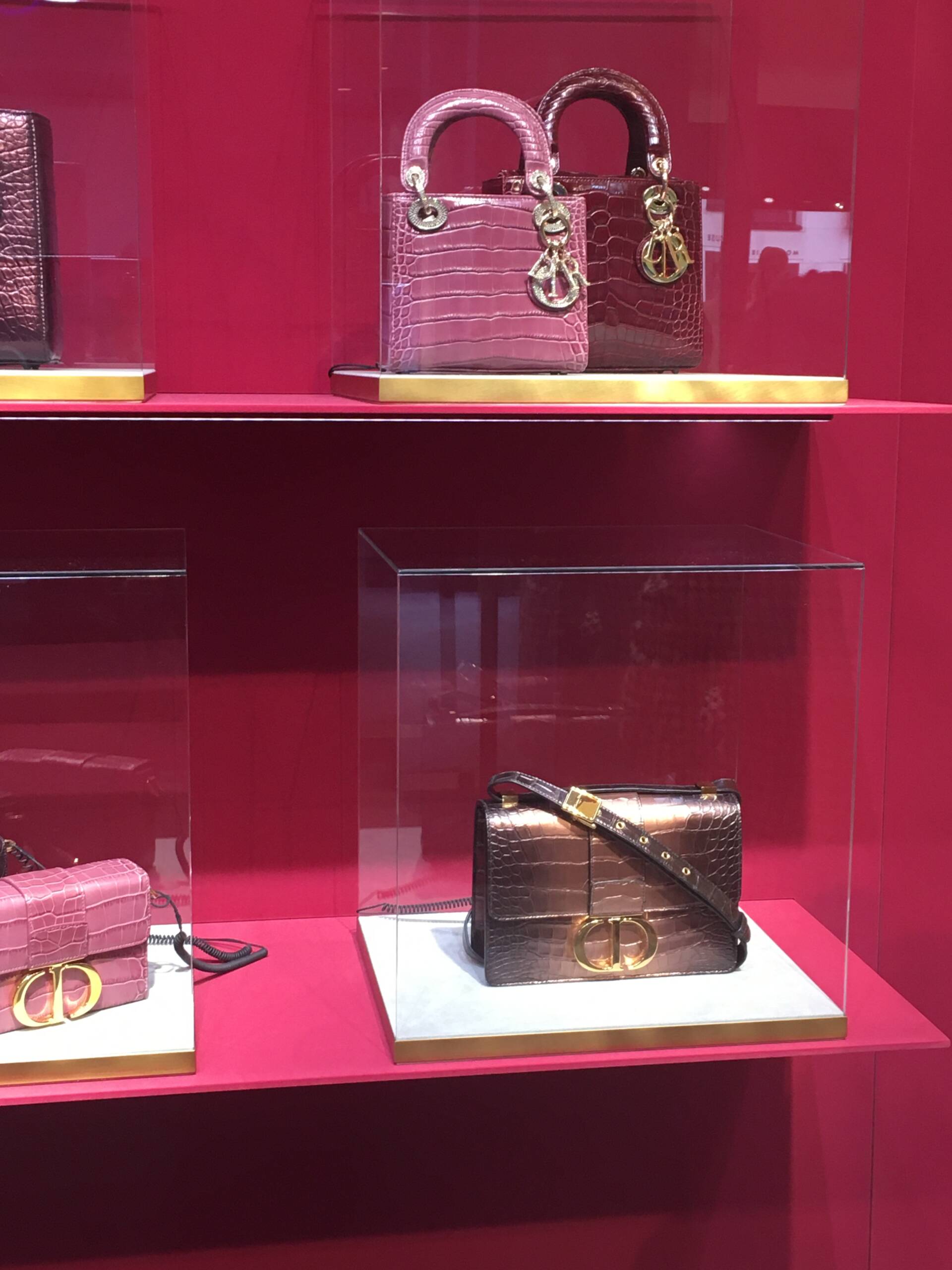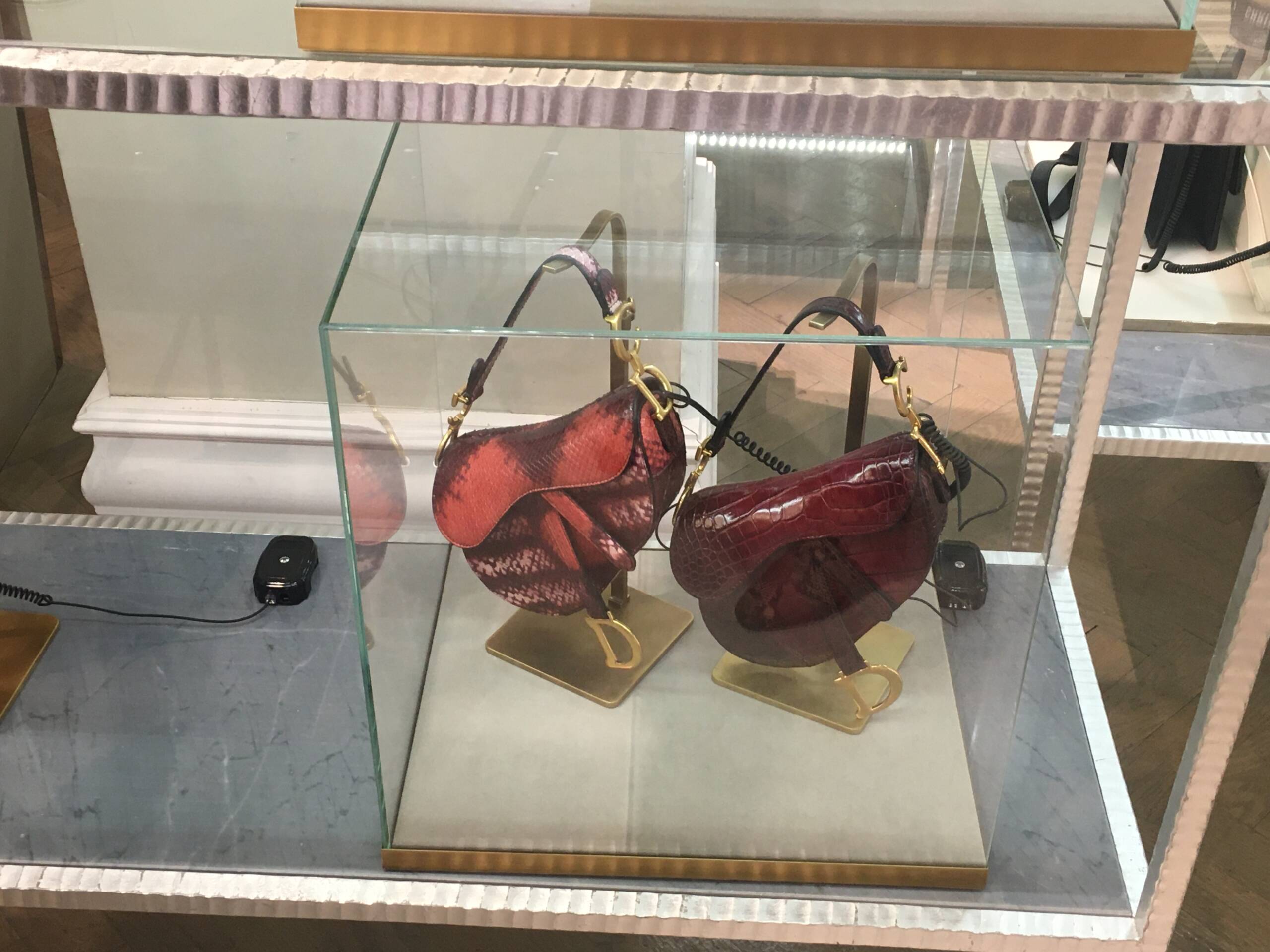 What are your thoughts on this preview of Dior's new collection for Fall/Winter 2020? Are you a fan of the new velvet material? Do you like the look of the Cannage canvas compared to the house's original? Will any items from the collection make it onto your wishlist? Let us know.