Hooray for the Grand Palais as Chanel returned for a live in-person show in Paris! The backdrop for the show was the brand name in big letters, similar to the iconic Hollywood sign in California. It was a nod to the inspiration behind the Spring 2021 Ready-to-Wear Collection. Creative Director Virginia Viard said in her collection notes that  "This collection is a tribute to the muses of the house… I was thinking about actresses at the photocall, on the red carpet, that moment when they're being called to by the photographers: their faces a little distracted, their attitude a little out of sync with the outfits they're wearing."
Typically Chanel - Sans The Tweed
The bags in the show had all of the familiar Chanel staples with an abundance of flaps, quilting and pearls. Viard mainly stuck to a black and white color palette with occasional splashes of color, mainly pink. We were surprised by the conspicuous absence of tweed bags in this collection
The theme when it came to bags was undoubtedly – Little is Big. Almost all the bags in the show were small sized. Viard even used charm sized versions of signature bags as an accessory to belts and chains! We wonder if she did this to distinguish herself from her predecessor Lagerfeld's over the top use of accessories. One had to pay very close attention to notice the charm sized bags that were either on the models' belts, strung across their bodies or on their wrists.
Pearls are Chanel's Best Friend
Chanel and pearls go hand in hand. The brand continued to focus on its penchant for pearls in this latest collection as well. The bags featured lots of pearls and unlike the last collection, steered clear of jewels on bags.
Read:Chanel's Fall-Winter 2020/21 Collection is Finally Here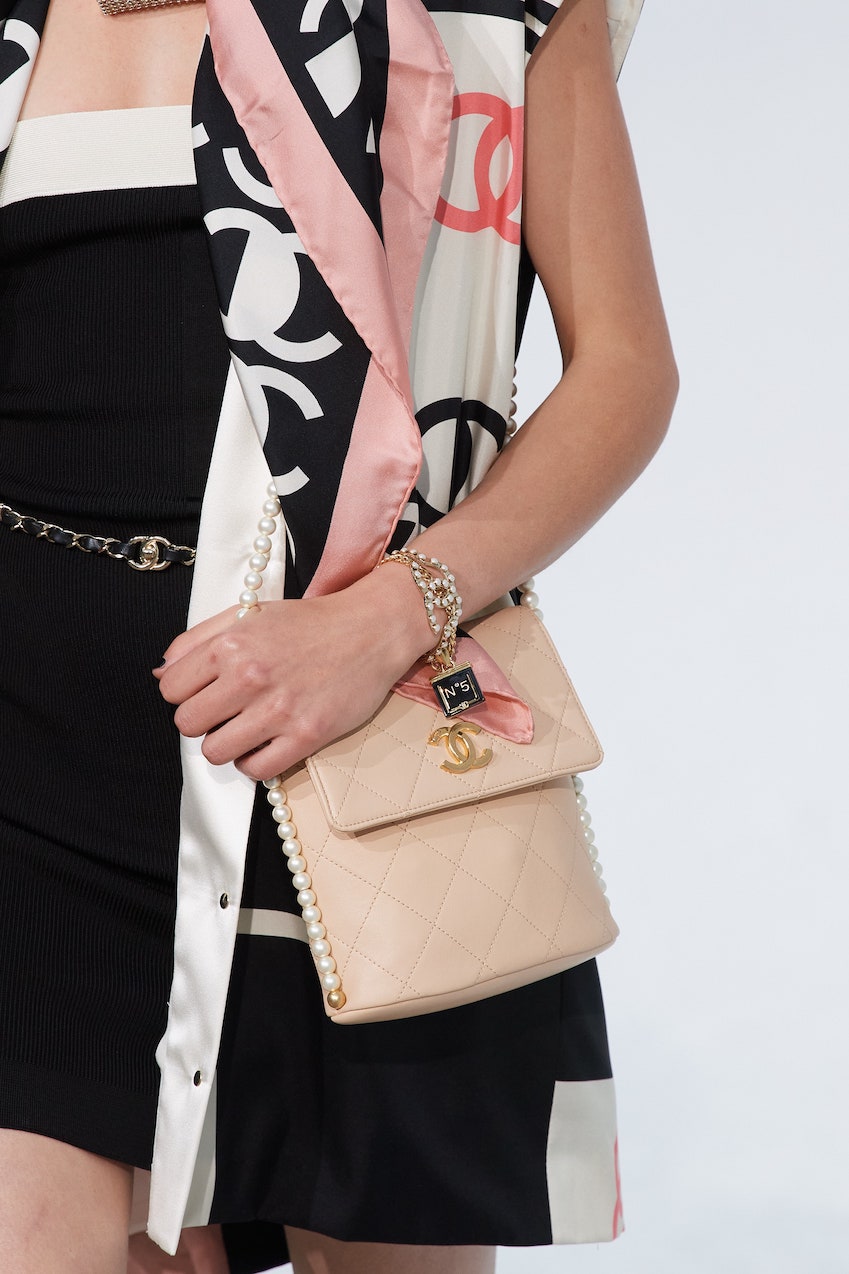 Finally, A Regular Sized Bag!
Still not straying far from the classic Chanel codes, Viard also paid tribute to her legendary predecessor Karl Lagerfeld. As you may recall, Lagerfeld created the double CC logo as his version of Coco's iconic 2.55 bag. One of the few 'regular-sized" bags was a white classic flap with handle. This classic bag with handle resembles a coco handle, but it's rectangular like a regular flap.
Read:Chanel Coco Handle: What You Need to Know
We saw an abundance of flap bags in the collection. Several of which were differently shaped and styled from the regular flap bags we are accustomed to. Comfort and utility seemed to be the thought behind this range. Practicality aside, the metallic flap bag is definitely our favorite from this collection!
Which tiny Chanel bag are you eyeing from the Spring 2021 collection?