How did a small heart-shaped diamond quilted flap bag become an overnight obsession? It began with the first glimpse on the Spring Summer 2022 runway last fall. Chanel lovers (including PurseBop) immediately hustled to their boutiques staking a claim on the reserve list. Beyond classic black and white, the color options made it even more exciting. There was also pink, purple, blue and gold in the offing. Love was in the air . . . and on shoppers' wishlists.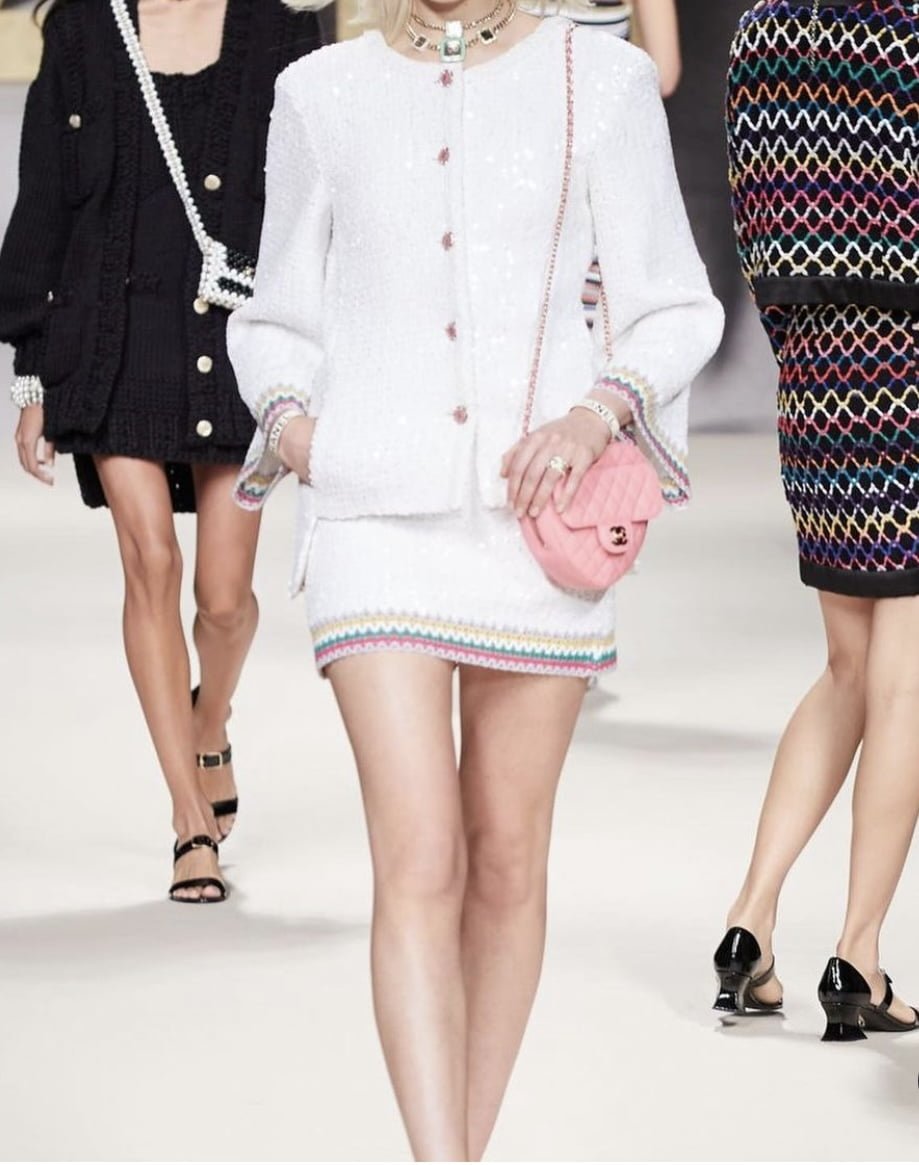 Chanel's family of newly designed heart bags, appropriately named CC In Love, were expected to arrive with the launch of the Spring 2022 collection on March 10th. To the pleasant surprise of Chanel fans, despite ongoing pandemic supply chain issues, a limited number of heart bags actually arrived at many boutiques all over the world. Unfortunately for most, availability was sparse and only black, white, and gold versions presented on social media. SAs promised more were coming. But no one knew when, how many, or the color and size. 
Toward the end of March more pictures appeared on social media, indicating additional shipments of CCs in Love. This time, along with large black, white and gold models, there were heart-shaped minis, belt bags, and wristlets in purple, pink, and a few blue. Nevertheless, there were still not enough to satisfy all those pining for a heart bag.
As of this writing, heart lovers remain hopeful that more will arrive this month. Perhaps ironically, this really is love at first sight from afar because relatively few Chanel lovers have actually seen the CCs in Love in person.
The CC in Love comes in four sizes/styles: the large Heart bag, the Mini (or small) Wallet on Chain (WOC) Heart bag, the Belt bag, and the Wristlet. Color options are black, white, gold, purple, pink, and blue. However, most boutiques did not get the full range. 
For classification and quota purposes, only the large Heart bag is actually considered a handbag. The others are small leather goods (slg). All CC in Love models are made in France.
The Heart collection bags all contain the classic elements of the flap bag. Sporting the classic diamond quilted lambskin leather and light gold hardware, they remain surprisingly lightweight. Every style has an outside flap with the iconic CC turn lock. Indeed, these quintessential classic flap elements transform the family of heart-shaped bags into timeless treasures.
The largest of the heart-shaped pieces is the most popular size with the largest capacity and ultimate versatility. It retails for $5500. Thus far, it's been spotted in black, white, pink, purple, and gold.
The classic flap design brilliantly turns this bag into an instant show stopper. With its classic gold and leather intertwined shoulder strap it can be worn crossbody or on the shoulder. The shoulder strap drop measures 20".
This heart bag is surprisingly lightweight considering its spacious interior, outside flap with iconic turn lock, and Mona Lisa back pocket. Although the lambskin leather feels and looks hearty, it is not the buttery soft kind typically used on Classic Minis. 
For internal access, it's a top zip bag: two zippers meet in the center. When fully unzipped, access to the interior is quite easy. One of the zip pulls has a delightful matching gold CC heart at the tip. However, one ponders why both zipper pulls are not similarly adorned?
The interior is surprisingly roomy. With a regular size iPhone 13, the bag also holds a small wallet, card holder or other slg with space leftover for keys, a lipstick and other small items. The outside front pocket comfortably holds several credit cards or even a Chanel slg card holder. There are two interior pockets for more storage.
Overall, the large Heart bag exemplifies Chanel's classic, innovative and iconic design. It is understandable that the initial response is love at first sight. 
The Mini (or small) Heart bag on a chain, is also called the WOC Heart bag or Heart Clutch with Chain. It has a significantly smaller interior than the large but does accommodate small essentials sans your phone. One zipper pull is adorned with a gold CC heart. There are no interior pockets and interior access is more restrictive. However, the outside flap pocket fits several credit cards. 
Its leather-interlaced chain shoulder strap has a 22" drop. Retail price is $3400.
Not surprisingly, the Belt bag version is slightly smaller than the Mini. And calling it just a belt bag is, perhaps, a misnomer. This one can be worn around the waist or crossbody over the shoulder, proving its versatility. Its leather-interlaced chain includes a CC charm at the end. Spied in black, white, gold, purple, and pink (so far), it retails for $3,075. 
The smallest of the series is a Wristlet, also called Arm Coin Purse. It is quite small and fits in the palm of your hand. The construction and design resembles the others but truthfully it holds very little. If you go for this one, consider it arm candy. It is priced at $1,925. And if you want a chain, we spotted a Neck Coin Purse within the same heart shaped family, priced at $2,625. 
Better Late Than Never - PurseBop's Reveal Nestled Amidst It All
Although I was reassured many times my purple reserved heart would come, I had started to loose hope… how could it be that the piece I longed for most still had not come. It seemed the whole world had theirs, just not me. I had even heard rumors that the purple was canceled, frightened it could be true I reached out to our Director/Manager in Chicago. Thankfully only rumors. Fast forward to Friday April 8th, delighted to receive the long awaited message… "we have good news, your heart is finally here. I didn't delay even a day… she was coming home with me today. 

After all the excitement, anticipation, texts, delays, and eventual arrival, was it worth the wait? You bet it was. She has stolen my heart, literally. 
I instantly fell head over heels for her vibrant, eye popping bundle of purple delight. It was perfect! My large CC in Love Heart bag in my desired spring color arrived at the perfect time. Chicago is struggling to push winter away, and spring is right around the corner. When the flowers bloom and the sun comes out, I will be ready with a purple CC by my side. She's sweet, fresh and playful. Summer dresses and the Hermès Violet Parme Oran sandals is all I can envision… truly a match made in heaven. I will be sharing all my personal photos and reels on my IG here… now back to the article. 
Chanel likely took inspiration from its own vintage heart shaped bag released in 1995. The vintage vanity bag featured the classic diamond quilting, interlocking CC logo, two zippers on top, a gold and leather interlaced top handle, leather lining, interior pocket, and gold toned hardware.
However, rather than a flap exterior pocket, the older model boldly shouts Chanel with leather appliquéd interlocked double CCs. Perhaps in this case, the newer style provides an improvement. 
Despite seeming to be a novelty item, the new 22S heart-shaped bags actually reflect Chanel's continued focus on its iconic flap bag. Just look at how the design leans into nearly all of the classic Coco codes. 
Perhaps not surprisingly then, the initial reaction has been overwhelmingly positive. Most, but not all, Chanel fans have fallen completely in love. True, the collection has its critics who think it's childlike and not suitable for grown adults. On the other hand (or heart), for many, age is just a number and the bag is a welcome addition to their Chanel collection.
A good number of these bags have already been spotted on reseller's websites. Because it is an extremely popular bag with a limited release, we have seen the inflated prices in the following ranges: Large Heart: $9,000-9,500; Mini Heart: $5,000-6,500; Belt Bag: $5,000-5,700; Wristlet: $3500.
Even with numerous price increases over the past year, demand for Chanel handbags, particularly its iconic flap version, continues to surpass supply. This heart-shaped collection is no exception. Whether Chanel releases more heart bags this month or in future collections remains to be seen. One thing is for certain though, inquiring minds want to know.
So, is this the season of love? Tell us how you feel about the CC in Love collection.